Once a simple roadside berry stand, Knott's Berry Farm has expanded over the years into an exciting amusement park in Buena Park, California, offering something for everyone. Here you'll find thrilling roller coasters and attractions suitable for the entire family. Join us to explore our top picks of rides at Knott's Berry Farm!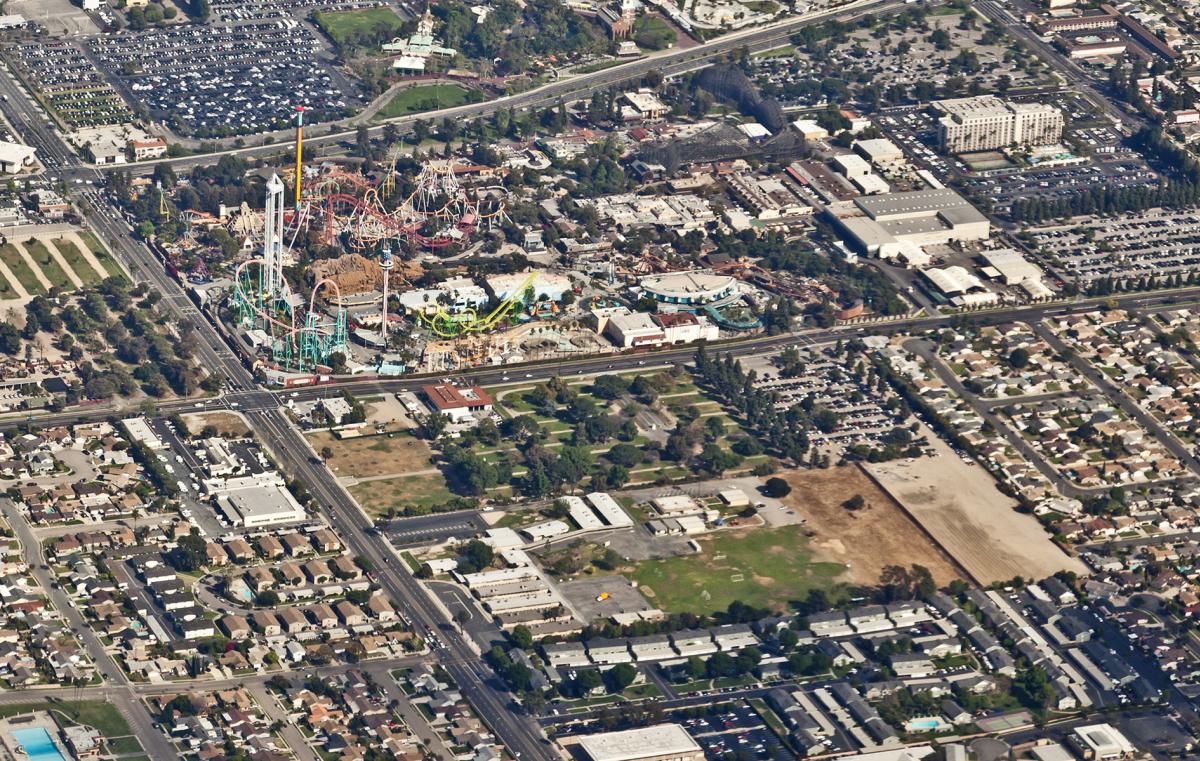 From white-knuckle adventures on world-class roller coasters to classic storybook rides like Calico Mine Ride. This theme park will quench your thirst for fun with plenty of activities available here - don't forget those famous homemade jams prepared originally by Mrs. Knott herself! Our 10 must-do recommendations guarantee a day full of excitement no matter what age group you belong to! So hop into any one of these incredible experiences offered only at Knott's Berry Farm – buckle up it'll be quite the ride ahead.
Short Summary
Experience thrilling rides like HangTime, Xcelerator, and GhostRider at Knott's Berry Farm.
Enjoy family-friendly attractions such as the Calico Mine Ride, Timber Mountain Log Ride, and Calico River Rapids.
Get discounts online & save time with FastLane passes to make the most of your visit!
Top Thrill Rides at Knott's Berry Farm
Are you a thrill seeker? Look no further than Knott's Berry Farm for the most thrilling and exciting rides! Experience all of its exhilarating roller coasters, such as HangTime, Xcelerator, GhostRider, and Silver Bullet. Feel your heart race with adrenaline-filled twists, turns, and drops that leave you breathless but wanting more.
The best way to take on these ultimate adventure attractions is at one of the park's famous locations. So why not join in today? The selection includes some of the highest-rated thrill rides around – perfect for anyone looking to push their limits while getting an unforgettable experience. Come check out what Knott's has in store: let us explore together the very best from this amazing berry farm amusement park!
HangTime
Head to Knott's Berry Farm and get ready for the best thrill rides, HangTime! This dive coaster is California's first ever and it definitely packs a punch. With gravity-defying inversions that'll make you feel like you're flying through midair suspensions, its steepest vertical drop will give adrenaline seekers an exciting ride they won't forget soon. As you ascend toward the top of this excitement-filled journey, prepare yourself because when you reach that point, you're going at a 90-degree angle or more!
For those seeking out even greater thrills. Try riding HangTime during night hours as the vibrant lighting package brings life to every part of this wild adventure which creates unforgettable memories for all visitors. So come see what all the fuss is about at Knott's Berry Farm with their fantastic attraction –Hang Time Dive Coaster Ride now!
Xcelerator
Knott's Berry Farm fans can hardly contain their excitement for Xcelerator, the launched coaster known as a thrilling ride that reaches unbelievable speeds of 0-82 MPH in mere seconds. This beloved attraction has been closed since 2021 but is expected to reopen sometime in 2023, an event many are looking forward to! No doubt those who take on this heart-pounding journey will be left with memories they won't soon forget.
GhostRider
Enjoy a classic wild west-style adventure on GhostRider, the legendary wooden roller coaster located at Knott's Berry Farm. Buckle up tight as you speed through twists and turns in just 2 minutes and 40 seconds of nonstop thrills! This remarkable ride has become one of Knotts' most popular attractions that keep riders coming back for more, but if you really want to get your heart racing to try hopping aboard this nighttime journey under the starry sky. Hold on during every surprise curve and never forget it's an experience like no other!
Silver Bullet
Silver Bullet, an inverted roller coaster located at Knott's Berry Farm, is sure to make a big impression. Its six inversions along with its speed of 55 MPH and height of 146 feet will definitely get your heart racing as it takes you on this thrilling journey lasting 2:10! As if that wasn't enough, Silver Bullet offers great scenic views from high above the park - making this ride so much more than just a typical rollercoaster. It's truly a memorable experience!
Best Family-Friendly Rides at Knott's Berry Farm
Knott's Berry Farm has a great selection of rides perfect for the whole family - from Calico Mine Ride and Timber Mountain Log Ride to the thrilling Calico River Rapids. Whether you're looking for some fun or high-intensity thrills, Knott's offers something special that will create memories with your loved ones.
Family-friendly attractions at this popular berry farm provide excitement without all the intensity of more extreme ride experiences. These rides are designed specially so everyone can enjoy them! So come on down and experience Knott's best — from their wild coasters to family-friendly favorites—all in one place!
Calico Mine Ride
Knott's Berry Farm offers the Calico Mine Ride, a captivating dark ride that takes guests on an exciting journey through the tunnels of a functioning gold mine. All throughout, riders will be met with amazing visual sets and animatronic miners that are illuminated by dim lighting to provide an unforgettable experience for people of all ages. Visitors can expect some truly mesmerizing caves, waterfalls, and geysers as they explore this underground world full of adventure and wonderment! With its unique features, The Calico Mine Ride is undoubtedly one attraction no guest should miss when visiting Knott's Berry Farm.
Timber Mountain Log Ride
At Knott's Berry Farm, the classic Timber Mountain Log Ride is an updated log flume that brings to life a scene of brave 19th-century logging crew members. If you are 36 inches or taller and have accompaniment from an adult, this fun-for-all aquatic adventure will take you on curving turns through various scenes with lumberjacks, just be ready for some splashing! This ride offers entertainment perfect for families during hot summer days.
Calico River Rapids
At Knott's Berry Farm, the Calico River Rapids ride offers a great way to explore Ghost Town while enjoying wet fun in the water. Board your raft for an unforgettable journey of thrills and surprises as you make your way through this old west-themed area! It is important that you dress accordingly so be prepared for splashes throughout the day no matter what Mother Nature throws at us. Come join us on one wild whitewater river raft adventure today, there truly are unpredictable wonders waiting around every turn!
Top Rides for Young Kids at Knott's Berry Farm
Knott's Berry Farm never leaves its smallest adventurers behind, as it offers them a unique and well-themed selection of rides specially designed for young kids. This section is located at Camp Snoopy and ensures that children who are not yet tall enough to experience the bigger attractions can have an unforgettable day filled with fun.
Many age requirements on these kinds of rides make sure even little visitors can enjoy all Knott's has to offer in terms of amusement! Here are some notable examples worth exploring.
At Knott's Berry Farm we believe every child deserves a chance to play so let us introduce you briefly to the most amazing experiences this park provides your family's youngest members. There will be plenty for everyone - from gentle ones such as Parachute Sky Jump or Pony Express-themed activities through Kite Eating Trees up to roller coasters like Bug Squash or Timberline Twister.
Linus Launcher
Knott's Berry Farm, located in Camp Snoopy, offers a fun ride for the entire family called Linus Launcher. It is a mild Zamperla Kite Flyer that gives an exciting swinging sensation to thrill riders without being too intense, making it suitable even for small children! Although adults are welcome on board, they need to have some agility since this attraction isn't wheelchair accessible. With its unique and enjoyable experience available at Knott's Berry Farm, the Linus launcher should not be missed out by anyone!
Huff and Puff
The perfect ride for young children who want to challenge themselves is Huff and Puff, located in Camp Snoopy. Children are able to use their strength as they move a mining cart along the track. This attraction has been designed with those 52 inches or under in mind. Employees are available onsite if riders need assistance, so all of these tiny adventurers will have an enjoyable time while achieving success!
Grand Sierra Railroad
Knott's Berry Farm offers an exciting ride on the Grand Sierra Railroad, which takes travelers through its themed lands, such as Camp Snoopy and Fiesta Village. During their journey, they will be greeted by iconic Peanuts characters along the way! Since it has shorter queues than most of Knott's attractions, this railroad is a great choice for families with children who want to get aboard without long waiting times. Hop onto this enjoyable train tour around the park - you won't regret it!
Classic Knott's Berry Farm Attractions
Knott's Berry Farm boasts a wide selection of rides that never fail to excite guests and provide them with nostalgic experiences. Such attractions include the Calico Mine Ride, GhostRider, and Timber Mountain Log Ride – all timeless classics attracting visitors both young and old alike.
To preserve its memorable vibe, Knott's Berry Farm has reimagined some classic features - one such example is Knott's Bear-y Tales: Return to the Fair. Discovering what makes these beloved theme park staples so unique only heightens their charm!
Calico Railroad
The Calico Railroad at Knott's Berry Farm offers a fun and unique experience for the whole family. Guests can hop on board this classic attraction, which is a 5/8-mile steam train ride that takes them through some breathtaking scenery around the park - featuring bridges, tunnels, and even a waterfall! Passengers must watch out because bandits sometimes try to rob the train during its journey. But don't worry! The sheriff always arrives just in time to save everyone from trouble!
Knott's Bear-y Tales: Return to the Fair
Take your loved ones to Knott's Berry Farm for a fun-filled and nostalgic ride with jelly blasters. Enjoy playing the interactive game of Knott's Beary Tales: Return To The Fair, where you can search virtually for boysenberry pies as you navigate through the attraction – scoring points in tandem! While this isn't an intense gaming experience, it is nonetheless enjoyable to do together as a family. So get armed with those jelly shooters and let's see who grabs more pies by taking on classic Knotts' adventure!
Tips for Visiting Knott's Berry Farm
When you visit Knott's Berry Farm, make sure to plan ahead and take advantage of all the discounts and benefits available. From cheaper tickets to FastLane passes, there are multiple ways for a fantastic experience at this amusement park. To help you get the most out of your time here, we'll provide some helpful tips so that lines will be minimized and more enjoyment can come from riding thrilling attractions.
By planning well in advance before arriving at Knott's Berry Farm, you're bound to have an unforgettable adventure with plenty of opportunities awaiting!
Ticket Discounts
Prepare for your trip to Knott's Berry Farm and save money by pre-buying tickets. Discounts can be found online, such as regular admission prices or discounts specifically tailored towards military personnel, groups, and seniors. Taking advantage of these deals could free up some funds that you would have otherwise spent on the ticket itself. Allowing more money to go towards food vendors at the park or souvenirs! Researching before purchasing a pass is key to saving yourself some cash prior to visiting this amazing berry farm.
FastLane Passes
Visitors to Knott's Berry Farm who want to maximize their time and avoid long lines can consider getting a FastLane pass. This enables them to bypass the regular queues for many of the park's top attractions such as HangTime, Xcelerator, GhostRider, and Silver Bullet.
It is worth noting that these passes come with hefty fees only if riders meet certain height requirements pertaining to those specific rides. To make sure you are making an informed decision before buying one, evaluate its pros and cons closely according to your needs during your visit to Knott's Berry Farm.
Ride Closures
Prior to visiting Knott's Berry Farm, it is wise to check on which attractions may be closed. There could be certain rides that are temporarily unavailable due to regular maintenance or seasonal refurbishment and you would not want this information spoiling your plan of action!
For optimal results while at the berry farm, stay informed of each ride's status so that when arranging your day out, all activities with open access can be prioritized accordingly. This way there will never be a need for disappointment regarding inaccessible amusements!
Summary
Visitors of all ages will find an abundance of entertainment at Knott's Berry Farm, from classic attractions that have stood strong over time to adventurous roller coasters and family-friendly activities. To make sure you get as much out of your visit here, we've come up with a list of 10 must-do rides within this berry farm destination. Keep an eye out for ticket discounts or FastLane passes when planning ahead. These can enhance your experience! With just some smart scheduling strategies and proper research into what there is to offer here, you are guaranteed both thrills and unforgettable memories during your trip through Knotts' Berry Farm Rides.
Frequently Asked Questions
How many rides are at Knott's Berry Farm?
Knott's Berry Farm, located in Buena Park, California, is an amusement park that provides numerous exciting rides like roller coasters, family rides, and water attractions. Whether you want to enjoy a thrilling ride or just have some quality time with your loved ones, the berry farm has got it all for its visitors! From dark thrills of coaster adventures to delightful fun on family-oriented attractions – Knott's Berry Farm will be sure to give you a day full of excitement and unforgettable memories.
What is the most intense ride at Knotts?
Experience an unforgettable ride at Knott's Berry Farm, the Xcelerator, a '50s style steel roller coaster that'll launch passengers from 0 to 82 miles per hour in just 2.3 seconds and take them up 205 feet high! After two sharp turns, it will be over, no other thrill matches this one on the berry farm!
Can a 14-year-old go to Knott's Berry Farm?
Unfortunately, a 14-year-old cannot visit Knott's Berry Farm without a chaperone who is at least 21 years old and has a valid government-issued photo identification with a date of birth.
The chaperone must remain with the underage guest throughout the entire visit.
Is Knott's berry farm open?
Knott's Berry Farm is back up and running for the 2021 season, with tickets to purchase, hotel reservations available, and dining options on offer. Knott's Soak City also has reopened its doors while at Knott's Chicken Dinner Restaurant customers can enjoy al fresco dining.