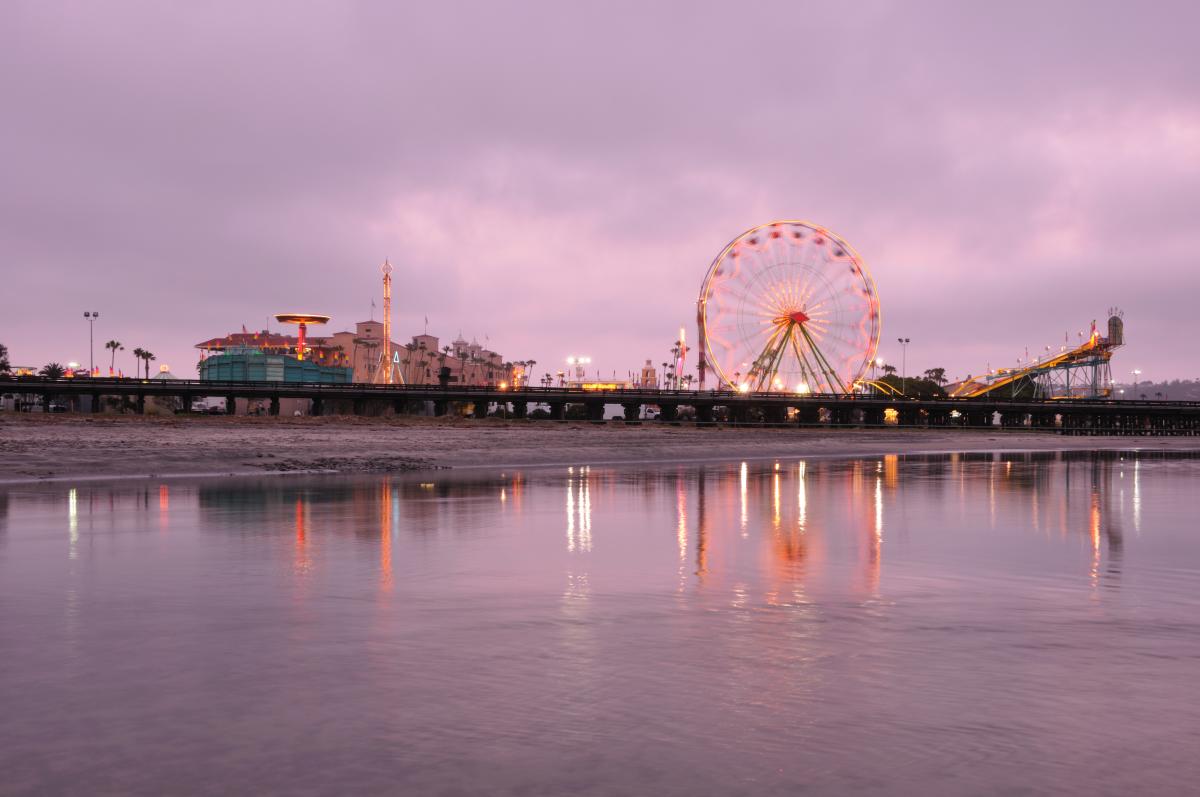 Image Paule858
Nothing says summer like a visit to San Diego's Del Mar Fair! Each year over a million visitors flock to the fair during its 21-day season. On a visit to the fair, you can enjoy countless activities for the whole family. Enjoy live music and performances, thrilling rides, delicious local food, craft beer, and wine, and of course, meet plenty of animals. Whether you're traveling to San Diego for the first time, or you're a local who has experienced the Del Mar Fair year after year, there are plenty of opportunities to eat, explore, and shop at the 2023 San Diego Country Fair.
Each year, new themes and unique attractions ensure a fresh, fun, and unforgettable experience. This year, the Del Mar Fairgrounds are welcoming back visitors for a full-scale fair that is expected to be better than ever! With so many activities, planning your trip to the fair might feel overwhelming, especially for new attendees – we've created this helpful guide to the 2023 Del Mar Fair to help you plan an ideal adventure to one of San Diego's best summer attractions!
History of the Del Mar Fair
San Diego's Del Mar Fair has been around since the 1880s! It began like most county fairs in the United States, as an agricultural festival. Community members came together for contests like pie baking, fruit and vegetable tasting, and horse races.  The fair moved around to various locations until the Del Mar Fairgrounds opened in 1936. The expansive 370-acre beachfront property was purchased by the 22nd District Agricultural Association and it was then that San Diego's County fair found its permanent home. The fair has been a yearly event in San Diego ever since – except for a two-year absence in 1917-18 (due to WWII) and another two-year absence in 2020 (due to the Covid19 pandemic). There was a smaller version of the festival held in 2021, and the full-scale fair returned in 2022.
The fair has undergone several name changes over the years. In the 1950's it was renamed the Southern California Exposition and San Diego County Fair, which was later shortened to the Southern California Exposition. In the 1980's it was officially renamed The Del Mar Fair. In 2002, the official name changed again to the San Diego County Fair, but most locals still refer to it as the Del Mar Fair. Don't get confused if you hear multiple names being thrown around – San Diego County Fair and Del Mar Fair are the same!
Del Mar Fair Themes Throughout the Ages
 Each year since 1998, the Fair has a different theme to inspire guests, and different exhibits and activities are all based around it, which ensures that year after year, each visit to the Del Mar Fair feels like a brand-new adventure. Each unique yearly theme brings loads of fun and lively characters to experience during your visit.
Some examples of themes over the years include: 
·      2017 – Where the West is Fun
·      2018 – How Sweet It Is
·      2019 – OzSome
·      2021 – Home Grown Fun
·      2022 – Heroes ReUnite
2023 Theme: Get Out There!  
The theme for the 2023 San Diego County Fair is Get Out There! This year's fair theme will serve to inspire guests to get outside to enjoy the natural beauty of the great outdoors. San Diego offers so many wonderful outdoor experiences like hiking, kayaking, climbing, and exploring nature. The 2023 theme is meant to honor the natural beauty around us and inspire locals and visitors alike to experience the natural beauty of the mountain and coastal landscapes surrounding San Diego County.
2023 Del Mar Fair Ticket Prices  
The 2023 San Diego County Fair will run every day from June 7 through July 4. You can visit the fair daily between 11:00 am and 10:00 pm. The cost for adult admission is 15 USD from Monday – Thursday. If you're over the age of 62 or under the age of 12, weekday admission is discounted to 12 USD. For admission on Friday – Sunday, expect to pay 20 USD per adult ticket and 17 USD per child or senior ticket.
Admission is always free for children under the age of 5, and on Fridays children under the age of 13 can also visit for free. Expect to pay an additional 20 USD for parking at the Del Mar Fairgrounds.
It is important to note that the 2023 San Diego County Fair is moving towards cashless transactions. Cash will no longer be accepted this year for admission and parking. You can purchase combo tickets for parking at the Del Mar Fairgrounds and admission online. 
Parking and Transportation
The Del Mar Fairground is located just over 20 minutes from downtown San Diego if you're traveling by car, making a trip to the Del Mar Fair is easy and quick. If you're driving to the fair, simply take I-5 North towards Los Angeles and hop off at the Via De La Valle exit. You'll see signs once you get off the exit for the Fairgrounds and Racetrack.
Parking options at the 2023 Del Mar Fair are first come, first serve. There are several options both onsite and offsite. Keep in mind, that you can only pay for parking via credit or debit card. Cash is no longer accepted, and if you book in advance online, you will save 5 USD on parking.
General parking at the fairground costs 20 USD. The lot opens at 9 am, and it fills up, so it is best to get there early. Preferred parking is 50 USD, which is the lot closest to the main entrance.
For a discounted option, you can park at the horse park 2 miles away for 10 USD and hop on a free shuttle. The cheapest option of all is to park for free at Torrey Pines High School and take the free shuttle to the fairgrounds.
Remember that oversized vehicles like RVs are not permitted in any of the parking lots. Only cars that can fit within one regular-sized parking space can park in the designated lots.
Public transportation from downtown San Diego to the Del Mar Fairground
There are also some great public transportation options if you're without a car. San Diego's Amtrak train departs for the fairgrounds every 2 hours and the trip takes about 1 hour and 20 minutes. Train tickets cost about 20 USD. The cheapest option is to take the line 308 bus. The trip will take a bit longer, but you can get tickets for as little as 2 USD. For more information on San Diego's public transit, and to plan your route, visit the MTS website.
Best Del Mar Fair Deals and Discounts
Many locals opt to purchase a package each year to get the best possible deal - this past summer it was definitely the Costco bundle. If you have a Costco membership, consider purchasing the Costco Savings Pack for the San Diego Country Fair.
For around 80 USD you will receive
4 admission tickets
1 coupon voucher book for food and drinks
50 credits for rides and games
4 two-for-one drink coupons
1 parking pass
 You can save over 60 USD on rides and food and beverage sales if you purchase this package ahead of your visit to the Del Mar Fair!
When is the best time to visit the San Diego County Fair?
There is no bad time to visit the San Diego County Fair! If you want to participate in the Opening Day festivities, make sure you arrive early on June 7, 2023. The Opening Day Ceremony will begin at 10:45 am at O'Brien Gate. After that, the fair will be open every day through July 4, 2023.
Opening hours are from 11 am to 10 pm daily and will stay open until 11 pm on weekends. If you want to avoid the largest crowds, it is best to arrive early in the morning, or later in the afternoon to escape the midday rush. The parking lots do fill up, which is something to keep in mind if you are visiting on the weekends.
If you're able, visiting the Del Mar Fair on the weekdays is a wonderful option because you can get discounted tickets for adults, kids, and seniors.
Best Activities at the Del Mar Fair for kids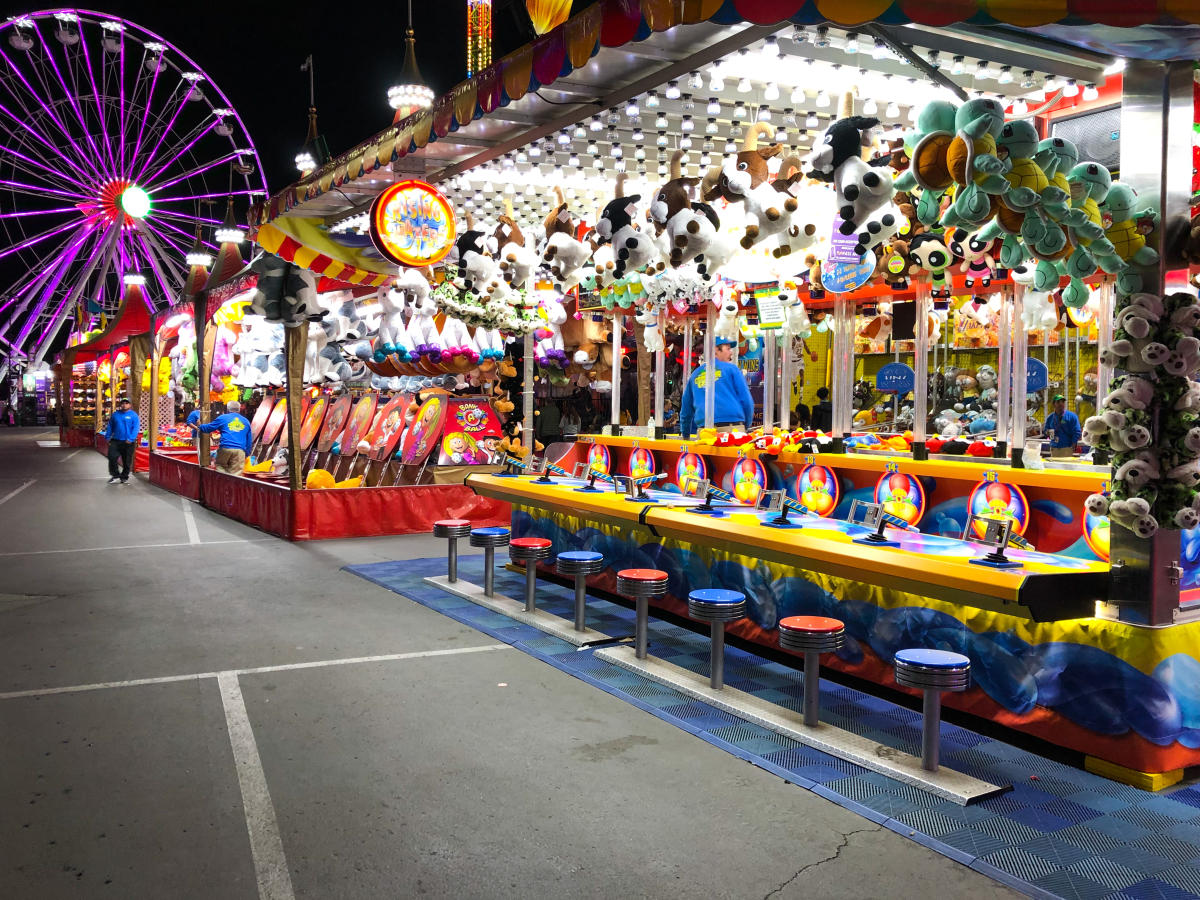 Image Thomas de Wever
The Del Mar Fair is packed with exciting activities that the whole family can enjoy, and there are always some extra special things for kids to do. The Kids Zone is a family favorite aimed at creating a fun memorable experience for children at the San Diego County Fair. It opens at noon. At the Kids Zone, little ones can enjoy kid-friendly rides like slides, swings, trains, bumper cars, roller coasters, and obstacle courses. There are even a few fun water rides and a beautiful carousel.
Enjoy kid-friendly food from vendors located in the Kid Zone – in past years the Rainbow Grilled Cheese Sandwich has delighted countless kids.
Other great activities for kids include California Grown – which presents local species of plants and animals. Kids can even enjoy feeding the animals like cows, sheep, and goats. Pony rides will be a dream come true for many children visiting the 2023 Del Mar Fair, as they have been in years past.
Rides, animal encounters, face painting, games, and special themed exhibits will keep kids entertained for hours on end. There is so much to enjoy, it is hard to fit it all into a single day! Many locals with kids find themselves returning to the Del Mar Fair multiple times each season to experience all the fun! 
Performances and Music at the San Diego County Fair
The summer concert series at the Del Mar Fair is one of the most highly anticipated events in San Diego. Del Mar Fairground has an incredible outdoor concert venue onsite. These shows offer an affordable alternative to expensive ticketed concerts. Throughout the fair season, there will be various performances from local musicians and big-time national celebrities. Each night, visitors can enjoy live music, stand-up comedy, and other performances. Headliners usually begin around sunset.
During the past summer, fairgoers got to experience the musical talents of performers like Jason Derulo, Shaggy, Los Tigres Del Norte, the Goo Goo Dolls, and more! While the 2023 line-up hasn't been announced yet, the concert series gets better and better each year! Whatever your musical taste, there is sure to be a performance you will love at the 2023 Del Mar Fair this summer.
Are there Rides for Adults at the Del Mar Fair?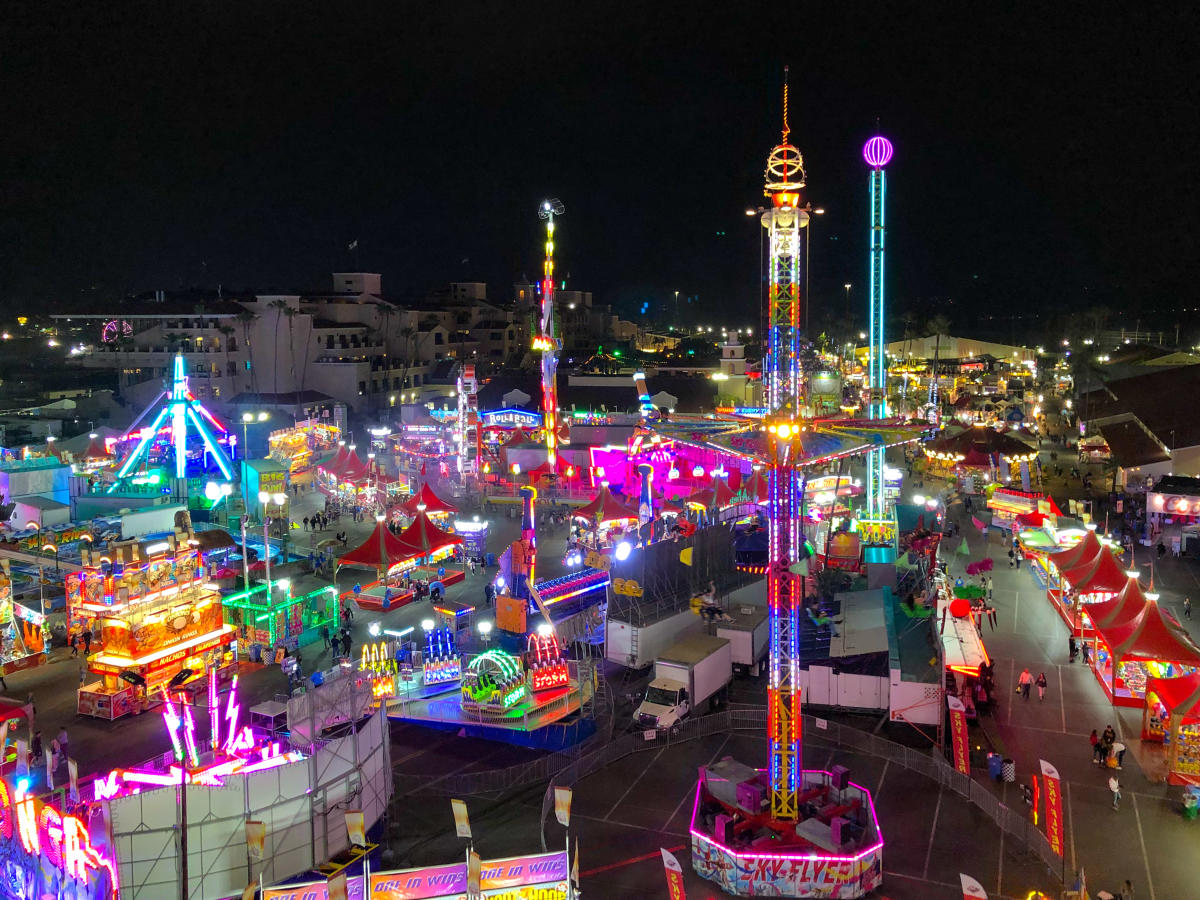 Image Thomas de Wever
There are plenty of rides available for kids in the Kids Zone, but thrill-seeking adults will find even more fun in-store on a visit to the San Diego Country Fair. Gravity-defying rides will twirl and whirl you through the air, as you ascend to heights that offer views over the fairground and coastline beyond. Not for the faint of heart, rides like High Voltage and Giant Wheel keep lines of visitors waiting to ride year after year.
It wouldn't be a carnival without rides, so don't skip out – there are more than 60 rides to experience during your visit! Rides take around 3-4 tickets each and tickets can be purchased via the Fun pass mobile app for around .75 USD per ticket. Tickets can also be purchased onsite.
Food at the 2023 Del Mar Fair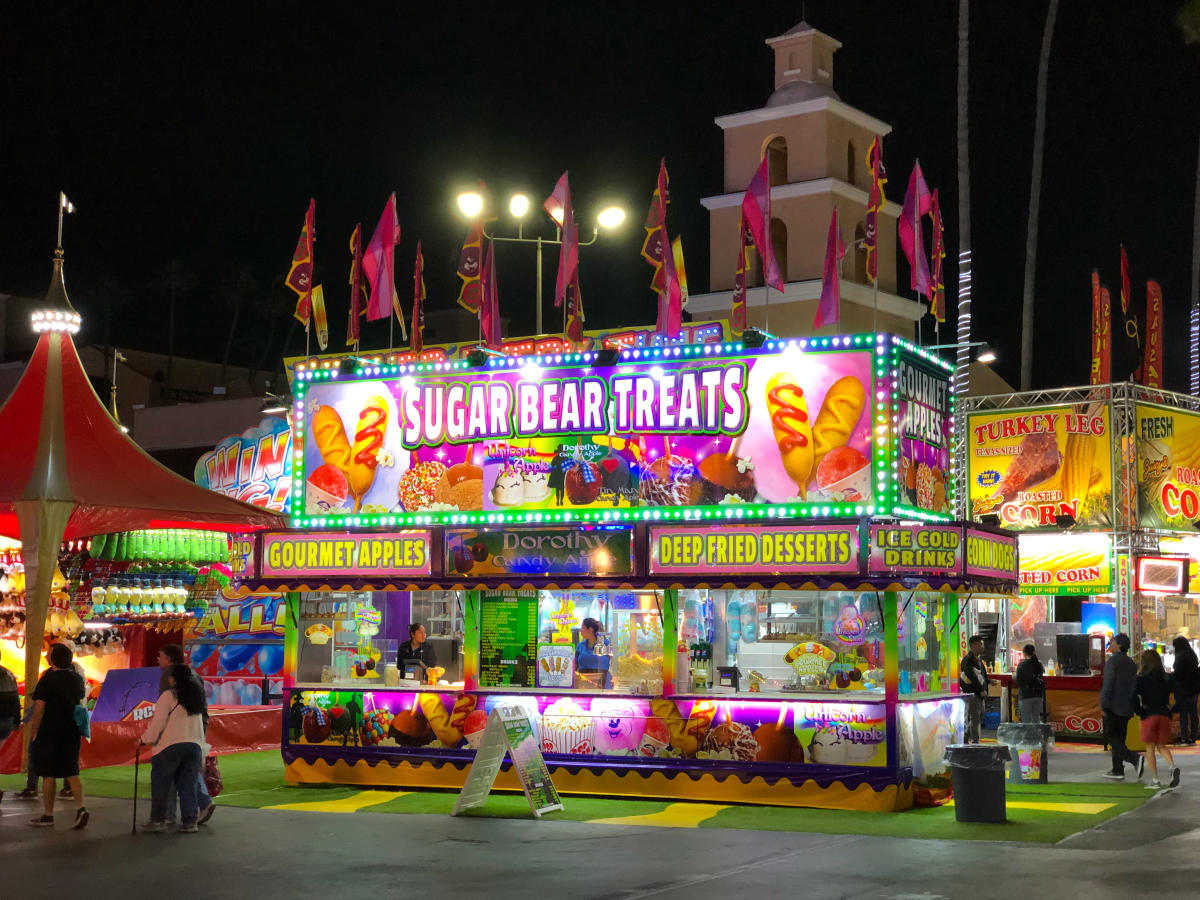 Image Thomas de Wever
If you've ever visited a state or country fair in the United States, you know that there is one thing that you're sure to find: plenty of fried food. The San Diego County Fair is no exception. You'll find plenty of fair classics like funnel cakes, fried twinkies, fried Oreos, chips on a stick, cheese fries, and pretty much every other carny creation known to humanity.
Indulge your sweet tooth at the Gingerbread House or enjoy an ice cream Sunday with all the fixings. With this year's great outdoor theme, we're certainly expecting some unique takes on s'mores! 
If you're looking for something healthier, look for the vendors who are cooking up vegetarian burritos and tacos – there is something for everyone to enjoy eating at the Del Mar Fair. With so many different options, it's hard to decide what to order, so be sure to come hungry!
Exhibitions at the Del Mar Fair
In addition to food, rides, shopping, and live music – be sure to check out the various exhibitions and contests taking place at the San Diego Country Fair this year. Competitive exhibits like baking contests, eating contests, and livestock breed shows offer all of the classic fair fun.
If you're interested in the local artisan scene in San Diego, the Del Mar Fair offers the perfect place to check out art and exhibitions from local artists and craftspeople showing off displays of paintings, sculptures, jewelry, and other homemade crafts. There is even a student showcase that offers local students a chance to share their skills. 
The Del Mar Fair offers fun for locals and tourists alike. It attracts over a million visitors each year for good reason – and it is one of the top things to do in Southern California during the summer months creating a fun memorable experience for so many San Diego families. If you find yourself visiting SoCal between June 7 and July 4, keep this 2023 guide to the Del Mar Fair on hand – it's bound to be an unforgettable adventure of food, rides, shopping, and fun!