Visitors flock to San Diego for the end of summer celebration to play in the sun, BBQ with family and friends and partake in the nation wide party that is the Labor Day celebration. But, what is Labor Day? What are we celebrating besides good weather and fun times? Labor Day is actually a celebration of the contribution of the American worker throughout the years. It has also come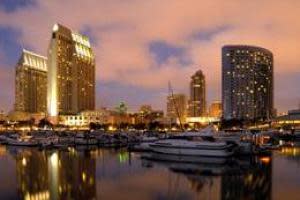 to mark the first official day of the new NFL and college football season as well the supposed last day it's acceptable to wear seesucker and white during the year (I personally choose to ignore this rule). So, what is the best way to celebrate Labor Day? I can tell you that working is NOT the answer!
Here are my suggestions for the best ways to celebrate this national holiday!
Annual SoCAL Music Festival: This Saturday, August 30th from 2pm - 12am is the Annual SoCAL Music Festival! Southern California has a lifestyle that we all love filled with sunshine, beautiful people, playful attitudes, great music, art and activities. This music festival will bring the Southern California vibe to the streets of East Village for a Labor Day party you won't forget. Five blocks with four stages will bring some of the top local musicians to the forefront in San Diego. Brought to you by three heavy hitter entertainment companies, this is an event you won't want to miss, so get your tickets now for the First Annual SoCAL Music Festival this weekend! 
Flagship Cruises Labor Day BBQ Bash: For San Diego visitors looking to class it up a bit this Labor Day, Flagship Cruises is having a San Diego Labor Day BBQ Bash. This isn't your uncle Joey's backyard BBQ. The BBQ Bash features exquisite cuisine, a two hour cruise, complimentary beer and mimosas, Jimmy Buffett tunes and striking views of the San Diego Bay from the top deck of the dinner cruise. Book now for a unique and exciting way to end the summer! 
Oceanside Pier Swim: This annual event attracts athletes from all over the state and brings them to the lovely beaches of Oceanside, CA. 2014 marks the 85th year this event has been going on. So head up to Oceanside Pier at 7:30am on Monday Sept. 1st and partake in the one mile race that raises money for the Oceanside Swim Club!
Sand Sculpting Challenge: The U.S. Sandcastle Competition is coming back to San Diego this weekend but in a different location. No longer held in Imperial Beach, the Sandcastle building challenge will now be at the B Street Pier in downtown San Diego! Bring the kids to see the most amazing sandcastles in the world at this great event. There are no plastic shovels and buckets here, this is the real deal with knock your socks off 3D sandcastles from the best artists around the world. The competition will be intense as teams from Italy, Portugal, Canada and California, among others, show off their sand sculpting skills in San Diego Aug. 29 - Sept. 1st! 
Take advantage of your day off work and celebrate all the hours you put in at your job by enjoying one of these great San Diego events this Labor Day! If you're looking for something more mellow, grab some friends and family for a beach day, surf session or beautiful day in the Gaslamp Quarter. Labor Day is the time to celebrate, break out your best seersucker duds and enjoy the last days of summer in San Diego!