San Diego is the perfect destination for a fishing trip, and fishermen from around the world visit each year to try their luck at catching some fish off of the many San Diego fishing piers. With so many incredible piers to choose from, it is easy to see why San Diego is one of the top pier-fishing destinations on the west coast. 
While excursions like deep sea fishing can cost thousands of dollars, pier fishing is a very budget-friendly option for locals and tourists. Many of the fishing piers in San Diego are free and open to the public! Whether you're brand new to the sport or an avid fisherman - San Diego is an ideal spot to experience pier fishing. 
Pier Fishing in San Diego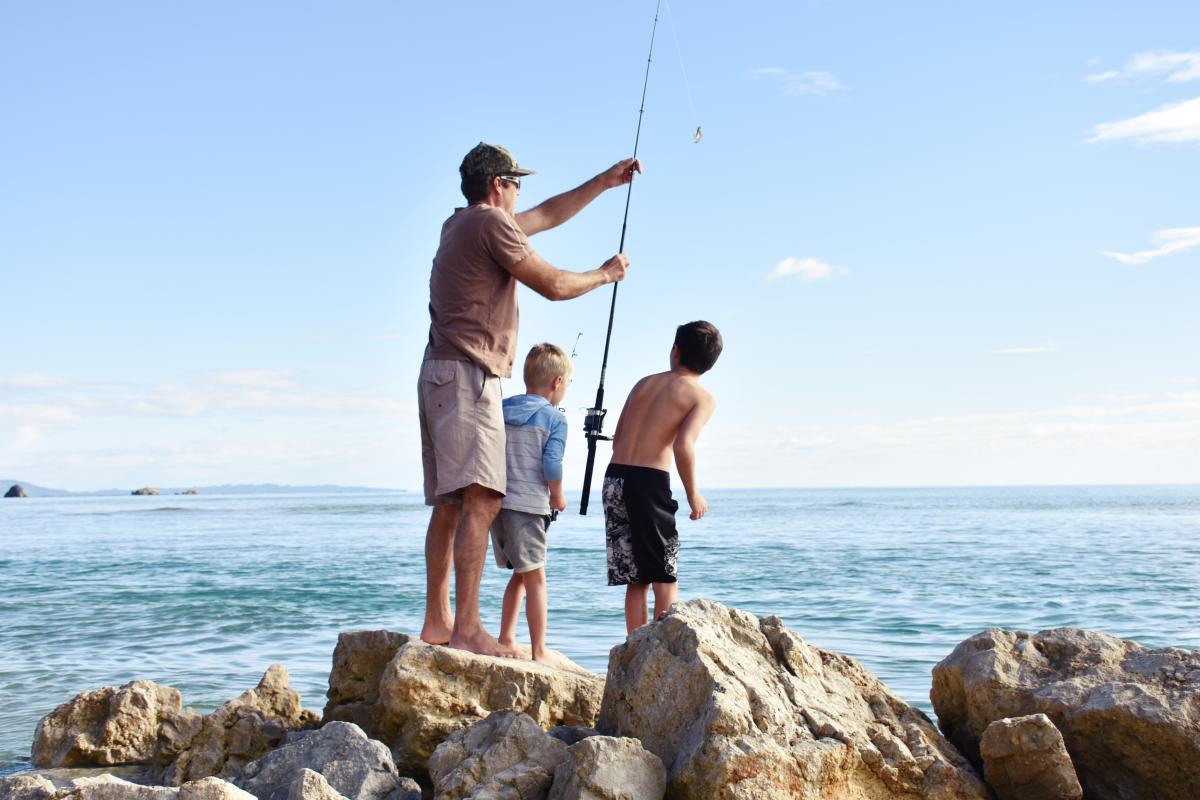 Spend some time relaxing with your fishing pole on one of San Diego's piers and you'll be overjoyed by how easy it is to catch fish. The ocean surrounding San Diego is full of different species, making fishing a popular pastime throughout the city. Travelers from around the world visit San Diego specifically for a fishing trip. 
If you're in town to experience San Diego's world-class attractions, lively nightlife, and delicious food - save a little time to do some fishing while you're in the city. It's well worth carving out a chunk of your schedule to visit one of the incredible fishing piers in San Diego like Ocean Beach Pier, Crystal Pier, or any of the other amazing fishing pier destinations. 
Bass fishing is extremely popular with species like sand bass, spotted bay bass, bay bass, barred sand bass, kelp bass, spotted sand bass, and calico bass. In addition to the many species of bass, you can expect to catch a variety of species like jack mackerel, yellowfin croaker, California halibut, pacific mackerel, and more. 
There are even some shark species that hang out around the fishing piers in San Diego and avid fishermen often find themselves with a rare species on the line. During your visit to the piers, you may spot leopard sharks, gray smoothhound sharks, round stingrays, and blue sharks. 
The Best Time To Fish
The best time to fish from San Diego fishing piers is during the tide changes. When the tides are moving in and out, it stirs up the ocean floor including nutrients and food sources. This means that all kinds of fish move into the fishing pier area in order to eat during the tide changes. 
This means excellent fishing and a great chance of catching rare fish! The tide times change daily, so make sure to take a look at the local tide charts before you visit. Your best bet is to visit the fishing pier when the tide is on its way in or its way out. 
Do I need a fishing license?
One of the best things about planning a fishing trip to San Diego is that you won't need to worry about obtaining a fishing license to enjoy fishing from San Diego fishing piers. This only goes for the fishing piers though. If you plan on fishing in other places - like the many San Diego beaches - you will need to get a license. 
What gear do I need?
If you're looking for the equipment to make the most out of your experience at the San Diego fishing piers, you'll be relieved to know that pier fishing is much simpler than types of fishing. You'll be able to enjoy your time with relatively easy-to-pack equipment, and if you're purchasing new fishing gear to go pier fishing for the first time, you won't have to break the bank. 
Classic fishing poles work best for San Diego fishing piers. According to experts who frequent the fishing scene - the best poles for pier fishing are about 6-9 feet long. Choose a fishing rod with a medium to heavy weight. You'll want a strong but flexible fishing pole for the best luck catching fish. That way you can potentially reel in some bigger fish without risking breaking your pole. If you're fishing from the end of the pier, choose a heavier rod. 
For bait and tackle - most locals will tell you that live bait is going to work best and attract the most fish. When it comes to bait, some local favorites are bloodworms and sardines. You can always try using lures too. For the most up-to-date information, check with an employee at a local bait shop. They're sure to have a good idea of what kind of bait and tackle is working best. You'll likely find a great bait and tackle shop at the fishing pier of your choosing.
The Best Fishing Piers in San Diego 
San Diego is located right on the Pacific Ocean on the west coast of the United States. Many of the city's finest neighborhoods like Pacific Beach, Imperial Beach, and Ocean Beach are located right on the water and have massive piers that jut out over the Pacific Ocean and create ideal environments for good fishing. There are plenty of amazing spots to choose from - so the best fishing piers are a matter of personal preference and finding a convenient location.
Ocean Beach Pier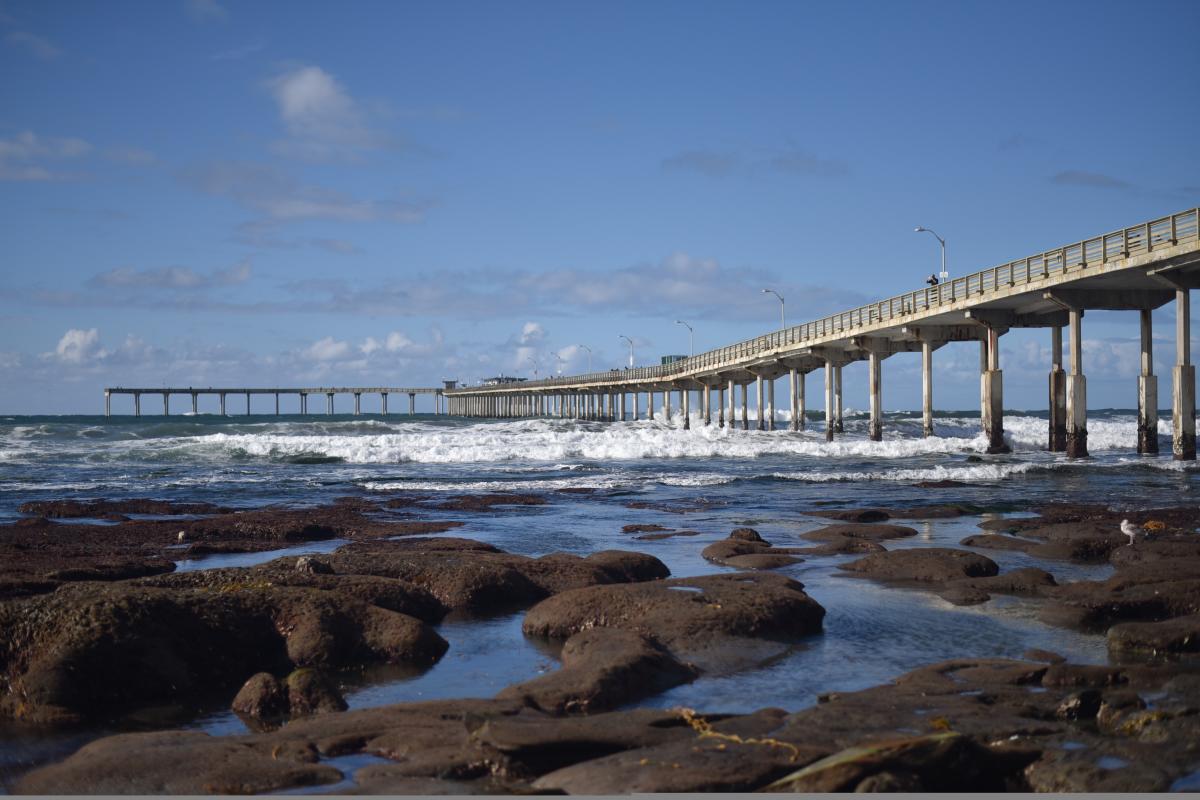 Ocean Beach Pier is undoubtedly one of the best fishing piers in San Diego and one of the most popular. It's the longest concrete pier in all of California - and it is free to fish! The impressive structure extends nearly 2,000 feet over the Pacific Ocean. 
Ocean Beach Pier, or OB Pier as it is affectionately called by locals, is an ideal place to catch all kinds of fish. Surf Perch, mackerel, California Spiny Lobster, Queenfish, Scorpionfish, and Bonito are all commonly caught fish at Ocean Beach Pier. 
In addition to good fishing, you'll find a restaurant serving tasty seafood on Ocean Beach Pier, and it is a great place to watch the sunset. If your travel companion isn't as excited about fishing as you are, they can relax on the pier or enjoy a bite to eat and a drink at the restaurant while you fish. 
Ocean Beach Pier has a tackle shop on the pier as well as public restrooms and is open 24/7. It's the perfect place to spend a day during your California vacation. 
Ocean Beach Pier Address: Niagara Ave, San Diego
Coronado Ferry Landing Pier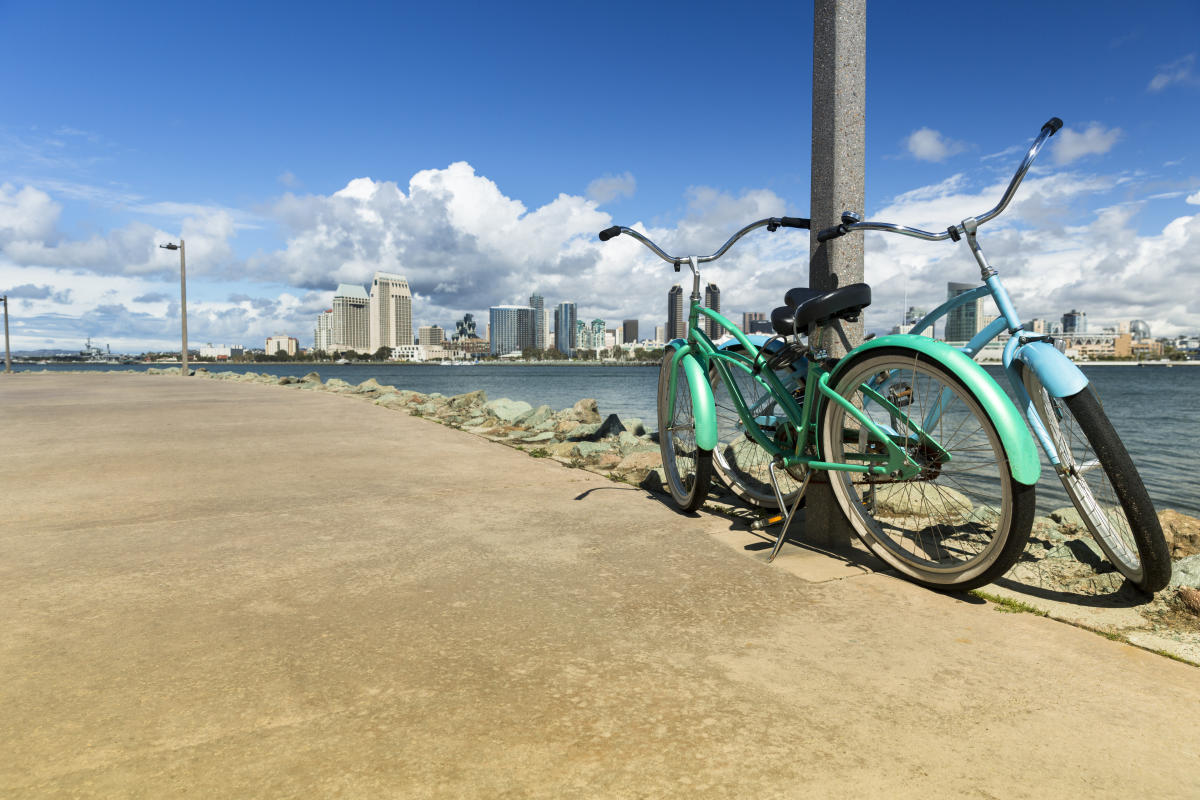 If you're looking for some good fishing and fun, head to Coronado Ferry Landing Pier. Coronado Island is located just off the coast of downtown San Diego and offers a picturesque small town setting close to the city. It's an extremely popular tourist destination, and the best way to get there is by taking the ferry from San Diego. 
Coronado Ferry Landing Pier is smaller than some of the others on our list, but it still makes a great place to fish, especially if you're exploring Coronado anyway. There are so many fun tours and activities in the area! Located behind waterfront shops, Coronado Ferry Landing is somewhat hidden, so if you plan to visit, make sure you're paying close attention. 
Some big spotted bay bass have been caught from Coronado Ferry Landing Pier as well as sand bass, kelp bass, yellowfin croaker, stingrays, and sharks like the gray smoothhound shark and the leopard shark. 
Coronado Ferry Landing Pier is open 24 hours and fishing is free. 
Shelter Island Pier 
Shelter Island Pier is located in one of the best fishing communities in San Diego. It's right on San Diego Bay. If you're someone who loves fishing, this is a must-visit spot. You'll be surrounded by mind-minded ocean lovers and experienced fishermen regardless of when you visit. 
Shelter Island Pier is around 200 feet long and features a large T-shaped formation with a big 500-foot platform deck at the end of the pier allowing plenty of room to spread out and cast your line. The Marlin Club is a popular fishing club that is located right next door. It dates back to the 1930s making it one of San Diego's oldest fishing clubs. 
Shelter Island Pier Address: Address: 1776 Shelter Island Dr, San Diego
Crystal Pier 
Crystal Pier is a one-of-a-kind pier fishing experience located in San Diego's Pacific Beach neighborhood. It's the perfect place to visit if you'd like to spend the entire day fishing while enjoying the beauty of the ocean. What makes Crystal Pier so special is that you can actually stay right on the pier. 
Crystal Pier Hotel has quaint cottages on the pier overlooking the ocean. Each cozy cottage has its own balcony that is perfect for fishing. The cottages were built in the 1930s and remain one of the best places to stay in San Diego. 
For summer stays, there is a three-night minimum to rent a cottage at Crystal Pier Hotel. During the winter months, the minimum stay is two nights. The charming cottages are renovated to include every modern convenience while remaining true to their authentic design. There are studios, 1 bedrooms, and two-bedroom cottages. The largest can accommodate up to 6 people making this an ideal getaway for families with kids. 
If you're looking for a romantic getaway with the fisherman in your life, Crystal Pier is the perfect spot. Soak up the California sunshine on your patio while fishing for things like Queenfish, mackerel, lobster, halibut, surf perch, and California Corbina. Rates range from $225-$600 per night. 
If you aren't looking to stay on the pier in one of the cottages, you can still visit for a day of fishing. For day trippers there are bathrooms, benches, fish cleaning stations, and the Crystal Pier Bait and Tackle shop. 
Crystal Pier Address: 4500 Ocean Blvd, San Diego
Imperial Beach Pier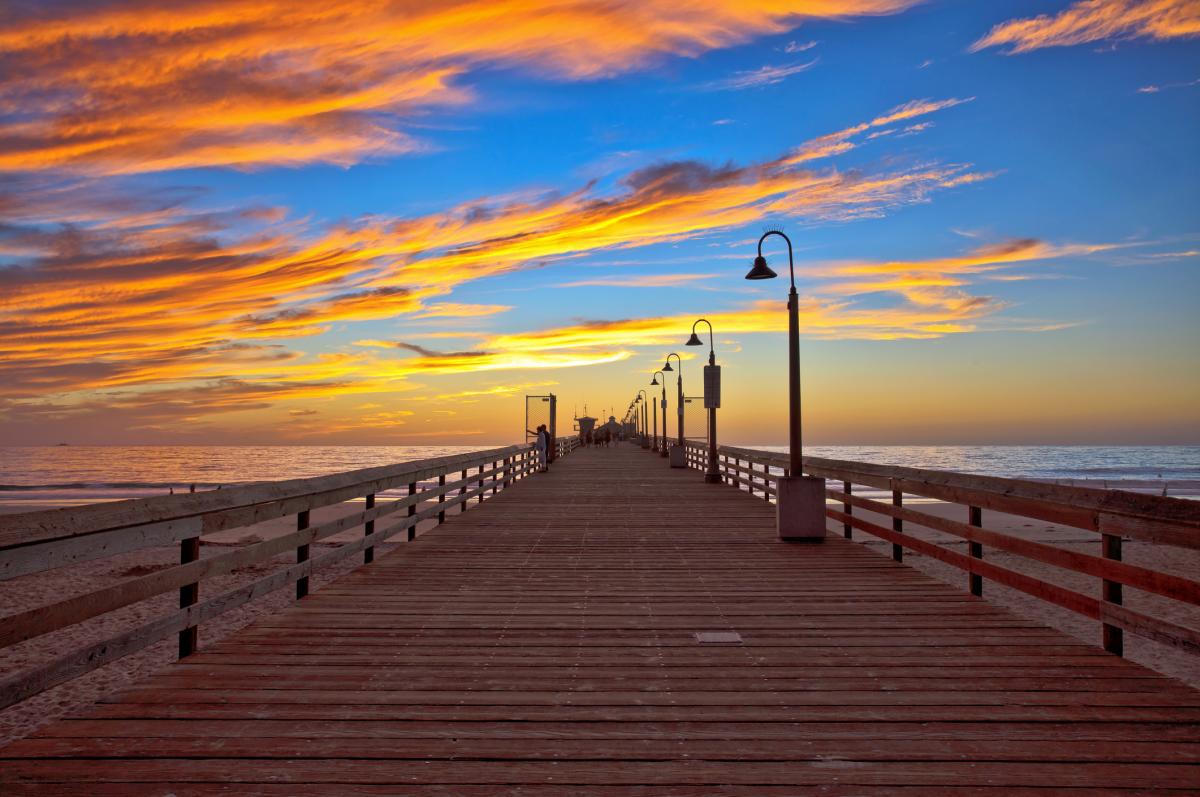 Imperial Beach Pier opens bright and early at 5 am so it's perfect for catching those early morning tide changes. Located at the heart of the Imperial Beach neighborhood, this spot makes an excellent spot to fish at any time of day. 
Enjoy gorgeous ocean views and panoramic sunsets during your visit to Imperial Beach Pier. It's San Diego's southernmost fishing pier located only a few miles from Mexico and offers sweeping views of Coronado Island the in the distance. The surrounding neighborhood of Imperial Beach is an adorable community, and great for exploring in case anyone gets bored fishing. 
From the wooden pier, you can expect to catch fish like surf perch, bonito, California Corbina, mackerel, yellowfin croaker, bonito, and halibut. 
While fishing from Imperial Beach Pier, visitors can enjoy a restaurant serving seafood located on the wooden pier, as well as an ice cream shop, bathrooms, benches, and fish cleaning stations. 
Imperial Beach Pier Address: 10 Evergreen Ave, Imperial Beach
Embarcadero Marina Park 
Embarcadero Marina Park is located super close to the popular San Diego Convention Center, so if you're staying in the area for business or for an event, it makes a great place to visit if you're looking to relax and fish for a few hours. 
Embarcadero Marina Park is smaller than the rest on this list - it is slightly under 100 feet long with a T-shaped deck at the end. Despite its small size, it remains a hidden gem and an excellent spot for fishing. 
There aren't a ton of amenities at Embarcadero Marina Park like there are at some of the larger piers - but what it lacks in extras it makes up for in great fishing. This spot is one of the top places to come if your goal is to catch lots of fish. It is a top San Diego pier when it comes to productivity. 
You can expect to catch sand bass, bay bass, calico bass, mackerel, and barracuda during your fishing trip. The pier remains open until 10 pm. 
Embarcadero Marina Park Address: 200 Marina Park Way, San Diego
Oceanside Pier 
Oceanside Pier is an excellent fishing pier located in the Oceanside neighborhood. With a length of 1,954 feet, Oceanside Pier is one of the largest fishing piers in California. It is definitely an exciting experience for anyone who loves fishing and the pier itself is one of the only wooden piers of its size. 
The water around the end of the pier can be over 50 feet deep! At Oceanside Pier, you'll have ample chances to catch fish like sand bass, calico bass, Pacific mackerel, barracuda, and bay bass. Oceanside Pier has plenty of amenities like a great bait shop, a fish cleaning station, and a tasty 1950's style diner. 
Oceanside Pier is open 24/7. 
Oceanside Pier Address: 1540 N Harbor Dr, Oceanside
San Diego Fishing Piers-Which One to Choose?
If you're planning the ideal trip to San Diego, California it is certainly worth carving out some time in your itinerary to try some pier fishing. With so many amazing spots to choose from around San Diego Bay - you really can't go wrong. Pack up your fishing pole and head to America's Finest City for sun-filled days of fishing and fun!