San Diego is most well-known for its sunny beaches, ideal climate, delicious food, and ample opportunities for outdoor recreation. Tourists flock to America's Finest City for its perfect weather year-round, and many of them never pause to experience one of San Diego's best attractions – its vibrant music scene.
San Diego is a city that nourishes art and culture in all forms – and the music industry is no exception. Over the years, world-class musicians and internationally touring bands have emerged from San Diego including Eddie Vedder, Tom Waits, Blink 182, Iron Butterfly, Jason Mraz, Slightly Stooped, and so many more.
Enormous state-of-the-art amphitheaters ensure that San Diego is a stop on the U.S. tours from major musical acts, while the intimate theaters encourage a lively local music scene that nourishes up-and-coming acts. Excellent weather year-round means that San Diego has some of the coolest outdoor venues in the whole country – and makes it easy to catch some great live music under the stars whenever you visit.
While live music might not be the main thing that initially attracts tourists to San Diego, locals will tell you that the San Diego music scene is one of their favorite things about the city and one of San Diego's best-kept secrets. Venues are scattered throughout the city – offering opportunities to listen to every genre including classical, pop, EDM, rock, jazz, hip-hop, and more. Regardless of your musical taste, you'll find the music you love at one of San Diego's incredible venues! 
If you're planning the ideal trip to San Diego, or you've recently moved to the San Diego area, carve out some time to catch a show or two. Put on your dancing shoes and check out our list of the best concert venues in San Diego!
Outdoor music venues in San Diego
Listening to music under a starlit sky is one of the best activities in San Diego and the weather is perfect, especially during the summer. With so many amazing outdoor venues to see up-and-coming artists to choose from, you're bound to find one of your favorite bands on the schedule at these incredible open-air venues and amphitheaters.
Del Mar Fairgrounds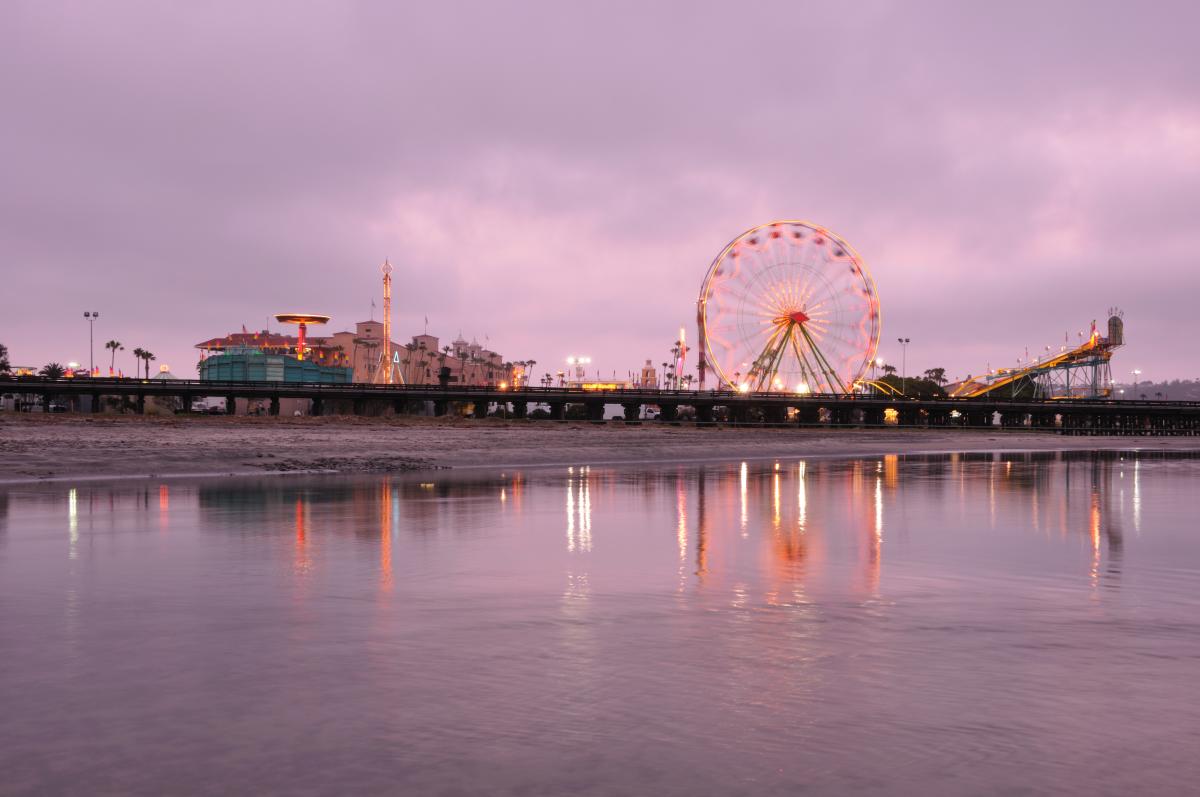 The Del Mar Fairgrounds is most well-known for the annual San Diego County Fair, which includes the annual Toyota Summer Concert Series. There is live music almost every night during the fair. The line-up is always phenomenal and features a nice variety. Ticket prices usually range from $25 - $100 depending on who is playing. 2023's concert series has 27 nights of live music on the Corona Grandstand Stage. You can buy tickets ahead of time on Ticketmaster. To learn more, and for the line-up, announcements visit the Del Mar Fairgrounds' official website.
North Island Credit Union Amphitheater 
Located in Chula Vista, North Island Credit Union Amphitheater is the perfect music venue to head to if you're looking to see a big production concert. The venue has the capacity to hold over 20 thousand people and brings some of the world's most renowned musical acts to San Diego each year. It's one of San Diego's biggest venues and you can expect to see it as a stop on the tours of many of the websites for the current schedule and to buy tickets.
Location: 2050 Entertainment Circle, Chula Vista, CA 91911
Cal Coast Credit Union Open Air Theater 
Cal Coast Credit Union Open Air Theater is located on the San Diego State University Campus, so it's no surprise that it is one of the most popular concert venues among the student population and attracts performances from many of today's popular performers. The venue dates all the way back to the late 1930s when it was constructed and was then called the "Greek Theater." The venue has the capacity for about 4,500 people – so it's big, but not too big to lose half the fun and magic of seeing one of your favorite bands live.
 Location: 5500 Campanile Drive, San Diego, CA 92182
Humphrey's Concerts by the Bay
Since the 1980s, Humphrey's Concerts by the Bay has been one of the coolest places to see a show in SoCal. The venue itself provides space for about 1,400 people. Generally, there are concerts scheduled between April and October of each year. Humphrey's allows visitors to listen to their favorite musical performances right on San Diego's Bay, and you can even take in views of the water. It's located between Humphrey's Restaurant and Humphrey's Half Moon Inn, and there are some great packages for out-of-towners that include lodging, concert tickets, and dinner at the restaurant. Parking is also available onsite for $25.
Rady Shell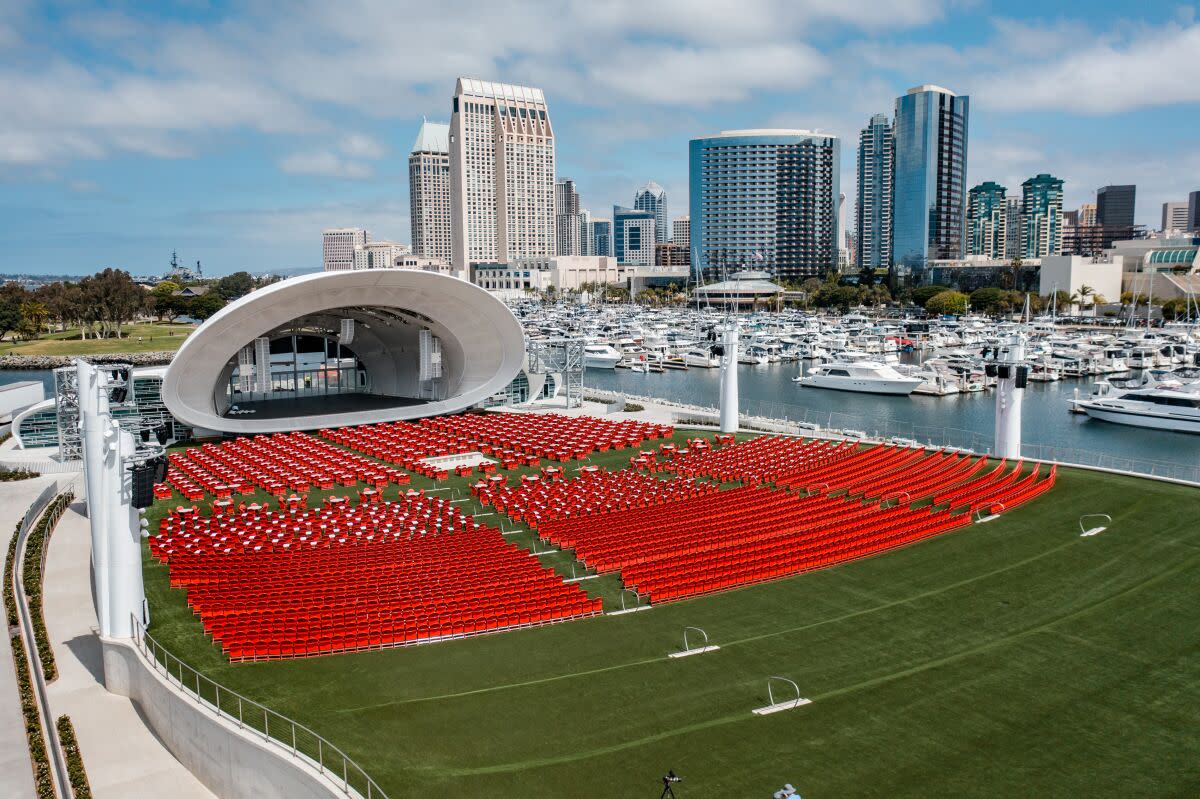 The Rady Shell is a brand-new concert venue in San Diego overlooking San Diego Bay. It's located within Jacobs Park and is the permanent home of the San Diego Symphony. Along with regular symphony performances, there are plenty of other concerts scheduled throughout the spring and summer seasons. This gorgeous shell-like stage seems to emerge right from the ocean, and there are gorgeous views of the Bay. The San Diego venue fits up to 10,000.
Location: 222 Marina Park Way, San Diego, CA 92101
Petco Park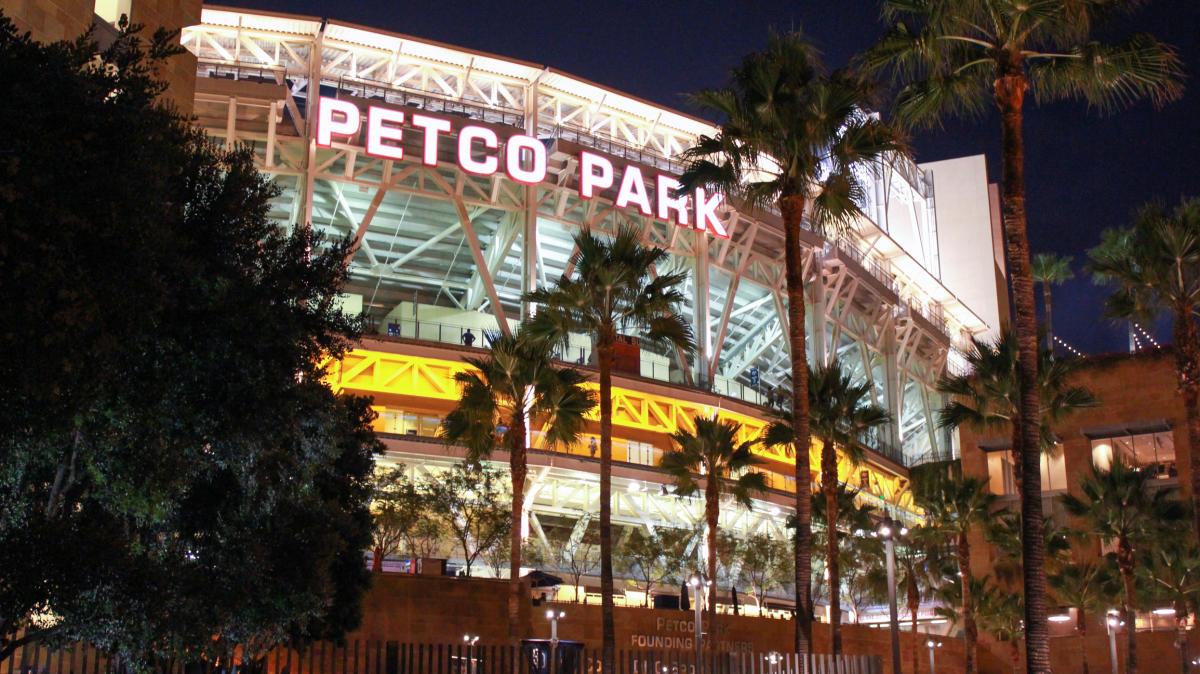 Petco Park is San Diego's baseball stadium and the home of the San Diego Padres. The stadium also hosts some amazing concerts. If you're looking to catch a major act, this is just the place, with a capacity for over 40,000. For a list of upcoming events and concerts, click here!
Spreckels Organ Pavilion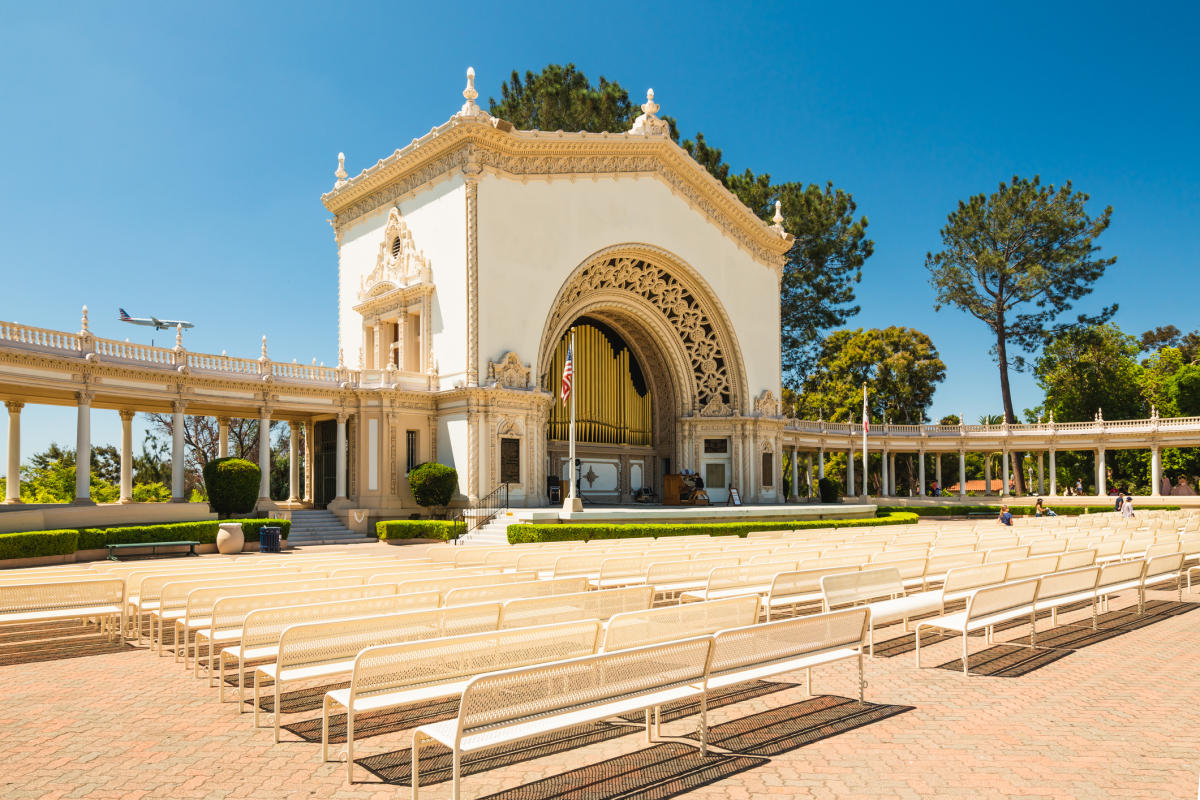 Spreckels Organ is located within San Diego's world-famous Balboa Park, right in the heart of the city. The area is home to the Spreckels Organ, which is the world's largest pipe organ. The open-air venue also hosts a variety of concerts each Sunday. Listen to music, and then wander around Balboa Park exploring the area's many attractions like the San Diego Zoo, gardens, trails, and museums.
 2125 Pan American E Rd, San Diego, CA 92101
Theaters
In addition to the incredible outdoor venues, San Diego is home to bigger concert arenas and some gorgeous theaters. Live music is performed year-round and they're some of the best concert venues in San Diego to see musical performances from every genre.
Observatory North Park
Observatory North Park is a historic theater that dates to the 1930s. It's been completely restored to its former glory and updated with state-of-the-art sound systems. The venue has a gorgeous stage, a capacity for 1,100 guests, and is located in the trendy North Park neighborhood. In addition to concerts, the venue also hosts theatrical performances and community and corporate events.
2891 University Ave, San Diego, CA 92104
Copley Symphony Hall
If classical music is your thing, look no further than Copley Symphony Hall. Its regarded as one of the finest classical music theaters in California. It's the indoor home of the San Diego Symphony, and the venue itself dates to the late 1920s when it was known as the Fox Theater. The capacity is just over 2,200. The stage is breathtaking, and the entire place is intricately carved and luxurious.
750 B St, San Diego, CA 92101
Balboa Theater
The historic Balboa Theater was originally built in the early 1920s to host vaudeville and show movies. It was refurbished in the 2000s and opened to the public in 2008 and has since become one of the best venues in San Diego. The venue holds a little over 1,300 people. It's the perfect place to catch concerts, plays, and other performances in downtown San Diego.
868 Fourth Ave, San Diego, CA 92101
House of Blues San Diego
For rock and blues, head to the House of Blues San Diego. House of Blues is an iconic chain across the United States and the San Diego location is no exception. It's a big venue that fits up to 1500 people but still manages to feel intimate. The schedule is always stacked with great live music!
  1055 Fifth Ave, San Diego, CA 92101
Music Box
If you're looking for an upscale concert experience, head to the Music Box. This venue features three stories of live music, craft cocktails, and a luxurious aesthetic making it the perfect place to celebrate a special occasion or impress a date.
1337 India St, San Diego, CA 92101
Intimate Music Venues and Bars
If large-scale amphitheaters and concert halls aren't you're thing, not to worry. San Diego is the ideal place to catch up-and-coming musicians in intimate settings. 
Brick by Brick
Brick by Brick is known for hard-rock, metal, and heavy music, and an edgy vibe. It's dimly lit and fits about 400 people. Brick by Brick originated in the mid-90s and was renovated in 2014. The venue is strictly 21 and up.
1130 Buenos Ave, San Diego, CA 92110
Casbah 
Cashbah is located in downtown San Diego and has been around since the late 1980s. It has hosted world-famous acts like Nirvana and the Smashing Pumpkins. It's an iconic place to catch up-and-coming bands from around the world. This venue is super intimate, with a capacity for just 175 people. Concertgoers love the opportunity to get up close and personal with the musicians.
2501 Kettner Blvd, San Diego, CA 92101
Belly Up Tavern
Belly Up Tavern is a venue that takes pride in mixing up – with a schedule that features a good mix of up-and-coming bands and established musicians from across all genres. With a capacity of 600, it's an intimate experience in a fun and lively setting.
 143 S Cedros Ave, Solana Beach, CA 92075
Soda Bar
Soda Bar is a super fun and trendy spot with a capacity for about 230 people. The bar serves cocktails and craft beer and there is live music several nights a week. Musical acts include local bands and up-and-coming acts on tour. All shows are for ages 21 and up.
3615 El Cajon Blvd, San Diego, CA 92104
Soma San Diego
Soma San Diego is certain to impress punk and alt-rock bands. It has been independently owned since 1986 and has the capacity to fit 2,300 people. Even with its larger size, the venue remains intimate due to its excellent design and raised VIP viewing areas. Legends like Nine Inch Nails, Billie Elish, Tool, Radiohead, Chance The Rapper, and many more have graced the stage. The venue has a main stage and a side stage, so be sure to catch music at both! 
3350 Sports Arena Blvd suite I, San Diego, CA 92110
Winston's Beach Club
San Diego's edgy and artsy Ocean Beach neighborhood is the home to Winston's Beach Club. Just a few blocks from the beach, this 220-person venue has live music almost every night of the year and features both local and touring bands. Whatever genre you're into – Winston's likely has a show on the schedule to fit your taste. Rock, reggae, jam bands, bluegrass, Latin, experimental – you name it, and Winston's books it.  There's also a massive craft beer selection at the bar, making this a fun and intimate spot to catch live music by the beach.
1921 Bacon St, San Diego, CA 92107 
The Merrow
Located in the Hillcrest neighborhood, The Merrow remains somewhat of a hidden gem. It's a great place to catch local bands, and there are also fun events like karaoke nights and open mics.
1271 University Ave, San Diego, CA 92103
The Bancroft
Located in Spring Valley, The Bancroft is a great place to enjoy live music in a tavern-like setting. It's become especially popular for punk and hardcore fans, but there are karaoke nights and other events along with live music performances.
9143 Campo Rd, Spring Valley, CA 91977
Humphrey's Backstage Live
Humphrey's knows what they're doing when it comes to living music. While Humphrey's Concerts by the Bay features big-name acts and large productions, Backstage Live is the perfect place for a more intimate experience. There is a great selection of microbrews and some delicious craft cocktails to sip on while enjoying the music. The schedule has great variety, with everything from local acts to renowned artists.
2241 Shelter Island Dr, San Diego, CA 92106