If you're looking for the perfect romantic weekend of sipping wine and exploring vineyards, you won't have to stray far from the city of San Diego. A dreamy Baja California vineyard vacation is waiting for you in Valle De Guadalupe - Mexico's premier wine region where over 90% of the country's wine is produced.
Valle de Guadalupe has been referred to as "the next Napa Valley." Visitors love the epic mountainous landscapes and the pleasant Mediterranean climate. It's easy to see why it makes for one of the best day trips from San Diego - plus it can be reached from downtown San Diego in under two hours. Once there, you'll be able to experience over 120 wineries ranging from tiny micro wineries to large commercial establishments. There is even a wine museum that discusses the history of the region and explains the wine-making process.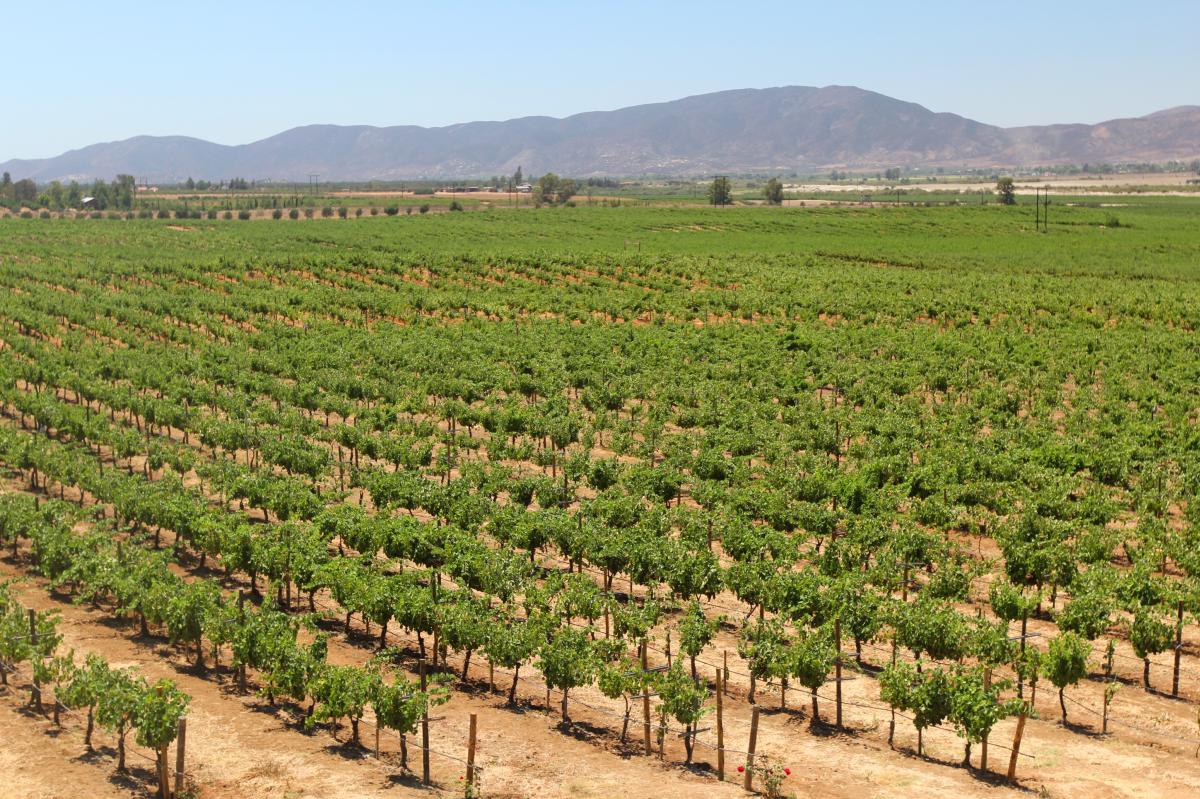 With so many excellent restaurants and luxurious wine tastings to enjoy in Valle De Guadalupe, it is well worth making a long weekend out of your trip so that you can take in everything the area has to offer. Immerse yourself in Mexican culture, breathtaking natural scenery, and glass after glass of excellent wine.
Tourism in Valle de Guadalupe has increased a lot in recent years, and now the region is well equipped with a number of excellent hotels with accommodations to fit every budget and type of traveler.
. Whether you prefer luxury hotels with every possible amenity or a small hotel with great value, you'll find plenty of options. Finding the right accommodations can be daunting - so if you're planning the perfect getaway to Baja California's wine country, check out our guide to the best Valle de Guadalupe hotels.
La Villa del Valle
La Villa del Valle combines simple country living with understated luxury. with only six rooms, the boutique hotel is the ultimate intimate experience and makes for a romantic and relaxing getaway during your visit to Mexico's wine country. Traditional Mexican decor, elegant rooms with personal touches like handmade bath products created from the property's lavender fields, and small but attentive hotel staff are just a few reasons that guests fall in love with La Villa del Valle.
An onsite farm-to-table restaurant, Corazón de Tierra, has been voted one of the top 50 restaurants in Latin America and serves up mouthwatering Mexican and Mediterranean fusion dishes created by chef Diego Hernandez alongside award-winning wines from the vineyard.
Encuentro Guadalupe Hotel
Staying at Encuentro Guadalupe Hotel is an unforgettable experience. As soon as you arrive you feel like you've stepped into another world. The desert landscape is scattered with individual pods or lofts that serve as the property's guest rooms.
You can choose to stay in one of the 25 lofts, an eco-house that is perfect for families, or the master suite. Furnished simply and minimally, the rooms offer views of the surrounding desert landscape, encouraging guests to get outside and enjoy nature. Other amenities on the property include an outdoor swimming pool and bar area as well as a restaurant that serves up wines and beers made in-house. When night falls at Encuentro Guadalupe Hotel, magic happens. The sky lights up with millions of stars, and the best place to enjoy them is from the private balconies of your loft - with a glass of wine in hand of course!
El Cielo Resort
El Cielo Resort is one of the most popular hotels in Valle de Guadalupe. It's conveniently located along the wine route, close to the main road, and offers every single amenity to guests. The beautiful Tuscan-Californian architecture is surrounded by mountains and vineyards in every direction.
Accommodations include 80 beautiful suites, each with a private bathroom, and several presidential villas for guests who desire even more luxury and privacy. Rooms are decorated in a contemporary style and offer lovely views of the surrounding grounds. Guests will love enjoying a meal at either of the two onsite restaurants. Polaris Restaurant serves modern cuisine with seasonal ingredients and Latitude 32 serves breakfast, lunch, and dinner and specializes in Baja-Yucatan fusion cuisine and wine from the famous El Cielo Winery, of course!
Hotel Boutique Valle de Guadalupe
Hotel Boutique Valle de Guadalupe is built in an impressive modern-Hacienda style surrounded by beautiful views of the mountains. There are a variety of spacious rooms ranging from comfortable doubles to spacious villas. You'll be within minutes from some of the most popular vineyards on the wine route, so when you're not out enjoying wine tastings nearby, you can kick back and relax at the sparkling outdoor pool.
Fuego Cocina Del Valle is the onsite restaurant and provides the perfect place to grab a bite of tasty Baja California-style cuisine made from locally sourced ingredients. The hotel offers activities like horseback riding tours, bicycle rentals, and board games so there is plenty of fun for the whole family. When night falls, grab a glass of wine and make memories around a fire pit under the stars with your loved ones.
Entrevalle Hotel Boutique
Located right in the heart of Valle de Guadalupe's wine route, Entrevalle Hotel Boutique makes an excellent home base for your vacation. The hotel offers cozy cabins - both doubles and quadruples - with every amenity including air conditioning, private bathrooms, coffee makers, gorgeous views, and seating areas.
When you aren't exploring the nearby wineries you can relax in the jacuzzi tub, or grab a bite at the hotel restaurant.
Ojo Azul Resort
Ojo Azul Resort is located on a vineyard and features 30 beautiful rooms with unique details like exposed brick and big windows to bring the outdoors in. After taking a swim at the large outdoor pool, you can wander over to the vineyard for a wine tasting, or stop by the onsite restaurant, Almatierra, for some gourmet eats.
https://www.youtube.com/watch?v=HYuKJc3UAIQ&t=1s
Terra del Valle Bed and Breakfast
Guests feel right at home during a stay at Terra del Valle Bed and Breakfast. It's an intimate spot, where you'll be greeted personally by the owners. There are five beautiful guest rooms inside the house offering air conditioning, hair dryers, plush robes, comfortable beds, and a private bathroom.
Each room has a lovely balcony with mountain views, a table for two, and even a hammock for a relaxing nap after a day of wine tastings. The bed and breakfast itself was constructed with sustainability in mind, so it's an ideal choice for eco-conscious travelers. It's actually 100% self-sustaining, and even the landscaping was planted with the intention of having a small ecological footprint. The plants require very little water, and the water they do require is produced from a well on the property. A Mediterranean breakfast is served each morning with ingredients that are grown on the property.
Campera Hotel Burbuja
If you're looking for unique lodgings that you'll never forget - head to Campera Hotel Burbuja. The name translates to "bubble hotel" in English. It's a glamping retreat in which guests stay in individual bubble-shaped spheres with clear ceilings allowing for exceptional 180-degree views of the surrounding landscape.
Inside the bubbles, guests will enjoy all of the amenities of a standard hotel room including a big comfortable bed with privacy curtains, a private bathroom, and individual heating and cooling units. ​
Hacienda Guadalupe Hotel
Hacienda Guadalupe Hotel is located on a vineyard and has 16 spacious guestrooms within a gorgeous Hacienda-style building. The rooms are designed for couples and feature beautiful wood detailing throughout.
Guests can enjoy luxury amenities like organic toiletries, Egyptian cotton linens, air conditioning, balconies, and a flat-screen TV. There is a restaurant on site with views of the vineyard and mouthwatering Mexican food.
Luna del Valle Boutique Hotel
Luna del Valle is a boutique hotel with adorable cabins that sleep up to three people. each cabin has an astronomically inspired name like Sol, Eclipse, and Estrella. Perfect for a couple or a group of friends exploring wine country, Luna del Valle has a central location and luxurious amenities in a peaceful setting.
Spend the morning relaxing by the pool and enjoying views of the mountains before you head out for an afternoon wine tasting. At the end of your day, you'll love stargazing from your private terrace.
When is the best time to visit Valle de Guadalupe?
Much like San Diego, Valle de Guadalupe has a pleasant climate year-round, so there is no bad time to visit. That being said, the ideal time to visit is in the spring or fall when you will get to experience the best temperatures - cooler nights and sunny days.