If you are looking for some family-friendly fun near San Diego's Pacific Beach, Campland on the Bay offers events, camping, and amenities for the whole family right on Mission Bay. This can be a great way to plan a summer trip that won't leave you checking hotel bills or worrying about having to cut a trip short.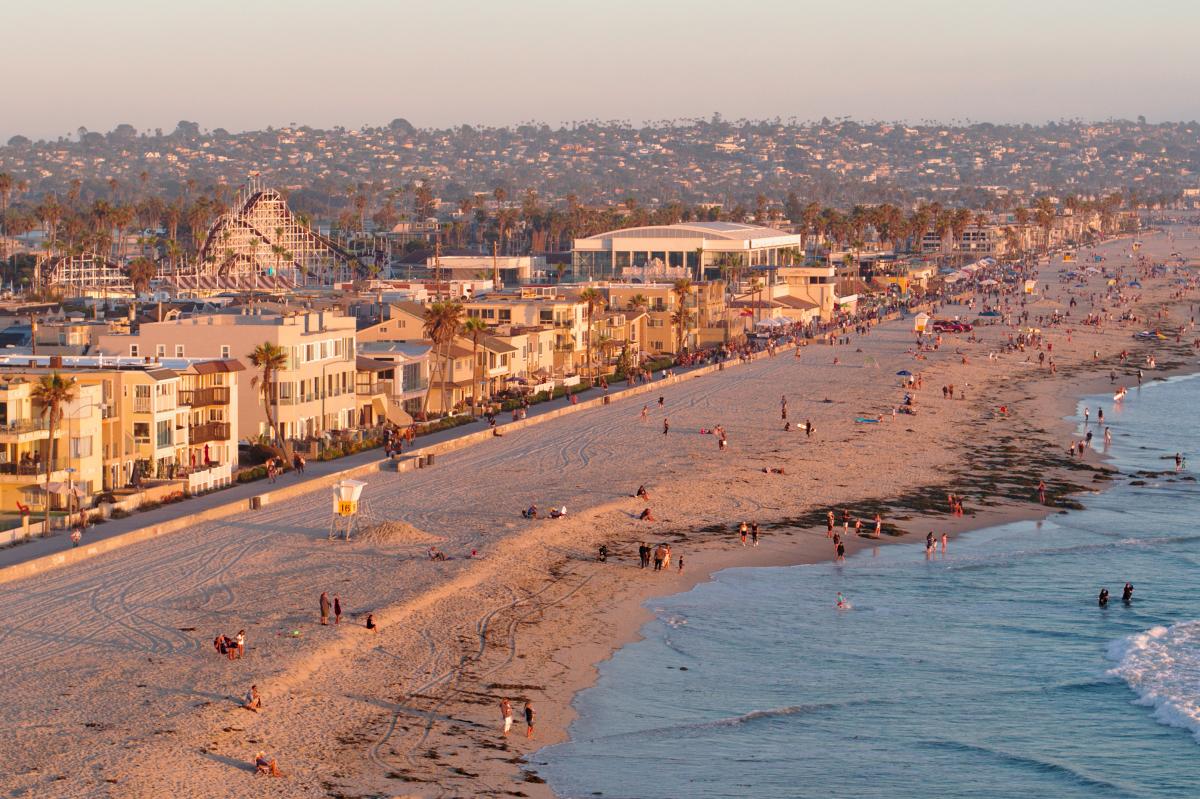 From tent camping, RV camping, and plenty of amenities for all, Campland on the Bay is a great opportunity to get out there this summer. Many campers return year after year to the popular campground space and can partake in planned activities (like the beloved water activities) or do their own thing. There's a reason that it is San Diego's most-awarded RV resort, after all!
These grounds are located within easy walking distance to Mission Bay, which means that the Pacific Beach and Mission Valley areas are also not far off. Picture a summer at the ice cream parlor, game room, going swimming, and being able to relax near the shores of California. That's what you are in for at this great site!
Don't worry, we'll go into more detail for anyone who is either unfamiliar with this style of vacationing or wants to know more about this area of San Diego - it's one of the best places for RV camping! 
Staying in San Diego
When it comes to choosing where your trip to San Diego will take place, we're sure you know that there are plenty of options to consider. From the beautiful coastlines of Carlsbad and Encinitas up in North County to the beaches and bay closer to downtown, the ideal vacation is available to everyone regardless of preference.
Of course, it's ideal that San Diego truly has it all, but we know that this can make it difficult to plan. So, we're going to dive a bit deeper into the Mission Bay area, and what you can expect.
Mission Bay and Pacific Beach Areas
If you're looking for a fun, accessible area to explore, Mission Bay is the perfect place. Whether you're a family, a couple, a group of friends, or even just want a quick solo trip to San Diego, the area offers so much.
Family Fun
Mission Bay itself is a part of the Mission Bay Aquatic Park, which just so happens to be the largest man-made aquatic park in the entire United States. It's a place where you'll find people kayaking, paddle boarding, sailing, and drinking on duffy boats.
Its shores are home to tons of beach houses, apartments, and hotels, and its sands host birthday parties, volleyball games, and joggers. If you're looking to relax at the water, enjoy some disconnection, and get active, you can walk from Mission Bay to nearby restaurants, stores, and cafes.
Partying
Those who like to party can also enjoy the area, which is within walking distance of the very popular Pacific Beach, which is home to many of San Diego's best beachside bars and restaurants. You can enjoy the Tuesday Night PB Farmer's Market, go out for drinks daily, and hit up beach clubs at night. All of this to say, your experience around Pacific Beach and Mission Bay can be whatever you want to make of it!
Campland on the Bay Amenities
Campland on the Bay gives you an easy way to beat the prices of beachfront AirBnBs, condos, or hotels. Oh, and it's a great space! The front office is welcoming, and you'll have a place to do laundry, a market to grab the essentials at, and there is even a pool for those who prefer to avoid the sand (we know you're out there!)
There are so many amenities offered here, that they are worthy of their own list:
· RV Campsites
· Tent Camping
· Pet-Friendly Space
· Restrooms & Showers
· 124-Slip Marina and Boat Launch
· Free WiFi & Cable TV
· Laundry
· Swimming Pools & Spas
· Bike Rentals & Trails
· Public Beach
· Sports/Basketball/Pickleball Court
· Beach Volleyball Court
· Gym
· Cantina & Bar
· Live Entertainment
· Ice Cream Parlor
· Market
· Kids' Activities
· Playground
· Horseshoe Court
There are 31 complementary parking spaces available for Campland use, including 4 EV chargers, that are open on a first-come, first-served basis. EV charging spaces shouldn't be used for longer than needed, of course, to make sure that everyone who needs them has access.
With so many amenities, you could quite easily spend the entirety of your trip at Campland alone, which makes for a nice, simple vacation without much planning required.
Dog Park – Dogwood Park
If you are hoping to bring your pup to a place that not only allows but welcomes dogs, Dogwood Park is a paradise for pets! This park is landscaped off-leash and is the perfect place for dogs to play and people to meet their new vacation neighbors.
The grass there is real and special events are plenty, with costume contests at Halloween, Christmas, and Easter. For people, there is the playground, pool, video arcade, sports courts, and the beach…of course!
Tent Camping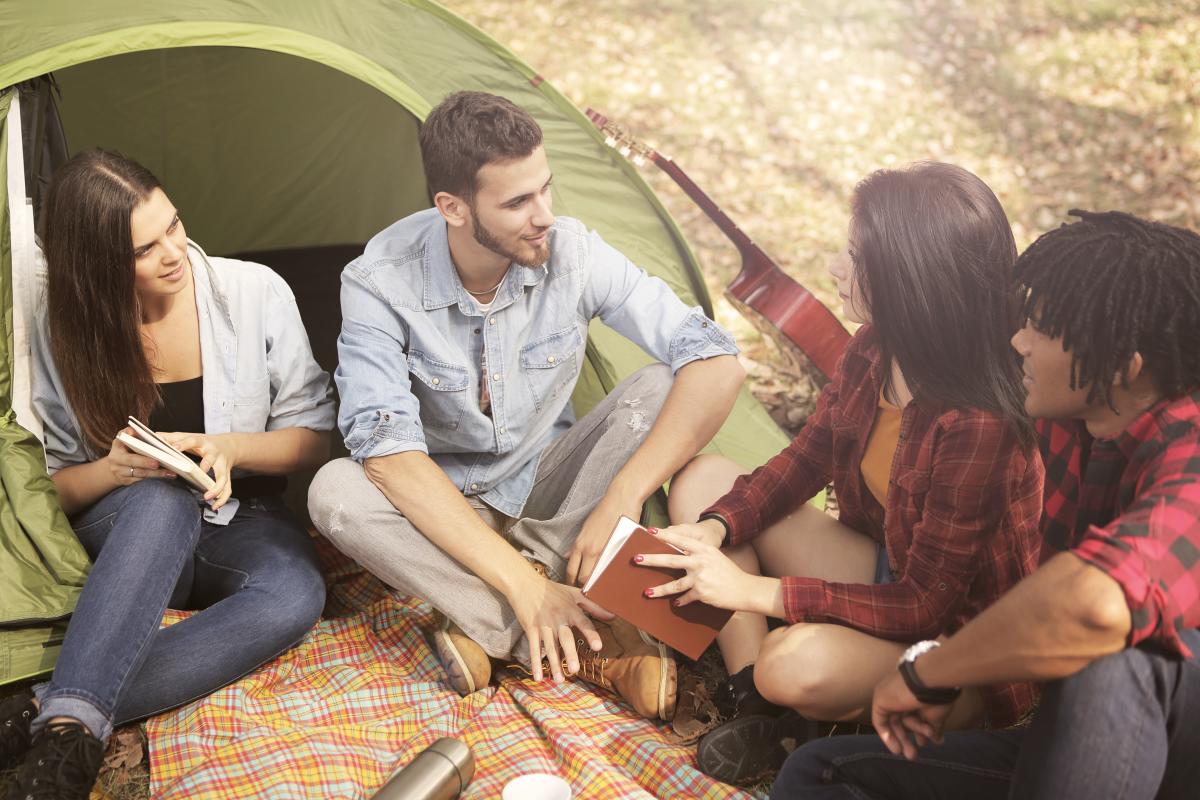 Campland on the Bay is the only place to allow tent camping in the city of San Diego. So, that makes it the perfect (albeit only) place to tent camp here! There is a maximum stay of 14 days for tent campers within the park, though we doubt you'll want to be in your tent for 2 whole weeks… no matter how wonderful the area is. The 'primitive area' which is tent-only, has a 7-day maximum, though you'll most likely choose a site in the shady west side of the park, anyway.
Tents are meant to be placed on dirt and asphalt sites only and no tents are allowed to be staked into the asphalt, for obvious reasons. Sprinklers come on at night in the grassy spaces… so you'll learn the hard way if you put your tent in an off-limits area.
RV Camping
There are multiple RV site types, and you can choose from the following:
· Beachfront RV Sites
· Bay View RV Sites
· Distinguished RV Sites
· Preferred RV Sites
· Select RV Sites
· Marina Dry Sites
· Standard East RV Sites
· Standard West RV Sites
· Dry RV Sites
· Limited RV & Tent Sites
Some of the RV sites have some hookups, others have full hookups, and some have no hookups, so keep this in mind as you choose your camping spot near beautiful Mission Bay.
Rentals
Guests can rent everything from golf carts and bikes to water gear like boats, wave runners, a giant water slide, and plenty more! Prices range from $30-$700 depending on what you wish to rent, how many people you have, and how many hours you are renting water equipment. There are also RV and boat storage options for those who need them.
Campland is For Everyone
Campland also has a program that runs each year to make camping more accessible to the underserved. Those who wish to apply for the free camping program can submit applications, and slots are open based on annual availability.
Whether you are traveling as parents with children, adults looking for a crazy getaway, or groups hoping to camp in a quiet, cool place, Campland on the Bay is a fun RV park and campground built for all.
Are you from the area or an out-of-towner who has visited? Let us know what your favorite Campland highlights are via our socials @sandiegodotcom.