Are you a resident or visitor of America's Finest City? Do you need to be tested for COVID-19 to travel to or from San Diego? RTW Health Services has what you need!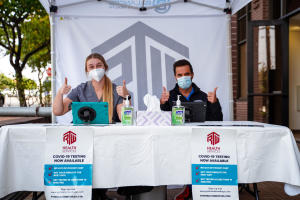 Our company provides state-of-the-art COVID-19 testing to ensure that our clients and their employees, members, students, athletes, etc., are able to return to work, school, sporting events, and all other aspects of daily life knowing that they are COVID-19 free.  We provide board-certified physician-led infection prevention training and education to reduce the spread of COVID-19 and to keep the work environment as well as all other settings safe.  We strive to design innovative solutions to solve the needs of our clients and pride ourselves in the professional execution of these recommendations.
RTW Health Services offers COVID-19 testing with no copay or out-of-pocket cost!  We accept both insured and uninsured patients of all ages and results are typically received the  following day. Walk-ins are welcome but by making an appointment online you can be confident we are open and have availability for your testing needs. Our business hours are Monday to Sunday, 10am to 4pm and we offer tests approved and accepted by all major entities.
San Diego is home to many popular event venues such as The Old Globe Theatre, Petco Park, Pechanga Arena, Sea World, The House of Blues, and the Rady Shell at Jacob's Park. All of these venues require proof of vaccination or a negative covid test for entry. Come visit us at our La Jolla location for your COVID-19 testing needs and we have you covered! We are only 14 miles away from the San Diego International Airport for your convenience when it is time to travel.
What we offer:
RTW Health Services offers both free and chargeable testing options. Our free covid testing includes the COVID-19 RT-PCR Nasal Swab or RT-PCR Saliva Test. Our chargeable testing includes the Rapid Molecular NAAT COVID-19 test, Rapid COVID-19 Antigen test and a Self Administered COVID-19 Nasal Swab. These tests can be administered at our clinic within the same 10am to 4pm hours of operation, or you may utilize our concierge service that will come to your home and administer any of the above stated tests for an additional cost.

Book your appointment today at gettestedsandiego.com!
If you have any questions or concerns contact us at sandiego@rtwhealthservices.com.