Guide to Dog Surfing San Diego
San Diego is home to the very first dog beach in the United States, aptly titled 'Dog Beach' located in the Ocean Beach neighborhood. So, then, it's not a big surprise that many southern California dogs like to catch waves with their owners occasionally.
Dog surfing is a popular activity for dog owners and their pets. Dogs are properly trained to surf on different kinds of boards so they can get out with their humans and ride some waves. From individual activities to huge surf dog competitions, this is a popular pastime in San Diego.
Want to learn more about having a surf dog here in SoCal? Great! Stick with us for a few while we give you a quick overview.
What Is Dog Surfing?
Essentially, if you love to surf, have dogs, and want to go make friends with other parents of pups, dog surfing is the right activity for you!
This is a popular sport among practicing surfers who love to get outdoors almost daily but can't bring themselves to leave their dogs at home for hours on end.
The solution they came up with allows pets to stick with their parents, surfers to keep doing what they love, and spectators to watch an adorably cute exchange as dogs are taught to surf.
You can teach your dog to surf at Ocean Beach Dog Beach, Del Mar Dog Beach, or Huntington Beach closer to LA.
Del Mar Dog Beach
While Ocean Beach Dog Beach was historically one of the first off-leash dog beaches in the country and is nationally famous, the opportunity to surf with your dog is better in the waves of Del Mar Dog Beach.
Head to this beautiful stretch of sand and sea, sandwiched in between the neighborhoods of La Jolla and Solana Beach as you teach your pup to surf alongside you.
In fact, the Del Mar Dog Beach may also be more notable for its popular, annual dog surf-a-thon that raises funds for charity.
It is worth a visit, regardless of whether you want to catch an event, surf, or just run around the sand with your furry best friend.
Del Mar Dog Surfing Competition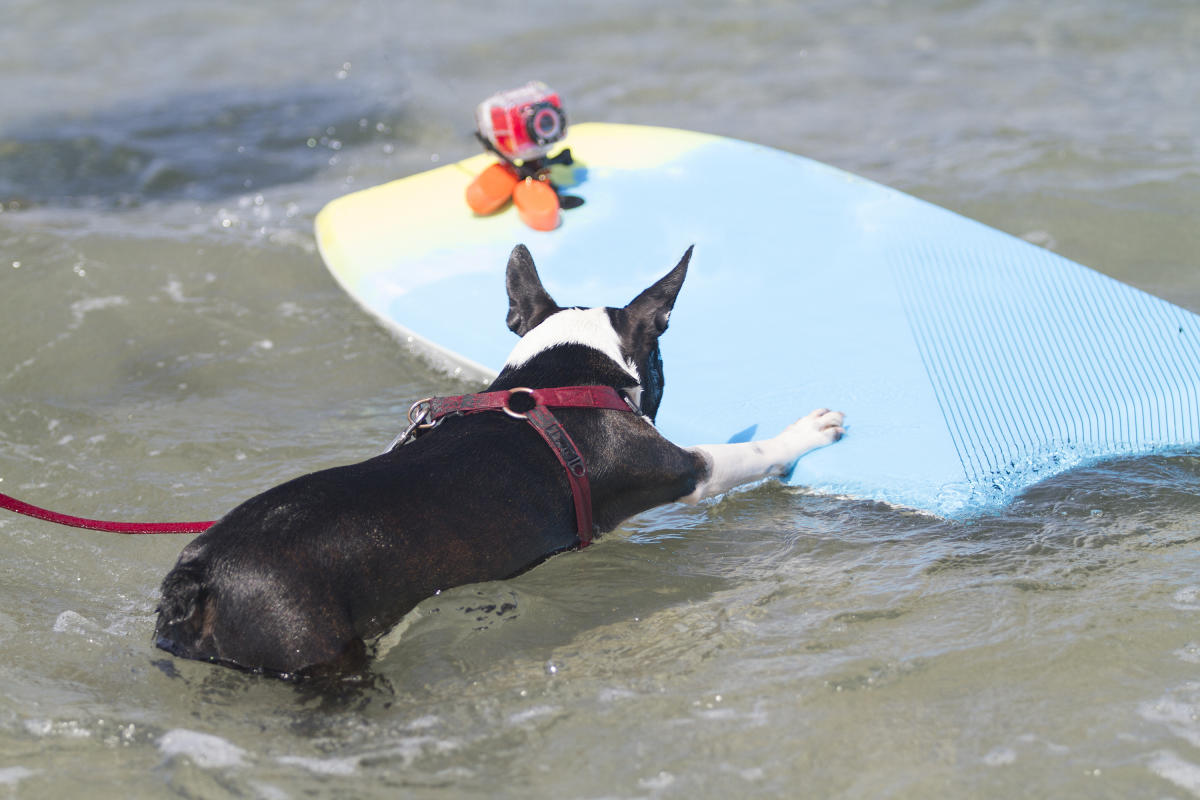 The Del Mar Dog Surf Competition is held at Del Mar Dog Beach and takes place annually in September.
The upcoming 2023 Dog Surfing Competition is the 18th annual surf dog surf-a-thon, set up as a surfur expo. This event will take place from 8 am to 2 pm on Sunday, September 10th.
Dogs are split up by weight class at this fun world-class event, showcasing individual and tandem rides.
This is a family-friendly event that goes to support the Helen Woodward Animal Center to raise money for orphaned pets that are under their care. What a fun way to raise money, and all for a great cause! Generally, who doesn't love a good dog surf-a-thon, right?
We love to watch the pups participate in a fun event that raises funds for other dogs. One of the best events in San Diego County, this surf dog competition is like no other in California!
You can also head down to the Imperial Beach Pier to see another dog surf event in south SD or Huntington Beach to see dogs surf closer to Los Angeles. 
Surf's Up San Diego!
Okay, it's time for us to go. See you soon, but in the meantime, we hope that you are making the most of the surf-related opportunities that sunny San Diego holds… with and without your precious pup.
Whether you are supporting the Helen Woodward Animal Center by attending dog surf-a-thon events at Del Mar Dog beach, or just like to go out to surf with your own pooch, know that there is plenty to do surrounding the area's surf dogs.
Have a dog that you like to surf with? What's your favorite spot?