If you're looking for a trip to San Diego and its surrounding areas, or if you're a local looking for a nice day trip out of town, Santee should be on your radar. Though it might not be ideal for those that prefer city centers and rooftop bars, it's great for anyone looking for a nice hike in a quiet area.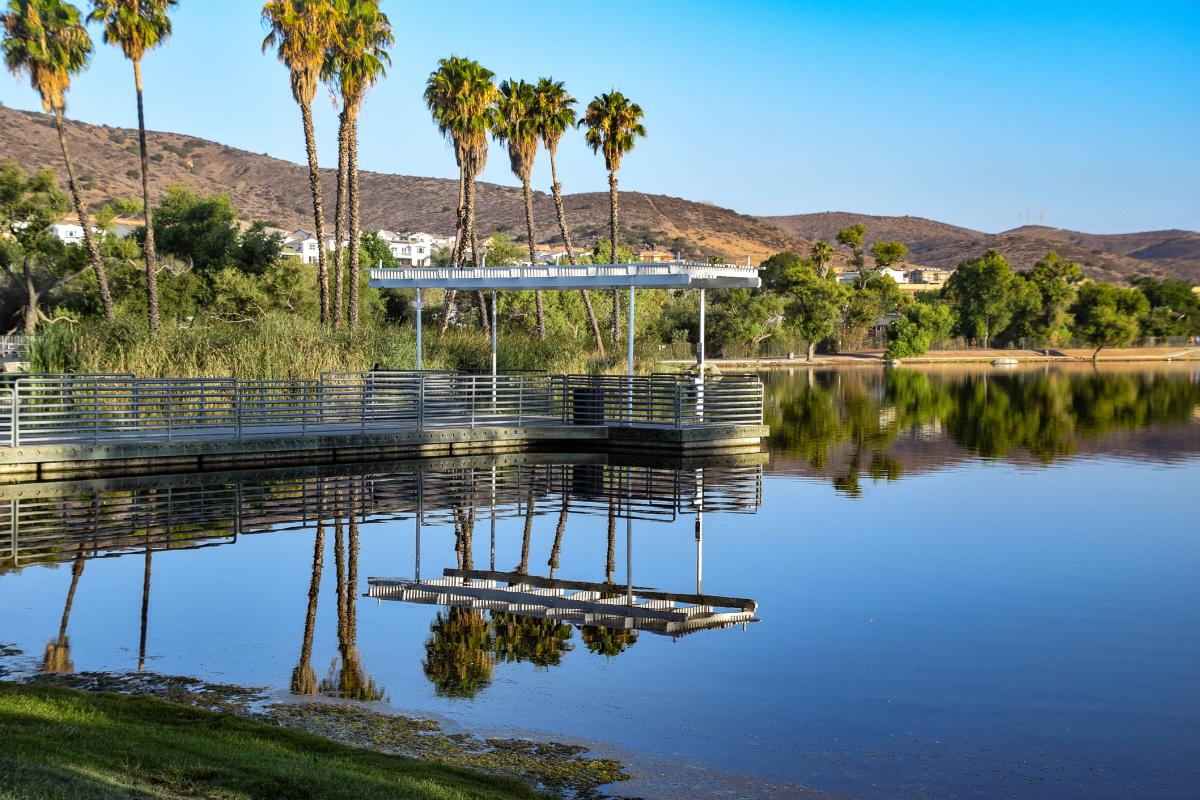 Getting out in nature is easy in Santee, with its many peaks to hike and lakes to explore, is easy and convenient. The Santee Lakes Recreation Preserve adds to the ease by providing a nice day-use space, overnight camping, events, and more. The space offers access to all of the major seven scenic Santee lakes…now, say that 3 times fast.
Tongue-twister aside, let's dive into the different ways to make the most of a visit to Santee Lakes, no matter how long you intend to stay in the area.
About Santee, CA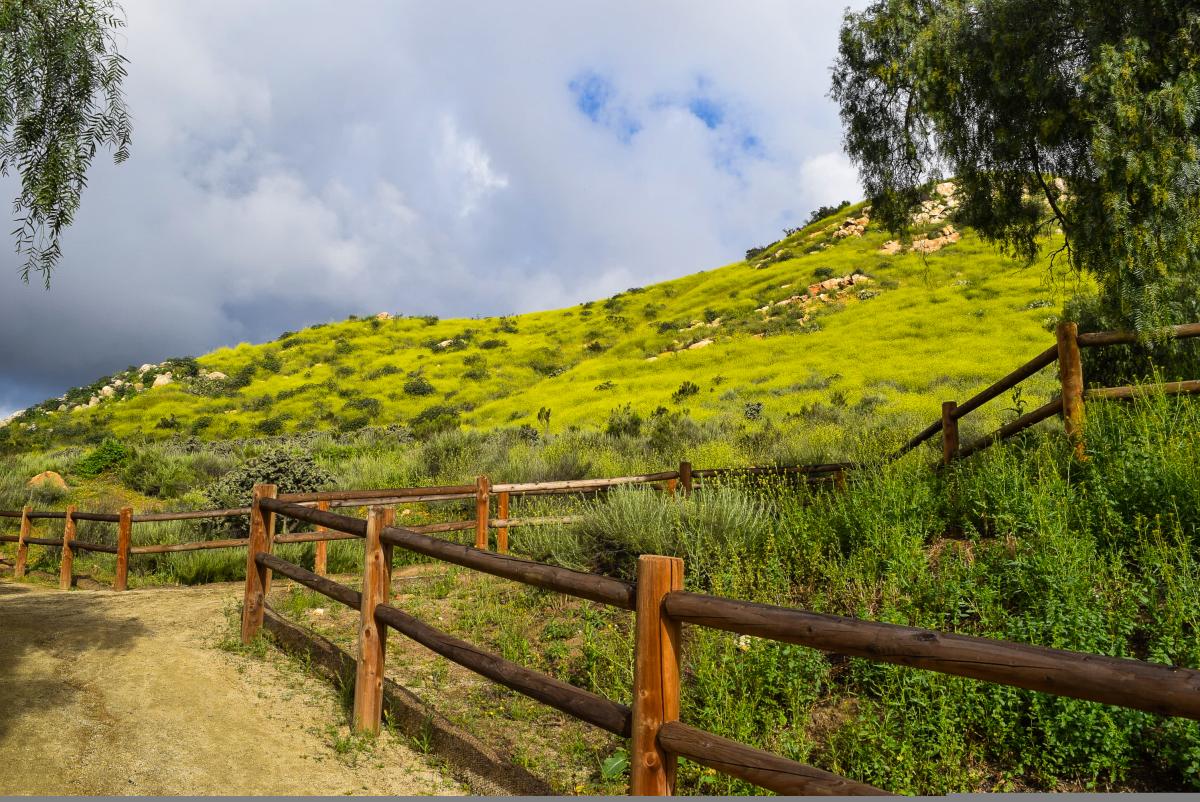 Part of San Diego's East County, Santee is a city in California located just 18 miles from the Pacific Ocean. This makes the suburb extremely accessible from most parts of central San Diego while allowing it to be removed enough to offer beautiful views of the areas to the west.
There is plenty else to do in Santee, but nature is the heart of the area's pull for guests and locals alike.
Conveniently enough, you can access Santee via the San Diego Trolley's green line. The Green Line of this light-rail train system runs from the downtown 12th and Imperial Station all the way east into Santee.
So, if you're a local and want a day trip into the area or plan on tent camping, you can hop on the trolley to avoid traffic. As a visitor, this might just be the easiest and most cost-effective way to supplement your trip to downtown San Diego.
Santee Lakes Recreation Preserve
Santee is home to seven major scenic lakes, all of which are a part of the Santee Lakes Recreation Preserve. The preserve is a park made of 194 acres of land, complete with a campground providing 300 full hookups to those staying in the area.
Enjoy some fun in the sun at Santee Lakes and enjoy being in an area that is both close to the water and simultaneously located in a great hub for recreation.
Sustainability at Santee Lakes
Owned and operated by the Padre Dam Municipal Water District, Santee Lakes is so much more than just a fun space to spend a couple of days. It also helps to recycle water and divert partially treated sewage from entering the Pacific Ocean daily. Talk about sustainability!
Speaking of sustainability, Santee Lakes is a self-sustaining preserve that is run entirely off of guest fees, community group collaborations, grants, and sponsorships. Since the space receives no funding from ratepayers or taxpayers related to water/sewage, you can feel extra good in the knowledge that your visit helps the environment around us.
After this local, Santee-area water is recycled at the Ray Stoyer Water Reclamation Facility north of Santee Lakes, it goes through the lakes, and then about half of that water is used to support city parks, the local golf course, and city schools.
The park is truly dedicated to supporting the environment in any way it can, including the use of its 4 acres of solar panels that help to power about half of the park and campground's entire operations and needs.
Santee Lakes has a national Plan-It Green award for all of its efforts, and you can surely learn more about these environmental initiatives during your visit.
Staying in Santee Lakes
Guests can stay in tents, RVs, or cabins, depending on what kind of experience they wish to have.
Tent and RV Sites
General campsites all have full hookups and WIFI, and deluxe sites even include a cable TV along with some extra space. With 300 sites, you'll find something that suits you and your travel companions.
If you don't have an RV but wish to stay in one, you can work with Santee Lakes' only approved RV vendor- RV Rentals San Diego, who will drop off your rental, set it up, and move it off-site after your stay. Easy as can be!
Cabin Sites
Let's say that a tent, or even RV camping, just isn't for you. Santee Lakes offer lakefront cabin rentals to ensure that you have the best, most fulfilling stay possible.
Each is fully equipped with a personal fire pit and a pedal boat on the lake, cabin sites are primarily on land. However, there are 3 floating cabins that come with a large front porch and a patio table and chairs from which guests can sit and fish directly from their cabin!
All cabins, regardless of the type, include the following amenities:
· Stovetop
· Kitchen & Refrigerator
· Bathroom
· WIFI
· Barbeque Grill
· A/C & Heating
· Flat Screen TV
Activities
Santee Lakes as a recreation area also offers plenty of amenities to make your stay here well worth the experience. You can camp, rent a cabin, fish the sport fish that are available year-round, go boating, enjoy playgrounds, explore walking trails, and see around 230 species of birds. If a larger event is your goal, you can rent out facilities or host special events on-site, too!
Enjoy picnics, parties, weddings, and any other event under the sun. Or, simply enjoy a hosted event like Santee Lakes' PJ & Popcorn Movie Night, Night Fishing, or Paint & Sip On the Deck.
There are so many ways to have a fun, full experience at Santee Lakes, whether you are an individual looking for some quiet time out of the city, a family with young kids, a group of college friends, or a couple looking to reconnect for a weekend.
You can always check out Santee Lakes Event Calendar to prepare for your visit.
Day-Use Hours
If you are only coming for a day trip, check out the Santee Lakes seasonal hours below:
November 6 through February
Monday-Thursday: 7 am to 5 pm
Friday-Sunday: 6 am to 5 pm
March 12 through September
Monday-Thursday: 7 am to 7 pm
Friday-Sunday: 6 am to 7 pm
October
Monday-Thursday: 7 am to 6 pm
Friday-Sunday: 6 am to 6 pm
Hikes Near Santee
There are so many amazing hikes around Santee that we might as well make a list! So, here are our top Santee Hikes:
· Cowles Mountain Trail
This can be accessed via trails like Big Rock, Mesa, Barker Way, the service road, and more, so do your research before heading here. Hikes range from about 2.4 to 4.8 miles depending on your starting point, so prepare yourself for whichever length and difficulty hike you may be embarking on.
· Fortuna Mountain Trail
Another trail with plenty of different access points, you can choose North Fortuna Mountain Trail via Grasslands and Oak Canyon at 5.43 miles or something slightly shorter when you access the trail from Oak Canyon, Fortuna Saddle, or North Fortuna Trails.
If you're looking for an extra-long hike, try out the North and South Fortuna and Kwaay Paay Peak Trail, a 10.49-mile loop trail.
· Kwaay Paay
Speaking of Kwaay Paay, this is a great, mostly steep 2.4-mile hike that gets your heart pumping and provides some of our top views of the city of San Diego from the top. A great sunset hike, make sure you give yourself enough time to get down before it's fully dark, as the path down is rocky and we encourage conditions with better visibility.
Wrapping Up
Regardless of whether you drive to Santee Lakes or take the Green Line Trolley, whether you come for a day or stay for the week, and whether you choose to fish and hike or sip and paint, there is truly an experience built for everyone here.
Have you had the pleasure of visiting this preserve and recreation area? Tell us what you think! We can be reached via socials @sandiegodotcom.