When you think of San Diego, is it the beaches and surfer-centric apartments or the suburbs and hiking near larger family homes that draws you? Maybe it's the downtown area or finding the best nearby schools that fuels your search. Whatever it may be, there is an option for you!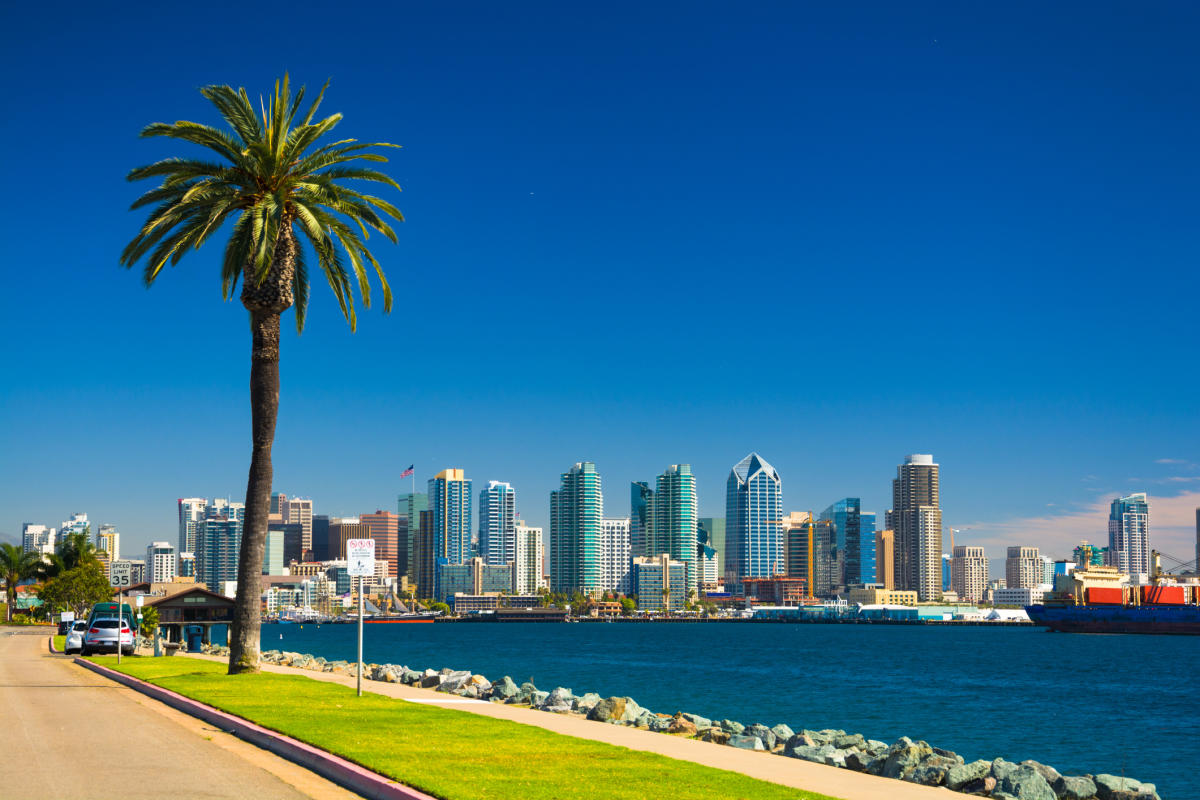 Rancho Bernardo, for example, is a master-planned community in the eastern portion of greater San Diego and is perfect for anyone looking for a more permanent home base with lots of nearby amenities. When looking into getting a home of your own in this Southern California paradise, Rancho Bernardo might just be the place that sticks out to you! San Diego real estate might be overwhelming, but this community is a great place to start feeling out the market as you search for homes and navigate the world of realty in California. So, let's dive in!
Living in Rancho Bernardo – San Diego, CA 92128
Founded in 1961, this master-planned San Diego community is about 30 minutes from downtown San Diego and is home to the corporate headquarters of Sony Electronics, Inc., its most famous resident. The nearest beaches are those of La Jolla and Del Mar, about 20 miles from this community. When traffic is slow, it shouldn't take more than half an hour to get to the beach… though we wouldn't recommend trying to make the trip during rush hour.
There is plenty else to do in the area, from visiting the nearby San Diego Zoo Safari Park to spending a day at the Bernardo Winery, driving to LEGOLAND California, or heading out to Poway to do some hiking.
Rancho Bernardo Overview
Rancho Bernardo is home to 40,863 residents, with a median age of 40 years old. This is a wonderful area for anyone looking for a dense suburban feel and is often referred to as one of the best places to live in California. Most residents of Rancho Bernardo own their own home, though renting is an option, too. The demographic is pretty even when it comes to gender, made up of 47.86% men and 52.14% women living in the community.
Population: 40,863
Median Age: 40
Percentage of Males: 47.86%
Percentage of Females: 52.14%
Finding the Right Home in Rancho Bernardo
San Diego's housing market is quite competitive, and we do recommend starting your search for the perfect home as early as you know you'll be needing one. To begin your search, we recommend making a day trip out to the area, if possible. Of course, we know this won't be an option for many people looking to make the move to Rancho Bernardo. Not to worry-there are other options!
First, check out sites like Realtor.com, Redfin, Opendoor, and Zillow to get a sense of homes on the market, pricing, square footage, lot size, and any other information you might find and be interested in. Opendoor Brokerage Inc. is another great online way to look for California properties when you cannot attend an open house, or need to be able to accessibly share information about a property.
Top Real Estate Firms in San Diego
You can begin your home search on your own, but you will quickly come to find that working with a real estate professional is going to be crucial to your process. After all, open houses and letters to sellers is only going to do so much, especially in a community like this one. Working with a realtor or real estate agent is going to help get you access to the MLS (multiple listing service) to find listings early, will get you in to private showings and tours of nicer homes, and will eliminate the stress of dealing with a seller and their listing agent alone.
Whether it's a townhouse, condo, or entire home that you're looking to buy, real estate professionals are here for a reason. So, let them act as your compass as you navigate a way to find homes for sale that meet your needs in this market. From price to property information, understanding a listing, and even giving some advice about loans, the right real estate professionals will make your life much easier.
Keller Williams Realty
With around 200 offices in the state of California alone, Keller Williams Realty is certainly an experienced and widespread firm. They have a location in Rancho Bernardo Village, so they'll be close by and familiar with the ins-and-outs of the area as you begin touring, communicating with sellers, and deciding where you'd like to call home.
Coldwell Banker Realty
With about 75 offices in California, Coldwell Banker might seem slightly less extensive, but this couldn't be further from the truth! The firm boasts a presence in 40 countries worldwide, making it quite the international, seasoned real estate firm. Find them at their closest location in the Rancho Bernardo Plaza.
eXp Realty of California
The firm eXp lacks physical offices in California, and everywhere else. This might feel strange at first, but you'll quickly find that this online-based method of communicating with agents is extremely convenient. Whether you're moving from the East Coast or just don't have time to keep driving up from Chula Vista, for example, you'll be glad for the easy communication and access to important documents right on your cell phone.
Other real estate professionals in San Diego include:
Palisade Realty

Homesmart Realty West

Douglas Elliman

Berkshire Hathaway

Prime West Properties

Foster Hamilton Real Estate

USA Realty

San Diego Castles Realty

No matter what firm you go with, make sure to do a bit of shopping around before settling. Think of this like a workout class, a new grocery store, or any other service you'd try out before committing to. Except with a real estate firm, you're also looking at your future home. So, no pressure… but do your research!
Preparing to Buy a Home
Speaking of research, make sure that you are ready to buy a home before you even start looking. It can be discouraging to find somewhere you love and realize your budget just won't cut it, and it can be financially harmful to go through the process of buying a home only to see later that you didn't go about your loans or mortgage the right way. 
While this is certainly not the fun part of the process, try to remember how worth it this will be by the time you are successfully signing for your first home. Look at your finances, and pay attention to more than just general budgeting. You should know your employment status, income status, debt-to-income ratio, and liquid assets, and you will need to be prepared to show proof of these things when applying for both loans and your home itself.
Buying a Home in Rancho Bernardo
Eventually, you'll need a broker to help you sort through the financial portion of this process, from making the offer to closing the deal. While your search period will be guided by your realtor or San Diego real estate agent, you'll eventually work with another professional toward the end of your journey to buy your Rancho Bernardo home.
You'll go through the web listings to get an idea of your goals to begin, before going on tours and communicating with sellers, and eventually deciding on the right fit for you. Finally, as you get ready to make your offer, work with your broker to make sure that everything looks accurate and that it falls within the budget you have set for yourself.
 This can be a quick process or a lengthy one depending on your needs and goals, but also on how lucky you get with your search. Let us know how yours is going on socials @sandiegodotcom.

Happy home hunting, friends!