With a gorgeous climate, friendly locals, delicious food, stunning beaches, and vibrant nightlife - it's easy to see why so many long to make the move to America's Finest City. San Diego, CA has some of the most desirable real estate in the United States with all types of incredible properties.
For many homebuyers in 2023, the convenience of a hip condo is the perfect medium between owning a home and renting San Diego, CA apartments (which can be very expensive.) If that sounds like you, check out our complete guide to purchasing a San Diego condo in 2023. Whether your purpose in moving to San Diego, CA is business or pleasure, we want to help you search for your dream home!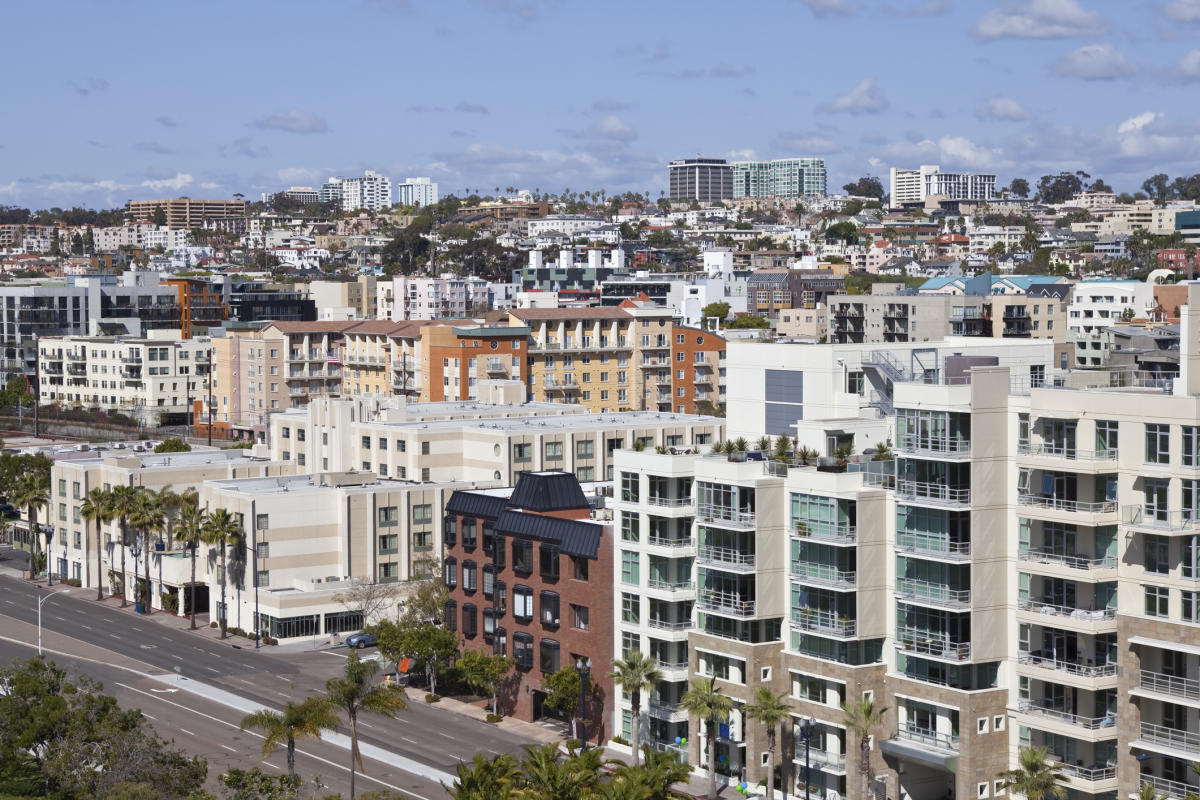 Finding the perfect condo for sale - San Diego, California
San Diego, California properties range from extreme luxury to quaint beach cottages, to chic modern condos. While some desire the vintage charm of a Mid-Century Modern home in La Jolla or a Craftsman Bungalow near Balboa Park, others might fear the need for constant upkeep and costly renovations.
Perhaps you're a San Diego local who is sick of taking care of a yard. For those who travel often, live alone, or desire convenience and comfort - condos are an ideal choice. If you're keen on owning some real estate but feel weary thinking of the responsibilities associated with homeownership, it's time to look for a condo for sale in San Diego.
An Overview of the San Diego housing market in 2023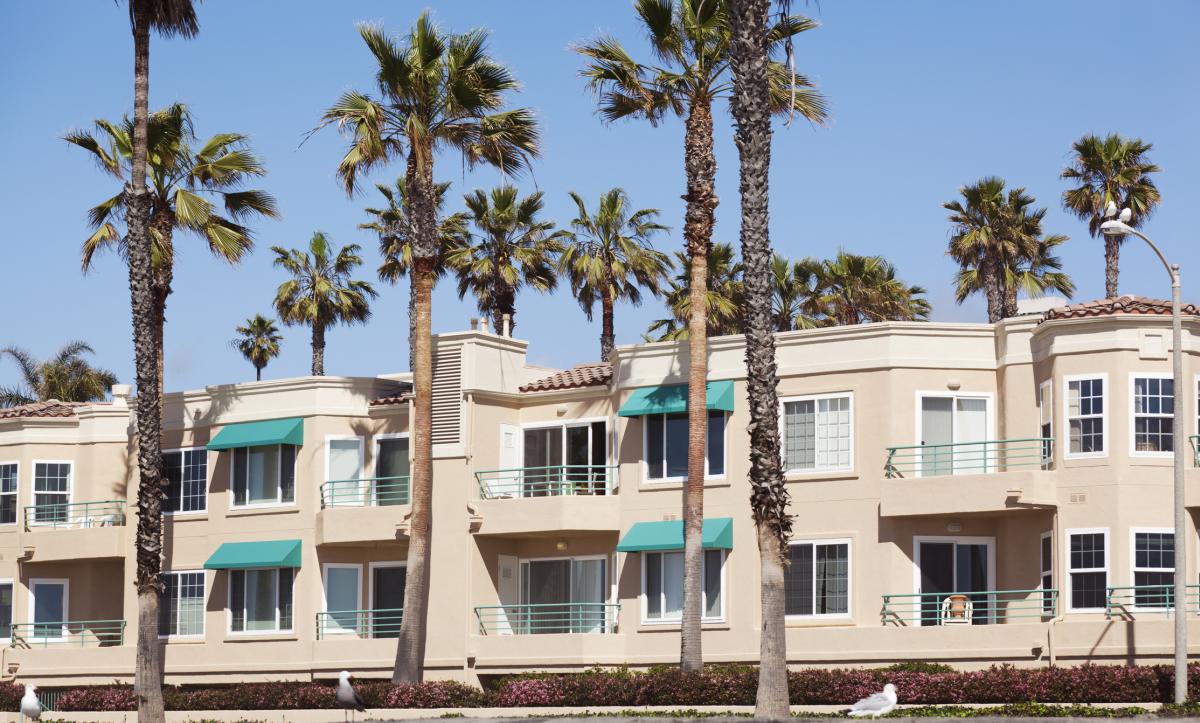 After years of intense competition and a red-hot market, 2023 might be the perfect time to finally buy a home in that San Diego neighborhood you've been dreaming of. The market appears to be cooling - if only slightly. The market is still considered to be very competitive, but in March of 2023, home prices were down 3.6% compared to March 2o22.
Average homes sell after 20 days on the market compared to just 8 days last year, and the median sale price per square foot is down 8.1% compared to a year ago.
While it's hard to say exactly what will happen over the next several months, experts anticipate that prices will continue to fall and bottom during the second half of 2023 - meaning it is an ideal time to buy before prices raise again.
Things to consider when searching for your dream home in San Diego, CA
Buying a home in San Diego is exciting - but it is a big decision! When purchasing a condo it is important to pay attention to things about the building like the year built, the HOA fees, and the property upkeep.
Aside from choosing the perfect condo with the right square footage, you'll want to ensure that you select a great neighborhood with walkability and plenty of great things to do. Finally, make sure that the cost of the condo is within your budget. It is recommended that you spend less than 28% of your monthly income on your mortgage payment including interest, taxes, and insurance.
The most popular neighborhoods in San Diego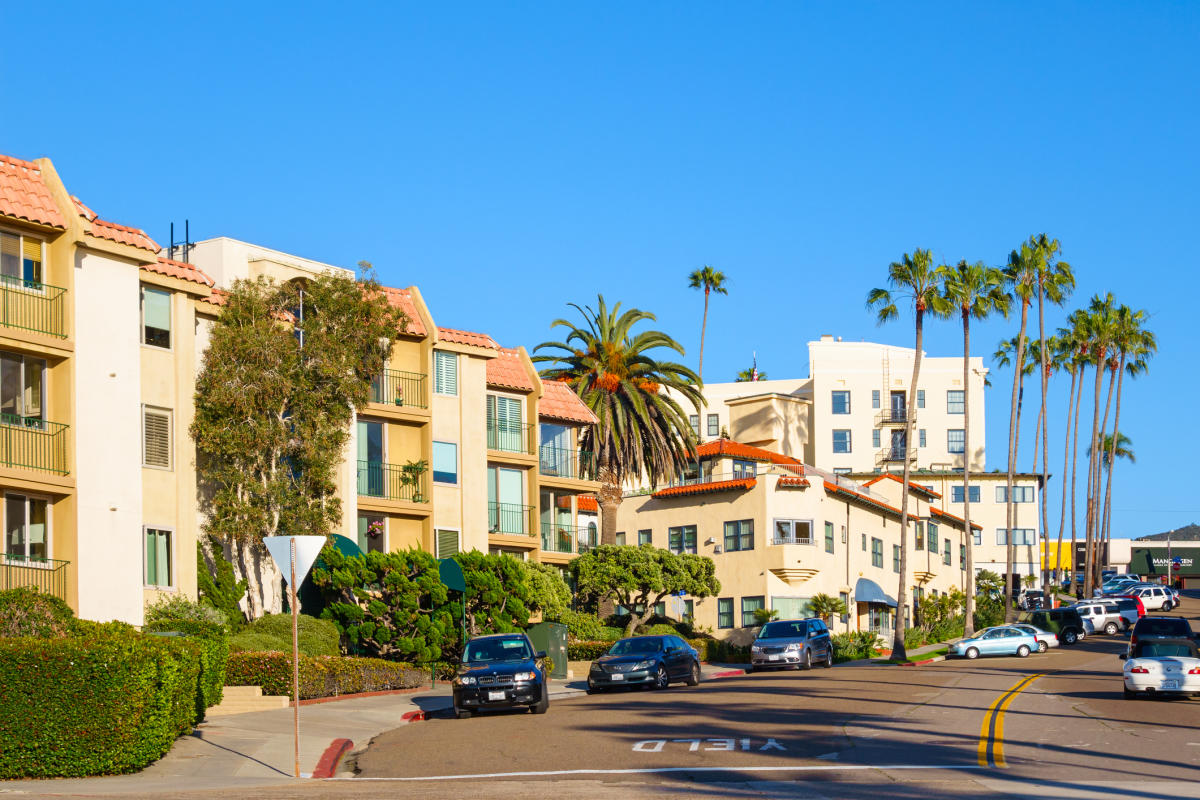 To be honest, almost all of the neighborhoods in the greater San Diego area are incredible. Each possesses its own unique style and charm. That being said, the most popular neighborhoods to live in according to real estate experts are La Jolla, Carmel Valley, Coronado, Del Mar, Miramar Ranch North, Solana Beach, and Torrey Pines.
While these are some of the top-rated neighborhoods, it's best to visit San Diego and spend some time exploring all the different areas of the city in order to get a feel for which neighborhood best suits your taste. If you're looking for inspiration, check out some of our favorites!
San Diego, CA popular zip codes
La Jolla - 92037

Del Mar - 92014

Miramar Ranch North - 92131

Solona Beach - 92075

Torrey Pines - 92121

Carmel Valley - 92130

Coronado - 92118
The best way to see new listings in San Diego, California
The best way to see new condo listings is to work with a real estate agent. Your specialized agent will have access to the San Diego MLS which shows the information on properties as soon as they become available, sometimes days before they show up on popular sites like Zillow or Realtor.com. Your real estate agent can assist you in setting up searches for condos for sale in order to help you find a property that checks all of your boxes.
Many of the best properties receive multiple offers the very first day they are listed on the San Diego MLS. A great real estate agent will even keep you up to date on properties that are listed as "coming soon" on the MLS and can communicate directly with a listing agent to let them know you're interested.
The importance of choosing a top-rated realty group in San Diego, CA
The San Diego real estate market is highly competitive. A desirable property in a sought-after neighborhood, like La Jolla for example, will often start receiving offers as soon as it hits the MLS. In order to find the best listings in San Diego, it's best to choose a professional agent to assist you in purchasing the condo of your dreams. When choosing a realty firm, choose one that is highly rated in the San Diego area with a great sale history.
The top realty firms in California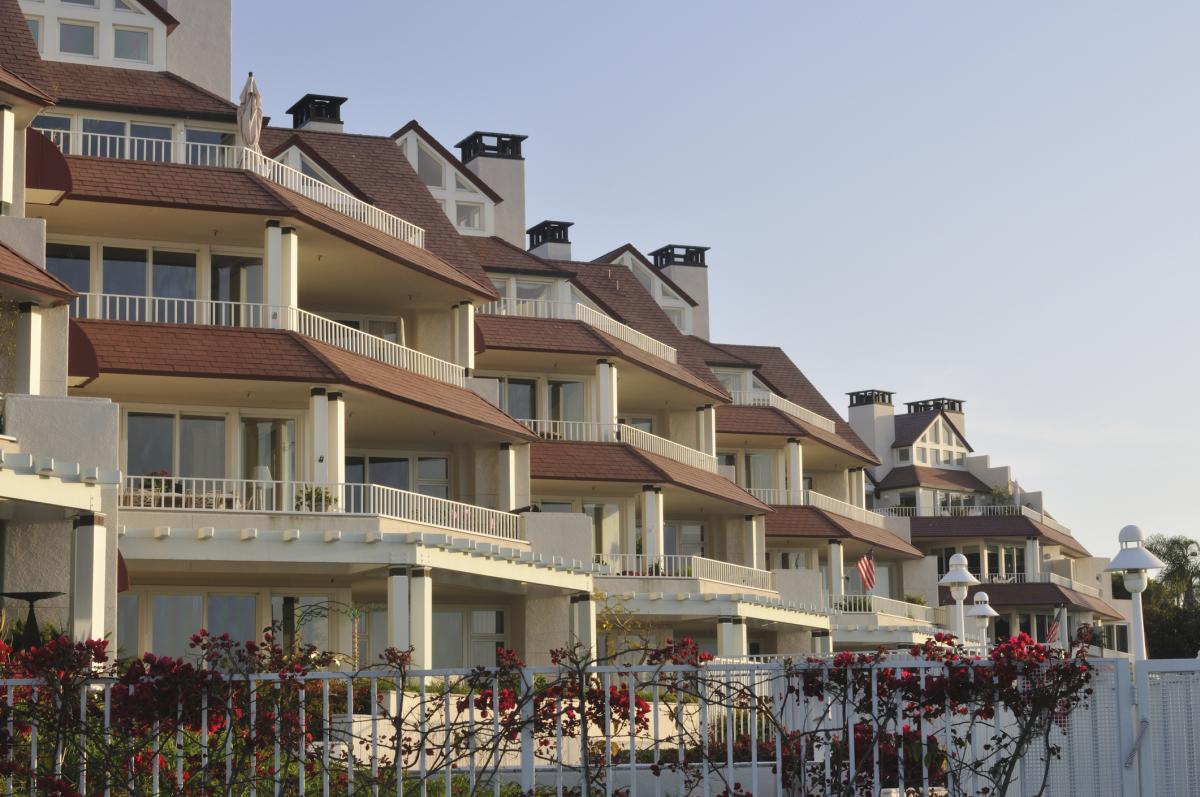 When searching for a condo in San Diego, CA choosing the right real estate firm can be crucial in ensuring that you find your dream property. Even if you have just started to browse, it's worth reaching out to one of the best realty groups in California. They're guaranteed to have excellent insight into the current listings, up-to-date information on the market, and insight into what kind of property might be coming soon.
The top realty firms in California:
Coldwell Banker

Coldwell Banker has over 300 offices across the United States and is present in over 40 countries worldwide. There are 75 offices scattered throughout California, so it's safe to say they know the San Diego property market quite well.

Keller Williams

Keller Williams has around 200 offices throughout the state of California. They're well known and well-loved for their consistently great customer service. If you're looking for some friendly assistance as you hunt for your new condo in San Diego, CA - give Keller Williams a call.

Compass Real Estate

Compass Real Estate is somewhat of a newcomer to the San Diego, CA realty scene. The firm has only been around for a little over a decade - but aims to make purchasing a home much simpler. If you're looking for a user-friendly sale in San Diego, reach out to a Compass Real Estate agent.

eXp Realty

Step into the future with eXp Realty. While seasoned home buyers might find their lack of physical offices strange - the remote working generation will love the convenience of connecting with agents via the Cloud. If you're looking for San Diego, CA condos for sale, but aren't currently San Diego based - eXp would be a great choice as they'll make sure that all of the information you need is easily accessible from your smartphone or laptop.

Sotheby's International Realty

If you're in the market for luxury real estate, look no further than Sotheby's International Realty.

The Agency

The Agency is a boutique real estate firm that prides itself on delivering a lovely home-buying experience and working with top-notch properties.

Big Block Realty North

Founded in 2010, Big Block Realty North is a San Diego favorite because its headquarters is located in America's Finest City. While offices have spread throughout California - San Diego is still a sweet spot for Big Block Realty North and the local agents know the market extremely well.

Barry Estates

Barry Estates caters to luxury San Diego homebuyers and has been around for 30 years. The family-owned business is a top choice for anyone looking for luxury real estate.