When you think of San Diego, it's probably its many beaches and the ocean beyond that first come to mind. Or, maybe, it's the mountain habitats to the east, Mexico just below or its proximity to Los Angeles to the north.
San Diego is quite literally surrounded by beautiful places, cities, and wide-open spaces to find some solace in nature when needed. The area itself has plenty of drawing factors, and you might not even be aware that there are about 20 freshwater lakes across San Diego. While a day at the beach is always nice, heading inland can be well worthwhile.
It can be overwhelming to decide what the best spots to visit are, especially if you're looking for a lake near a hike or want other specific criteria for your lake trip. That's why we have compiled some of our top local picks! Let's dive in and discuss the topography of San Diego, what to expect from the area and 6 of the best lakes in San Diego. 
Topography of San Diego
San Diego has quite a unique topography, beginning with the fact that it is bordered to the west entirely by the Pacific Ocean. In every other direction, mountains, and desert are the primary features that surround this Southern California oasis, creating a space that is very temperate thanks to the ocean breeze and low elevation. The city of San Diego itself has an elevation of just 62 feet above sea level.
To get to many of the beaches in the area, you'll find yourself hiking down some cliffs or taking the stairs provided to get down to stretches of sandy beach. As you move inland, canyons and mesas make up a large portion of the topography.
The city itself is on pretty flat land, but as you move into the suburbs and more open spaces, there are plenty of opportunities to hike and explore the diverse landscape of canyons and mesas. 
San Diego County
Sometimes it can get a bit confusing to differentiate San Diego County and the City of San Diego, especially when we use San Diego as such a blanket term. So, where exactly are the boundaries of San Diego County?
San Diego County actually extends much further than you might expect, especially in the eastern direction. It borders Imperial County to the east, which is the only county between San Diego and the state of Arizona.
This means that the county makes up half of the southernmost portion of the entire state of California. 
Bordering Mexico to the south, and the counties of Orange and Riverside to the north, San Diego County has its fair share of coastline, mountains, and other geographical gems.
There is plenty to experience in this large expanse of land!
6 of the Top Lakes in San Diego
Lake Murray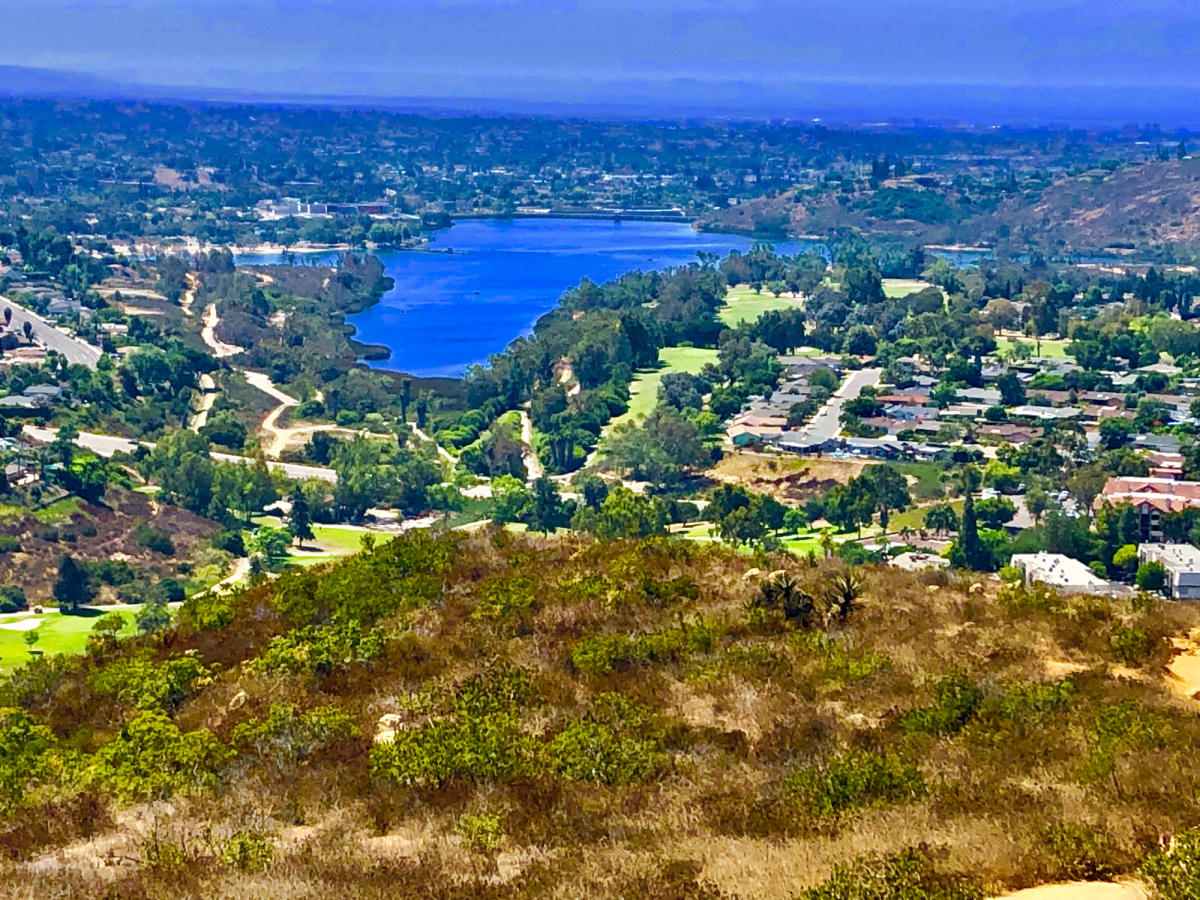 If you're looking for an easily accessible lake in San Diego, Lake Murray is the one for you! It's just 20 minutes from the downtown portion of the city, in the large outdoor recreational area of Mission Trails Regional Park.
Participate in recreational activities like mountain biking, and shore fishing for channel catfish, or try out one of several fishing boats or pedal boats to get out on the waters of Lake Murray.
Thanks to its proximity to so much, this is one of the best lakes for a quick few hours of outdoor time. Finish off the day at the picnic areas nearby before heading back to your home or wherever you're staying.
Lake Jennings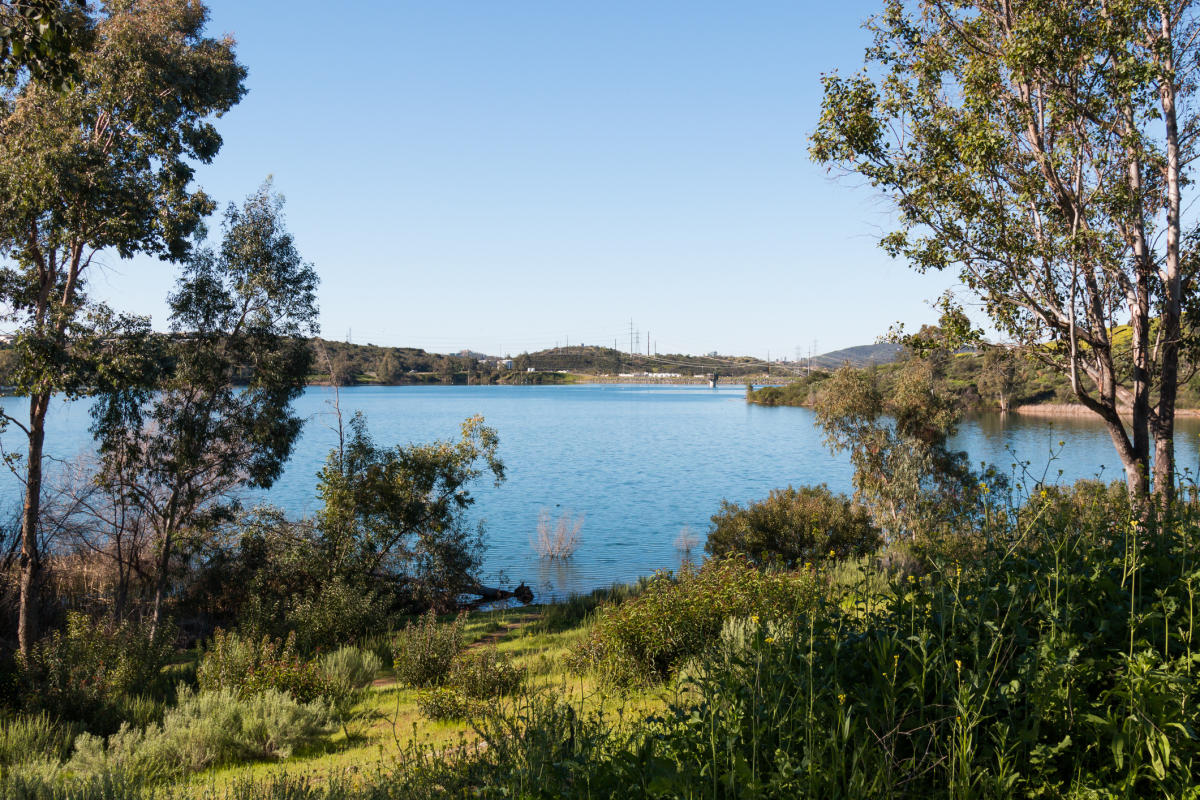 Venturing further out into East County, Lake Jennings is just past Santee, about 35 minutes from downtown San Diego. This is the perfect spot for night fishing on Fridays and Saturdays in the summer when access to the lake is allowed much later.
Bring the family on a camping trip here or take advantage of day trip activities such as bike rentals, hiking trails, picnic areas, and lots of kids' recreational activities like horseshoes and scavenger hunts.
This is far enough out in nature that bird watching is also a prevalent task, the sky at night is better for stargazing, and the environment of Lake Jennings is fun but tranquil. Check out our complete guide to the best things to do on a visit to Lake Jennings!
Lake Cuyamaca
Drive about an hour to the east of San Diego to find yourself at Lake Cuyamaca. Immerse yourself in the lush nature of this area by hiking the green mountains that are peppered with pine trees or exploring the towns along the lake. In the eastern Cuyamaca mountains, this recreation area is one of the best in Eastern San Diego County.
Rent one of the fishing boats around to get out on the water and do some fishing for rainbow trout or Florida-strain largemouth bass, partake in bird watching, or enjoy one of the picnic tables with views of Lake Cuyamaca.
Make sure you stop by Julian since you'll be in the area for some more exploring, and don't miss out on all of the fresh local apple products that Julian is famous for!
Miramar Reservoir
Inland in the Scripps Ranch community of North County, about 25 minutes from downtown, Miramar Reservoir (also referred to as Lake Miramar) is a perfect place for nearly every outdoor activity imaginable.
Not only is it famous for having some of the largest largemouth basses in the world, but it also has 18 barbecue areas, 48 picnic tables, and a concession facility where visitors can rent anything they may need for their time at the reservoir. From snacks to bike rentals, and tackle to boat rentals, they've got a wide range of offerings.
Kayaking and canoeing are huge activities here but hiking the 5-mile loop around the lake is also the perfect (dry) way to spend a day. 
Lake Poway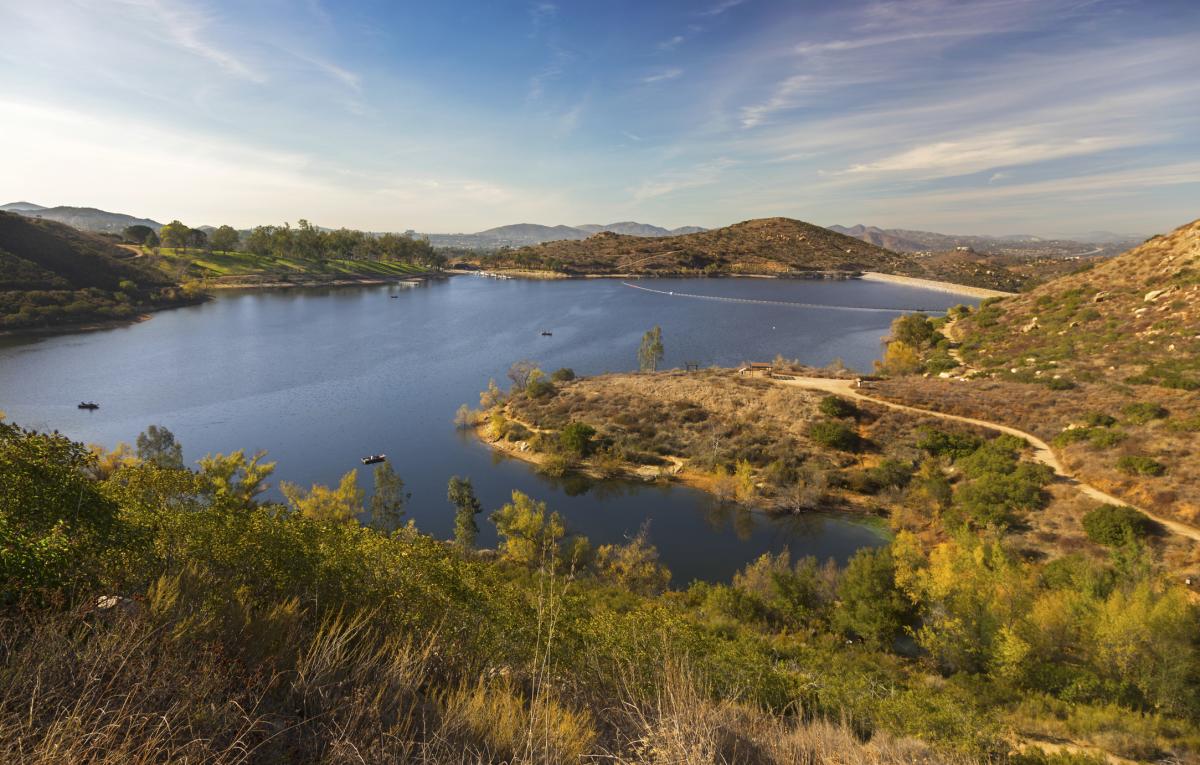 35 minutes from downtown, just a bit further than Miramar Reservoir, you'll hit Lake Poway. This is an easy trip east from the La Jolla/Del Mar areas and will have you feeling like you are inland much further from the coast and city than you actually are.
Lake Poway is a dam and reservoir that offers fishing and boating from 6 am to sunset, Wednesday through Sunday. Experience the loop trail around the lake which is just under 3 miles and takes about an hour to complete.
You can also stop at the Santee Lakes on your way up, as you'll drive past the area on your way from downtown San Diego.
Lake Morena
An hour from downtown, out in the Cleveland National Forest, this is by far the most remote San Diego lake on our list. Lake Morena County Park consists of 3,250 acres of land and, when it comes to lakes in San Diego, Lake Morena is a great one.
Fish for rainbow trout and largemouth trout, hike among grassland, woods, and desert landscapes in the area, or camp in tents or wilderness cabins on site.
If you want to really get out into nature and wholly escape city life for a few days (or longer) this is the spot for you! From a diverse landscape with tons of wildlife to a wide array of recreational activities, Lake Morena has it all.
Wrapping Up
Whether you find yourself far out at Lake Cuyamaca or the much more central Lake Murray, San Diego County's lakes are great locations to visit. They offer outdoor experiences that vary from the commonly sought-after days at the beach and picnics at local parks.
You can enjoy a hiking trail, camping, fishing, sunbathing, and boat days in a way that helps you escape city life and the often-touristy nature of the oceanfront beaches by heading to one of the lakes in the San Diego area. Easy as that!
To recap, our top San Diego lakes are:
Lake Murray

Lake Jennings

Lake Cuyamaca

Miramar Reservoir (Lake Miramar)

Lake Poway

Lake Morena
There are plenty of other San Diego lakes out there, from the San Vicente reservoir to Dixon Lake, Lower Otay Lake, all of the many Santee lakes, Lindo Lake, Lake Ramona, and so many more. You can find plenty near San Diego and most come with options for kayak rentals, barbecue areas, multi-use trails, and wildlife viewing, and some also have an off-leash pet area.