Sunny San Diego is home to more than just beaches, mountains, great food, fun nightlife, surf shops, and breweries…wait, where were we going with this again? Oh yeah! San Diego has even more to offer than all the amazing highlights that most locals and tourists think of first.
In addition to great surfing, nightlife, hikes, and other activities, San Diego is home to some more unique, lesser-known activities like snorkeling tours with leopard sharks in La Jolla. That's right, you don't have to travel to some pricey exotic location to snorkel with sharks because they're coming right to your backyard (or your Airbnb, maybe!)
As you search for your next San Diego adventure, no matter whether you're visiting or have lived here your whole life, let us help you find more unique, exciting opportunities! We'll talk about the La Jolla leopard sharks and how to safely get up close and personal with them.
What Are Leopard Sharks?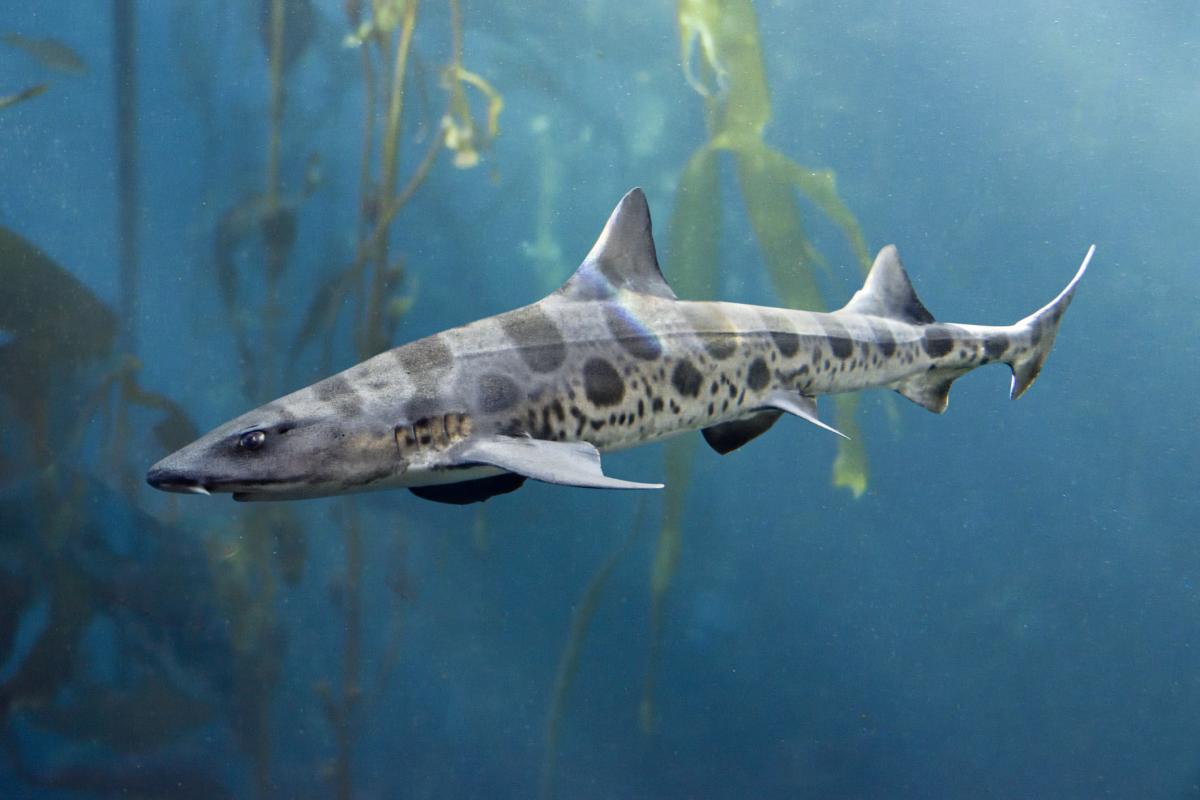 Leopard sharks are one of the most seen species of sharks that can be found off the California coast, so it's not surprising that these gentle creatures are found congregating near La Jolla in San Diego each year.
Leopard sharks are beautifully slender and are most often considered to be loners. The friendly yet unengaging nature of this shark is part of what makes it a great species to snorkel with. You can be in the same space as them without fear!
These harmless guys are gorgeous, with their shimmering gray backs and darker spots that give them the aptly named title of leopard sharks because they resemble an underwater version of the famous big cat. The leopard print on their skin is part of what makes these creatures so popular all along the Pacific Coast.
Is It Safe to Be Around Leopard Sharks?
So, then it's safe to snorkel with these beautiful creatures?
Yes, it is quite safe to be around leopard sharks, they don't attack without being provoked and are docile enough that they'd rather keep their distance.
In fact, there has only ever been one single unprovoked leopard shark attack recorded, and that was back in 1955. The diver was not injured, though, and swam safely away.
You'll want to use common sense and be aware of your surroundings, respecting the animals and listening to any guides or lifeguards when they give instructions or warnings.
It's just as important to pay attention to the tide and weather conditions as it is to be gentle around these animals when it comes down to your safety in the ocean.
Calmly approach any La Jolla leopard sharks you are snorkeling with. You don't want them to perceive you as a predator and should be sure not to touch them or interfere with their activities.
Where to Find Leopard Sharks?
Leopard sharks are found all over the coast of California, but San Diego's warm waters tend to draw them back year after year. La Jolla Shores specifically is a very popular spot for these stunning sharks to congregate.
La Jolla Shores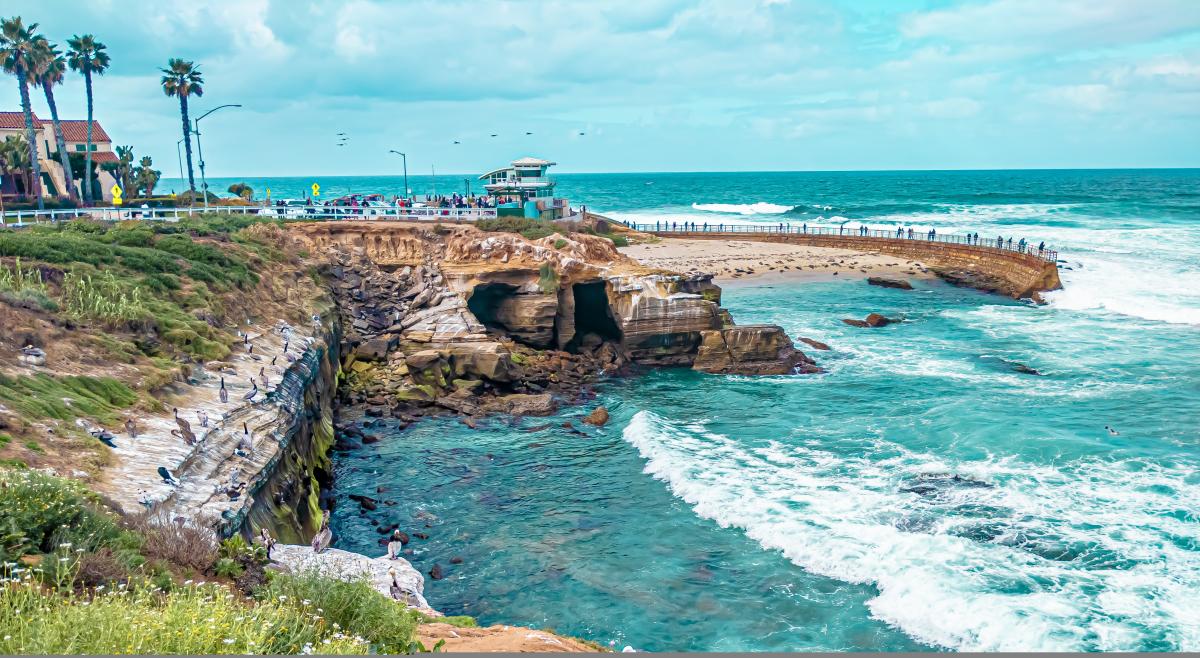 The water of La Jolla Shores tends to be shallower, which means that it is warmer here than in many other SoCal coastal areas.
The leopard sharks are partial to this kind of warm water, but it is also easier for the leopard sharks to search for food in shallow water.
On top of all that, the waters of La Jolla Shores provide amazing views for visitors as they swim among the sharks. Frankly, you don't even have to snorkel if it's not your thing.
Simply wade out into the waters of La Jolla Shores to see sharks swimming around your ankles! The experience feels like something out of a tropical island paradise, though we won't argue that San Diego is a stateside paradise of its own.
Leopard Shark Migration
Leopard sharks will move from other places along the California coast to areas with warm shallow waters so that they can breed and eventually hatch their young.
Leopard sharks are usually around 5 to 6 feet long and have a gestation period of 10 to 12 months, meaning that they will stick around La Jolla's shores for quick some time.
These warmer waters offer better environments for their young because they are an ideal natural incubator, and the sharks prefer to stay for months at a time to fully undergo the breeding, incubation, and birthing processes.
Snorkeling With La Jolla Leopard Sharks
So, now that you know a little more about the La Jolla leopard sharks, let's look at the possibility of swimming, wading, or snorkeling with them.
You can choose to simply swim into the waters on your own or with a partner (we recommend partnering up, it's more exciting to share the experience) as you look to find the sharks organically.
Those with previous snorkeling experience may choose to do this on their own, too, wanting to see where La Jolla leopard sharks congregate without the crowds. If you have your own snorkeling gear, bring it along with you. Otherwise, rent snorkel gear and go see where the leopard shark likes to spend its summer months (and sometimes live year-round) on a tour.
If you'd like a guide, take a snorkeling tour! Multiple San Diego-based companies offer tours, or you can go on a guided tour with the Birch Aquarium at Scripps for an extra educational deep dive into your experience alongside these beautiful animals.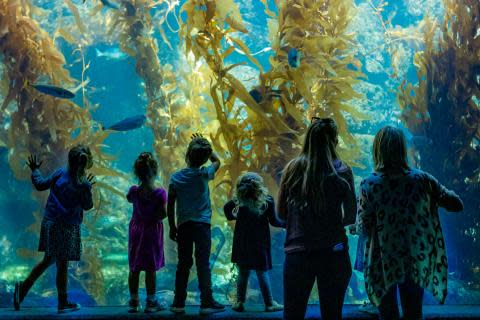 Tours such as those offered by La Jolla Kayak, Everyday California, and Scuba Diver Girls will take you out with a certified guide as you swim along the seagrass-covered rocky reef, see colorful fish, and snorkel alongside the area where leopard sharks live for much of the year.
You can always bring your own gear if you have snorkeling gear, such as a snorkel mask, water shoes, and any other snorkel equipment you prefer to use.
Best Time of Year to See Leopard Sharks
The best time of year to see a leopard shark is when they are in La Jolla for their mating season, between early June and either the end of September or the end of October, depending on the weather.
That's not to say that you can only see leopard sharks June-October, though, because there are usually 100 or 200 sharks that stick around throughout the year. Some local companies will offer snorkeling tours throughout the year, or at the very least until December. After that, it might be pretty chilly to try to snorkel, anyway.
If you were to choose a time to visit solely on how many leopard sharks you might see, the end of August through September would be the best period. It's warm, toward the end of the breeding season, and you'll want to make sure it's a sunny day so that there will be plenty of light to help you spot the sharks.
Other Water Activities in La Jolla
La Jolla Shores is a great place to see leopard sharks, but La Jolla itself is home to plenty of other water-based activities.
La Jolla Cove, for example, just down the coast a little way from the shores, is home to lots of sea lions that line the rocks and swim in the water. You won't want to swim with these guys…they are a little smelly, and can accidentally injure people thanks to their large size, but they are a sight to behold.
If sea lions are not your thing, you can explore the La Jolla caves in this area, and get a sense of what La Jolla has to offer! There is also plenty of other marine life to see, from crabs to birds to bony fish and other bottom feeders.
Spend an entire day in La Jolla and you'll have a chance to hang with both local animals!
Things to Do Outside the Water Near La Jolla
La Jolla is a beautiful coastal neighborhood, but there is plenty to do if you've had your share of the beach (hard to imagine!)
You can head to bookstores, coffee shops, vegan bakeries, and the La Jolla Open Aire Market that runs on Sundays to fill your time.
Looking to shop? Head east a bit to University Town Center and check out the UTC Mall and all its amenities.
Wrapping Up
The leopard sharks at La Jolla Shores are wonderfully docile, gorgeous creatures that are sure to make your day. Locals and tourists alike will love this chance to get close to local ocean life and say that they swam with sharks right on the shores of sunny San Diego.
Make the most of the calm waters as you bring your own gear to go snorkeling with La Jolla's most unique sea creature, go swimming, or wade in the knee-deep water.
Have you snorkeled with leopard sharks before? Let us know how it was!