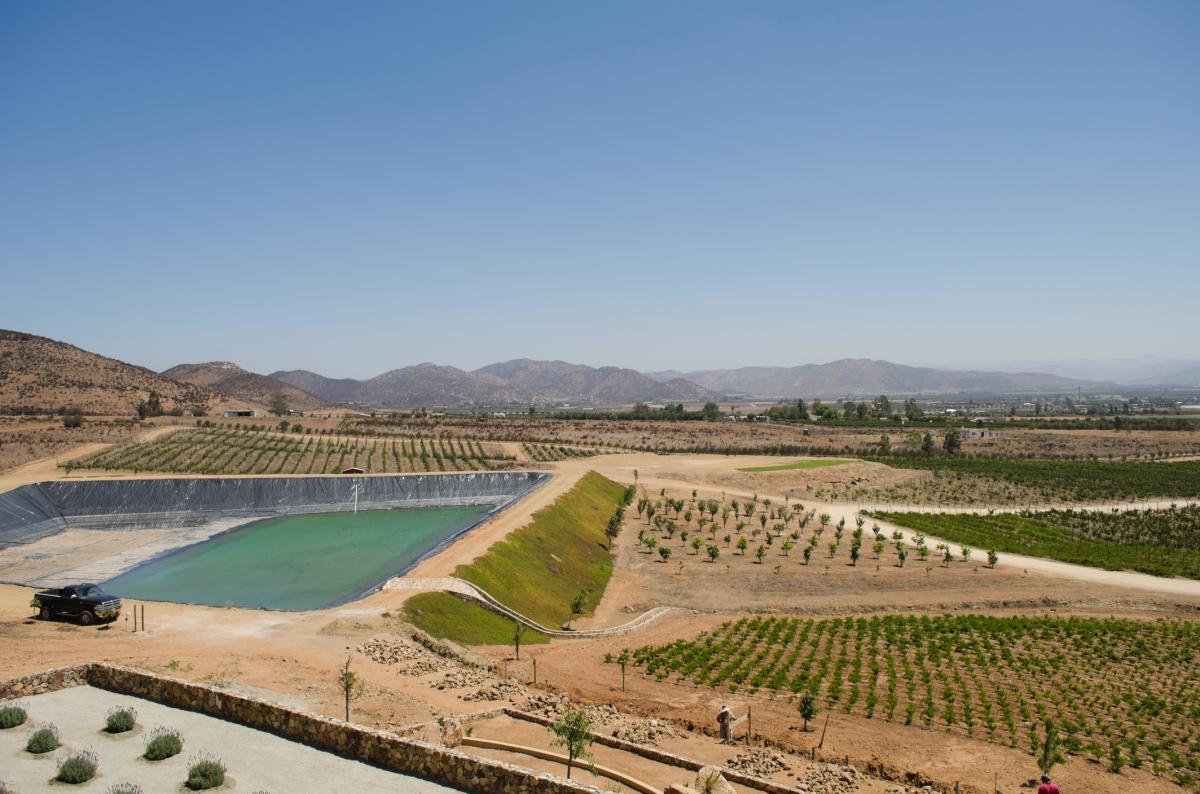 If there is one thing you should know as a wine lover in Southern California, it is that Mexico's Valle de Guadalupe is going to be an absolute paradise for you. Whether it's a quick stamp in your passport, comparable wines for cheaper prices, or simply trying a new winery that calls to you, you'll find what you are looking for here.
The best wineries in Valle de Guadalupe are almost difficult to discern because there are so many amazing spots. Especially if you only have a little time, like a day or two, you'll want to get a rundown of where to find the best wine produced in Valle de Guadalupe, or Guadalupe Valley.
This Mexican wine country just so happens to produce some of the top table wines in the entire country, and it's clear that Valle de Guadalupe vineyards of Baja California hold their own amongst their neighbors all the way along the Pacific Coast. So, let's dive into what you should know before you go to Valle de Guadalupe.
About Valle de Guadalupe
This section of Baja California, notable for the coastal town of Ensenada and the wine region that makes the valley famous, is beloved for not only its wine but also for its hilly landscape, coastal scenery, delicious eats, and great ambiance. This area proves that napa valley is not the only place with high-quality wines, boutique hotels, a wine-tasting experience, or top-tier wine tours.
The region's winemaking history can be traced back to the 1500s when the first vines were planted by Spanish Conquistadors. Wine used to be shipped back to Spain, primarily for religious ceremonies, before the Spanish halted production but local missionaries sustained the vineyards and allowed the grapes to continue being produced. Now, the majority of all wine exports from Mexico come from this historic, fertile area.
If your schedule permits for longer than a day trip, look into staying at the Rancho San Marcos Casa Grande in Ensenada for a relaxing, affordable, and beautiful stay.
Our top Valle de Guadalupe Wineries
It is truly difficult to pick a few top spots out of the many amazing ones that call Valle de Guadalupe home, but we will try our best.
At some, you will find a boutique hotel, at others fine dining. Most wineries have a premium line of their favorite wines, but some also cater to beer lovers, offer unique wine tastings, and even give a look into the process of winemaking from the winemaker himself. No matter what it is, you'll see that wine production is a sacred art to each and every Baja winery.
So, without further ado, some of our favorite Valle de Guadalupe Wineries:
Bruma
The stunning property of this eco-wine resort is nearly enough to draw you in by itself, not to mention the amazing wines that are produced here.
Dine at the restaurant, stay in their beautiful accommodation, and find yourself enthralled by the main water feature's Medusa-like branches of an oak tree as you enjoy plenty of wines.
Vena Cava Winery
As a boutique winery, you'll find that sustainable practices are at the forefront of their production. Their eclectic tasting room and outdoor space offer a truly special way to experience Vena Cava's organic wines.
Old-world methods combine with modern techniques to create the most balanced, delicious wines.
Troika Food Truck
Right outside the Vena Cava Winery sits the Troika Food Truck, where the service is amazing and the food is even better. They pair their dishes with Vena Cava wines, and menu items like oysters, salads, and plenty of meats see this food truck competing with many other Valle de Guadalupe restaurants.
Nativo Vinicola
Complete with a cozy atmosphere, a courtyard shaded by sprawling oaks, and popular red wines, Nativo Vinicola is one of the best wineries in the area. Grab a snack or a full meal at their restaurant before perusing the vineyards and heading back to the tasting room to try more of their delicious wines.
Alongside this popular winery sits Casa Nativo, where you can stay inside the vineyards for an even fuller experience.
El Cielo
Recognized in 2015 by the Ensenada government as the first eco-responsible company in the region, El Cielo is often referred to as one of the top ten best Mexican wines.
The vineyard is characterized by its solar panels (hello, eco-friendly status,) its sprawling land, and the many different wines with roots in different locations around the globe.
L.A. Cetto
Exporting to around 17 countries, L.A. Cetto is one of the valley's oldest producers and has also achieved the status of being the biggest producer of table wines in the country of Mexico.
The winery follows European tradition and has numerous awards, recognitions, and accolades.
Monte Xanic
This picturesque, scenic winery will see you trying one of its many amazing wines on its infamous wooden deck. With a unique tasting room set up, you're sure to feel as if you are being transported to a little slice of bliss among the pond, mountains, and surrounding trees.
Explore the vineyards, but come back for a tasting of 4 wines for just $28 USD.
Villa Montefiori
The stunning red exterior on top of a sloping hill is what makes Villa Montefiori stand out physically, but it is the wine that keeps drawing people back in. Enjoy the outdoor patio or the indoor tasting space as you sip on French and Italian varietals like Cabernet Sangiovese and Shiraz Cabernet.
Dine on delicious Italian food and roam the property as you appreciate all that wine has to offer.
Chenin Blanc to Petit Sirah – How to Find Your Wine
With a wide range of wines being produced in Valle de Guadalupe, it may be hard to know where to start. There will be white wines like Chenin Blanc, and red wines like Cabernet Sauvignon and Petite Sirah to choose from as popular wines in this region.
Knowing whether you prefer red or white wine is a great starting point, but it's okay if you are not yet sure. Simply try a mixture of wines at your tasting, perhaps one sweet and one dry variation of each type of wine, to help you narrow it down. Your sommelier is also there to help guide you based on what flavors you enjoy
Of course, a good food pairing can never hurt, either! There is certainly no shortage of decadent food in Valle de Guadalupe, both at wineries and beyond at the local restaurants of the area. Your sommelier will help you find the perfect food pairing for your wine, and servers at the restaurants will be able to give you a wine pairing to perfectly complement your meal.
Getting to Valle de Guadalupe
Let's say you decide to drive down from San Diego into Baja California. You should leave relatively early to get to the El Chapparal vehicle crossing point of the San Ysidro border crossing area. The drive itself takes just over two hours in total, which is why we recommend driving yourself, if possible.
Otherwise, you can take the Blue Line trolley to San Ysidro and either rent a car, book a lengthy Uber, or plan for a wine tour where transportation is included. While these options are wonderful, they will give you either less autonomy or a bigger price tag.
The San Ysidro border into Mexico is only 17 miles from downtown San Diego, taking about 30 minutes before you can get on México-1D for your drive down through Baja all the way to Valle de Guadalupe.
You should plan to bring some pesos to pay tolls along the way, but the México-1D will get you to your wine-tasting destinations in just under an hour and a half, once you're on the Mexico side of the border.
It is always a good idea to download offline maps on your phone in case your connection gets spotty at any point. All in all, this route is a simple one and, though there are dirt roads, you'll be safe, near other tourists, and never far from a winery in the Valle de Guadalupe.
Are you a frequent Valle de Guadalupe visitor? Let us know what you think @Sandiegodotcom on socials!