It's time to experience the enchantment of beach bonfires in San Diego - gather your friends and family, grab some marshmallows and some chairs, and set off for a memorable night under the stars. Our 2023 guide will show you all the best fire pit locations on various beaches around San Diego where you can enjoy delicious cuisine or a luxury atmosphere. Depending on your mood. So get ready to light up the fire pits at San Diego beaches!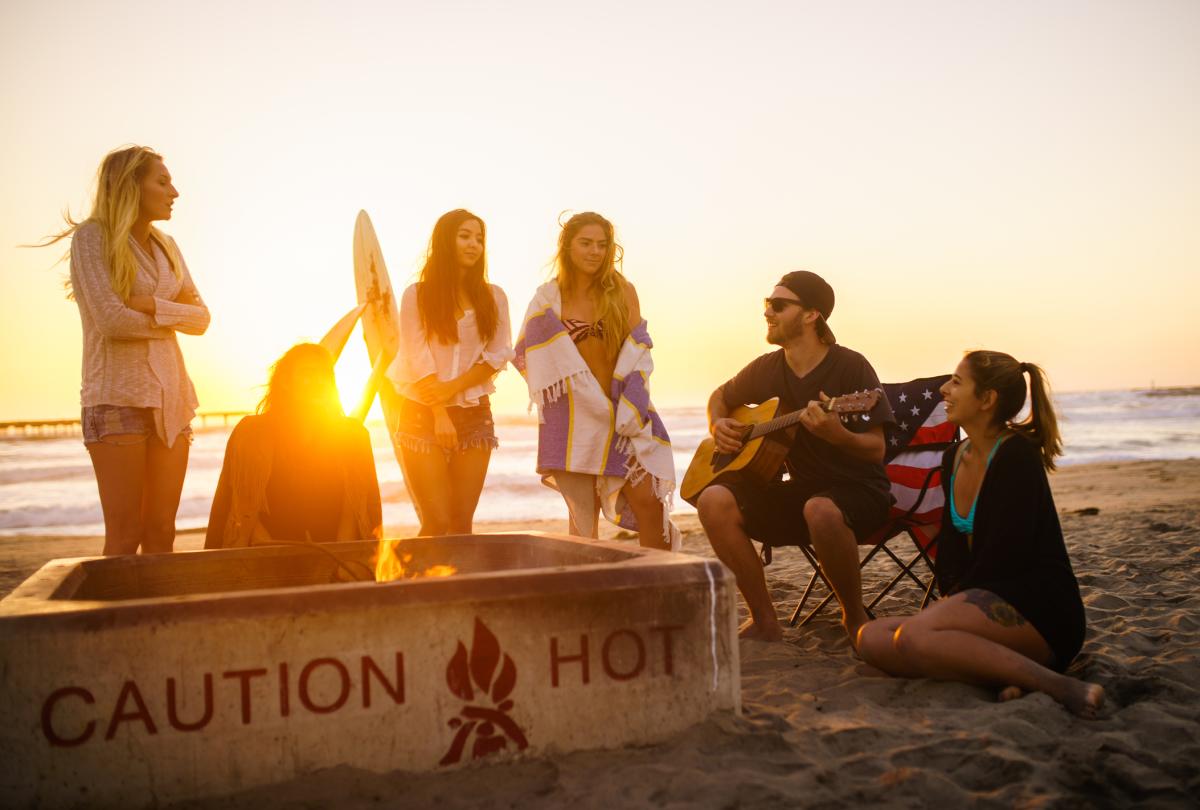 Short Summary
Discover San Diego's best beach fire pits and explore the unique ambiance of La Jolla Shores, Playa Pacifica Park, and South Shores Park.
Enjoy delicious local cuisine while basking in the warmth of a beach bonfire at family-friendly spots like Ocean Beach & Mission Bay.
Indulge in luxurious fire pit experiences with cookouts & s'more packages for an unforgettable evening!
Discovering San Diego's Best Beach Fire Pits
San Diego's majestic coastline features various fire pits that are perfect for a beach bonfire adventure. From the family-friendly La Jolla Shores to South Shores Park and Playa Pacifica Park, each spot is unique in its own way. Whether it's a scenic backdrop or delicious cuisine, these beautiful beaches will not disappoint!
At La Jolla Shores, visitors can enjoy upscale amenities while taking pleasure in the natural surroundings of this cozy neighborhood. Next, we have South Shore Parks which boasts stunning views along with plenty of room to make your evening unforgettable, even bring your favorite food from nearby markets and restaurants! Last but certainly not least, there is Playa Pacifico where serenity abounds. No better place exists than here if you're looking for blissful peace after dusk settles on an amazing day out at San Diego's premier fire pit locations.
For anyone seeking a memorable night beside one of California's most picturesque coastlines, look no further than any fire pit beach located within San Diego County boundaries -- they offer spectacular scenery accompanied by exceptional service – making them worth every penny spent when planning an enjoyable evening outdoors around hot flames under starlit skies next time visiting The Golden State.
La Jolla Shores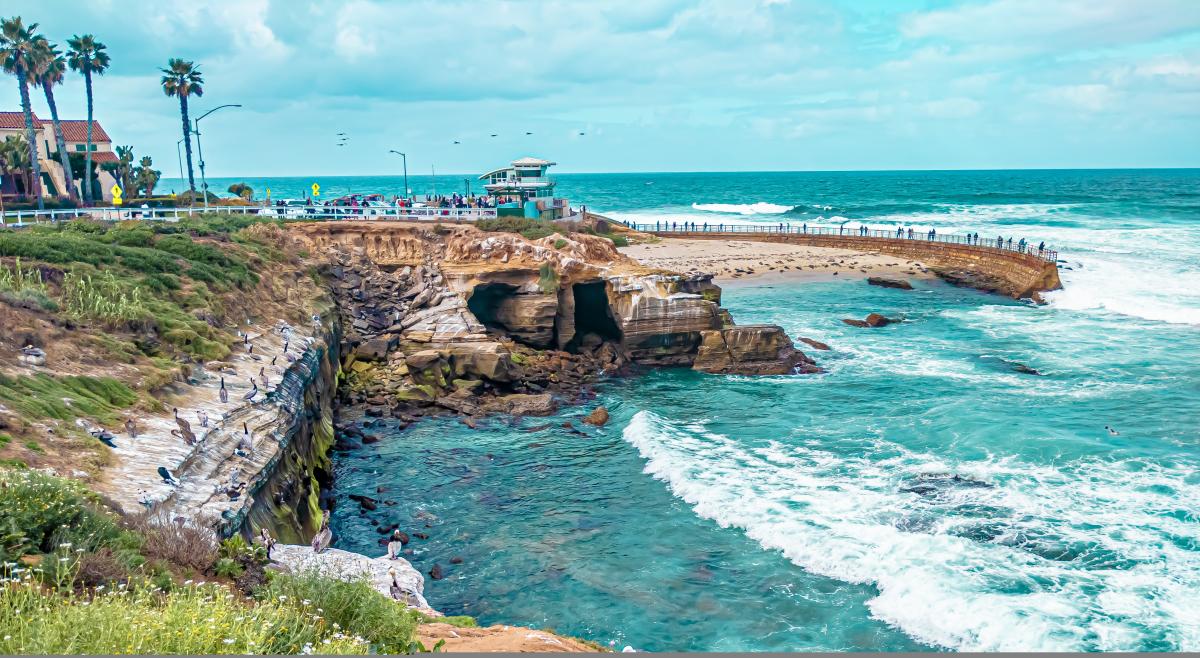 La Jolla Shores is located in the La Jolla neighborhood, boasting a mile-long stretch of sandy beach perfect for your bonfire experience. This family-friendly spot has all you need - fire pits, picnic tables, bathrooms, and showers – to make an entire day at the beach enjoyable. For adventurous activities like kayaking or paddle boarding, there's no better place than this stunning location! There's even a Sandpiper Wood Fired Grill & Oysters nearby if you get hungry after exploring Avenida. De la Playa with its colorful shops and restaurants that are just a short stroll away. Come enjoy some fun under the sun topped off by sitting around cozy flames during your evening here at La Jolla Shores Beach Bonfires!
Mission Bay's Playa Pacifica Park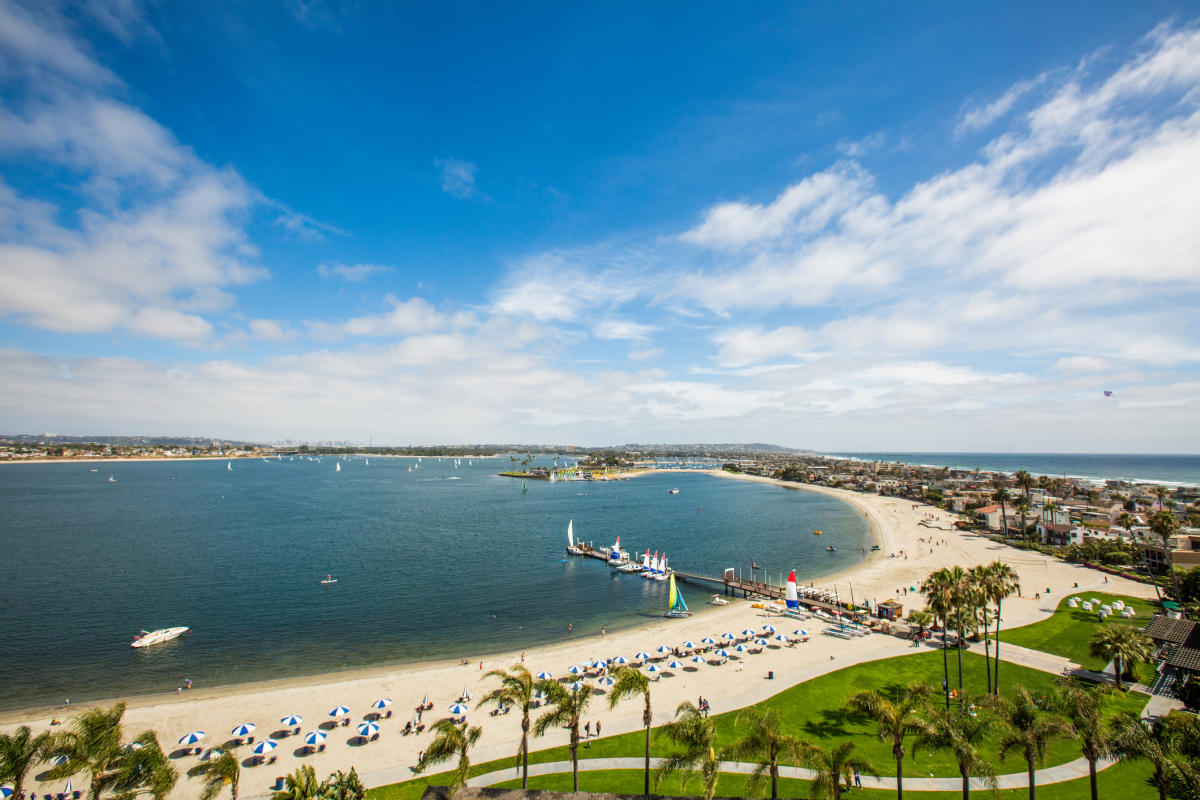 Tucked away on the east side of Mission Bay lies Playa Pacifica Park, an ideal beach park for a more laid-back atmosphere. Perfect for swimming, picnics, and sunbathing while enjoying its peaceful vibe that draws visitors from near and far alike. With a boat launch facility as well as picnic tables to enjoy under the shade of palm trees plus walking paths alongside sand dunes. There is something here everyone can appreciate – especially kids with their own designated play area!
As dusk arrives, take delight in savoring bonfires right by the sandy shoreline, which gradually turns into such relaxing scenery with its tranquil lagoon setting – where one could roast marshmallows or swap stories around it until nightfall when surrounded only by stars above. When leaving this blissful place don't forget you are just a short drive away to explore all sorts of liveliness, restaurants nearby included!
South Shores Park
For an amazing beach bonfire adventure in San Diego, South Shores Park is the perfect choice. Located at one end of Mission Bay, this park offers remarkable views overlooking SeaWorld and its fireworks during summer nights. It also features a selection of facilities such as picnic tables, sheltered areas for picnics or barbecues plus boat launch services – making it your best spot to make campfires with plenty of fire pits available throughout the space.
As dusk comes around and you take in all that vibrant light show from the theme park's pyrotechnic displays–you will be grateful you chose South Shore's breathtaking seashore setting where many unforgettable memories are made by taking advantage of San Diego's sandy beaches!
Savoring Local Cuisine Near Your Beach Bonfire
Those looking to enjoy a beach bonfire in San Diego can also experience the delicious cuisine of its location. From Ocean Beach with its laid-back setting to Coronado's luxurious environment and fire pits near the shoreline - there are countless flavors to delight in during an evening spent beside a blazing flame. The Barefoot Bar & Grill at Paradise Point Resort offers high-end options while other eateries nearby offer more casual meals like Mexican food, seafood, or sushi perfect for alfresco dining under starry skies. So grab your friends and come down by the coast for some local fare accompanied by beautiful views brought on only by fires lit next to sandy beaches!
Ocean Beach Delights
Ocean Beach is an idyllic beach destination renowned for its Southern California vibes and 1960s hippy energy. Gather around one of the fire pits with friends to savor delectable dishes from nearby restaurants such as Hodad's or South Beach Bar & Grill.
Beyond spectacular meals, visitors can also explore Dog Beach, Sunset Cliffs, and Ocean Beach Pier-all perfect spots for experiencing mesmerizing sunsets that make a bonfire by the sea even more special!
Coronado Culinary Treats
Head to the beaches near Coronado's fire pits and you'll find yourself spoilt for choice when it comes to sampling some of the local flavors. One great way is by taking part in a guided 3-3.5 hour walking tour, allowing you to discover different culinary treats from around town - or just take your time strolling through Coronado's charming streets filled with restaurants offering tacos, burritos, and plenty more seafood dishes! You can relax on their pristine shores while experiencing these unique flavors during a beach bonfire night too!
Family-Friendly Beaches with Fire Pits
At Pacific Beach (PB) and Mission Beach, beach bonfires are a popular pastime for locals. Whether you're with your family or surfing buddies at sunset, these two locations have fire pits ready to provide everyone with lasting memories in the warm atmosphere of the shoreline. Conveniently near local markets, bars, cafes, and eateries like Lahaina Beach House as well as JRDN restaurant, food is readily available to complement any activity! These beaches offer something special that invites visitors from all walks of life, including students looking for some fun on their vacation while families enjoy spending quality time together by its shores.
Moonlight State Beach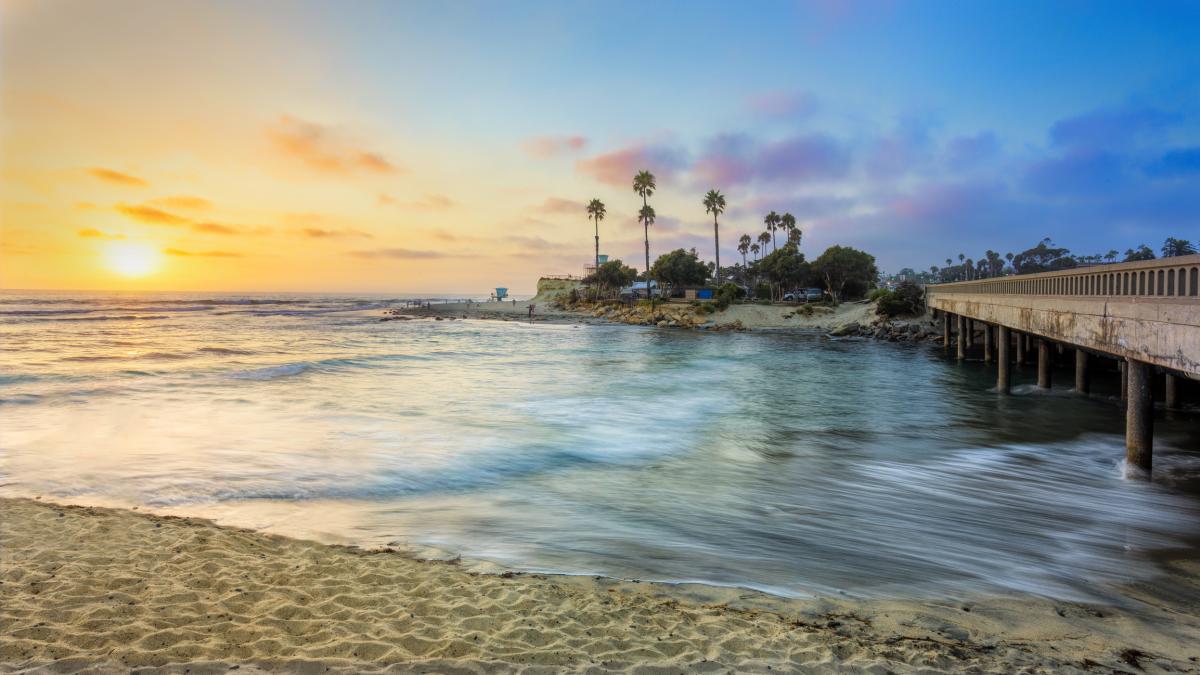 Moonlight State Beach in Encinitas is an ideal spot for a family beach bonfire. Boasting wide, sandy shores and plenty of fire pits available until 10 PM each night, it offers all sorts of fun activities as well as amenities like picnic tables and restrooms that make the experience comfortable. When you get hungry during your visit, there's also a snack bar nearby to satisfy any cravings!
Heading down with everyone ready to enjoy some sun? Don't forget about Leucadia Pizzeria or Modern Times Far West Lounge just around the corner – they have tasty dishes such as subs, burgers, wraps, pizzas, and more if you need fuel after hours spent at the cozy fire pit on Moonlight State Beach's shoreline.
For families looking for enjoyable days surrounded by sand surfing games memories under starry skies. This picturesque seaside location has something special guaranteed to please everybody!
Glorietta Bay Park Beach
Located on the north side of Silver Strand Boulevard, Glorietta Bay Park Beach in Coronado is an ideal location for a fun beach bonfire experience. With plenty of space to run around and play, as well as a lifeguard present at all times, it makes the perfect spot for families looking to enjoy each other's company outdoors while admiring San Diego Bay from afar.
As dusk approaches, head over to one of many fire pits available with marshmallows ready to roast, making memories along the way! When hunger kicks in, hunger kicks in. You're not far away from Burger Lounge where your family can relish delicious burgers and hand-scooped milkshakes served there.
So bring out some blankets or chairs if needed but overall come prepared so that everyone has their best time possible at Glorietta Bay Park Beach, whether during daylight hours or when night falls!
Surf's Up Beaches for Surfers and Active Beachgoers
In San Diego, fire pits by the beach provide a great way for surfers or anyone who enjoys being active outdoors to gather with friends and share stories. Ocean Beach City Beach and Tourmaline Surfing Park Beach are two of the best spots in the city due to their waves suitable for surfing as well as the relaxed atmosphere perfect for having bonfires on breezy nights.
Friends can relax around fires after an exhilarating day at sea while taking advantage of all nearby eateries available during such occasions, which offer a distinctive blend only found in this part of California!
Tourmaline Surfing Park Beach
At Tourmaline Surfing Park Beach, situated just north of Pacific Beach in San Diego, people can take part in the classic beach bonfire experience. Fire pits dot this popular area for water sports enthusiasts and beach-goers alike who desire a unique way to relax after playing all day under California's sun.
The crackling fire brings an extra layer of ambiance among the waves crashing into the shore. Perfect for surfing enthusiasts wanting to reminisce about their accomplishments or wipeouts on any given surf adventure while basking with friends in its comforting warmth.
Pacific Beach and Mission Beach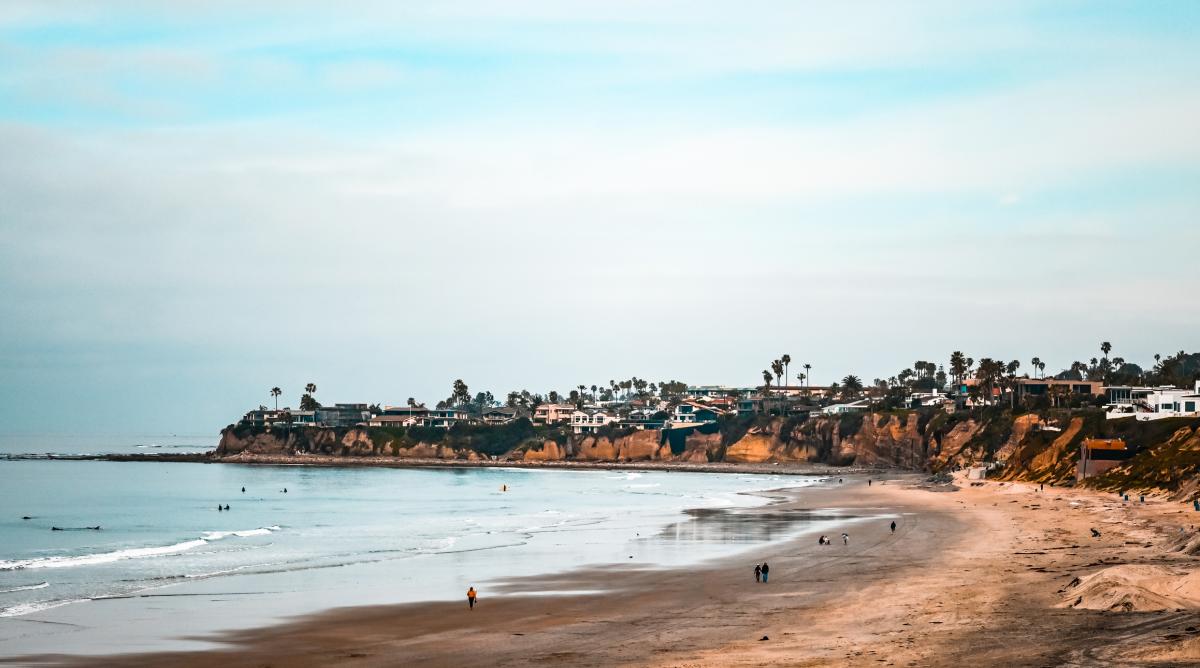 San Diego, California, is home to two exciting beach neighborhoods, Pacific Beach and Mission Beach. Surrounded by restaurants, bars, shops, and an abundance of fire pits along the shoreline, there is plenty to do for every type of fun-seeker! At sunset, when it's time for a classic bonfire on the beach, you can immerse yourself in quintessential Southern California culture with surf breaks accompanied by golden sand beneath flickering flames. There really is no better place than these lively coastal communities if you're looking for a unique yet unforgettable experience near a seaside campfire.
Pet-Friendly Beach Bonfire Spots
San Diego is the perfect place to host a beach bonfire with your furry friend. Fire pits can be found at Ocean Beach Dog Beach and Fiesta Island in Mission Bay, making it convenient for you to enjoy quality time outdoors! In these pet-friendly areas, let Fido run free while partaking in some much-needed relaxation around the fire pit – after all, beaches are meant for everyone's enjoyment. Pack up those snacks so that even your pup won't miss out on this fabulous experience of beach bonfires!
Ocean Beach Dog Beach
The one-of-a-kind Ocean Beach Dog Beach, situated in the vibrant area of Ocean Beach, is a beloved location that's been widely known for being one of the first U.S. beaches where dogs can roam off-leash. There are plenty of recreational activities to enjoy including grassy areas and spaces designed specifically for swimming with your pet by your side. As night approaches, you're welcome to warm up around the fire pits nearby giving both yourself and your pup an unforgettable experience at this paw-friendly destination! With such inviting amenities, it truly makes visiting this dog beach unique and memorable any time you decide to make a trip here from sunrise all the way until sunset.
Fiesta Island at Mission Bay
In San Diego, there is a pet-friendly beach experience you won't find anywhere else at Fiesta Island in Mission Bay. With its 1.3-mile loop around the dog park and a variety of aquatic activities like kayaking, paddle boarding, or fishing, this peninsula will guarantee fun for both yourself and your furry friend alike! What better way to enjoy those beautiful views than with an evening bonfire on the beach?
Fiesta Island ensures that quality time spent outside with your pup comes together as one unforgettable occasion, providing many special memories shared between you two that neither can soon forget.
Luxurious Beach Bonfire Experience
San Diego's Silver Strand State Beach and the renowned Hotel del Coronado offer a unique beach bonfire experience unlike any other. At this dreamy location, fire pits are available on both the oceanside and bayside of San Diego Bay with stunning views of the downtown skyline adding to its charm.
The private beach setting offered at Del offers s'mores for added fun along with their exclusive package called 'Del's Roast', allowing you an unforgettable evening under the stars no matter if it is a romantic occasion or a special celebration.
Hotel del Coronado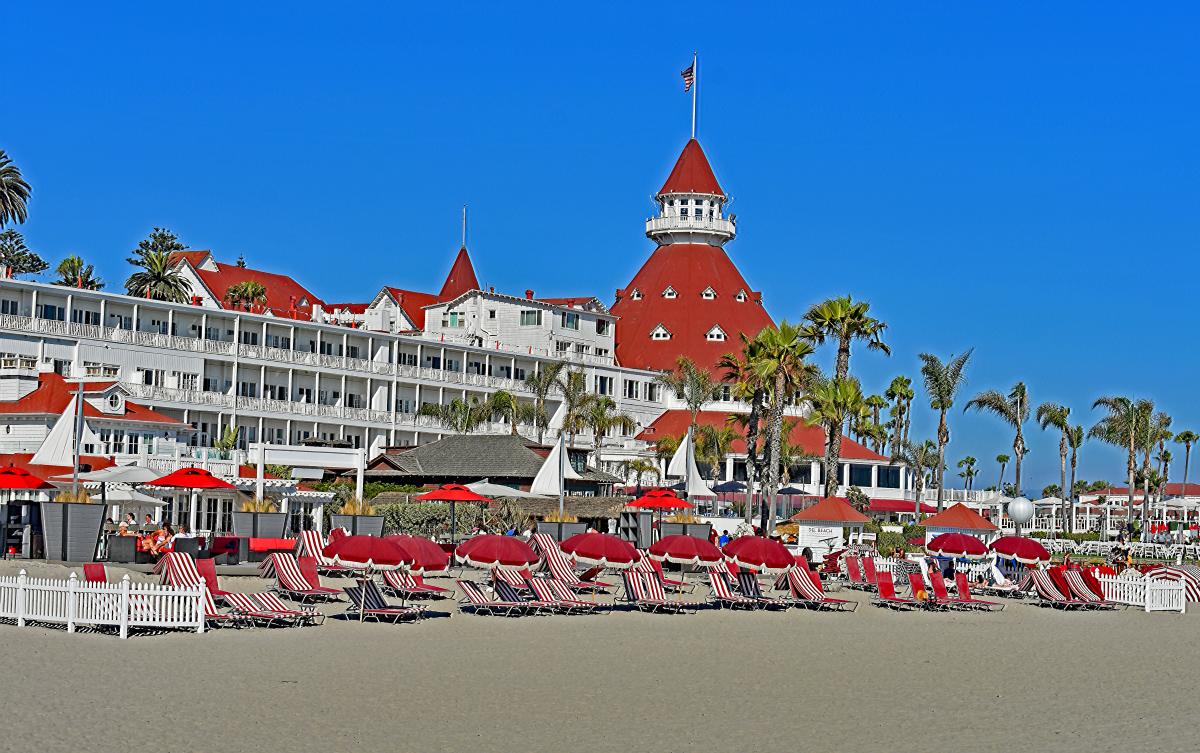 A truly unique beach experience awaits at the renowned Hotel del Coronado on Coronado Island. Guests can treat themselves to an exclusive bonfire package for $195 a night, and enjoy all of its luxurious amenities with up to 10 people around their private fire pit. Delight in roasting s'mores under the stars as you take pleasure in admiring the beautiful ocean views that come along with it, creating a dreamlike atmosphere no one will soon forget! With such unbeatable features coupled together, this once-in-a-lifetime opportunity is something not to be missed.
Tips and Regulations for San Diego Beach Fire Pits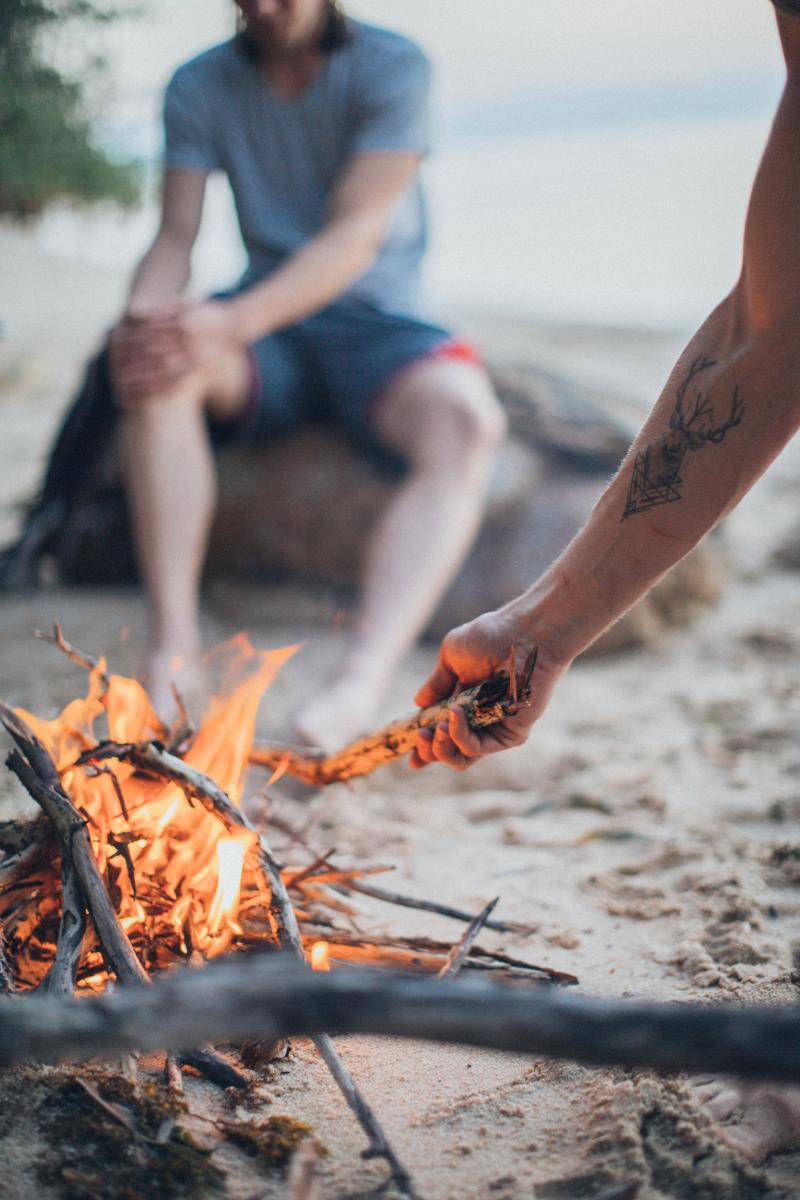 Before beginning your San Diego beach bonfire journey, it is important to learn the regulations for each location. Moonlight State Beach in Encinitas permits campfires until 10 PM while other spots may have various constraints or policies. So always double-check those before you begin! Remember also that safety must be at the forefront throughout and don't forget snacks – there are several near markets where yummy meals can be bought prior to heading out onto any given beach. With proper research into local rules and an awareness of fire safety protocols, a safe yet enjoyable day spent on any one of San Diego's beaches with friends will surely follow.
Related Activities and Attractions
The beach fire pits of San Diego offer a spectacular and vibrant atmosphere, inviting people to immerse themselves in an unforgettable experience. From thrill-seekers looking for adventure on the water with kayaking or jet skiing to those simply wanting to relax by a crackling flame - there's something for everyone. Not only are bonfires dotting along the shoreline stunning and mesmerizing at night, but visitors can explore nearby stores, galleries, and parks during their stay too!
So if you're seeking an escape from everyday life, why not make your way down south? Be sure to take advantage of everything that comes along these coastal fires as it will create memories long after they fade away into ashes. Dive deep into this unique culture today. San Diego is waiting.
Summary
Gathering with loved ones, San Diego beach bonfires provide a unique experience that can be enjoyed by all. From family-friendly beaches to pet-friendly spots and even luxurious escapes for surfers, there's sure to be the perfect fire pit set up in this beautiful California destination. Pack your gear and ignite memories of warmth, beauty, and togetherness on any one of these inviting stretches of sand at San Diego beach!
Frequently Asked Questions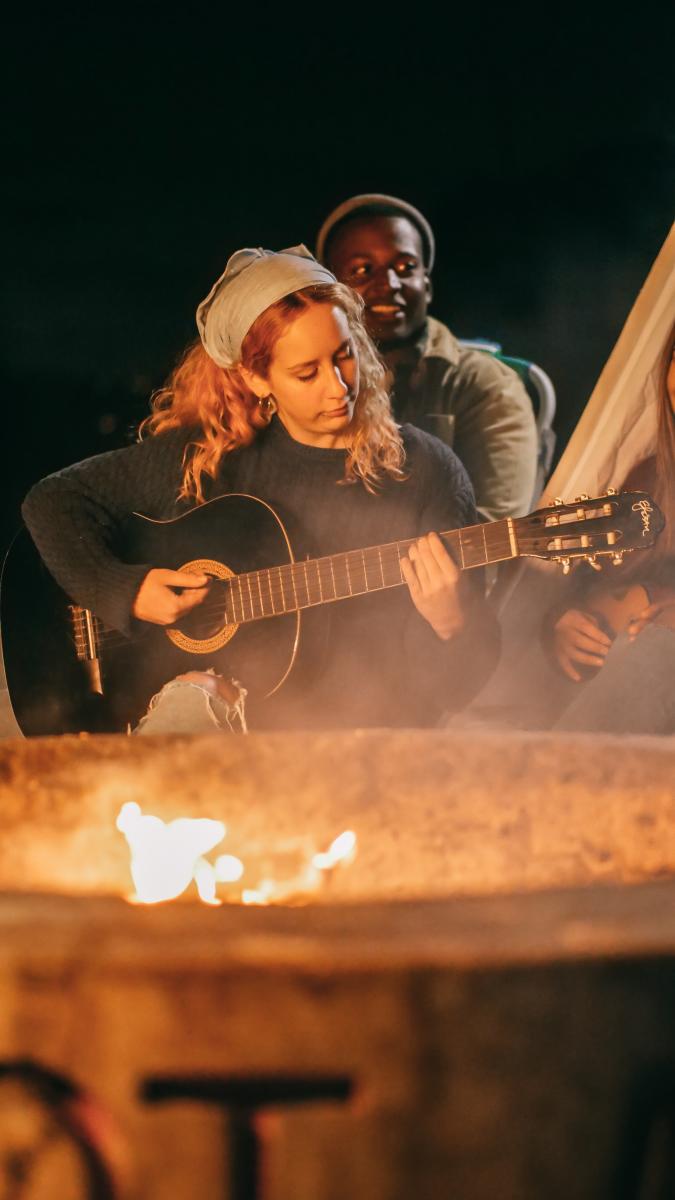 Are fire pits allowed on San Diego beaches?
Fire pits are not permitted on San Diego's beaches. No open beach fires outside of containers and the burning of any waste is also prohibited. Fires are banned between 12 AM to 5 AM in this area. All such rules have been enforced throughout all parts of San Diego's shoreline for safety reasons, making sure that people can enjoy these stunning coastal areas without risk or danger posed by fire hazards.
Where can I have a fire pit in San Diego?
In San Diego, why not head to one of the area's gorgeous beaches with a fire pit in tow? Grab your camping gear and make some remarkable memories as you huddle around a beach bonfire.
Where can you have a beach bonfire in San Diego?
San Diego offers a range of amazing beaches for the perfect beach bonfire. Mission Beach is one such great spot, boasting plenty of space and a wide sandy area for you to enjoy with your group. And don't forget there are also lots of nearby restaurants and bars that can be part of your fun night! If these 7 awesome San Diego beaches do not suffice, then take comfort in knowing that many other stunning coastlines await you here too.
Can you start a fire pit on the beach?
It is possible to have a fire pit on the beach if proper safety measures are taken and it is within an area that allows these activities. Prior to this, make sure you research local regulations regarding having fires by the sea.