You may be familiar with larger beaches and areas in San Diego, but you may not have heard of many of the coastal gems that make the city and its suburbs so great for exploring. Point Loma is a beloved-by-locals, but often underrated by tourists portion of greater San Diego and it has plenty to explore, from food to beaches to the Cabrillo National Monument outdoor area.
There are many outdoor spaces to take advantage of in San Diego, such as the various County Parks, and each has something different to offer. Cabrillo National Monument is a park in San Diego that is located at the southern tip of San Diego's hilly peninsula, known as Point Loma.
If you're familiar with Sunset Cliffs in San Diego's Point Loma region, then Cabrillo National Monument should also be on your list. This is a great place to soak up some sun, get in a bit of a walk, and learn a bit more about the history attached to America's Finest City.
What is Cabrillo National Monument?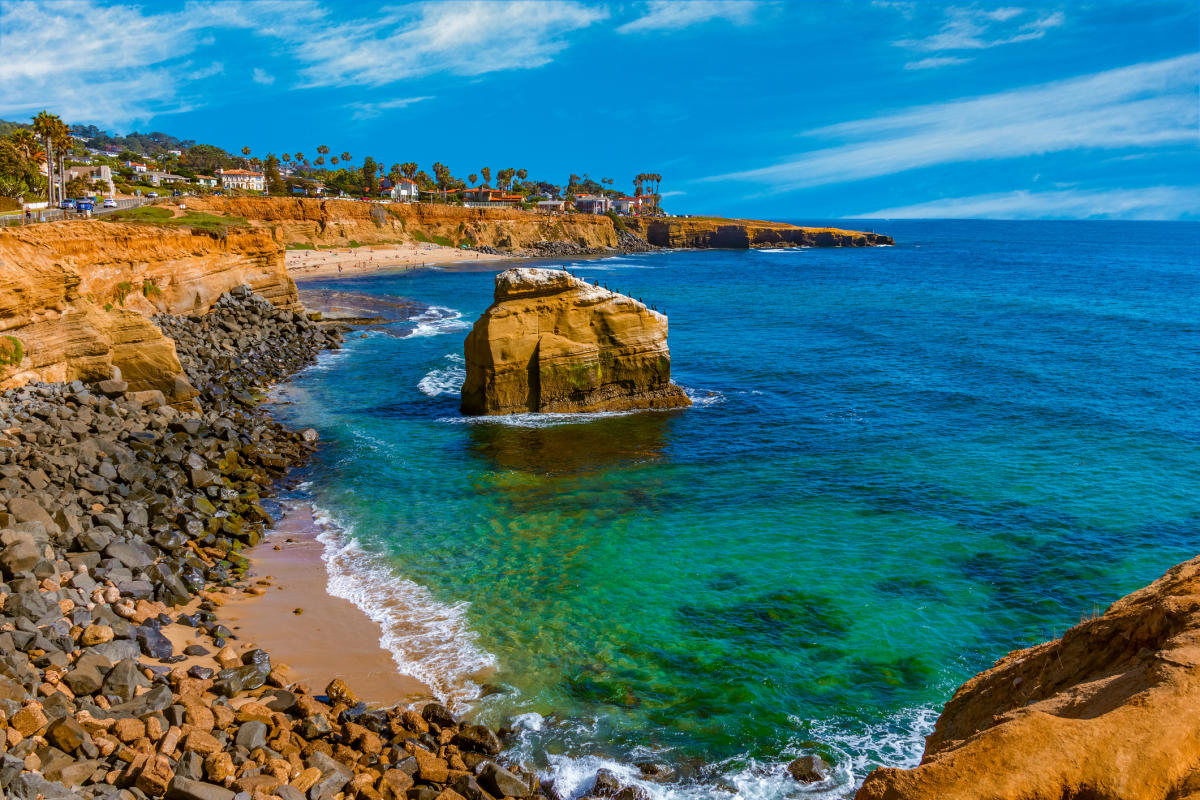 The site, both a national monument and recreation area, commemorates the landing of Spanish explorer Juan Rodriguez Cabrillo in San Diego in 1542.
Cabrillo sailed into San Diego Bay and was the first European explorer to visit the West Coast, certainly a monumental feat. So, in 1913, the 160-acre monument was founded with a statue of him right near the entrance.
You can head to the visitor center to learn more before making your way deeper into the National Monument.
Explore nature like the Bayside Trail that runs for 2.5 miles round-trip, the Point Loma Tide Pools, and even head over to the New Point Loma Lighthouse near the water.
National Monument Vs. National Park
Okay, so what is the significance of a National Monument? Unlike National Parks, these are typically much smaller spaces with less diverse attractions, but they are founded to protect a resource or historical object, attraction, or site, nonetheless.
Though you won't be doing any 20-mile hikes or finding yourself deeply immersed in quiet nature, it is clear to see why this space has been preserved as a National Monument.
Visiting Old Point Loma Lighthouse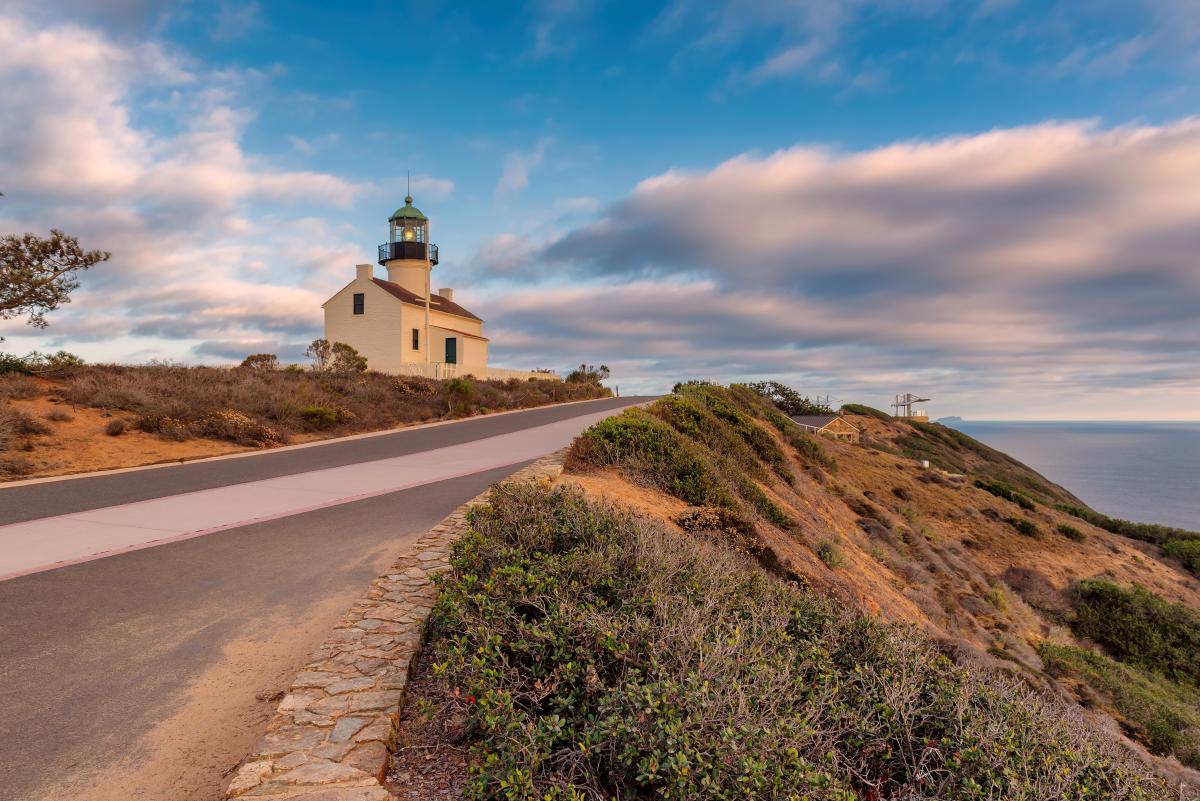 One of the best spots to visit in Cabrillo National Monument is the Old Point Loma Lighthouse, which was active from 1855 through 1891. Though this seems like a short run, the lighthouse illuminated the coast and the waters of San Diego Bay for 36 years.
Unfortunately, the lighthouse's location proved to cause some problems, with its height of 422 feet above sea level seeing fog and low clouds obscuring the light from the ships that most needed its guidance.
So, after decades in use, its light was extinguished for the last time and the keeper moved to a lighthouse closer to the tip of Point Loma, where the light would more easily reach the water.
The Old Lighthouse is now refurbished to its 1880s appearance by the National Park Service to showcase the reality of a bygone period. Visitors can explore the space, learn from brochures, read displays, and listen to talks led by rangers that highlight the history of the building and its surrounding functions.
Exploring San Diego Bay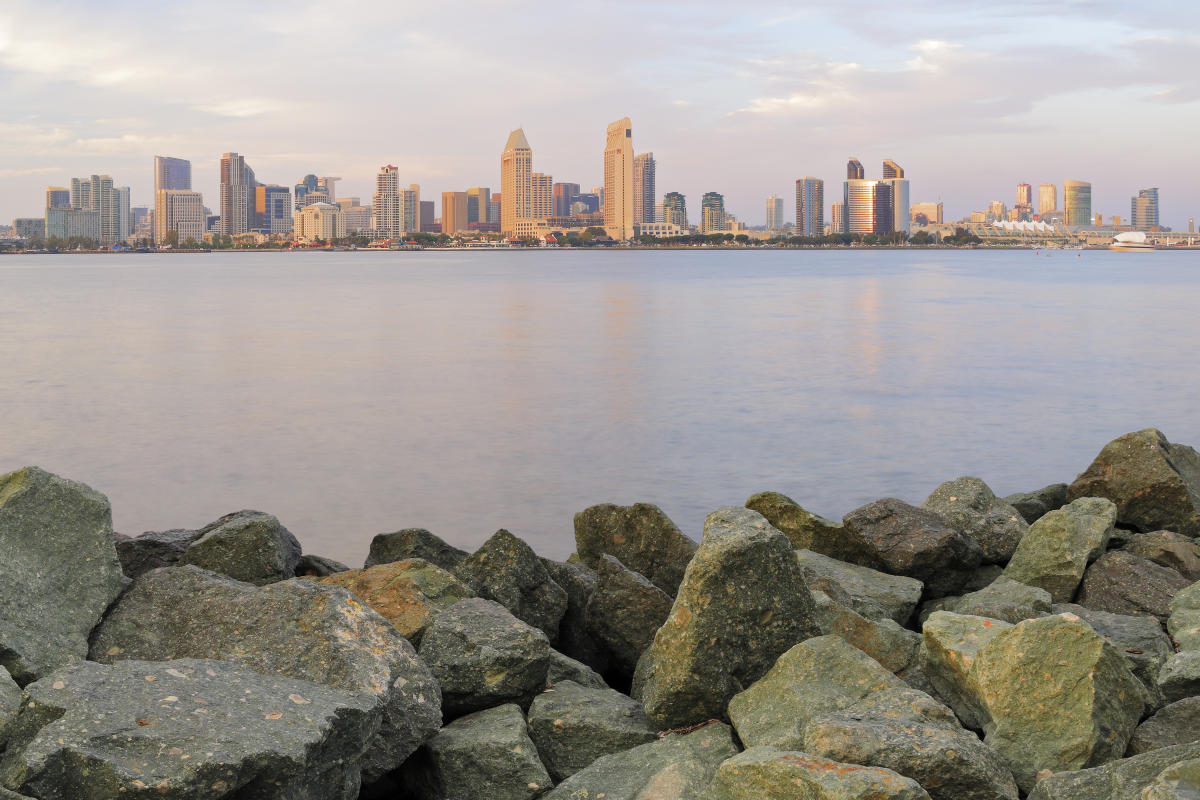 One way to explore this area is to go into the bay itself, on a City Cruise that is both educational, fun, and a bit relaxing. Enjoy the breeze, some refreshments, and local guides that will be sure to give you the low-down on everything from architecture to their favorite nearby seafood spots.
The entire area of land that sits around San Diego Bay can also be easily explored in a day if you know the right spots and have a bit of a plan.
You could go from downtown San Diego to Coronado Island, up to Ocean Beach, and all the way down the peninsula of Point Loma, making a near-circle around the San Diego Bay, if you want to be adventurous and cover a lot of ground.
We don't want you to overdo it and feel like you're rushing from one spot to the next, though, so we'll give you the best way to see Point Loma in a day, instead.
Of course, if there's anything nearby on your list that you want to hit, it's worth keeping in mind that this area is very accessible. Just don't try to cover too much ground during rush hour!
Point Loma Day-Trip Itinerary
Liberty Station
Spend the morning getting breakfast and doing some work at Moniker Coffee before exploring other areas of these repurposed military barracks such as the Liberty Public Market, Corvette Diner's arcade space, and local art classes.
Oh, but don't forget to get outside and spend some time in the grass as you watch planes enter and exit the San Diego International Airport, which is just across the water from Liberty Station.
Shelter Island
Next, head over to Shelter Island, a sandbank in Point Loma that was built up and turned into a neighborhood. You can watch boats go by, walk around the 'island,' and grab some lunch at Bali Hai restaurant, one of the best waterfront restaurants in San Diego.
City Cruise in San Diego Bay
If you're feeling adventurous, take a city cruise in San Diego Bay where you'll get to see the architecture, learn about the area's military history and current operations, and enjoy food and drinks depending on your choice of tour.
Cabrillo National Monument
Finally, make your way down to Cabrillo to do some exploring on the trails, relax on the beach, and learn about San Diego's rich history. You can tailor the experience to be whatever you want, whether it's all about history, nature, or a mix of enjoying all that the National Monument has to offer.
Sunset Cliffs
This is the perfect place to enjoy the ocean, a sunset, and the cliffs, as you might imagine based on the name of this San Diego hotspot. Bring a small picnic if you're ready for a snack, or just come to enjoy the changing colors of the waves crashing against these iconic cliffs as the sun begins to set.
Dinner in Ocean Beach
If you like the idea of exploring this whole portion of San Diego, we would be remiss to not recommend Ocean Beach as a great spot for dinner and drinks. Try out the popular OB Noodle House or, if you'd prefer to stay more central to Point Loma, Miguel's is a great place to grab Mexican food.
Enjoying Cabrillo National Monument
With panoramic city views, proximity to the ocean and its creatures, history, nice walking trails, and plenty of sunshine (on good days,) Cabrillo National Monument really is a hidden gem here in San Diego.
Are you a local that frequents this spot? If you think we missed any important highlights, let us know! Every experience is different, based on how the space is enjoyed.
Contact us on socials @sandiegodotcom and let us know what you think!