It can be a bit of a pain to travel, especially if you're someone that is tight on timing, and needs to get to your destination quickly, without hassle. Maybe you've been drawn in by the idea of private air travel, but just cannot commit to the price tag that comes with traveling on a private jet. So, how are you supposed to avoid the lines, the delays, and the crowds that come with a busy airport, especially around peak season?
JSX is a private jet operator that offers smaller flight loads for those who want an experience that is closer to private air travel than what the major airlines can offer. The JSX has a fleet of aircraft that can hold up to 30 passengers, making the flight process more personalized. Travelers can be in their seats within 20 minutes of arriving, instead of going through a lengthy check-in and security process.
JSX air comes at a cost, of course, and you may be wondering if it is worth it for you and your travel needs. Stick with us for a while as we dive into how JSX works, features offered by this operator, routes available, bookings, pros and cons, and even some FAQs.
What is JSX?
JSX brands themselves as 'airport-less air travel.' What this boils down to is that they are a hop-on jet service that allows passengers to avoid all the stress and time-constraints of traditional check-in and security processes. After that, they have private terminals that are set up like lounges to create the most comfortable travel possible.
If this sounds just like you'd imagine it might be to fly on a private jet, that's because the process is modeled off that style of air travel. With JSX, though, you don't have to charter an entire private jet. Instead, you get to experience quick security screenings and board a flight with a maximum of 30 other passengers.
Essentially, JSX flights are meant to be painless and provide you with a luxurious travel experience without the price tag of a truly 'private' jet. The experience with this private charter operator is primarily the same, though.
How does JSX Work?
As a public charter operator, JSX is considered a hop-on jet service. It may sound like this eliminates the process of security altogether, but that is not the case. Instead, they run a TSA security check 24 hours before their passengers departure. Not only does this ensure that they maintain safe air travel, but it keeps travelers from participating in the on-site screening processes that can often cause delays. Much like other forms of transportation, like trains, passengers can show up 20 to 30 minutes before their departure time, show their boarding pass to a gate agent at the check in desk, and follow the simple boarding process that comes with a departure on the charter plane.
Features Offered by JSX
The features that JSX offers are pretty standard for short-to-medium-haul flights.
All JSX flights offer complimentary snacks and drinks, business-class leg room, power outlets for each row, and single seating and free high-speed internet on planes that are equipped for those offerings.
All planes have a restroom located near the back of the cabin, and planes with 1x2 seating configurations will allow you to purchase the seat next to you at a discount to make sure you have all the personal space you'd like.
JSX Routes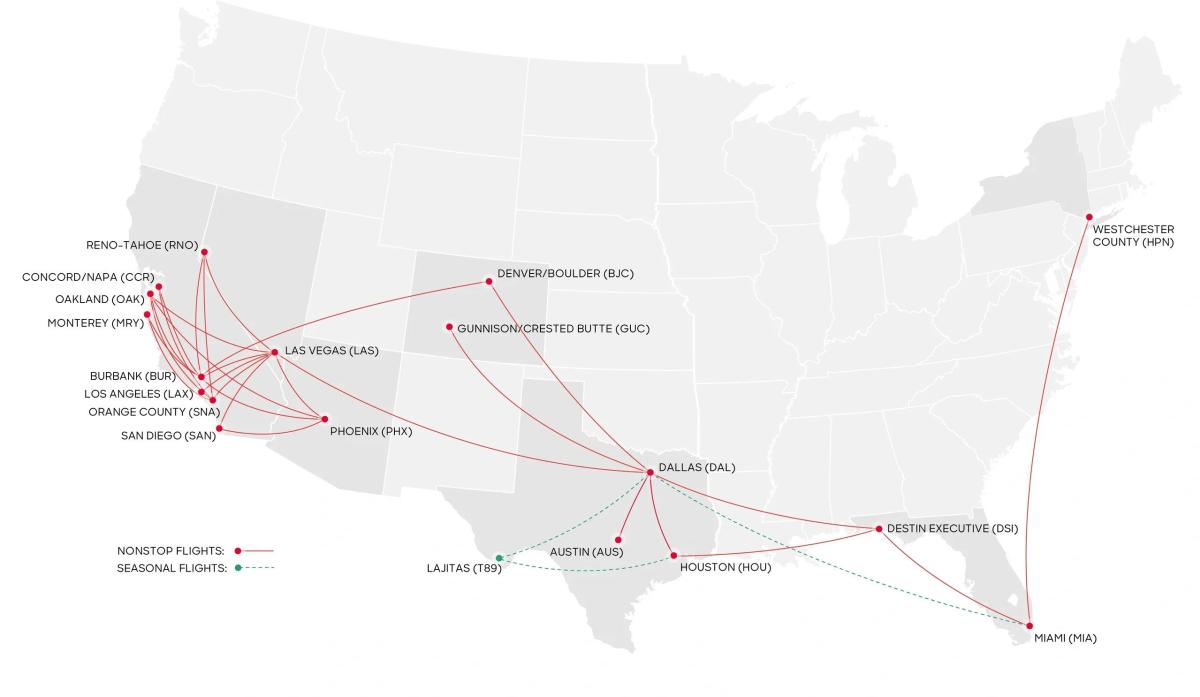 When it comes to flying on JSX, there are still a relatively limited offering of routes within the United States and Mexico. You could still be in luck, though, especially if you live in California, Colorado, Texas, or Florida.
These 4 main states are home to many of the destinations that JSX flies, thanks to a high demand. JSX San Diego is a great place to travel from because it flies to airports that connect to a great deal of the other locations currently included in the JSX portfolio.
You can see a comprehensive list of JSX destinations below.
United States Destinations:
Arizona
California

Burbank (BUR)
Concord/Napa (CCR)
Los Angeles (LAX)
Monterey/Carmel (MRY)
Oakland (OAK)
Orange County/Santa Ana (SNA)
San Diego (SAN)

Colorado o

Denver/Boulder (BJC)
Gunnison/Crested Butte (GUC)
Rifle/Aspen/Vail (RIL)

Florida o Destin (DSI)

Miami (MIA)
Orlando (MCO)

Nevada o

Las Vegas (LAS)
Reno-Tahoe (RNO)

New Mexico
New York
Texas

Austin (AUS)
Dallas (DAL)
Houston (HOU)
Lajitas/Big Bend (T89)
Mexico Destinations:
JSX offers certain nonstop flights, winter seasonal flights, summer seasonal flights, and a few flight paths that require one stop. Although the airline is based primarily on the West coast, it is continuing to grow and find success. With constant expansion, you can check out their most updated route map on the JSX website.
JSX Ticket Options
JSX offers two different types of ticket options for you to choose between: Hop On and All In. Tickets can be booked for anyone 14 and older, but unaccompanied minors are not permitted on JSX flights. It should also be noted that passengers from ages 14-18 cannot accompany anyone under 14, per JSX policy.
Hop On - Similar to other regional airlines, the Hop On option is a basic one, charging extra fees for changes, seat selections, and cancellations. Fares include 2 checked bags of up to 50 pounds each and allow for a small personal item, though, which is a much better deal than most basic fare types offer. As all seats are the same, Hop On passengers will still have business class leg room and the same in-flight resources as other passengers.
All In - All In is a much more comprehensive fare option but is also more expensive. Not only does the fare include free changes and cancellations, but you also get a third checked bag for free, on top of that. This option also allows passengers to make seat selections, which might mean the difference between a window view or an aisle seat.
JSX Fares & Fees
How much do these options cost?
In some cases, Hop-On fares are as low as $110 one-way, while All In tickets cost $500. If you're worried about cancelling or needing changes, this could still be your best option, but the fare is going to reflect that extra flexibility. JSX charges a $50 fee to change or cancel Hop-On fares, and $10-30 for those passengers to make seat assignments.  For both fare types, any additional or overweight bags will also see a fee of $50.
Finally, there is a $20 fee for any passenger that books their flight over the phone, as opposed to using the website or mobile app.
JSX Ticket Prices vs. Airline Ticket Prices
For point-to-point regional flights, JSX flights are actually comparable to many traditional airline prices. Southwest Airlines, for example, has similar fare types: Wanna Get Away and Business Select, that compare quite closely to JSX fares Hop On and All In. If you look at a JSX San Diego to Phoenix flight, for example, you could pay just $149 for Hop On whereas a flight on Southwest's Wanna Get Away would cost $88.
For a semi-private flight, avoidance of TSA lines, and a faster process altogether, that price difference seems pretty nominal. JSX fares may not be as diverse as a commercial airline that offers 4-6 fare types, but they certainly cover the basics that they need to.
Information and Documentation Needed To Fly JSX
The reservation process with JSX is in line with what you might expect to compete with other airlines. You'll need to have your origin and destination, as well as your dates and times to begin. Next, you'll fill out the passenger's legal first and last name, date of birth, email address, phone number, and a method of payment.
Check-In Process
All adult passengers 18 or over will need to show a valid form of ID, such as a driver's license, passport, a DHS traveler card (NEXUS, FAST, Global Entry, SENTRI,) a permanent resident card, or another valid, applicable form of identification. These methods of ID are subject to change but are always up to date on the JSX website. Pre-screening will have to be done 24 hours prior to boarding, so passengers may go straight to the private waiting area upon checking in.
Rewards Points with JSX
JSX airlines works directly with the United Airlines MileagePlus rewards system, making it easier than ever to stack up miles while traveling with JSX. You can earn up to 100% of the miles you fly, based on your JSX fare class. The mileage earned ranges from 100% to 50%, but won't go below that. So, even if you want to book a Hop On ticket, you can count on at least half of your miles going toward your MileagePlus rewards.
There have also been partnerships with American Express in the past, which could include passengers receiving increased mileage or other rewards. How to
Book a Flight on JSX
It's great to learn more about JSX planes, fares, and routes, but the real test is when it comes to booking a flight. The good news is that this process is easy. You simply choose your destination and dates of travel on the JSX app or on their desktop site, and boom! It's booked. You can, of course, call in and book over the phone for that extra fee of $20 per person, but the online booking services work just fine.
Pros and Cons of JSX
The JSX flight schedule may not operate the way that passengers are used to based on experiences with other airlines. For example, there is often one flight in the morning and one at night, versus multiple daily. Passengers will need to be flexible with their schedule to utilize the time-saving process that using private jet terminals can offer. JSX flights provide a luxury experience that meshes with an affordable price tag, to make this flight option accessible to more people. You'll get beverages in plastic cups, but also could end up on a jet with only 5 people. So, there's certainly some give and take to consider, but JSX flights seem to be worth the price that passengers pay.
Frequently Asked Questions About Flying JSX
You may still have some questions about JSX. We'll answer many of the frequently asked questions below, based on JSX reviews, personal experiences, and air travel experts.
Is JSX safe?
Yes, JSX is safe. The way that the JSX airline operates may not follow a traditional style of air travel, but it is safe. JSX planes follow regulations and protocols the same way that other planes do. TSA pre-check processes are used to vet passengers, planes only have 30 seats per their FAA certification, and the airline is tied to other airlines, giving it credibility for anyone who is unsure about this semi-private, public charter option.
Is JSX owned by JetBlue?
Speaking of ties to other airlines, JSX airline is not owned by JetBlue, but they are a minority shareholder in the airline. Qatar Airways is another minority shareholder that supports JSX airlines. JSX originated in 2016 as JSX, now rebranded as JSX, and is headquarted in Dallas, Texas.
Is JSX a real airline?
Yes, JSX is a very real, and fast-growing, airline. They are an independent air carrier that service the United States and Mexico with a 'hop-on' approach to flying.
Does JSX allow pets?
If you frequently travel with your furry family member, you can safely plan to bring a small dog or cat underneath the seat in front of you, free of charge. If you plan to bring a medium or larger dog, they must be underneath 79 pounds and remain on a leash. You'll also have to purchase an extra seat, for the dog to lay in front of. A total of 5 animals are allowed on each JSX flight, so you may be denied if others have already indicated that they will be bringing pets. All animals also must have valid health certificates.
How old are JSX planes?
On average, JSX operates planes that are around 21 years old. For comparison, most commercial airplanes last around 30 years, though this number typically applies to planes that cover more ground, hold more passengers, and sustain more wear-and-tear. Private planes might be closer to 10-20 years old because passengers want the most up-to-date interiors. Not to worry though, you can count on a JSX interior to be quite nice, with neutral tones, spacious overhead bins, and many modern amenities.