If a visit to San Diego is in your plans, you've probably come across the area of La Jolla, to the north of downtown but still a way beneath the 'North County area. Situated perfectly between the beach clubs of Pacific Beach and the surf culture of Encinitas, the area of La Jolla feeds into Torrey Pines, and the two are often lumped together.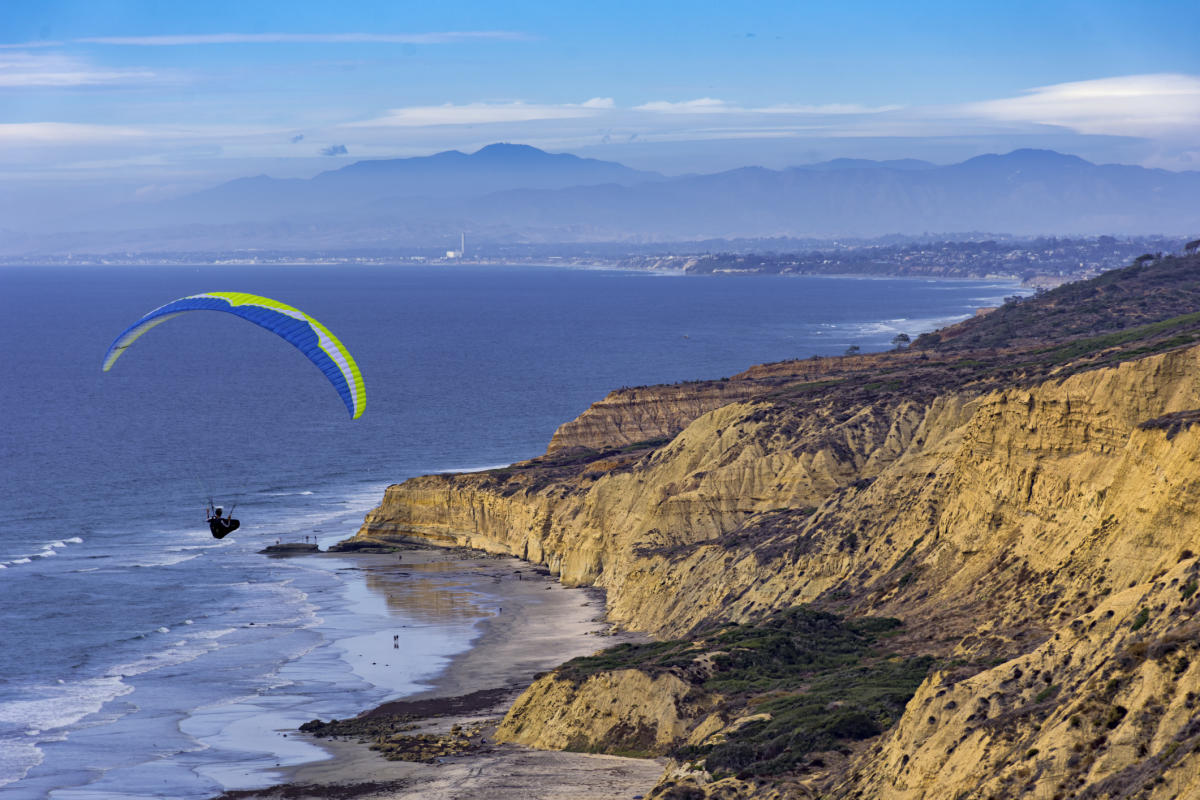 Torrey Pines State Natural Reserve covers 2,000 acres of land in the La Jolla area, and the state beach and park are potentially the most notable portion of the Torrey Pines area, with locals and visitors alike hiking the sandy cliffs. Nearby, you'll find an area known as Black's Beach at the bottom of the cliffs. The top of those same cliffs, however, is home to the Torrey Pines Glider port- perfect for views, picnicking, and hang gliding, of course.
To learn more about enjoying Torrey Pines, La Jolla, and the Glideport itself, stick around for a bit! There's so much to do and see in this gorgeous section of San Diego, and we are excited to help prepare you for your visit.
About La Jolla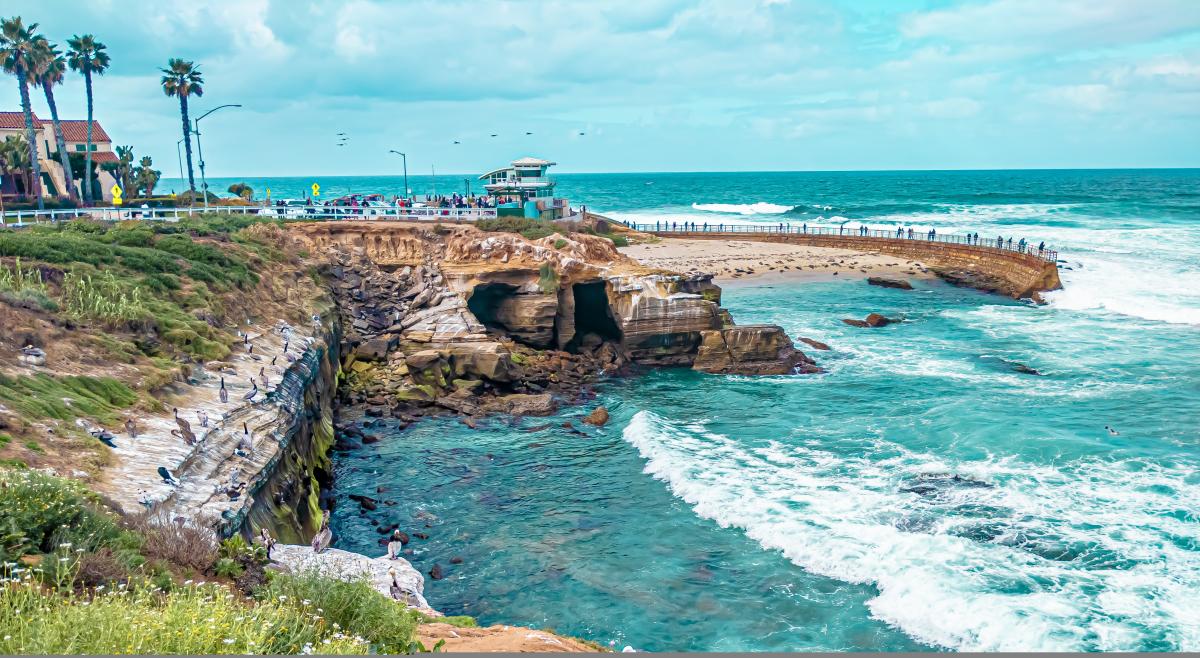 The area of La Jolla is not only vibrant, but it is also coastal, well-positioned, and a great spot for a day trip, a weeklong stay, or if you've been needing a more permanent change of scenery. Located directly above the college-centric Pacific Beach and right below the more affluent Del Mar, La Jolla is the perfect meeting of multiple demographics.
La Jolla is quite large, and does encompass the entire area of Torrey Pines, which is more than just the famous golf course, but also happens to be a huge natural reserve that is home to a state park and beach. This is the best, and one of the only places to see the namesake Torrey Pines trees.
Nearby, you can find yourself exploring La Jolla Shores Beach, trying cafes in La Jolla Cove, and catching a wave in the waters beyond Torrey Pines State Beach.
The University of San Diego California is also located in La Jolla, which means that there is plenty of research going on, but also a fun, youthful atmosphere surrounding the college students in the area. In fact, Black's Beach and Torrey Pines Gliderport are great places to see the many UCSD students passing time after class.
Exploring La Jolla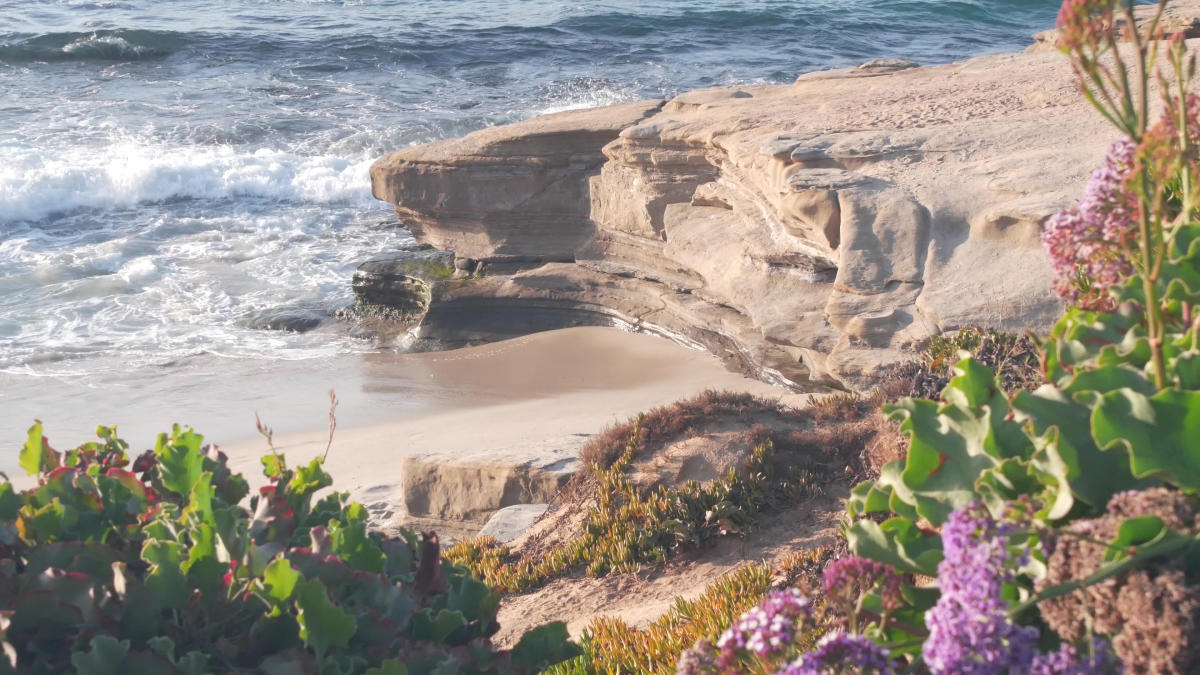 The Village of La Jolla is the downtown area where you'll find the Contemporary Art Museum of San Diego, lots of beachside eateries, and a Sunday morning farmers market. La Jolla Cove is right on the water and the best place to see the popular sea lions that inhabit the space.
You can walk or drive up the coast a bit to make your way to La Jolla Shores, next. Here you can enjoy a flatter stretch of beach and some calmer cafes thanks to the residential nature of the area. before walking down to La Jolla Cove to see the popular sea lions. Walk up the coast just a bit to the Shores for a flat stretch of beach near vacation homes and another, smaller strip of restaurants and shops.
Head to the east a bit to come up on the UTC area, University City, which is home to Rose Canyon Open Space Park, lots of UCSD students, and the Westfield UTC Mall.
One of the Best Views in San Diego
San Diego undoubtedly has some of the best views in all of Southern California. A visit to the Torrey Pines Gliderport, where you can observe both the Pacific Ocean and people soaring above as they take on solo or tandem paragliding, only helps prove that San Diego has some views that are hard to beat.
Now, with so many great options, we would be remiss not to give you some other spots to check out, too. When it comes to the best views in San Diego, we, of course, have a few criteria. Are you looking for an ocean view (probably,) a city view (maybe,) or both?
There are so many amazing views to be found all the way around San Diego, but Torrey Pines is home to some of the best.
Downtown and Ocean Views
To get a view of both downtown and the ocean, we recommend hiking up to Kwaay Paay Peak, an area out near Santee in San Diego's East County, to get views of the majority of San Diego. For a closer view of the city and Mission Bay, you can head over to the grassy, hilly, Kate Sessions Memorial Park in Pacific Beach.
Ocean Views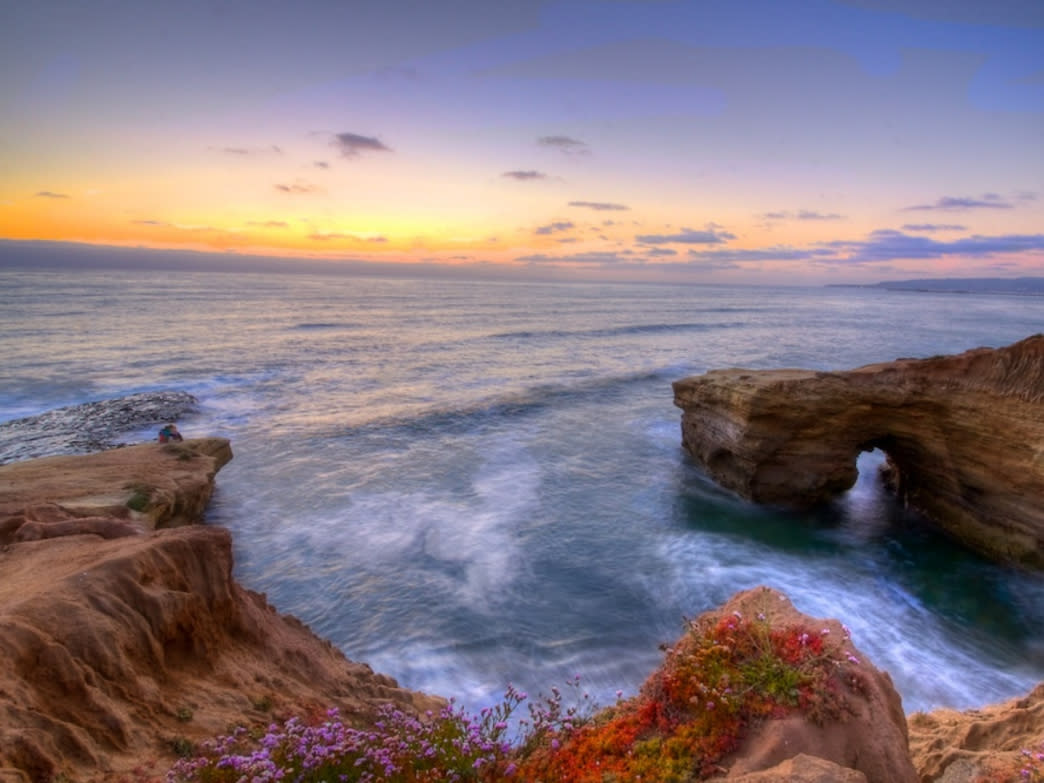 When it comes to seeing the ocean, though, we have a few top contenders. One, the popular Sunset Cliffs, is located closer to downtown in Point Loma and offers spots along the sandy cliffs to sit and watch the water.
For a different kind of view, we recommend hiking at Torrey Pines State Park. You'll be along the water the entire way, as you hike along trees, tall grasses, sandy cliffs, and more. The ocean is never far from sight and your high positioning above it will only make for a more complete ocean view.
Our other top ocean view is from the Torrey Pines Gliderport, where there tends to be more space and, often, fewer tourists. You can enjoy the view from one of many benches, the grass, and the sandy cliffs, or while grabbing a bite at the Cliff Hanger Cafe on site.
Hang Gliding at Torrey Pines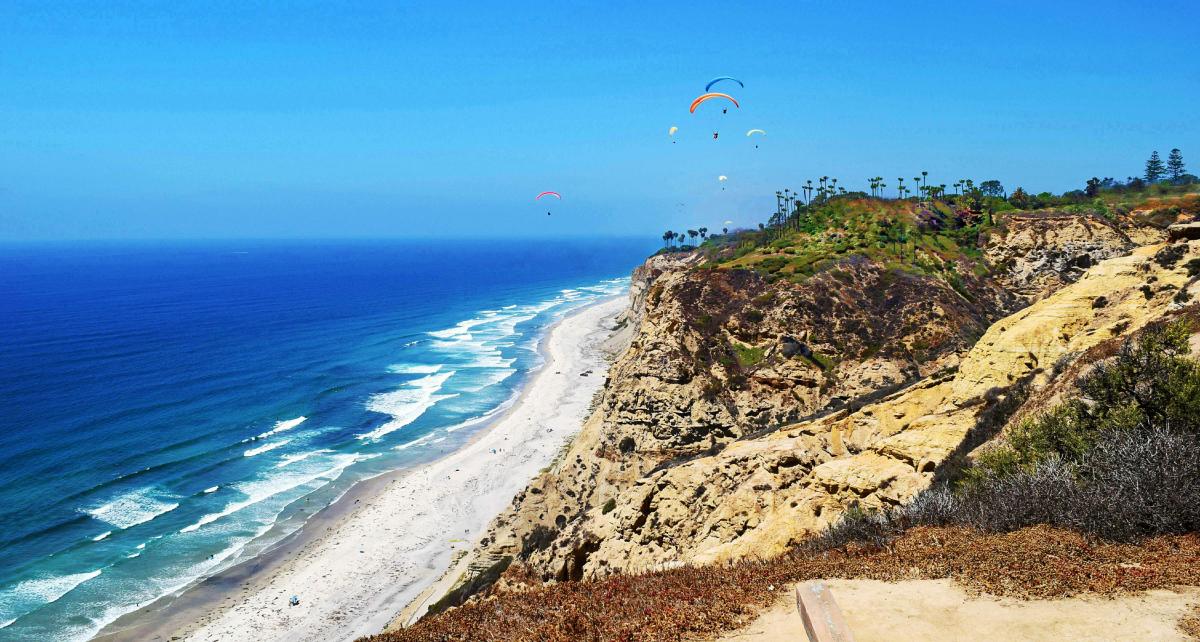 This world-class flying site located in Torrey Pines is a must for anyone who enjoys hang gliding, whether that looks like tandem rides with a licensed individual or solo trips above the sea. You can access the Torrey Pines Gliderport via Torrey Pines Scenic Drive, which easily connects from N Torrey Pines Road and brings you directly in view of the tandem flights, remote control models, and hangs gliders of all sorts…depending on wind conditions.
Whether you hang glide or not, visiting Torrey Pines Gliderport above Black's Beach is truly a must. Park in the expansive dirt lot before heading to grab some food at the Cliff Hanger Cafe, have a picnic with friends and enjoy the view, or head down the bluffs to the beach.
Be aware, however, that once you hike down the cliffs onto the sand of Black's Beach, the area is clothing optional. It's a beautiful beach, but we don't want any surprises.
Take a trip to fly above the Pacific Ocean at different times of day, or just watch as gliders catch the wind to take flight and create a spectacular photo-op, especially at sunset.
That's a Wrap
As you plan your trip to San Diego, be sure to keep Torrey Pines and the neighborhoods of La Jolla in your plans. With gorgeous beaches, downtowns, farmers markets, gliderports, and so much more, this is the perfect way to combine relaxation with adventure.
San Diego is waiting, and we hope that you make your way out here soon. Feel free to check out our site for plenty of other destinations, day trip ideas, hotels, and even the need-to-know info for when you inevitably fall in love and want to move here, too!
Don't forget, if you are interested in hang gliding or paragliding at the Torrey Pines Gliderport, there is lots of information on the Torrey Pines Glideport website. You can learn more about gear, bringing kids (there is no specific age limit,) how to sign up, and what it might be like to go hang gliding through the sky.
Are you from San Diego, or have you had the chance to do your share of exploring La Jolla? Let us know what you think! You can reach us via our socials @sandiegodotcom.