Sunny San Diego is undeniably a great vacation destination, from its prime location in Southern California to the beautiful beaches, nearby mountains, and various dining opportunities. It's nearly impossible to cover all the ground you'll want to, something that locals often reflect on, as well.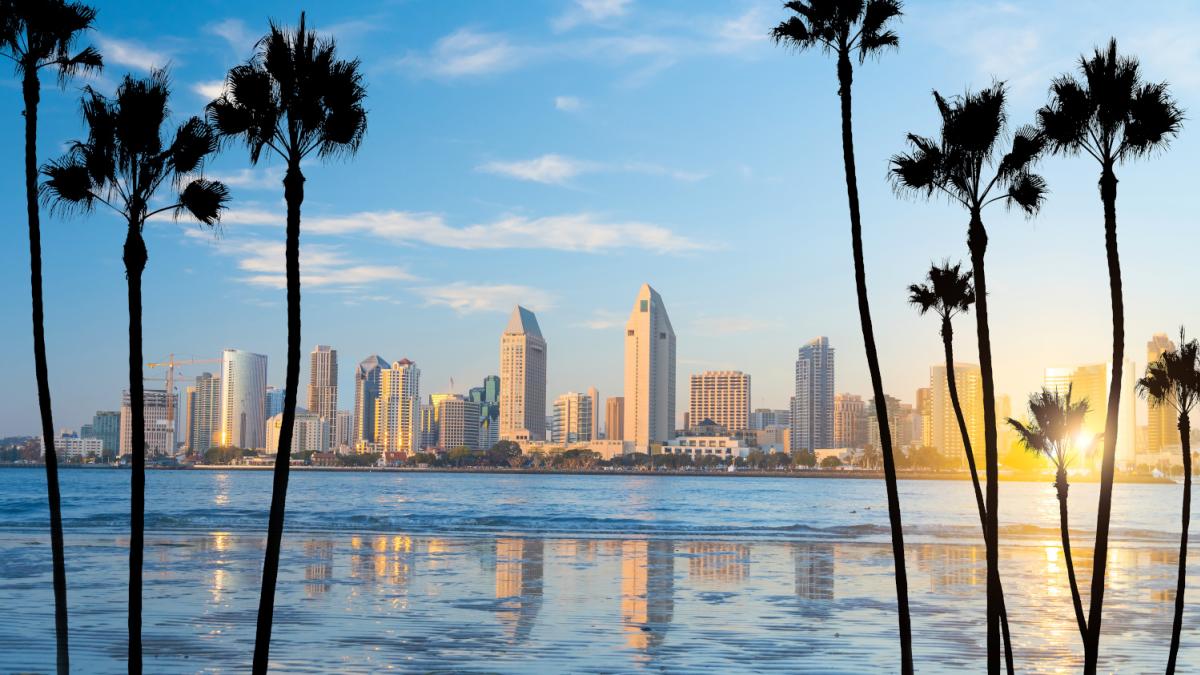 It's hard not to love this beautiful Southern California oasis, from its great family housing to the military housing options, especially if you are a member of the U.S. military that has finally had the fortune to be stationed in this stunning city. Housing is quite plentiful for those stationed at the naval base San Diego so proudly boasts, as well as all of the other bases nearby, such as Marine Corps and Coast Guard bases.
Having too much to do, too many amazing things to see is hardly cause for complaint but, as a visitor, you might just find yourself making trip after trip to return to America's Finest City. As you keep visiting San Diego, there will be a point where you have to ask yourself one question, "What if I did it? What if I just decided to move here for good?"
If you can make the move to San Diego, you'll need to know more about how the current 2023 BAH rates work here. So, let's dive in.
What Is a BAH Rate?
You may be looking at housing in San Diego and keep seeing these 'BAH' rates come up. So, uh… what exactly does that mean?
If you didn't know, San Diego is a huge military hub. It has the highest concentration of military personnel in the entire United States.
That being said, a lot of housing-related information is going to include the allowances that military members and their families have available to them, or what areas might be best for those personnel to reside.
BAH stands for 'basic allowance for housing' and refers to the housing portion of the United States military's compensation package. These housing allowance rates are updated each year by the Department of Defense and will vary based on location.
BAH rates can be so different that it's worth comparing the rest of California's average, and the national average, to get a sense of where the San Diego BAH rates fall. Of course, you can't just change where you are stationed, but a little comparison never hurt anyone, right?
CA BAH Rates
Odds are, if you're here, you know all about BAH rates as a seasoned member of the military or their family member. So, let's talk about the BAH rates in the state of California and how they compare to San Diego.
The national average BAH rate for 2023 ranges from about $1640 to $3680 monthly based on pay grade, enlisted rates, whether a member is looking for housing with or without dependents, and so on.
Overall, in California, BAH rates go from $2523 to $4758. In a huge city like San Francisco, these rates are dramatically higher whereas a smaller town like China Lake will see the lowest BAH rates dipping into the high 3-figure range each month.
San Diego tends to be at the more expensive end of the state's housing costs, and so the average BAH rates are going to be somewhere on the higher end of the spectrum.
BAH Rates in San Diego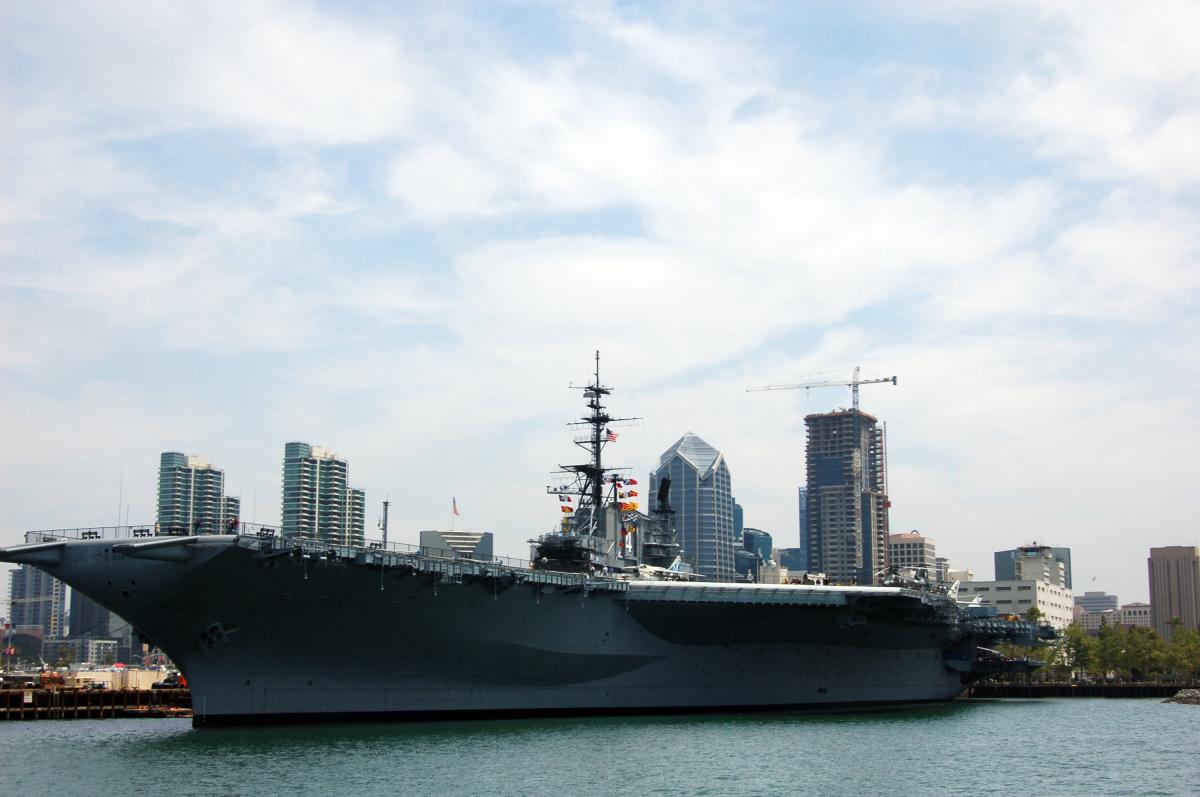 Currently, for NB San Diego, the 32nd Street Naval Station, BAH rates range from $2730 to $5286 per month. This is all based on ranking and whether an enlisted member or officer is living with or without dependents.
BAH rates have increased by 16.2 percent from 2022 to 2023 alone, adjusting for the rapid increase in housing costs both locally and nationwide.
To see San Diego Naval Housing BAH Rates for 2023, we have included this official chart to give the best estimate of what you will expect.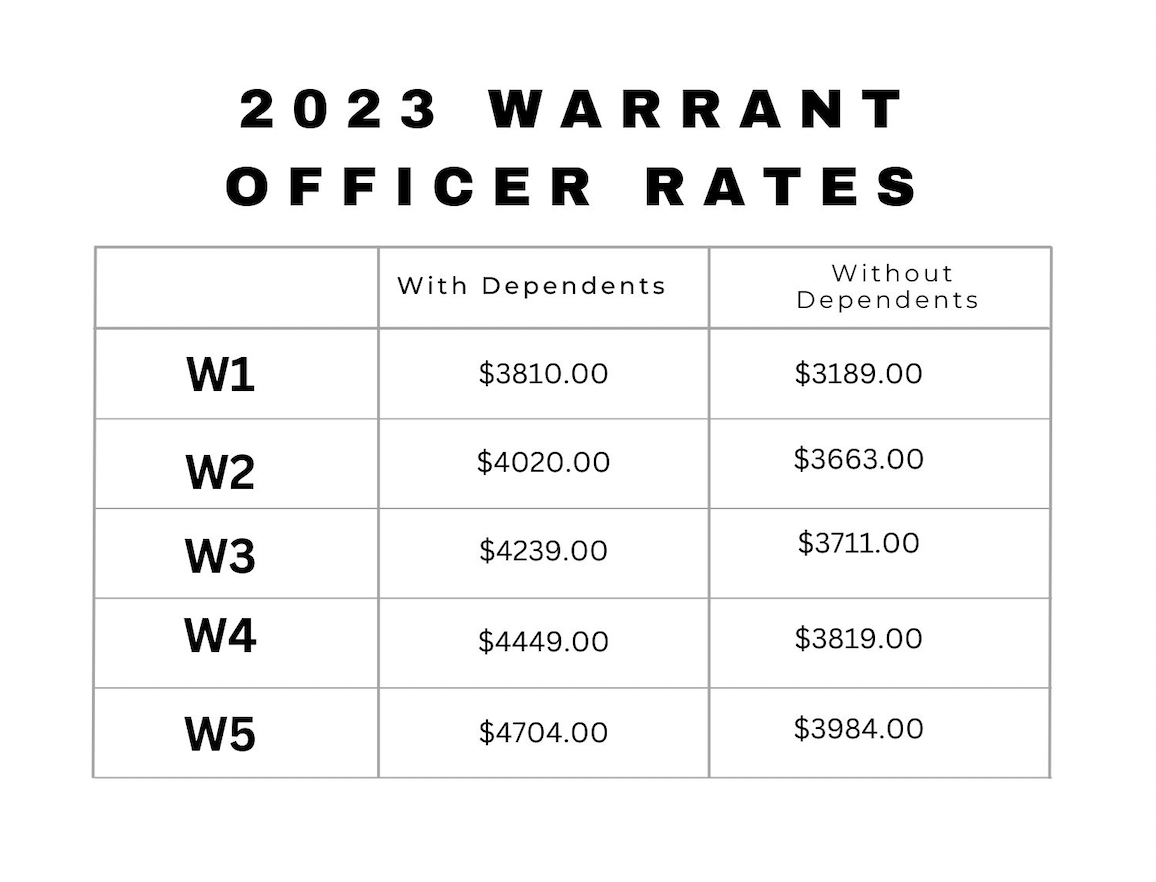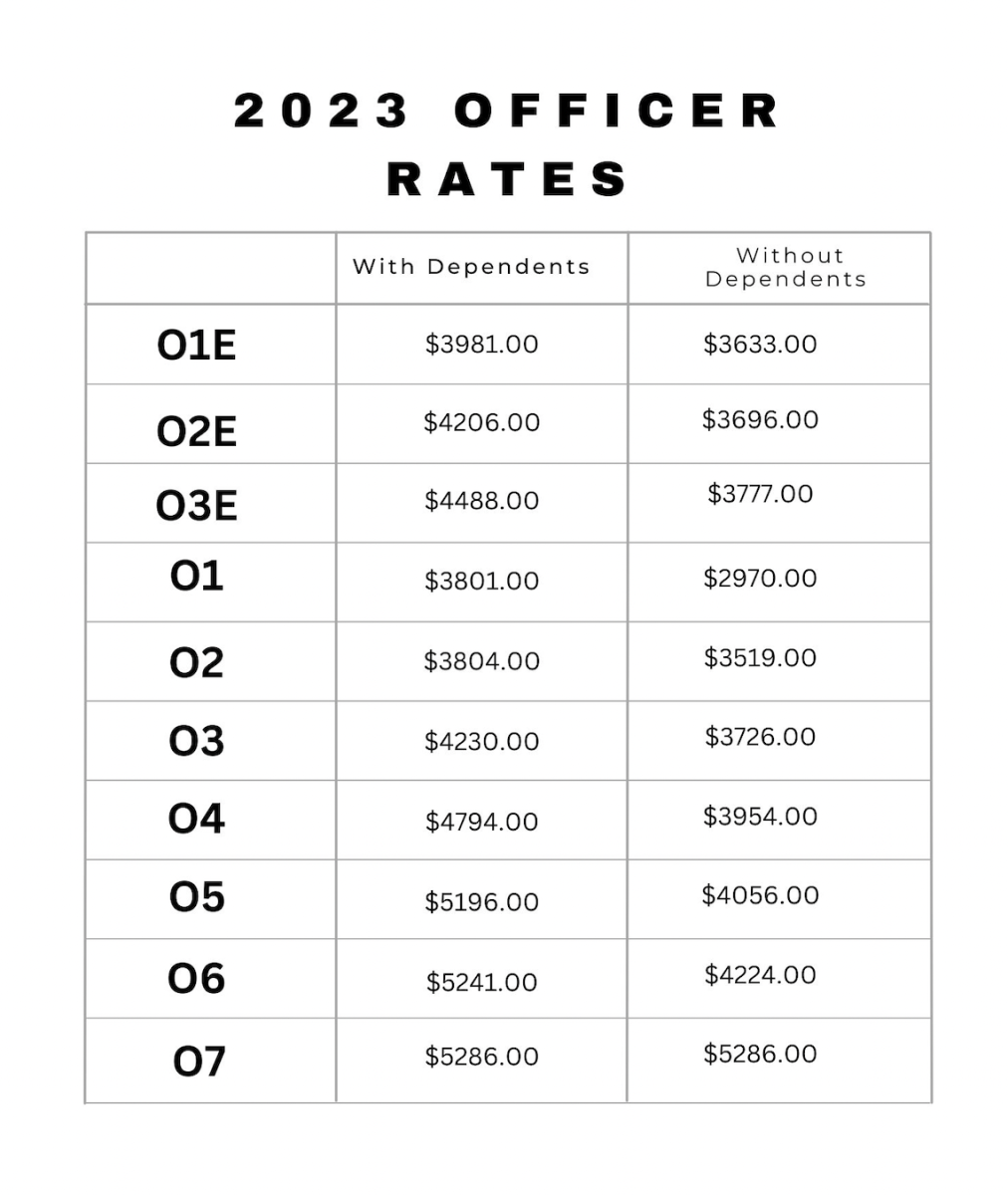 These rates account for a good deal of the living costs from downtown San Diego to more residential areas like National City to the south or even 'North County' up closer to Camp Pendleton at the top edge of San Diego County.
This base allowance will cover things San Diego Housing all around the San Diego area. You can factor in things like nearby local businesses, San Diego schools, and family housing options if you are living with dependents, and off base neighborhoods like La Jolla and Mission Valley. 
Dependency status primarily plays a role in things like base housing, rent, and which one of CA's BAH rates a soldier can expect to receive. For example, in 2023, soldiers with dependents received 21.0% more BAH than soldiers without dependents.
About Naval Base San Diego
As we just looked at above, the primary military location in San Diego is the Naval Base San Diego, located off Harbor Drive and right next to San Diego Bay. Though it is closest to the areas of National City, Logan Heights, Southcrest, and Shelltown, these are certainly not the only available neighborhoods for members of the Navy to live in.
In fact, you'll see many enlisted members and officers living in nearby areas like Mission Valley, Ocean Beach, Pacific Beach, Chula Vista, Imperial Beach, and even downtown. No better way to separate work and personal life than a bit of distance, right?
This base is the Pacific Fleet's principal homeport, including over 50 ships and 150 tenant commands. It's no wonder that San Diego is such a hub for naval activity with its proximity to the Pacific Ocean and vast coastlines to harbor ships and service members.
The BAH is ranked 3rd highest out of all navy bases, according to statistics based on an E-6 in the CA038 MHA. NB San Diego also has plenty of local attractions, with amenities like a movie theater and bowling alley making base life a little more exciting.
Downtown San Diego Housing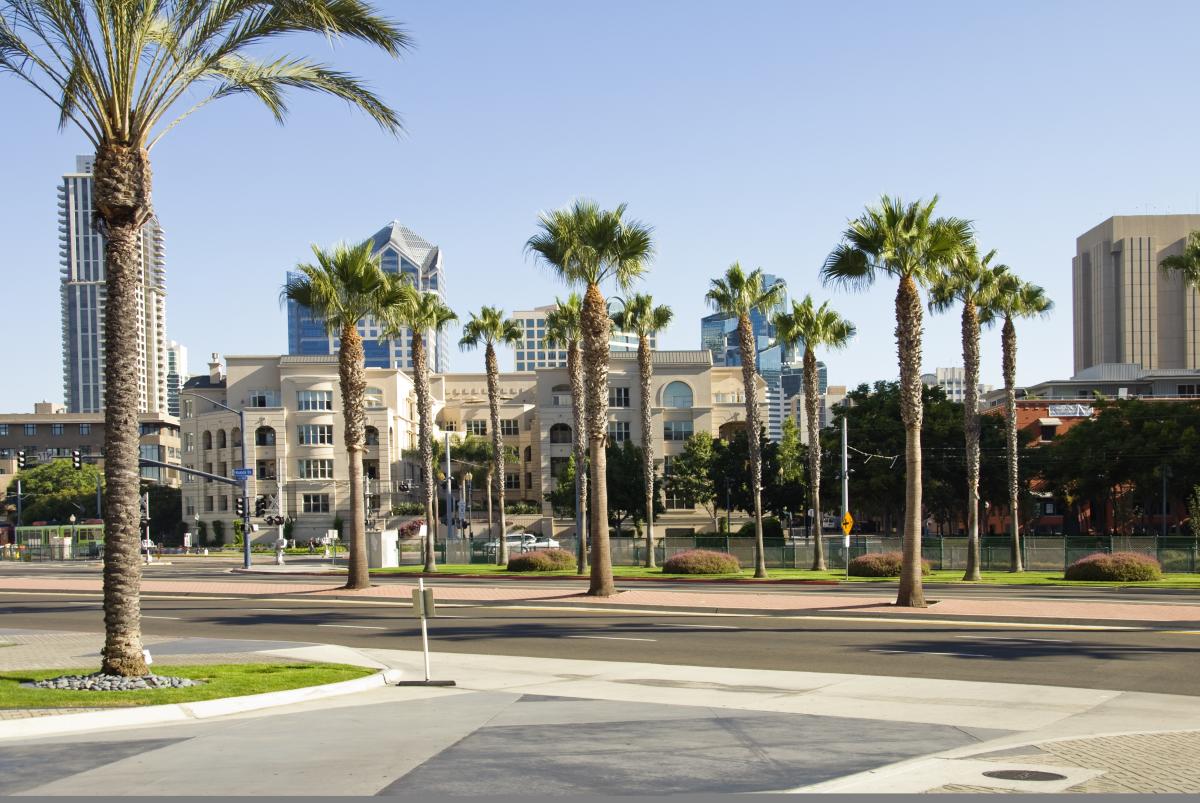 There are plenty of complexes in the greater San Diego area that offer military discounts and deals. Downtown San Diego is not only a hub for businesses, tourists, or locals but also for military members who are passing through or just beginning their stay in Sunny San Diego.
If you are looking to have more of a lively atmosphere as opposed to a neighborhood setting, downtown is nice and close to the Navy Base San Diego and can be the right environment to explore after long shifts of work.
Whether you opt for the Embarcadero or Gaslamp areas, or even venture into the heart of Little Italy for an apartment, your BAH rates for San Diego certainly open up some nicer housing options in prime locations. So, why not make the most of it? Find somewhere you can walk to the water, your favorite restaurants, and shop at local hotspots in your immediate vicinity.
Other Popular Military Housing Areas in San Diego
Though downtown is an easy, somewhat obvious choice when looking at areas to live as a member of the military in San Diego, there happens to be a wide variety of neighborhoods with various ambiances that can reflect the home life you're looking for.
You won't have to sacrifice much extra time on your morning commute from some of these areas, while others that are a bit further out offer different types of communities, landscapes, and pace of life.
Mission Valley
With the Old Town and Hillcrest neighborhoods nearby, Mission Valley is the perfect spot to live if you want to be near your naval base but need a more laid-back apartment space. You'll be able to quickly get to tons of great food, shopping, nightlife, and even the nature of Balboa Park, but won't be right in the center of things like you would in the downtown area.
The perfect balance? We think it might just be!
Depending on where you're at, you'll likely be no more than 10 minutes from the Fashion Valley or Mission Valley malls, with anything you could need at the tip of your fingers.
Del Cerro
Near San Diego State University, Del Cerro is another very popular neighborhood in San Diego for those in the military. It has more of a suburban feel, and borders not only the Mission Trails Regional Park but also Lake Murray.
So, if you're okay with being a bit further inland but still love the water and outdoor scene, you can head to the lake as much as you want and venture to the beaches as you are so inclined.
Del Cerro offers a more community-based area where you'll find more homes than apartments, more quiet than chaos, and still have your share of proximity to fun areas like SDSU, Rolando Village, and more.
Otay Ranch
Looking to stay toward the south of San Diego but want lots of peace and quiet, to be very close to the naval base, and have your pick of outdoor activities?
Otay Ranch, in Chula Vista, is perfect for this. It's right across the border from Mexico, making day trips through the Otay border crossing easy,
This neighborhood also borders the Otay Open Space Preserve, which is a national reserve full of hiking opportunities. If a more laid-back, nature-adjacent lifestyle is what you want outside of work, this is a wonderful option.
Torrey Highlands
East of Del Mar, Torrey Highlands is another neighborhood that is primarily residential and situates you between the ocean and the Black Mountain outdoor area. You can easily go to the beach, explore La Jolla's downtown, go for a hike up the mountain, or have a cookout at home in this area.
This may be a bit further from work depending on your station, but the area makes up for any commute you will be taking on.
Military Presence in San Diego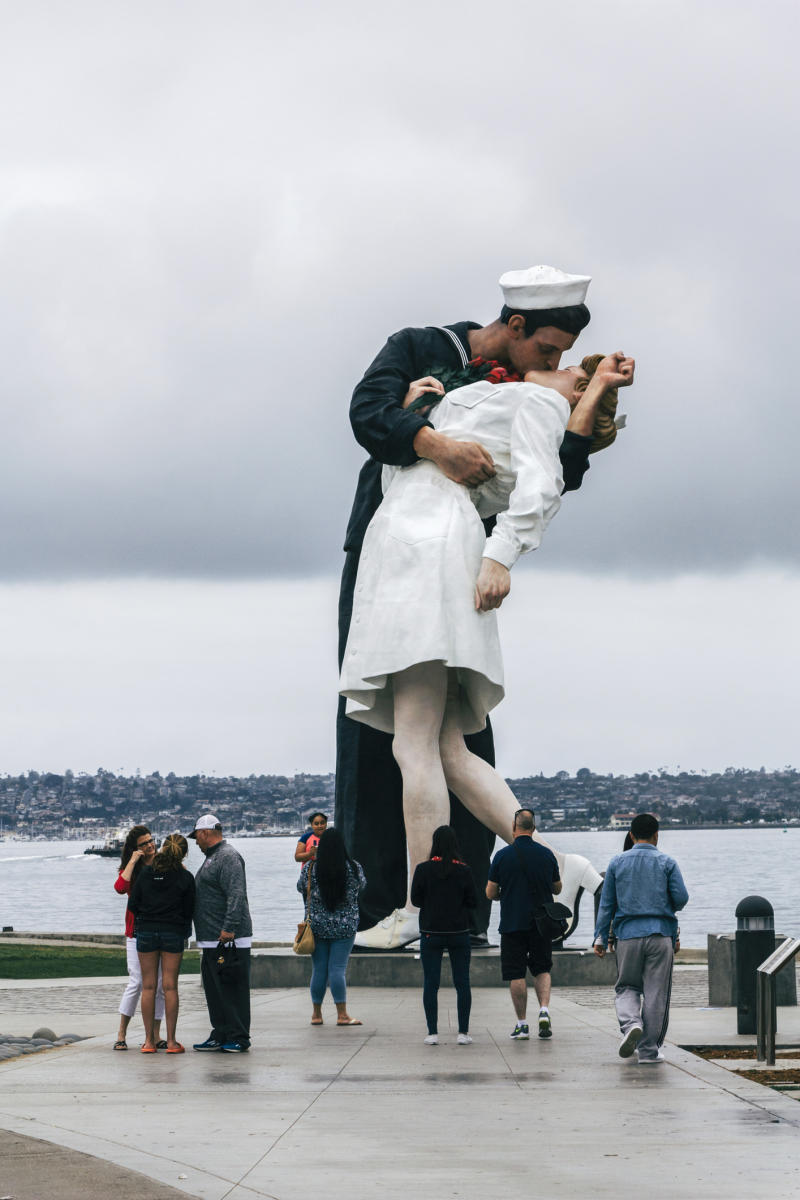 There are plenty of San Diego military bases throughout the county. Naval Base San Diego may be the largest Navy base in San Diego and the largest Navy base on the entire West Coast, but it is certainly not a lone entity in this area.
Let's look at more of the military bases in San Diego:
Naval Bases
San Diego has quite a few naval bases for its size, though this makes sense given the proximity to the waters of the Pacific.
The bases themselves will range in size, though each one brings its contributions to the West Coast as a whole.
NB San Diego
This just so happens to be the largest United States naval base on the West Coast, along with its housing of the Pacific Fleet. The base itself has 13 piers that cover around 1,000 acres of land (and another 300 acres of water.) Such a large area hosts about 20,000 military personnel and 6,000 more civilians, many of whom will be looking for off-base housing in the greater San Diego area.
NB Coronado
Mainland San Diego is not the only portion of southern San Diego to house naval base facilities. Coronado Island is known not only for its quaint local businesses, the infamous Hotel del Coronado, and pristine beaches, but also for its naval base.
Made up of both the Naval Air Station (NAS) North Island and the Naval Amphibious Base Coronado, Coronado acts as the homeport for 2 aircraft carries and 23 squadrons, is home to the special and expeditionary training for the Navy and is the operations base for SEAL teams and Special Boat Units. There are about 5,000 military personnel and 7,000 more students and reservists that call this their home base.
NB Point Loma
It won't be a huge surprise to anyone who knows the area that Point Loma has strong military ties. One trip to Liberty Public Station, which is made of old barracks repurposed for retail and dining, gives a glimpse into the strong roots that this area has in naval operations.
This area itself is the only peninsula that guards the nearby waters, making it a tactically significant spot. Major commands include Naval Mine and Anti-Submarine Warfare Command, Commander Third Fleet, Space and Naval Warfare Systems Command, and Submarine Squadron Eleven.
Coast Guard
US Coast Guard Station San Diego
The San Diego US Coast Guard Station focuses on enforcing Maritime Law, as well as enforcing Federal Law. Their jurisdiction ranges from as far south as the U.S. border with Mexico to as far north as San Mateo Pt. up in San Clemente.
Marine Corps
Aside from being the major training location for Marines on this side of the country, San Diego is also home to a few Marine Corps stations.
Marine Corps Air Station Miramar
In Miramar, east of University City and La Jolla, there is a Marine Corps Air Station that was used by both the Navy and Marine Corps for advanced training of pilots during World War II. After that, it found fame as the home of the Top Gun program. Yes… just like that movie with Tom Cruise (and Miles Teller, now.)
Pop culture aside, MCAS Miramar is the current home base to the 3rd Marine Aircraft Wing, the aviation element of the 1st Marine Expeditionary Force.
Marine Corps Base Camp Pendleton
For locals, Camp Pendleton is quite famous, and a good distance marker for trips back and forth between San Diego and Los Angeles. Once you see Camp Pendleton, you know about how long you have left before you get home.
Camp Pendleton is home to the I Marine Expeditionary Force, and it is also the US Marine Corps prime amphibious training base on the West Coast. Made up of 17 miles of prime SoCal coastline, plenty of amphibious and sea-to-shore training takes place at key points along this base.
Marine Corps Recruit Depot San Diego
San Diego is not only a hub for Marine operations, but it is the MCRD San Diego where training takes place for all USMC enlisted male recruits living west of the Mississippi River. Over 21,000 recruits are trained at MCRD San Diego each year.
Graduations take place often, and locals of San Diego along with family members and even tourists are welcome to come watch the ceremonies.
Moving to San Diego
San Diego is quite clearly a big military area and houses some of the West Coast's largest bases and training facilities for different branches. Using your BAH rate to make the most of your being stationed in America's Finest City will help you to explore, unwind, and take on life outside of work.
Do you live in San Diego and are in the military? Maybe we missed your area and you think it's worth talking about… let us know on our socials @Sandiegodotcom.
See you next time, and enjoy Sunny San Diego!