When you think of San Diego, the beach is probably one of your first thoughts, right? All of the hilly, expansive coastlines make this SoCal city the gem that it is, and if you've had a chance to stay near the beach during a visit, we wouldn't be the least bit surprised if you decided to make that a permanent setup. 
Buying a beach house in San Diego, as a full-time home or a vacation property, is an exciting undertaking. With 70 miles of coastline and over 100 named beaches, San Diego is the perfect spot to look into a California beach home. Living in San Diego has plenty of perks, too, like its accessibility, great climate, and expansive food scene.
As you look into beach houses for sale in San Diego, you might be wondering what the process of buying a home in San Diego looks like, how to find the best San Diego homes, and more. That's what we are here for! Let's talk about living in San Diego, searching for properties, and what buying a beach house could look like for you.
Living in San Diego, CA
San Diego offers the perfect balance of beach, city, mountains, and great food and shopping. Really, it's a great place for people of all ages and this can be seen throughout the diverse communities and suburbs of America's Finest City.
While there are plenty of inland areas to choose from, who wouldn't want to live at the beach? There are such a wide variety of areas in San Diego that overlook the ocean, each at a different price point and with different pulls.
You might find that somewhere in North County like Encinitas or Carlsbad offers the laid-back, surfing-centric atmosphere that you desire. Or maybe it's Point Loma's cliffs, proximity to downtown, and wonderfully hilly streets that call to you.
No matter where in San Diego is calling to you, you're never going to be far from a cute, beachy coffee shop or a fun, budget-friendly happy hour spot.
Finding Displayed Property Listings
You can turn first to sites like Redfin, Zillow, and Realtor.com to help support you in your search for the perfect San Diego beachfront property. If you don't have a super specific preference for where you'll end up, this could be a great way to narrow your search based on price and proximity to the ocean alone.
If you do want to get a feel for the area you'll be in, you should plan to take a trip to San Diego, if possible. Or, if you are already living here, spend a few days at different beaches and walk around the different downtown areas nearby to get a sense of which coastal suburb feels like the one for you.
The next step beyond doing your preliminary research is going to be to look into hiring a realtor or real estate agent to help you with your next steps.
Using a Real Estate Professional
You may be wondering if you even really need a real estate professional to help guide you in your search. While you don't technically need to have someone representing you in your search, you'll have a much better process if you do.
 On your own, you can attend some open houses and even make offers, but often times those will fall short. With a real estate professional, you'll get access to properties listed on the MLS (multiple listing service) that is not open to the public but can be accessed by real estate agents, listing agents, and realtors.
Real estate professionals will also be able to help you set up private tours, can communicate on your behalf with listing agents, sellers, and other brokers, and can offer insight into what is normal in terms of price, timeline, and community standards.
San Diego Real Estate Firms
There are many real estate firms to choose from in San Diego, between national, California-based, and local firms. Finding the right one is a personal mission, based on your needs and how you feel they can be best met. As you search for a real estate agent or realtor, you'll have a chance to shop around just as you would with homes, areas, and anything else related to your homeowner journey. 
Here are some of the top San Diego real estate firms:
Coldwell Banker Realty/ Coldwell Banker West

RC Realty San Diego

Alliance Realty and Investments

Big Block Realty

Willis Allen Real Estate

Luxre Realty

eXp Realty

Realty Source, Inc

DEM Real Estate

Keller Williams Realty

Berkshire Hathaway
Searching for California Properties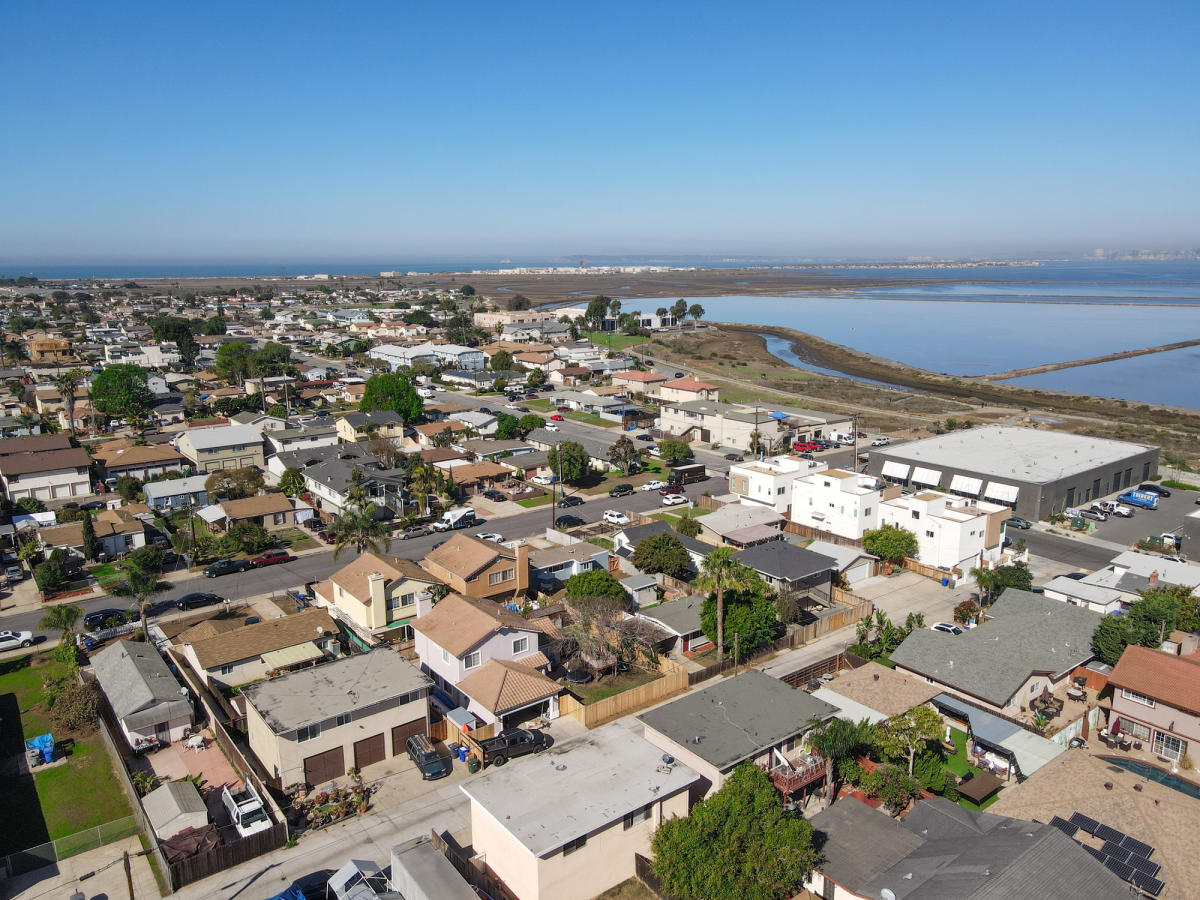 Price and location are by far the biggest things to keep in mind as you begin to search for a property anywhere, including in San Diego. The California housing market is famously steeper than many nearby states, but…well, we are talking about living right on the beach. I don't know about you, but that seems like more than a fair trade to us! 
You can also keep options like a Home Equity Line of Credit (HELOC) in mind as you look to take out a loan for your home. These can be a great supplement or replacement to a mortgage when needed.
Looking at beachfront homes, you'll start by looking for a place with easy access to the sea. You'll want to search for an oceanfront neighborhood to suit your lifestyle. A private showing is a great way to personally investigate any oceanfront homes for sale.
The Process of Buying a Home in San Diego
First thing is first- when you're considering buying a home, you need to be ready! So, let's go through some steps to consider as you look to become a San Diego homeowner. Keep in mind, this isn't everything, but it is a good place to begin.
1.     Finances: 
Ensure that your finances are in order. It may sound basic, but some people overlook the budgeting step of buying a home and get into a lot of trouble down the line. Prepare your finances, prepare yourself, and make sure that owning a home is a realistic goal for you currently. If not, save, save, save! The beach can wait… at least for a little while. You'll want to consider your debt-to-income ratio, employment status, and liquid assets when looking over the financial aspect of the process.
2.     Property Search:
Take your time and go through displayed property listings to get an idea of what is available near different beaches. Identify properties that best suit your needs. From price point to square footage, aesthetics to the community, and so much more, you'll want to do some thorough research before making a decision.
In San Diego, you can choose from places like Mission Beach, Pacific Beach, and Ocean Beach to La Jolla and Del Mar, but if a particular property stands out to you, you'll want to contact the appropriate professional to look into next steps.
3.     Make an Offer
Once you've applied for a mortgage, have the rest of your plans in check, and know where you want to live- it's time to make things official! Or, at least, make an offer.
4.     Close on a House
After getting your home looked at and making sure maintenance is in check (again, we aren't going into these specifics as deeply) it's time to close on your home!
Buying your Beach House
When it is finally time to buy a San Diego beach house of your own, you should be more than ready! After lots of planning, negotiating, budgeting, and moving, you'll finally be next to the beautiful Pacific ocean and it will all feel like a blip in your happy San Diego story.
Are you a proud owner of a beach house in San Diego and think we might have missed a crucial piece of what it's like to live near the ocean? Let us know! There are so many beaches around and we know each person experiences San Diego in a unique way.
Get in touch via our socials @sandiegodotcom. Happy house hunting!