When it comes to the best dinner cruises in San Diego, how is one to decide? After all, the San Diego bay has no shortage of cruises with views of the San Diego skyline, Coronado Bridge, the USS Midway Museum, and perhaps even a sunset over the beautiful San Diego bay itself. The best San Diego dinner cruise will be one that combines live entertainment of some sort with cool ocean breezes, amazing cuisine for dinner, and perhaps even complimentary champagne. You may be looking for an option with dancing, a good cocktail, live music, or even just a good excuse to sail on a yacht in the bay.
So, follow along for a bit as we talk about the choices you have to book the best dinner cruise in San Diego, whether its for a romantic evening or a fun night out on the town with friends, guests, or your family.
The 4 Best Dinner Cruises in San Diego Bay
Cruises leave from the San Diego Harbor, on North Harbor Drive, and you'll be able to cruise San Diego in style, no matter your pick of dining cruises. So, without further ado, let's dive into the best San Diego dinner cruise options, which leave from downtown San Diego and provide great service and views of the popular Coronado bridge and USS Midway.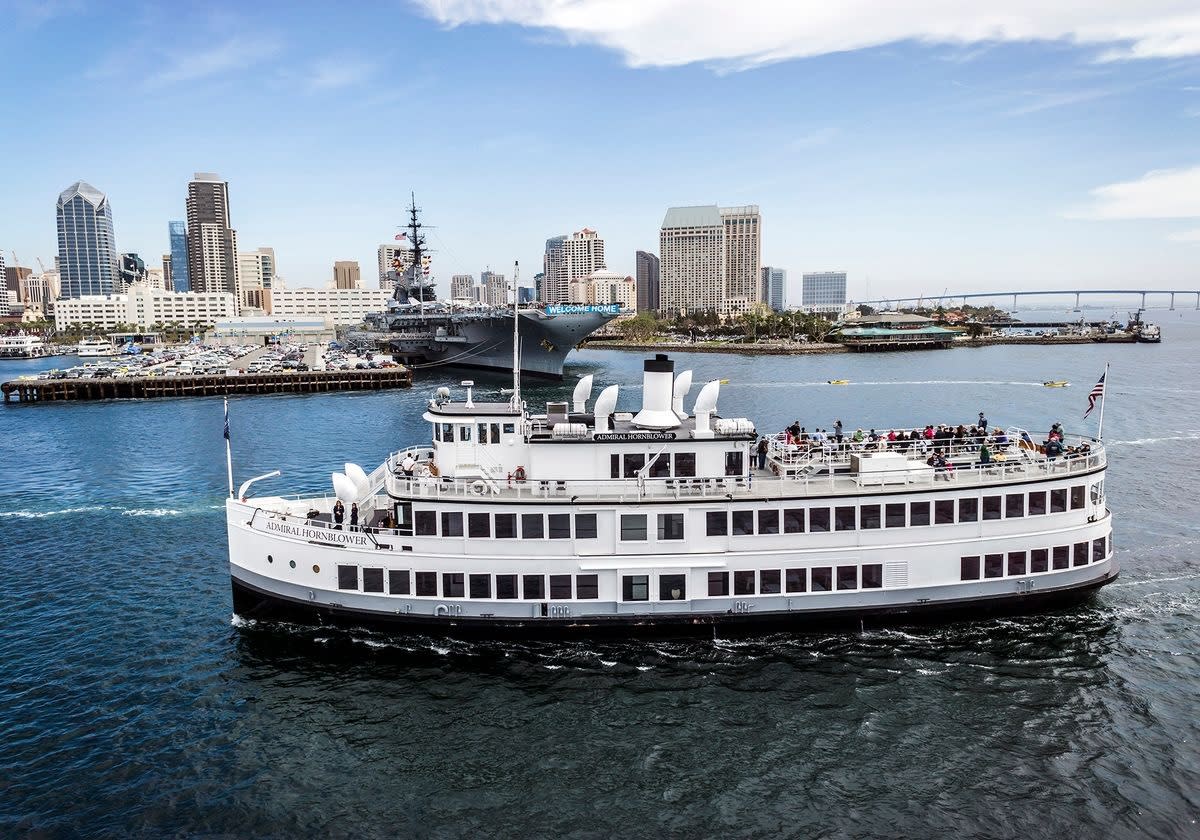 Formerly known as Hornblower,  City Cruises include a Premiere Dinner Cruise on a spacious luxury yacht where you can enjoy a private table, incredible views of the San Diego harbor, complimentary coffee and tea, free WIFI, seasonal dinner menus on rotation, and a DJ. Dinner cruises are available every night of the week, with boarding beginning half an hour before the scheduled departure time. Sunday to Thursday, you'll cruise from 7 to 9:30 pm, and weekend cruises are an extra half-hour long, running from 7 to 10 pm.
The attire is expected to be 'smart cocktail' or 'resort casual' so, essentially, dress up a little and make sure to bring a jacket no matter what time of year it is. It's always nice on the water but can get pretty chilly once the sun goes down and the cool ocean breezes pick up. There are different summer and winter meals to dine on, which can be made vegetarian or gluten-free as needed. That way, everyone can enjoy the experience of dining on locally sourced California cuisine.
Begin with bread and butter, and your choice of salad or soup, before digging into an entrée. Choose between short ribs, chicken, salmon, or a vegetable fricassee. Finish it off with your selection of a dessert dish, and then spend the rest of the night enjoying panoramic views and mingling with other guests.
Dinner tickets are priced at $105 for everyone, and for an additional $25, you'll be guaranteed a window table.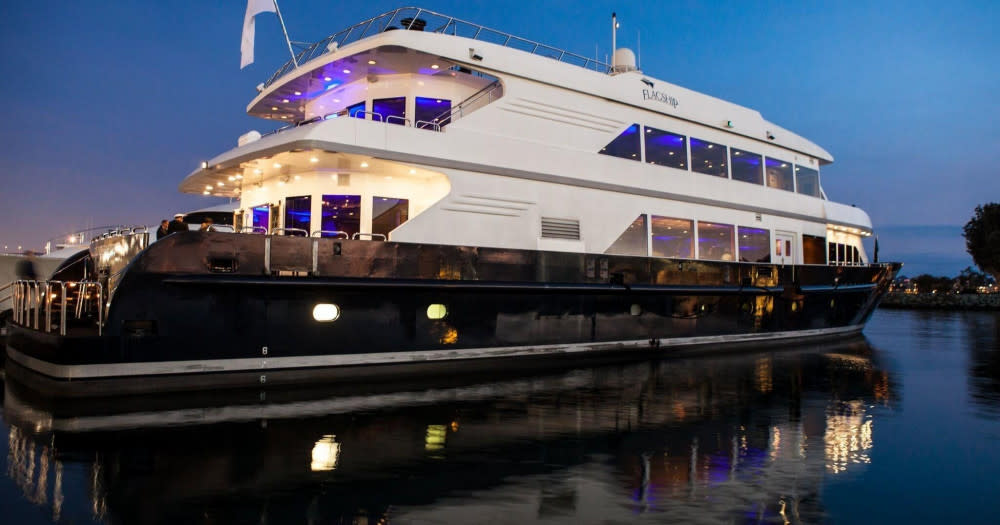 Offered Thursday to Sunday, you'll board the Flagship Cruises yacht before receiving complimentary champagne, The Sunday menu is a bit different from the rest of the week, and dinner runs from 6:30 pm to 9 pm, a bit earlier than the standard 7:30 pm to 10 pm. You'll board about half an hour before your start time, and can then explore a bit before dinner begins.
You'll get to choose optional starters before getting your salad, and then continuing to the entrée. From pan-seared salmon and other meats to vegetarian options like the grilled vegetable stack, the main course offerings are nothing but superb cuisine. Finally, there is dessert, of course, to cap things off before you head away from your private table to the dance floor for the live music provided by a DJ. The open-air observation deck is just one more thing to appreciate on this cruise, because it allows you to take in everything from the night- the bay, the sunset, the stars, the city lights of downtown San Diego beyond, and a close-up view of the San Diego harbor.
Tickets cost about $90 for adults, $100 on Saturdays, and $54 for kids, or $60 on Saturdays.
3. The Adventuress Luxury Catamaran Private Dinner Cruise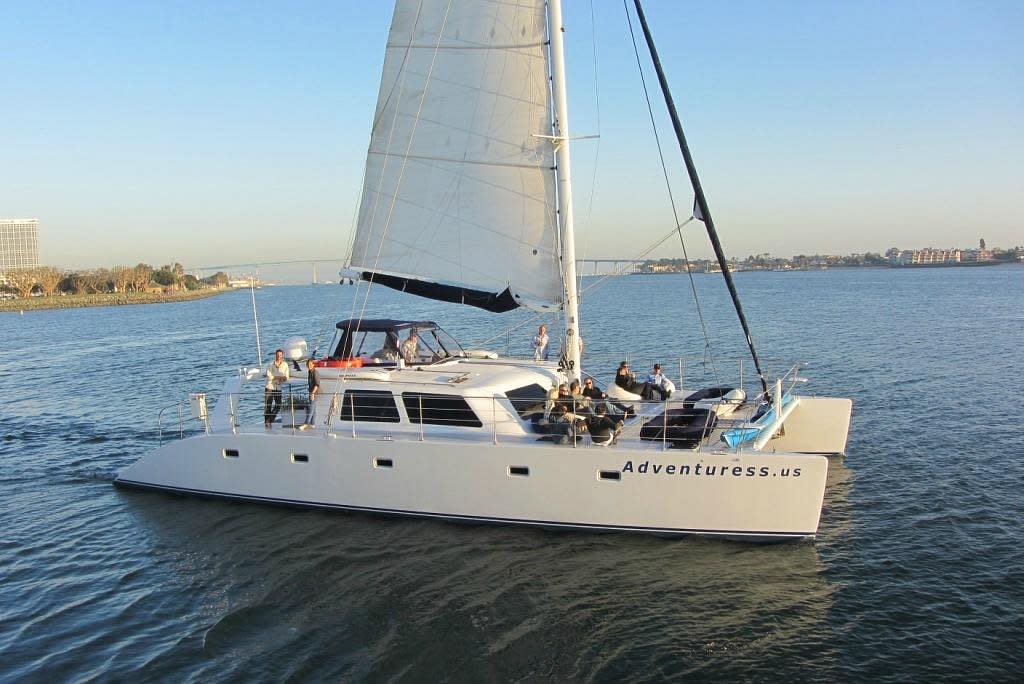 While it can be wonderful to meet other groups and couples on a dinner cruise, sometimes you just want to go the extra mile and enjoy a private dinner cruise with the person, or people, of your choosing. The Adventuress Luxury Catamaran offers you this option, with the ability to heavily customize your experience. Whether you want to enjoy a romantic dinner or create a work event, celebrate a special occasion, or just bring a group of friends together, you can charter a catamaran or a yacht for your dinner cruise.
You can book an open bar or cocktail hour-type of option or choose from different drink selections by the glass. Invite a live musician or utilize their audio system and plug in your phone to share a playlist that you've curated for the evening.
It might feel overwhelming because of all the choices you have, but you can get an idea of their menu and the basics of what they offer. From gourmet sandwiches to wood-fired pizzas, hors d'oeuvres, drinks, and desserts, you'll have a chance to browse menus and make your selections based on price, type of food, and the overall vibe you are going for.
Because you can choose from so many options, pricing will vary a lot with this one. You can get estimates, of course, as you begin to work with the company to plan your event or private dinner cruise.
4. Osprey Yacht Charters Private Chef Dining Cruise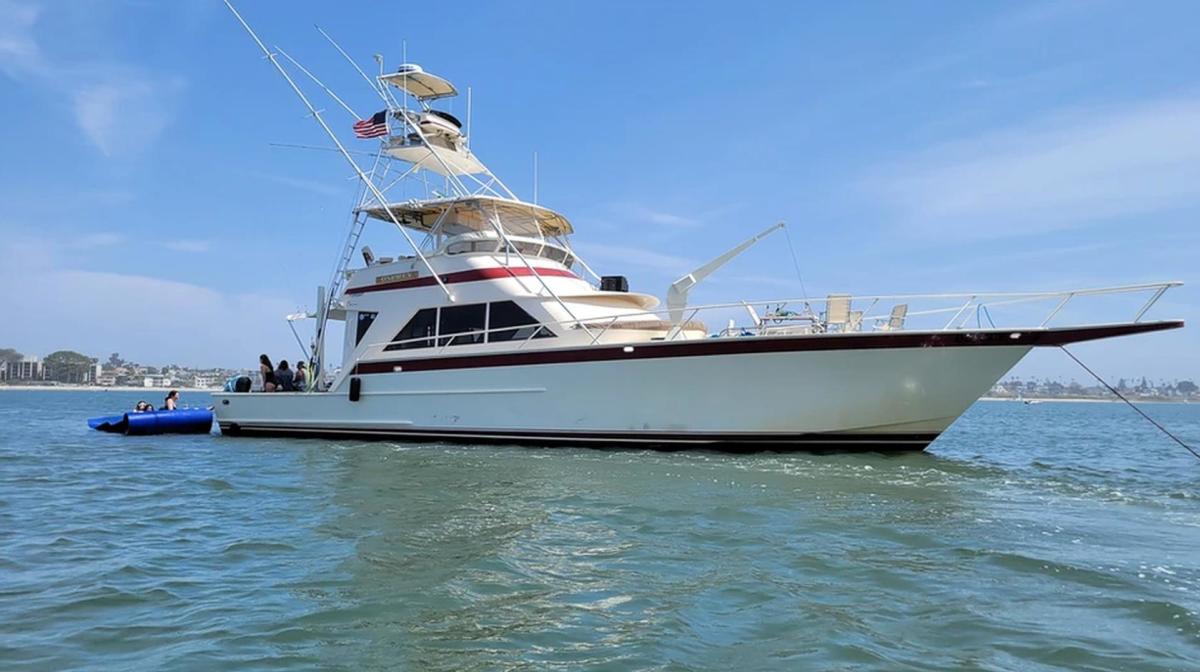 Another private charter option, board the Osprey 62 and enjoy a 4-course meal prepared by a private chef for an evening of superb cuisine, optional live music, and a custom experience that can serve up to 12 guests. Perfect for a group of friends, a small family party, or if you have guests that are just visiting California, this boat cruise offers a unique experience for all. Once you're served, enjoy dancing, chilled champagne, and more.
Resident chef Vanessa Castillo is a creative, experienced international chef with roots in San Diego, who works to create the best menu for each group's gourmet dinner. You also have the chance to select light appetizers and wines, if a 4-course meal isn't the right fit for your outing. Regardless of your pick, you can be sure to enjoy delicious food, great drinks, and views of the San Diego Bay, the skyline, and maybe even some sea lions!
Wrapping Up
There are many ways to enjoy a sail on the San Diego Bay, many of which also include brunch sailing, sunset cruises, booze cruises, or short mid-day tours around the bay. If a dinner cruise isn't your thing, you'll find a way to get those same panoramic views and enjoy the San Diego harbor area in another way.
Some previous fan favorites like the California Cruisin' dinner cruises are no longer available, but that doesn't mean that there are not plenty of great dinner cruises in San Diego to choose from. See something we missed, or know of another boat tour that serves dinner? Let us know in the comments below!
We'll see you soon, and hope that you enjoy your time in San Diego.