The Best RV Parks in San Diego 
San Diego, California is one of the top destinations in the United States for sun, sand, and outdoor recreation. What better way to enjoy the outdoors than journeying to San Diego in an RV? More than ever, travelers of all ages are dreaming of the open road. "Van life" is constantly trending and retiring early is becoming a realized goal for people around the world. You can join in on the fun with a visit to one of the amazing San Diego RV Parks scattered around the city.
If you're dreaming of RV adventures, add San Diego to your itinerary. Pristine beaches, hiking, biking, delicious food, and world-class attractions like the San Diego Zoo are just some of the many things you can experience on a visit to America's Finest City. Traveling by RV can be one of the most exciting, and affordable ways to visit. Whether you're working remotely as a digital nomad or vacationing for the summer with your family – we've rounded up the list of the best RV parks in San Diego.
Best San Diego RV Parks on the Beach
Campland on the Bay
Address:
221 Pacific Beach Dr.
San Diego, CA 92109
Phone:
+1 858-581-4200
Campland on the Bay is one of the top beachy destinations for RV travelers looking to soak up the San Diego sunshine and enjoy the sand between their toes. This RV park has a massive capacity and can accommodate 579 RVs at a time. There are 411 full hookups and 150 hookups with electricity and water. It's located directly on the shores of Mission Bay offering the perfect location that is close to all the fun San Diego has to offer.
The whole family is welcome at this RV park – even four-legged family members! That's right – this RV Park is dog-friendly so it's perfect for those traveling with their furry best friends. There are so many amenities to enjoy when staying at this premier campground and RV Park. Guests can enjoy hot tubs, swimming pools, bicycle rentals, laundry, a gym, and ball courts. There are plenty of restrooms and showers throughout the site.
The RV park also includes a slip marina and boat launch. Dining and entertainment options include a cantina, a bar, an ice cream parlor, and a market on-site. There are playgrounds and scheduled activities for kids so that the whole family can find something to enjoy. There is also free Wi-Fi throughout the grounds. If you're looking for loads of fun on the water, while remaining close to downtown – Campland is an excellent choice. This is a popular spot and sites book up fast, so make sure to make your reservation well in advance. Prices start at about 150 USD for a two-night RV stay at the non-hookup sites.
San Elijo State Beach Campground
Address:
2050 S Coast Hwy 101
Cardiff, CA 92007
Phone:
(760) 753-5091
San Elijo State Beach has one of the most gorgeous campgrounds and RV parks around San Diego. There are around 156 sites that allow RVs, but not all of them have hookups. You can't get much closer to the ocean than this beachfront campground which is managed by California State Parks. RVs of up to 35 feet in length can be accommodated, but your vehicle will have to be 25 feet or under to use the hook-up spots. The RV park is located on a gorgeous stretch of coastline just outside of San Diego and sits upon a bluff with breathtaking views of the ocean.
Amenities at the RV park include showers, bathrooms, a camp store, and WIFI. Dogs are welcome at the campground, but they will not be allowed on the actual beach, which is good to keep in mind if you're bringing along a furry family member. Activities to enjoy at the state park include swimming in the sea, surfing, walking along the beach, and snorkeling at the popular reef just offshore. If you're looking to be immersed in nature, while remaining close to the city of San Diego, this is the spot. Sites book up fast because it is one of San Diego's best RV parks so make sure to book well in advance.
Mission Bay RV Resort
Address:
2727 De Anza Rd.
San Diego, CA 92109
Phone:
877-219-6900
Mission Bay RV Resort has it all – waterfront views, amenities, and a prime location just 11 minutes from downtown San Diego. There is room for 260 RVs. This location does not accept converted vans or school buses but it is a great option for traditional RV and motorhome travelers. It is a favorite San Diego RV Resort, and many families visit year after year.
This beautiful RV park in the popular Mission Bay area offers a swimming pool, hot tubs, bike trails, a lounge with games, and direct access to a public beach. If you're looking to stick close to America's Finest City and do some site-seeing, but you still want to be on the water – this an ideal spot. Winter rates start at 87 USD per night and summer rates start at 120 USD per night. 
Silver Strand State Beach Campground
Address:
5000 Highway 75
Coronado, CA 92118
Phone:
(619) 435-5184
Another favorite San Diego RV park for both locals and tourists is the Silver Strand State Beach Campground which offers space for 136 full RV hookup sites. You can literally park your RV right on the sandy beach and be just steps from the water at this popular spot. RVs must be under 40 feet due to regulations. All vehicles must be fully self-contained. Dogs are allowed in the parking lots, but not on the beach.
Amenities include showers and bathrooms as well as dump stations. There are plenty of picnic tables and firepits for guests to use during their stay at the RV park. Fishermen love this spot as it's a great place to catch plenty of different types of fish like yellow-fin, corbina, and perch. The waters are nice and calm - perfect for swimming. Surfing and skiing are other popular activities. You'll be close to both the Bayshore Bikeway Trails and the San Diego National Wildlife Refuge. Again, this fills up fast so make your reservations ASAP!
South Carlsbad State Beach Campground
Address:
7201 Carlsbad Blvd.
Carlsbad, CA 92008
Phone:
(760) 438-3143
South Carlsbad State Beach is another awesome option for RV camping if you are looking for a scenic retreat in nature during your RV travels through San Diego. You can reach this gorgeous stretch of coastline in just about a half hour from downtown San Diego. There are 215 RV sites, but not all of them have full hookups.
During a stay at South Carlsbad, you'll be minutes away from restaurants, shopping, and other activities that the whole family can enjoy. You'll experience stunning coastal views right from your site and can enjoy outdoor recreation activities like hiking, biking, swimming, surfing, and fishing. There is a camp store on site for guests as well as firepits and a dump station. Dogs are welcomed at the campground, but they are not allowed on the beach. This is one of the most popular state park campgrounds, so sites book up well in advance, but if you can snag a spot, you'll be so happy you did.
Sun Outdoors San Diego Bay
 Address:
825 East Street
Chula Vista, CA 91910
Phone:
888-886-2477
Located on San Diego Bay, Sun Outdoors (formerly Chula Vista RV Resort) has a prime location with space for 236 RVs. The completely revamped space can be reached in just about 15 minutes from downtown San Diego. In addition to RV sites, this resort also offers fully furnished vacation cottages, so it's a great option if you are having friends come to meet you during your RV travels as it accommodates all types of guests – including dogs! 
There is a gorgeous outdoor pool with cabanas and drink service that is perfect for soaking up the sun and relaxing with friends and family. Kids will love the giant splash pads and the whole family can enjoy playing a game of corn hole, basketball, or pickleball. An onsite restaurant called Getaway Café serves up tasty Mexican and SoCal cuisine perfect for grabbing a bite after a fun day in San Diego and there is also a small market on-site. Guests will have convenient access to the Sweetwater Marsh Bike and Walking Path, as well as a free shuttle to the Living Coast Discovery Center. Rates start at 104 USD for RV sites.
More Beautiful RV Parks in San Diego
San Diego Metro KOA Resort
Address:
111 North 2nd Avenue
Chula Vista, CA 91910
Phone:
800-562-9877
Experienced RV travelers are likely super familiar with the KOA brand – you can find these campgrounds and RV parks across the United States – but the San Diego location is truly exceptional. It's located about 20 minutes from all of San Diego's downtown attractions and has full hookups for RVs. While it isn't directly on the beach, it is steps away from the Sweetwater Channel and the San Diego Bay National Wildlife Refuge is only about five minutes by car.  
The San Diego KOA is a lot like its own resort complex. There is a beautiful swimming pool that is open year-round surrounded by palm trees with plenty of lounge chairs available to kick back and relax. Take a soak in the hot tub or refresh yourself in the sauna. Kids will love bouncing for hours on 3,500-square-foot bounce pillows, playing on the playground, or climbing on the artificial rock-climbing wall. Bikes are available for rent on-site including fun options like 2-6 person bikes, 4-wheel peddle carts, and 3-wheel fun cycles.
There are a variety of activities and events for all ages that are constantly changing throughout the year. Ping pong tables and basketball courts add to the family-friendly fun and four-legged friends can let loose at the expansive dog park, KampK9. Other amenities include free WIFI, firewood, and a camp kitchen. For a tasty meal, head to the Sandcastle Café. Rates for RVs start at about 90 USD per night.
Circle RV Resort
Address:
1835 E. Main Street
El Cajon, CA 92021
Phone:
619-768-1090
If you're looking for a relaxing getaway without straying too far from the San Diego city center, head to Circle RV Resort. It's only about 20 minutes from downtown and offers full RV hookups, a laundry room, a heated pool, and a hot tub.
The RV park is gated, allowing guests peace of mind, and there are large mature trees offering shaded and secluded sites. The bathrooms are pristine and there is a large clubhouse with pool tables onsite. Guests can relax in the reading room or get a workout in at the gym.
Santee Lakes Recreation Preserve
Address:
9310 Fanita Pkwy
Santee, CA 92071
Phone:
619-596-3141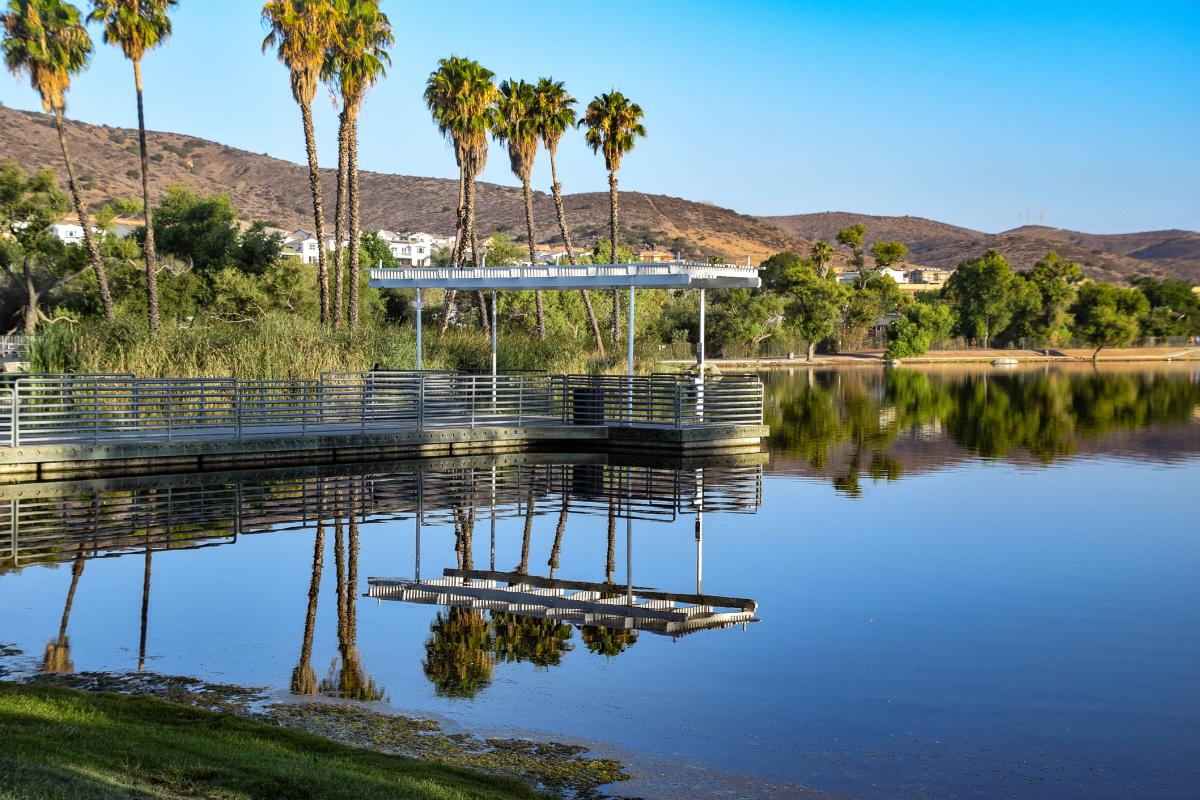 Santee Lakes Recreation Preserve offers an RV park with the calm seclusion of a nature retreat and convenient access to all the fun activities in San Diego. Only 20 minutes from the city, this RV park is in the heart of one of the region's most beloved areas for outdoor recreation. It's extremely popular for fishing, hiking, boating, and camping. There is room for 300 RVs.
The region is rich in wildlife. It's a birdwatcher's dream come true with over 230 species to spot. Amenities include picnic areas, restrooms, volleyball courts, and an onsite restaurant called Waterfront Grill. Swim in either of two heated pools, soak in the hot tub, or try your luck fishing in the stocked lakes. There is free WIFI throughout the property. As an added bonus – this property is committed to sustainability and has invested in more than four acres of solar panels which provide 50% of the power needs.