San Diego is a paradise for foodies with delicious options ranging from upscale fine dining establishments to trendy food trucks. One delectable delicacy reigns supreme when it comes to San Diego eats – the taco! Anyone who has ventured to the hip SoCal destination knows that San Diego is one of the best places in the United States to enjoy a juicy, mouthwatering taco. 
 
If you're planning the ultimate California culinary adventure, don't miss out on trying some of the best tacos in San Diego. As every SoCal local will tell you, the tacos in San Diego are far from ordinary – they're an art form. The city is full of taco shops – from flavorful authentic Mexican street stands to bold artisan tacos with creative ingredients. With so many options to choose from, you might find it difficult to pick which spots to visit during your trip. That's where we come in - all you need is this guide to San Diego's best tacos and your appetite!
Where to find the Best Tacos 
San Diego is your best bet for finding authentic tacos and fun foodie variations of the classic outside of Mexico itself. Taco fanatics theorize that generous Mexican immigrants might have introduced San Diego to the taco as early as the late 1800's.  
 
"America's Finest City" is located on the Pacific Coast, only 20 miles from Mexico, and is made up of distinct neighborhoods, each with their own flavors and flair – and each with their own taco shops. 

You can find great tacos throughout the city, but some neighborhoods really stand out when it comes to incredible tacos. Barrio Logan is one of the oldest neighborhoods in the city, it has a vibrant culture with strong Mexican influence, and some seriously flavorful tacos. Downtown is another hot neighborhood to try some of the best tacos in San Diego. Don't be afraid to get out and explore all of San Diego's diverse neighborhoods and treat your tastebuds to scrumptious tacos every step of the way.
Best San Diego Tacos - 10 Local Spots You Can't Miss
1. Tacos El Gordo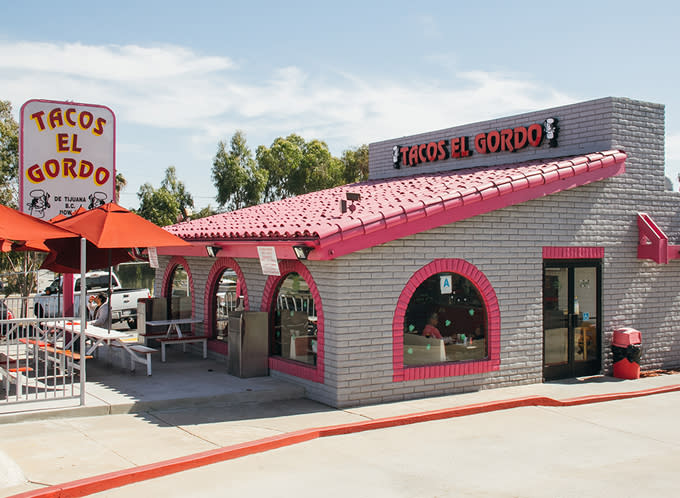 Tacos El Gordo is a great place for fast, casual, and delicious tacos. Based in Tijuana, the famous taqueria opened its first San Diego location back in the 90's – and there's usually a long line. It is family owned and operated and focuses on using the best ingredients to create authentic Tijuana style tacos.
Address: 511 F Street, San Diego, Ca 92102
Phone: (619) 955-8220
Web: http://tacoselgordobc.com
2. Lucha Libre Taco Shop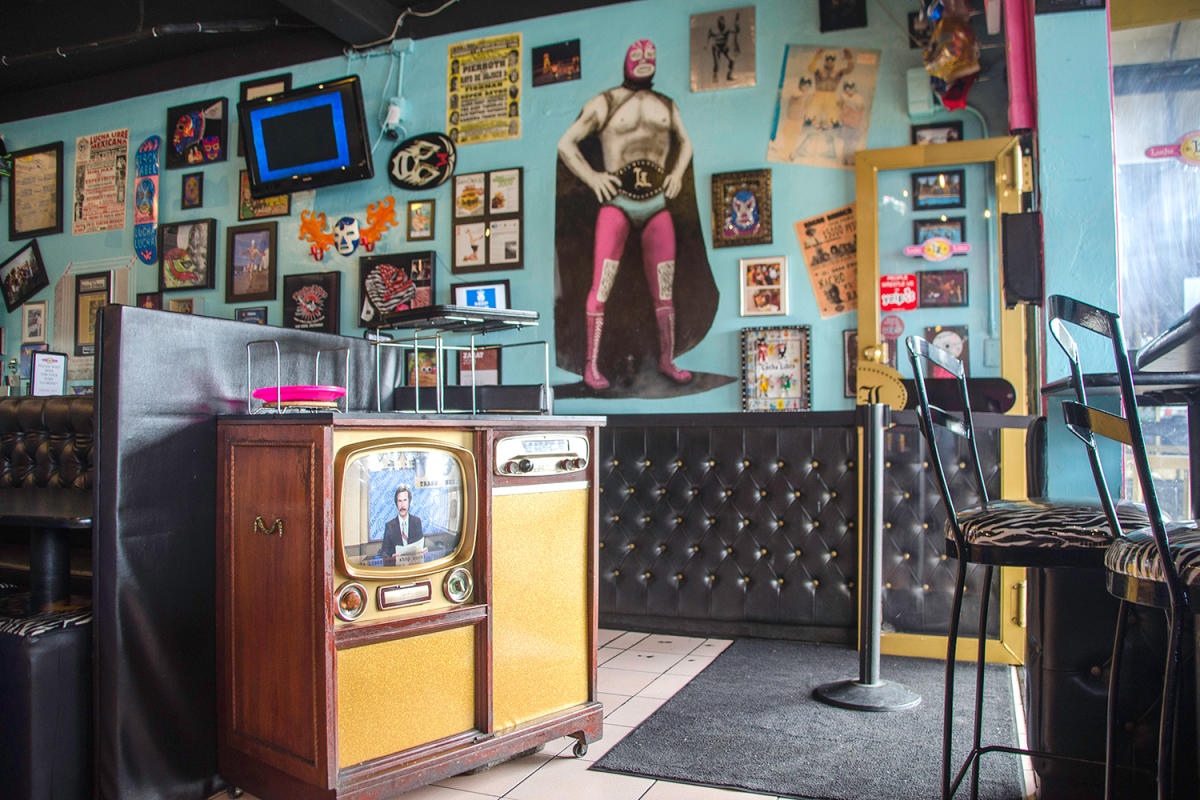 Hot pink walls, gold accents, and drool-worthy tacos have set Lucha Libre Taco Shop apart when it comes to fast-casual Mexican Food in San Diego. There are three locations: Mission Hills, North Park, and Sycuan. They're all awesome but visit the flagship in Mission Hills if you can. Watch traditional Mexican Lucha Libre wrestling matches on the TVs while you gorge yourself with cheese-smothered tastiness. The classic taco can't be beat but be sure to branch out and try the unique menu items like the famous Surf & Turf Taco with steak, shrimp, avocado, queso, and a special "secret chipotle sauce."
Address:1810 W. Washington Street. San Diego, CA 92103
Phone: (619) 296-8226
Web: https://www.luchalibretacoshop.com/
3. Lola 55 Tacos & Cocktails
Instagram; https://www.instagram.com/p/CcRA1ZEh_Iw/?hl=en If gourmet tacos are on your list, but you're trying to avoid breaking the bank, Lola 55 is a must-visit spot with great food and fair prices. It's a perfect dine-in spot with the spacious outdoor patio, brightly colored décor, and fun cocktail options. The taco menu features classic tacos with unique twists – the Baja Fish Taco and the Al Pastor are favorites. Address: 1290 F Street. San Diego, CA 92101 Phone: (619) 542-9155 Web: https://lola55.com
4. The Taco Stand
The Taco Stand opened its first location in the upscale La Jolla neighborhood in 2013 and the Tijuana-style tacos quickly took San Diego by storm. Now you can visit any of their 8 locations around San Diego. Do your tastebuds a favor and try the Carne Asada Taco with a Rosarito style churro for dessert.
Address: 621 Pearl Street, La Jolla, CA 92037
Phone: +1(858) 551-6666
Web: https://letstaco.com/locations/
5. Haggo's Organic Taco
Instagram: https://www.instagram.com/p/CjLpwJhNzUB/?hl=en Combining two SoCal obsessions: high quality organic ingredients and tacos – Haggo's Organic Taco is the perfect spot if you're looking for healthier options. Located in the Encinitas neighborhood of Leucadia – Haggo's exploded in popularity after a visit from Guy Fieri and a feature on Diners, Drive-Ins, and Dives. It's a great place to try some sustainable seafood tacos and there are excellent options for vegetarians and vegans.
Address: 1301 N Coast HWY 101. Encinitas, CA 92024
Phone: (760) 753-6000
Web: http://www.haggosorganictaco.com
6. Puesto - Mission Valley
Puesto serves up high-end Mexican street food style tacos at two San Diego locations – The Headquarters and Mission Valley. The menu is constantly rotating based on inspiration gathered from frequent trips to Mexico City. The Filet Mignon Taco is a huge crowd pleaser with crisp cheese avocado, and pistachio serrano salsa that brings the spice.
Address: 5010 Mission Center Road. San Diego, CA 92108
Phone Number: (619) 333-2167
Web: https://www.eatpuesto.com
7. Tuetano Taqueria
Tacos with a Michelin distinction? That's what you'll get with a visit to Tuetano Taqueria. Chef Priscilla Curiel just reopened this beloved taco shop in a new location in Old Town San Diego. Locals flock to Tuetano Taqueria for the bone marrow tacos.
Address: 2540 Congress St, San Diego, CA 92110
Phone: (619) 856-7013
Website: https://www.facebook.com/tuetanotaqueria1
8. Pokez Mexican Restaurant
Instagram: https://www.instagram.com/p/Cj6HsRNP-Rh/?hl=en Vegetarians need not miss out on all the flavor of classic Mexican tacos – just visit Pokez. There are plenty of tasty menu options for vegetarians, vegans, and meat eaters so it's a great choice for the whole crew. Pokez has been a downtown San Diego staple since 1994 for a reason. Your tastebuds will thank you!
Address: 947 E St. San Diego, CA 92101
Phone number: (619) 702-7160
Web: https://www.pokezsd.com
9. Las Cuatro Milpas
If you're looking for nothing but authentic Mexican tacos without any funny business, head to Las Cuatro Milpas. It's a hole in the wall spot with a cult following for the homemade tortillas and melt in your mouth meat. It's remained a popular San Diego taco shop since 1933, so you know it's good!
Address: 1857 Logan Ave. San Diego, CA 92113
Phone: (619) 234-4460
Web: http://www.las-cuatro-milpas.com
10. Salud
Salud is one of the mainstay taco shops in the historic neighborhood of Barrio Logan remains a favorite for locals and tourists alike. The décor is quintessentially SoCal with classic tattoo inspired art and vintage pinstripe car hoods hanging on the walls. The vibe can't be beat, but the tacos are what really shine. Try the Taco de Barrio with its braised beef, bell peppers, potato, frijol, nopal and crema served in a flour tortilla. Vegans will love the simple but tasty avocado tacos.
Address: 2196 Logan Ave. San Diego, CA 92113

Phone (619)292-2674

Web: https://saludtacos.com
Different Types of Tacos
There are infinite varieties of tacos to be found in San Diego. With chefs developing new recipes and unique combinations all the time, you should definitely try a variety during your taco tour of San Diego. When it comes to types of tacos - everyone has an opinion on what they like best, and each taco shop has their own specialty.
If you're looking for suggestions on what to order in San Diego, you can't go wrong with these popular types of tacos:
Tijuana style tacos
Tacos de Pescado (fish tacos)
Baja style fish tacos
Tacos Al Pastor
Tacos de Barbacoa
Tacos de Carne Asada
Tacos De Carnitas
Unique ingredients of the tacos
Classic tacos usually contain some combinations of popular Mexican ingredients like meat, onions, cilantro, pico de gallo, avocado, and chili peppers. These ingredients are the standard and make for fabulous tacos, but creative taquerias around San Diego have begun to incorporate unique, fresh, California flavors into taco recipes to make the experience even more special.
You might find tacos made with unique means like lamb, or even bone marrow. Fresh fruits like pineapple and mango are a common topping for fish tacos. Vegetarian tacos can contain everything from mushrooms to cauliflower.
When it comes to salsas and sauces, there is even more variety to choose from and each taqueria puts its own twist on classic tacos, so you never feel like you're eating the same dish twice.
Best Street Tacos and Taco Trucks in San Diego
Don't miss out on the street tacos during your trip to San Diego! The many taquerias scattered throughout the city are unforgettable, but you might end up finding your favorite tacos at one of the street stands or food trucks throughout the city.
If you happen to see these taco trucks or street taco stands set up during your exploration of San Diego, it's worth stopping by for a taco - or three!
Taco Picasso - Since 2015, Taco Picasso food truck has been serving up some big SoCal flavor. Vegetarians will love the grilled Cactus taco and meat eaters will adore flavor fusions like the Korean BBQ taco. To find out where Taco Picasso will be during your San Diego trip, check out their instagram: https://www.instagram.com/tacopicassotrk/ Beach Eats Instagram: https://www.instagram.com/p/CUiFyEhlsoj/
Beach Eats - Food truck is perfectly SoCal, with fresh California flavors and locally sourced organic ingredients. Hawaii-Cali fusion tacos make for a light and fresh lunch option that you're sure to love. The best way to catch Beach Eats is to book them for an event, but you can also check out their Instagram to see when they'll be around San Diego. https://www.instagram.com/beacheatsfoodtruck/
Casanova Fish Tacos - The best baja fish tacos in San Diego might just be waiting for you at Casanova Fish Tacos. The signature fish taco is a must, but there are plenty of other unique menu items to ignite your taste buds. Casanova can often be found at San Diego festivals, but check out their Instagram for up to date locations and schedules: https://www.instagram.com/casanovafishtacos/
Tacos La Mezcla - Looking for an unbeatable breakfast taco? Head to Tacos La Mezcla, which can usually be found in University Heights near 2104 El Cajon Blvd. The rest of the menu leans towards classic Baja California flavors and it has won CityBeat's "Best of San Diego" awards two years in a row. Check out their instagram for more details: https://www.instagram.com/tacos_la_mezcla/
Street food vendors - Throughout your San Diego travels you'll likely encounter plenty of street food stands, especially around heavily trafficked areas. Be adventurous and try some street food! In order to find the best street food tacos in San Diego, look for places with long lines. That's always a safe bet that the food is delicious!
Whether you're a first time visitor to San Diego, or a local looking for your new favorite taco joint - finding the best tacos in San Diego will be an adventure that your tastebuds will never forget. Tacos are a quintessential part of San Diego's culinary scene and there are plenty of options to suit every taste and dietary preference.
From authentic Mexican classics to unique fusion flavors - the best taco you've ever tasted awaits in sunny San Diego!
Did you try some of these amazing taco shops during your trip to San Diego, or did we forget to mention your favorite taco spot? Make sure to let us know in the comments and happy taco tasting!