How to Travel from San Diego to Mexico
San Diego shares a border with the vibrant Mexican region known as Baja California, and during your trip to SoCal, you can easily visit Mexico as a day trip or for a weekend getaway. San Diego provides one of the easiest entry points to the country of Mexico from the United States, with opportunities to fly, drive, and even walk across the land border to enter the country. With a pedestrian bridge connecting the two countries, it is now easier than ever to visit Mexico from San Diego.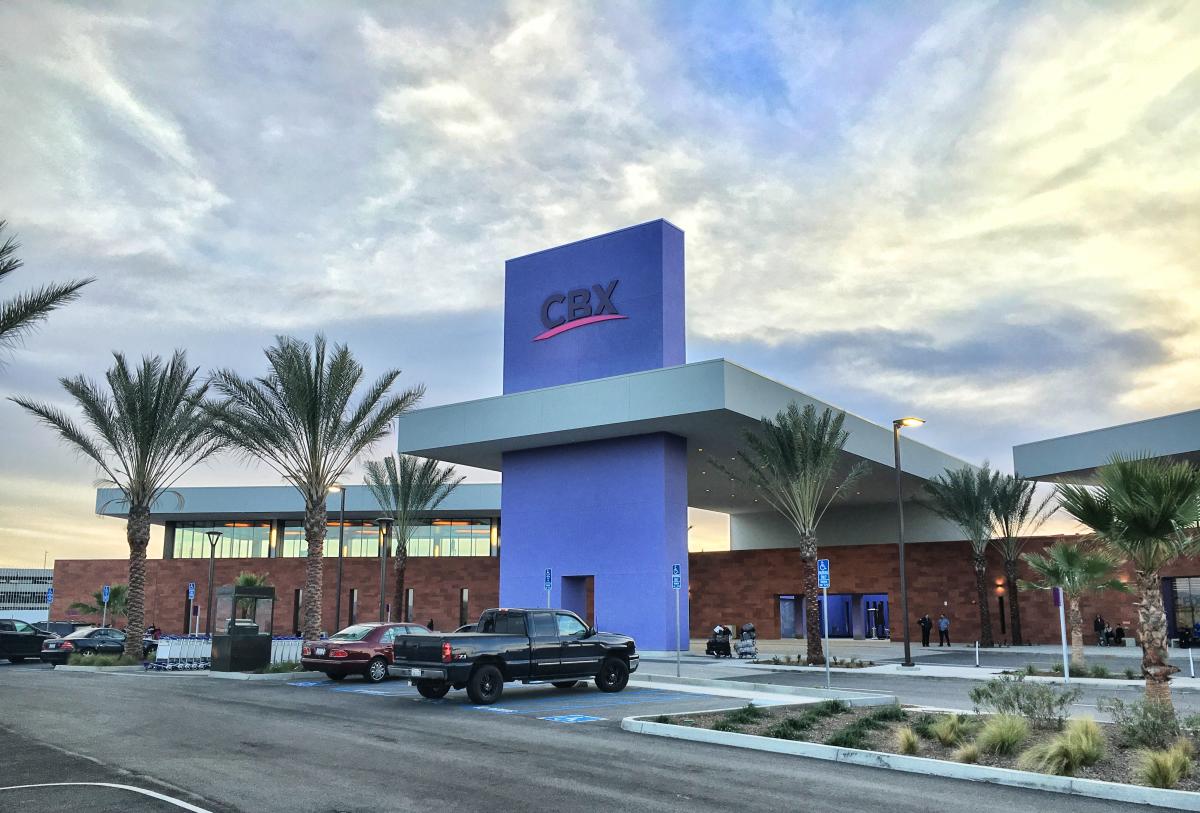 Every day hundreds of San Diego locals and tourists cross the border into Mexico to enjoy shopping, traditional Mexican cuisine, and beautiful beaches. If you're visiting San Diego and are curious about traveling to Mexico, you have plenty of options. It might seem a little daunting to first-time visitors, but with a little preparation and planning, you'll find that visiting Mexico has never been easier than during your trip to San Diego. If you're wondering about the best way to go from downtown San Diego to Mexico, check out this helpful guide to plan your trip. 
How far is San Diego from Mexico border?
Downtown San Diego is just about 17 miles from the the Mexican border crossing. You can easily reach the border by car or by public transportation, making it easy to visit two countries in one vacation! Once you cross the border you'll be able to venture to some of Baja's coolest beaches and destinations.
Traveling between San Diego/Tijuana  
The Mexican border sits just to the south of San Diego. You can drive from San Diego's city center to Tijuana, Mexico in as little as 30 minutes, depending on traffic. The weather and climate are almost identical to that in San Diego and vary from Mediterranean to arid.
Why Visit Mexico from San Diego
Tijuana is the Mexican city that sits closest to the San Diego/Mexican border and is known as the gateway to the tourist corridor of Baja California, the 12th largest state in Mexico. It is the largest city in the state of Baja California and a popular tourist destination. It's super close to Rosarito Beach, which is a gorgeous oceanside destination that is popular for both Mexicans and visitors from the United States for its natural beauty. Tijuana is one of the world's most visited cities and a great place to explore on a day trip from San Diego. 
From Tijuana Airport, you can connect to more than 30 destinations in Mexico, including Mexico City, or visit some of the other destinations in Baha California like Mexicali, which can be reached from San Diego in under two hours by car. 
The Best Way to Go from San Diego to Mexico 
The easiest way to travel from San Diego to Mexico is to cross via the land border at the San Ysidro border crossing. It's one of the busiest land border crossings in the United States! If you're staying in downtown San Diego, you can reach the border crossing from downtown in just under 30 minutes if you're traveling by car. Driving across the border is one of the easiest ways to cross into Mexico, and in most cases, you won't even have to leave your vehicle if you have the proper documents to enter Mexico
Where to Cross the border of San Diego and Mexico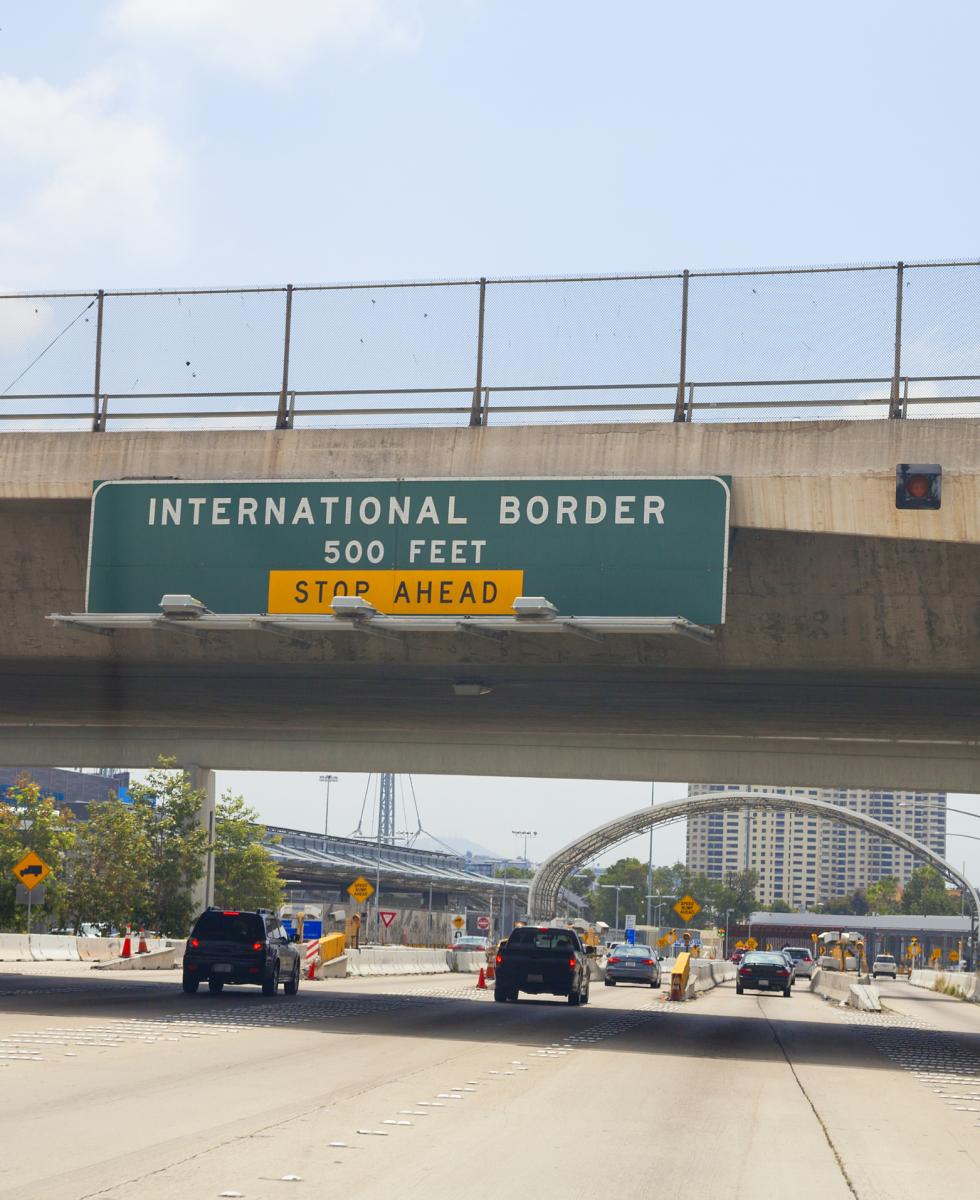 You can cross the Mexican border by car at the San Ysidro Crossing (just use Google maps) which goes from San Diego to Tijuana. Over 600,000 people cross this border each week. The process is very straightforward, and the border is open 24/7. If you're looking for the quickest crossing, it is best to arrive first thing in the morning to beat the crowds and if it is your first time crossing, it is recommended that you cross during daylight hours. U.S. and Mexican officials both recommend avoiding driving on the roads at night for safety. A great tip is to download the official Customs and Border Protection mobile app, which will allow you to view current wait times at the border. 
Using Public transport to reach the border crossing
For travelers who want to avoid the hassle of renting a car, San Diego offers excellent public transportation to the U.S./Mexican border. The San Diego Trolley is a light rail system that travels from downtown San Diego to San Ysidro, where you can cross the border on foot via a pedestrian bridge called PedEast.  
Simply take the Blue Line San Diego Trolley route to the last stop at San Ysidro Station. The light rail journey only takes about 45 minutes and the trolley will drop you off about a block from the pedestrian border crossing. One-way adult ticket prices are less than 3 USD, and the trolley runs every 15 minutes. 
Other Ways to Travel From San Diego To Mexico 

In addition to the land crossing, countless direct flights depart for various Mexican destinations from San Diego International Airport. The most popular destination from San Diego Airport goes to San Jose Del Cabo. It's about a 2-hour flight and you can find round-trip tickets for under 100 USD. 
Another option for traveling to Mexico from San Diego is to hire a private boat. A cruise from San Diego to Ensenada, Mexico is a popular trip because the port is only 70 miles from San Diego. This won't be cheap, but if you're looking for an unforgettable journey from San Diego to Mexico, you might consider taking a short and scenic cruise on a hired boat. 
How to Cross the U.S/Mexican Border from San Diego by Land 
As soon as you exit the trolley station, you will see a footpath that leads to the border crossing. Signs direct you in both English and Spanish and there will be plenty of other travelers heading that way, so you shouldn't have any trouble finding it. At the end of the path, you'll reach the immigration building which says Mexico. You won't need to do anything to exit the United States, simply proceed through Mexican immigration at the Tijuana border crossing. 
Once you enter the immigration building you will see two lines – one for Mexican citizens and the other for foreigners. The line usually moves very fast, and most people are able to cross in 10-15 minutes. If you are staying in Mexico for less than 7 days, you won't have to pay any fees. After immigration, you will proceed to customs. If you have anything to declare you can do so at a declaration window, otherwise just continue walking through the building. There aren't usually long lines but you will need to place any bags or luggage on an X-ray machine and walk through a metal detector. This usually takes five minutes or less. 
Once you pass through customs and immigration you will exit the building and you will be in Tijuana, Mexico. There isn't much to do right at the border, so you can hire a taxi to one of the tourist-friendly areas like Zona Centro (downtown), Zona Rio (business district), or Playas de Tijuana. In these areas, you'll find tons of attractions like the Tijuana Cultural Center, restaurants, and great shopping. Be sure to visit the historic district as well! 
Simply follow the path after you exit immigration and customs and stick with the crowd until you reach Frontera Street. From there you can take a taxi, Uber, or walk. The walking distance is only about a mile to downtown. The city bus is the only form of public transportation on the Tijuana side of the border, and the bus system can be confusing to first-time visitors. Taxis and Ubers are cheap, so they're your best bet. 
Documents Needed to Travel from San Diego to Mexico 
Before you set off for your adventure, make sure you have reviewed the proper documents that you will need to cross the border between San Diego and Mexico. Every U.S. citizen traveling to Mexico will need to present a valid U.S. passport or a U.S. passport card with an expiration date greater than 6 months out from the time of entry. 
There are no exceptions, and you must be able to present your physical passport, passport card, or green card at the border. For this reason, it's a good idea to bring your passport along on your trip to San Diego, just in case you decide to spend a day or two in Mexico. 
If you have a U.S. passport card, you can use the Ready Lanes at the land border crossing, which reads the card's Radio Frequency Identification and allows you to cross the border much faster. 
It takes a little while to receive a new passport, so if yours is expired, or it is your first time applying, check out the guidelines here. 
Mexican Tourist Cards
In addition to your passport, you will need to have a Mexican tourist card handy for your border crossing – regardless of if you are traveling to Mexico via the land border with San Diego or by plane. Your Former Migratoria Multiple (FMM for short) is a super simple form that takes about a minute to fill out, but you won't be allowed to enter the country without it. It's a five-inch square piece of paper that you will need to always keep on you during your visit to Mexico, and you will also need it to exit the country. They are often available at the border crossing, and international flights from the U.S. usually provide them to passengers. 
What You Need to Travel from San Diego To Mexico by Car 
If you choose to drive from San Diego to Mexico, you will need a few additional documents in addition to your passport and FMM. To travel to Mexico by car you will need a Mexico auto insurance policy, a valid U.S. driver's license, vehicle registration documents, and Temporary Vehicle Importation Permit (TVIP). The temporary import permit is only needed if you plan on driving 20 kilometers or more into Mexico, but it's a good idea to have one just in case. 
You can obtain your TVIP by applying online ahead of your trip to save time, but it can also be done at the Mexican border. It involves leaving a monetary deposit which will be returned when you leave Mexico. 
A few companies offer inexpensive Mexican car insurance. If you are renting a car in San Diego, it is important to double-check with your rental car company and let them know of your plans. Most car rentals allow trips to Mexico and can help you streamline the process. You cannot buy Mexican car insurance at the border, so make sure you take care of this step ahead of time. You won't be allowed to drive across the border if you don't have the paperwork in hand.
It's also a good idea to have some Mexican Pesos on hand for your trip, especially if you plan to do any shopping. There are several currency exchange stations located on the U.S. side of the border crossing, but they are sparser on the Mexican side, so it is best to take care of this ahead of time. Debit and credit cards should also work, but keep some cash on you too for smaller purchases. 
Is Traveling to Mexico from San Diego Safe?
Statistically, the city of Tijuana is not very safe. There is a high crime rate and a high rate of violent crime. If you're nervous about visiting Tijuana for the first time, you're not alone. That being said, thousands cross the border from San Diego to visit Tijuana each day without any problems. If you use common sense like you would be traveling anywhere, and avoid the seedy areas, you should have no problems. The governments of the United States and Mexico warn against traveling in Tijuana at night, especially if you're driving your vehicle, but during the day most neighborhoods are relatively safe. 
A few safety tips for visiting Tijuana:
Don't travel at night, especially on foot.

Know some basic Spanish.

If you're a female, travel with a group.

Only use reputable taxi services.

Don't participate in illegal activity.

Watch where you park your car - break-ins are common.

Use common sense and good judgment.

 

Visiting Mexico can be a fun and exciting add-on to your San Diego vacation. With a little preparation and our guide to the best way to get from San Diego to Mexico, you'll be able to experience unique destinations in Baja California, eat delicious Mexican food, and do some shopping at the colorful boutiques and street markets all within 30 minutes from downtown San Diego. For adventurous travelers looking to experience adventures just south of the U.S. border – traveling from San Diego to Mexico is an excellent addition to any itinerary.