Carlsbad Flower Fields
When it comes to outdoor activities in southern California, San Diego is the place to be. What does that mean, exactly? Well, there is no shortage of coastlines, mountains, and trees in this SoCal paradise, which means that visitors and locals alike will always have new favorite spots to find!
The Carlsbad Flower Fields are one of San Diego's most notable, well-loved, springtime destinations. Thanks to the nearly 50 acres of space that the Flower Fields encompass, visitors will be able to take in a dazzling rainbow of colored flowers as far as the eye can see from March until May.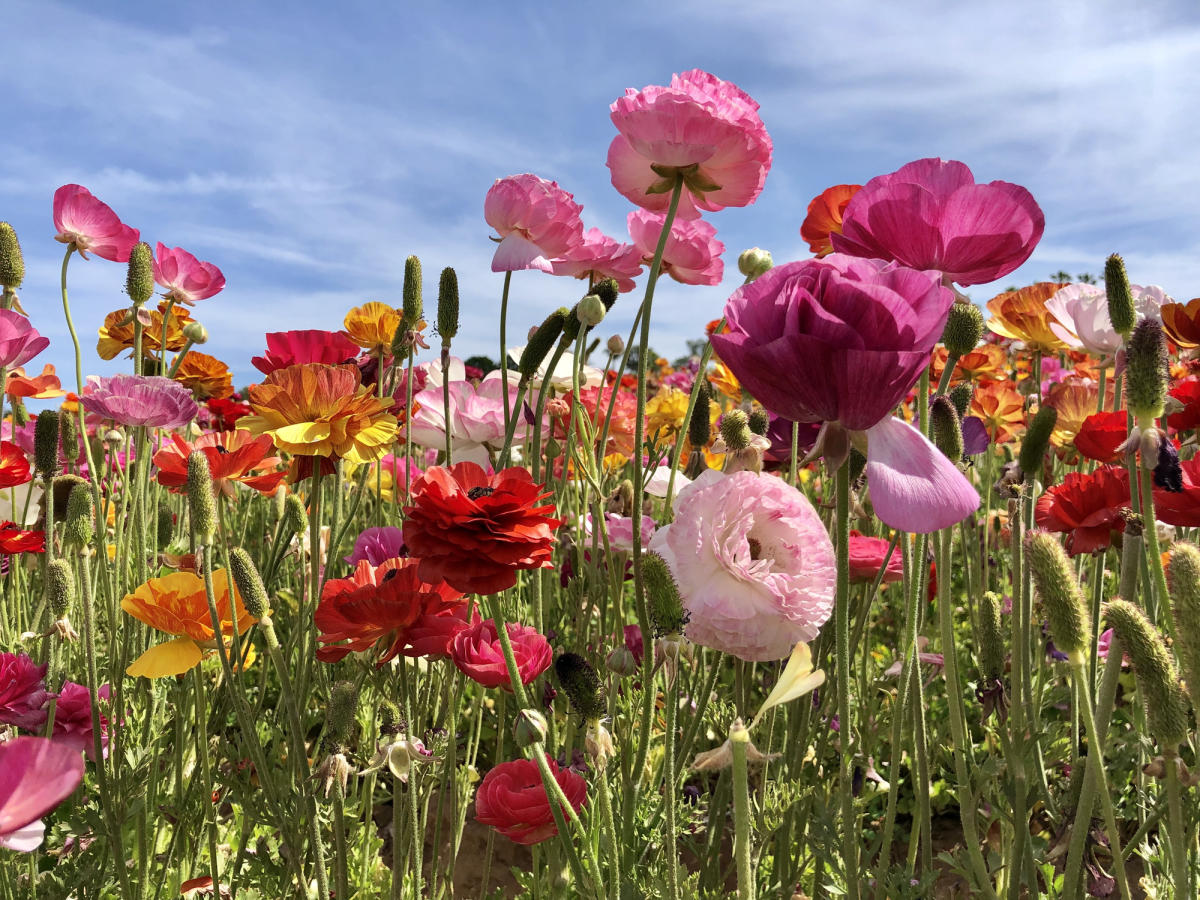 Unlike some of the other outdoor attractions in San Diego, the Carlsbad Flower Fields are very much a seasonal occurrence and are often sold out. So, we'll tell you how to plan and make the most of your time at this gem in North County San Diego's city of Carlsbad.
About the Carlsbad Flower Fields
The Carlsbad Flower Fields is a flower garden in North County San Diego that has been brightening the rolling hills of southern California for over 60 years now. Located at Carlsbad Ranch, this is a fun day trip and a great place for the whole family to experience the annual burst that is part of the area's local heritage.
The famous fields are made up of Giant Tecolote Ranunculus flowers, which cover Carlsbad's rolling hills and make for a wonderful spring display that people of all ages will find joy in.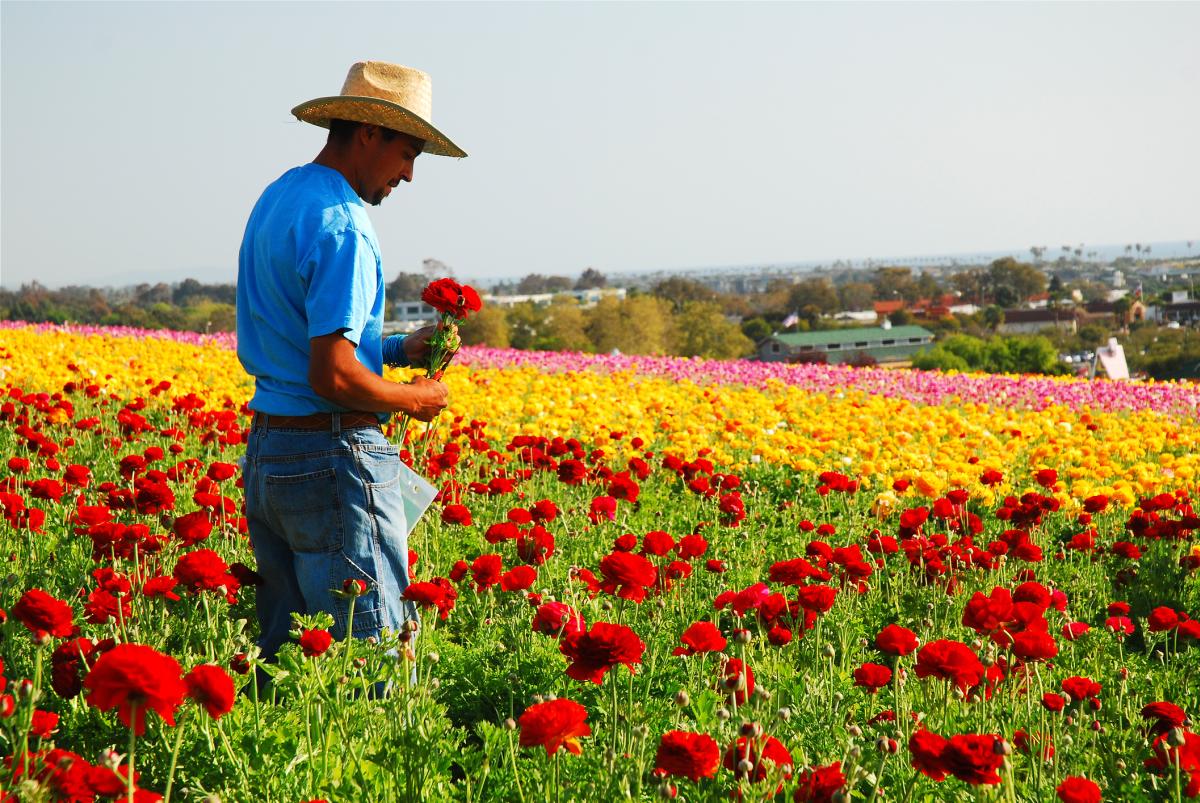 These Giant Tecolote Ranunculus flowers stay in bloom for about 6-8 weeks annually and are often seen as the announcement of the spring season for residents of the area.
There are various gardens, stations, activities, and ways to experience the Carlsbad Flower Fields. This is by no means an exhaustive list, but here are some of our favorites:
Demonstration Garden
The University of California's Master Gardeners of San Diego County work together each year to create a beautiful Demonstration Garden, featuring 9 different examples of ways to combine species into small spaces.

It's a great area for anyone looking to learn about more sustainable growing practices, how to create a beautiful garden in a small space, or about native plants.
If you aren't trying to get inspiration for a garden of your own right now, not to worry. Those who just want to enjoy some fun, curated mini-gardens will also love this space!
Artist Gardens
The Artist Gardens are a popular addition to the Flower Fields at Carlsbad, and for good reason!
Ultimately, the Artist Gardens uses flowers as an art medium, while also bringing in some educational elements and helpful tips for those looking to elevate their spaces.
This greenhouse space showcases how flowers and certain colors can be combined at home, in yards, and in other spaces to make the most of our personal gardens.
There is an adjacent bird aviary space that helps transform this garden area into a full sensory experience, from the smells and look of the flowers to the sounds of the chirping birds above.
Sweet Pea Maze
You've heard of a corn maze, but what happens if you aren't able to experience this popular fall activity? Well, the sweet pea maze at the Flower Fields is the coolest springtime equivalent. It's also much more unique!
Make your way through the floral maze as you take in all the wonderful fragrances, natural colors, and turns that it has to offer.
Santa's Playground
Speaking of nods to other seasonal children's activities, Santa's Playground creates a fun, whimsical area for children to play. Honestly, between the gigantic mushrooms, crooked treehouse, and the guard shack, many adults find themselves entertained and drawn to this fun, colorful portion of the Flower Fields, as well.
Carlsbad Mining Company
Just one more way for kids to learn and have fun all at the same time, the Carlsbad Mining Company is a portion of the famous fields that allows visitors to sift through sandy water to obtain polished gemstones.
It costs $3-4 dollars a person and is fun for people of all ages, not just kids! This station offers a fun way to learn more about the old miner's method of sluicing water through boxes containing sand to sift out small pieces and keep the big stones and gems.
When to Visit the Carlsbad Flower Fields
The Carlsbad Flower Fields are open from early March to early May each year, marking the period of fullest bloom at the fields.
The spring seasonal hours are 9 am to 6 pm daily and you can expect to visit from March 1st through the date of Mother's Day any given May.
We recommend arriving earlier in the day to beat the crowds, get better parking, and have a slightly more personal experience at the fields. This way, you'll also be able to enjoy more time exploring the different activity areas, gardens, and the blooms themselves.
Alcoholic beverages are not permitted onsite, and this is a tobacco-free environment, to keep the Carlsbad Flower Field healthy and to allow the beauty of the blooming flowers to remain the star of the show.
Getting to the Flower Fields
The Carlsbad Flower Fields are located just off Palomar Airport Road and sit next to the San Diego Freeway, or the I-5.
You can access the fields most easily by driving on Interstate 5 and taking exit 47 for Palomar Airport Road.
If you happen to be visiting LEGOLAND California, the fields' neighbor, you can easily take Legoland Drive to make a loop and enter the Flower Fields.
Other Activities in North San Diego County
So, then, what are some of the other top activities to do in North San Diego County, also referred to as North County?
If it's not the obvious option…the beach, you can find several different experiences all around San Diego County. If you're looking to stick to the area up north, around Carlsbad, Encinitas, and Escondido, you won't have to search too hard for other activities to pass the time.
You can keep these nearby attractions in North County in your back pocket in case the Flower Fields at Carlsbad Ranch are sold out during your trip, or simply use them as additions to your overall North County bucket list.
San Diego Botanic Garden – Encinitas
The San Diego Botanic Gardens used to be known as Quail Botanic Gardens, and are another expansive, beautiful natural area in San Diego's North County.
If you're looking for something like the Carlsbad Flower Fields but won't have a chance to visit, this is your place! It's also a fun stop even if you've been to see the flowers because you get an even better sense of both the topography and the plant life of this area.
The gardens are a bit smaller, at 37 acres than the Flower Fields' 55 acres, but they are home to a wide variety of plants, from bamboo groves to native Californian plants, a subtropical fruit garden, desert gardens, and so much more.
Not only is this a beautiful space, but it can offer a fun educational experience, as well.
LEGOLAND California – Carlsbad
As we know now, LEGOLAND California is the next-door neighbor to the Flower Fields and is a wonderful addition to your time in the area.
If you have kids, love Legos, or just want to come over and check out the popular resort, theme park, and aquarium space, LEGOLAND is worth a visit.
The general park space is open from 10 am to 5 pm daily, but specific areas of the park and on-site restaurants have hours that will vary,

We recommend checking out their site to see if you'll need tickets beforehand for any of the attractions you hope to see.
San Diego Zoo Safari Park – Escondido
Say that you're up in North County and really want to see more before heading down to the busier areas near downtown San Diego. You might as well head east to Escondido and spend a day at the San Diego Zoo Safari Park, too!
Not to be confused with the San Diego Zoo down near Balboa Park, though the two locations are part of the same zoo system, this safari park is a wildly popular experience that allows guests to pick between multiple safari options. You'll immediately forget that you are in San Diego, as you're transported through the park.
An expert guide will walk you through the background of the space, telling you about the animals it hosts and making sure you learn plenty while enjoying your time on safari.
Wrapping Up
So, whether you only visit the Carlsbad Flower Fields, or if you add a visit to the San Diego Botanical Gardens, LEGOLAND California, or the San Diego Zoo Safari Park, you'll have plenty of ways to spend a day, or two, or three in the northern portion of San Diego.
Get out there and enjoy your time in the sunshine and great outdoors of America's Finest City.
As always, happy exploring!