An island oasis awaits your exploration just off the coast of Southern California. Bright blue water, sandy beaches, and palm trees swaying in the breeze will you feel as though you've escaped to a tropical paradise far away - even though you'll be under 90 miles from San Diego.
Catalina Island is part of a group of islands in California known as the Channel Islands. It is located about 22 miles off the coast of mainland California. It's long been a playground for California's rich and famous. Marilyn Monroe even called the island home for some time.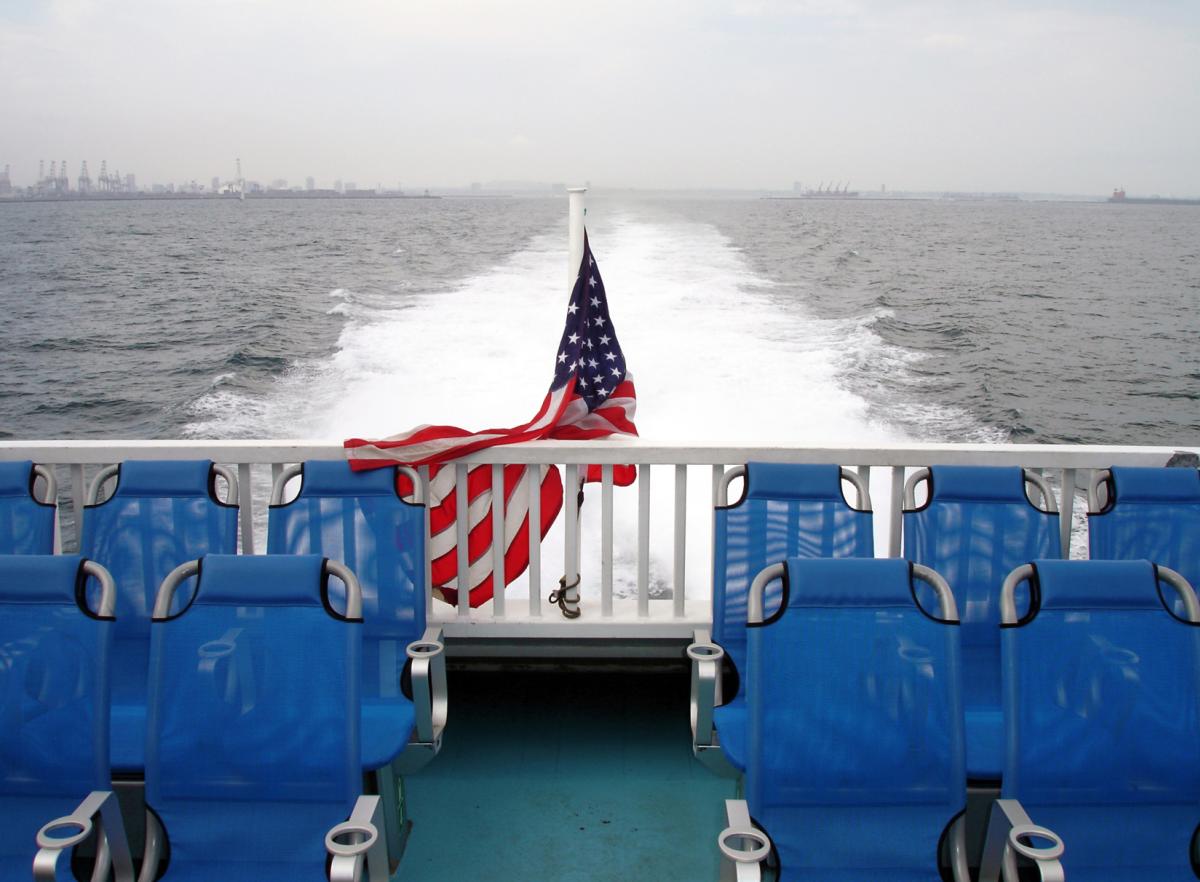 The entire island is only 22 miles long and 8 miles across On the tiny island you'll find world-class restaurants, beautiful hotels, soft white sand beaches, and sparkling crystal clear water that is perfect for outdoor recreation. Water sports like kayaking, jet skiing, sailing, swimming, paddle boarding, and parasailing are incredibly popular pastimes. The clear water makes the island a great destination for scuba diving, snorkeling, and even submarine tours.
Catalina Island makes for a perfect weekend getaway for San Diego locals, or an ideal adventure to add to your San Diego vacation if you're a tourist. There are several ways to reach Catalina Island. You can choose to take private boat charters or fly over on private planes or helicopters if you're feeling splurgy. There is also the Catalina Flyer which departs out of Newport Beach.
The easiest and cheapest option is to take a ride on the Catalina Express Ferry which casts off from several locations around Southern California including Long Beach, San Pedro, or Dana Point. Pack your bags, and check out our guide to everything you need to know about the Catalina Express, Long Beach.
Where is the Catalina Express, Long Beach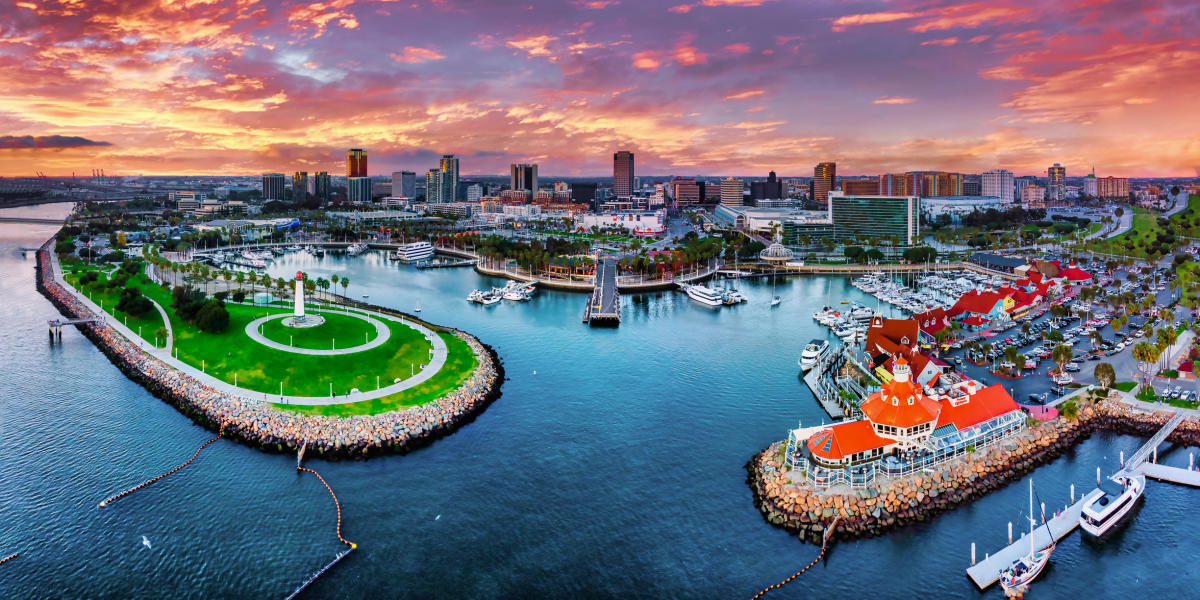 The Catalina Express departs from the heart of downtown Long Beach near Shoreline Village at Catalina Landing. It's located right along the main waterfront near the Pike and the Aquarium of the Pacific. You can reach the port easily from Orange County, Los Angeles, and San Diego. From downtown San Diego you can reach the port in about an hour and 45 minutes by car.
Address: 320 Golden Shore, Long Beach, CA 90802
How Long Is the Ferry Ride?
The ferry ride from Long Beach to Catalina Island only takes about an hour. It will drop you off in the main town of Avalon once you reach Catalina Island.
How Much Does the Ferry Ticket Cost?
A round-trip ticket on the Catalina Island Express Ferry costs $84 per adult which includes the fare, the wharfage fee, and the taxes. Seniors aged 55 and over can ride for a discounted rate of $77 round-trip. Children between the ages of 2 and 11 can ride for $68.50. For babies under the age of 2, there is no ticket cost, but you will still have to pay the $7.00 wharfage fee.
Normal-size carry-on luggage is included in the ticket cost but if you'd like to bring along your bike or surfboard expect to pay an additional $7.00 per item. Several upgrades are available for an additional fee. The Captains Lounge upgraded ticket costs an additional $120 per person, and the Commodore Lounge Upgrade costs $40 more per person. Visit the Catalina Express website for your reservation and to book online ahead of time.
Why Choose The Catalina Express Ferry, Long Beach
The Catalina Express Ferry is the easiest and cheapest way to get to Catalina Island. The boat ride is only about 1 hour at which time you will get to enjoy beautiful views off the coast of California as you depart from the Long Beach Port. It's convenient and fun!
While the Dana Point ferry may be slightly closer to San Diego, the Long Beach port is the most attractive and popular place to set sail.
Parking for the Catalina Express Ferry in Long Beach
If you're driving your car to the Catalina Express Long Beach from San Diego, you're going to need to park it somewhere for the duration of your trip. Overnight parking is available at the Long Beach Port for $22.95 per 24hr period. No parking reservations are needed, and all major credit cards are acceptable forms of payment. The only catch is that you can't park there for more than 30 days - so if you are planning on staying on Catalina Island all summer you may need to find different arrangements for your car.
Daily Boat Trips To Catalina Island
The departure schedule varies throughout the year, but there are always multiple departures per day. Between the ports at San Pedro, Dana Point, and Long Beach there are more than 30 daily departures.
From the Long Beach port, expect departures between 6 am and 6 pm daily.
Best Places to Stay on Catalina Island
While it is totally possible to visit Catalina Island as a day trip, we recommend that you stay overnight to really enjoy the island and experience everything it has to offer. There are plenty of excellent hotels to choose from. Here is a list of some of our favorite places to stay for your trip to Catalina Island. Most of the hotels are relatively small and intimate with plenty of beautiful boutique touches.
Banning House Lodge
Pavilion Hotel
Hotel Atwater
Zane Grey Pueblo Hotel
Hotel Metropole
Snug Harbor Inn
The Avalon Hotel
Mt. Ada
Best Things To Do On Catalina Island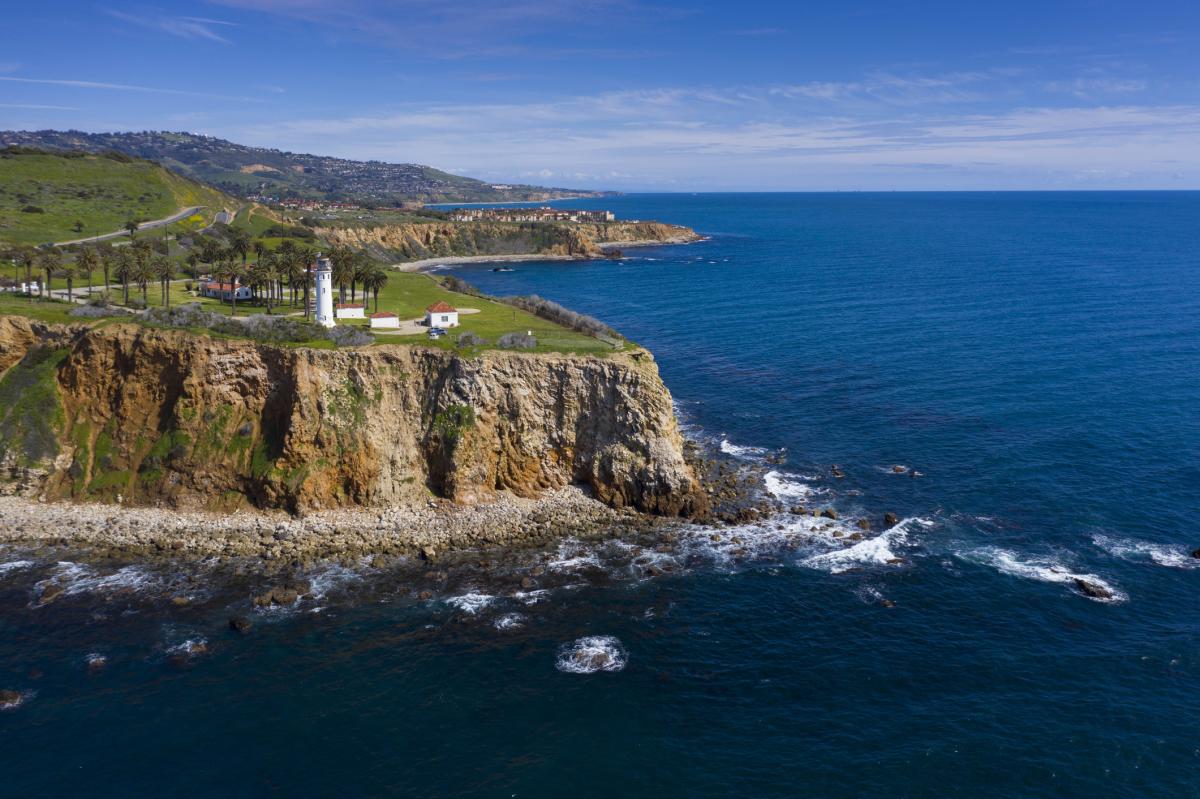 There are plenty of great things to explore during your trip to Catalina Island. Enjoy renting a golf cart to get around the tiny island and check out the main town of Avalon, as well as the smaller town of Two Harbors which has a restaurant, a bed-and-breakfast, and a general store. Either one of these towns is a great place to stay, but Two Harbors make for an excellent jumping-off point if you want to go boating, kayaking, biking, or hiking around the island.
Two Harbors is more relaxed, whereas Avalon has more hotels and dining options to choose from. There you can relax on the beach or enjoy some tasty cocktails in a cabana at Descanso Beach Club.
Best Time To Visit Catalina Island
You can visit Catalina Island year-round. Much like the rest of Southern California, the island has a lovely climate and plenty of sunshine throughout the year. The peak tourist season runs from June through September when temperatures are warm and most students are enjoying summer vacation. If you want to avoid the crowds and high prices visit during the off-season. Prices of hotels tend to be almost double during peak summer months. The warmest month is August, with average daily temperatures in the low to mid-70s.
Spring and Fall are ideal seasons to visit as the temperatures are still warm, and you'll get to avoid the massive crowds. Consider planning your trip for April through May or September through October. Winter months can be somewhat chilly with temperatures ranging between 45-59 degrees each day. Whatever time of year you choose to visit, you'll have an amazing time relaxing and enjoying the island life on Catalina!