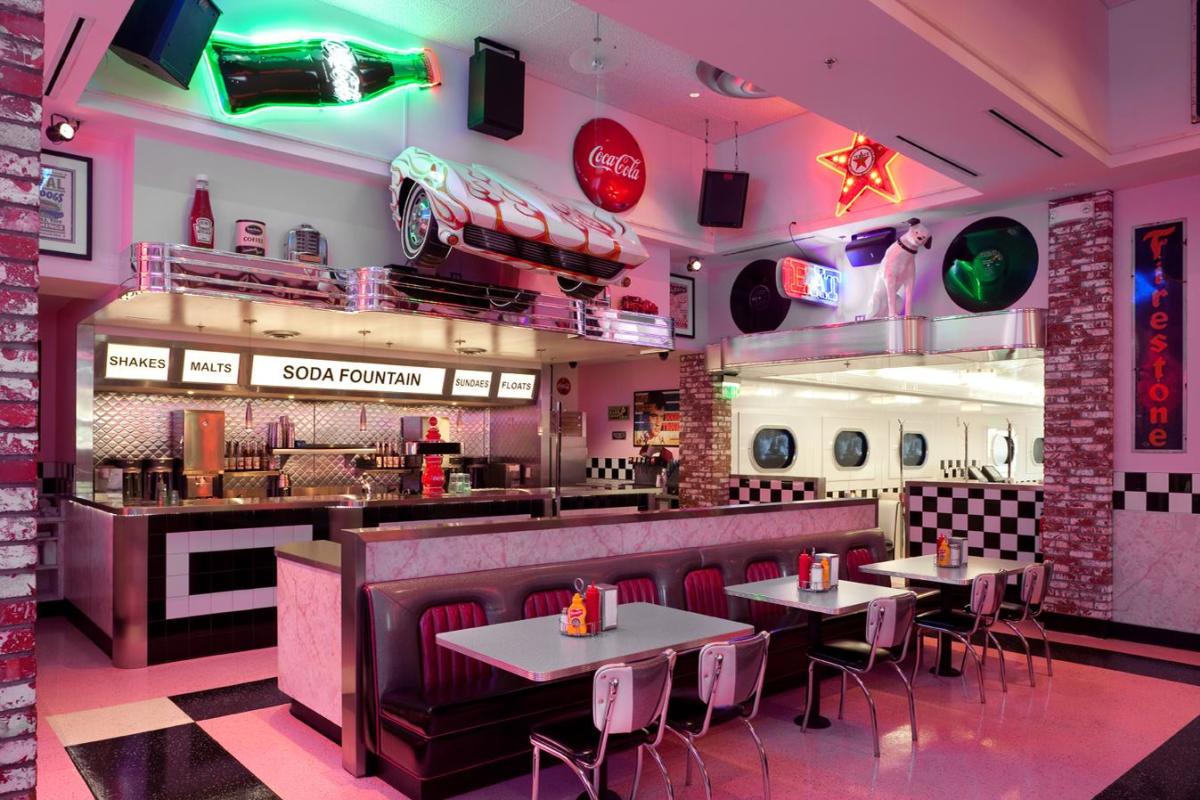 San Diego is home to plenty of good eateries, but the Corvette Diner in Liberty Station's Arts District might take the cake for the restaurant that feels more like a destination than just another place to grab food.
Corvette Diner is an establishment in San Diego that has been around for over 30 years, starting further inland before moving to the coast in the early 2000's. The poodle skirt-wearing- waitresses are sassy and have big hair to go along with their big personalities. The service is great, and so are all of the arcade games that guests will get to play. If you aren't quite sure what to expect from a spot like this, we'll talk about the origins of Corvette Diner, why it's so special, their promotions, opening hours, and more. So, stick around for a bit!
What Is Corvette Diner?
Corvette Diner is a 50s-themed diner, complete with waitresses in poodle skirts and bouffant hair styles, plenty of arcade games, and fun for all. Guests can enjoy small dinners, parties, or even rent out the diner for larger events. It's a hot spot in San Diego where the burgers and shakes are great, and so is the atmosphere.
What Makes San Diego's Corvette Diner So Special?
Known among San Diegans as an iconic spot, this diner combines the showmanship of any themed restaurant, with various arcade games, and, on top of all that, food that is truly good! Corvette Diner has been a San Diego staple since 1987, when it was launched in the Hillcrest neighborhood of San Diego.
It then moved to the other side of the San Diego International Airport, to Liberty Station, where it now sits much closer to the Pacific Ocean and on the coast of the San Diego Bay. Decorated in a truly 1950's-inspired way, the dining area is colorful and filled with a mixture of pastels, patterns, and neon lights to boot.  You can sit in the soda shop/bar area, have food brought to your booth, or take your milkshake around while you play some games.
The Food
You'll want to get a well-rounded experience when it comes to this diner food, straight from the 1950's but with a modern twist. So, let's look at some of your food options at Corvette Diner:
Appetizers
Kick off your meal with a Garbage Plate to share. It comes with a slider trio, onion rings, potato skins, mozzarella wedges, ginormous chicken fingers, French fries, an 'all-weather anti-freeze' dip, BBQ sauce, ranch, and marinara sauce.
For something a little smaller, go for the Hula Hoop Onion Rings which are made of house-breaded, sweet Spanish onions that are made fresh daily and come with the famous 'all-weather anti-freeze dip.' Slap Me Some Skins are a good choice, too, made from freshly baked potatoes filled with melted cheddar cheese, crisp bacon, green onions & sour cream
Chili, Soups, Small Salads
When visiting Corvette Diner, you almost have to try the famous Sting Ray Chili that is complete with cheddar, red onions & crackers.
You can also always grab a Small Caesar Salad with crisp romaine, classic caesar dressing, parmesan cheese, and garlic croutons.
Burgers
The Breakfast at Tiffany's is a breakfast-inspired burger with fried egg, cheddar cheese, crispy bacon & waffle fries, and Tapatio hot sauce on the side. If that isn't your thing, grab a Brenda Burger, which is simple yet delicious with lean crisp bacon strips, Swiss cheese, lettuce, tomato, onion, mayo & pickles.
Chicken Sandwiches
For a hearty sandwich that isn't beef based, try the Buffalo Blues. Made of boneless breaded chicken, tossed in their house hot wing sauce, blue cheese crumbles, lettuce, tomato, onion & natural cut fries. The hot wing sauce makes this is perfect for anyone wanting a bit of a kick.
California Dreamin' is another tasty choice, with grilled natural chicken breast, guacamole, green chilies, pepper jack cheese, lettuce, tomato, onion & natural cut fries
Sandwiches - Get the Garlic Cheese Toast
It's no surprise that the All-American Dip is a popular menu item, with tender, house-made roast beef sliced thin, melted Monterey jack, caramelized onion, horseradish sauce, and on an amoroso's hearth baked roll & au jus for dipping. Pair it with some waffle fries or steamed veggies for an extra bit to eat. The Ike & Tina Tuna Melt is a well-balanced all-white albacore tuna salad with melted cheddar cheese, swiss cheese & tomatoes on toasted slices of rye bread.
For any vegetarians, the Galaxy Grilled Veggie sandwich goes above and beyond. You can expect fresh grilled eggplant, zucchini, roasted red peppers, sautéed mushrooms & mozzarella on sourdough garlic cheese toast, served with pesto sauce.
Entree Platters - Try the Parmesan Cream Sauce
For your entree platter, you have the option to get various dishes topped with meat sauce, marinara sauce, parmesan cream sauce, or gravy. Many of the platters come with either pasta or garlic mashed potatoes. Try the Chicken Polka Pasta, which includes blackened chicken breast, spinach, parmesan cream sauce, penne pasta, fresh tomatoes & garlic cheese toast. This one is so yummy you'll almost certainly want to come back for more! 
If you're not a fan of chicken, the Sammy Davis Shrimp Platter is a whole mess of crispy fried shrimp that includes fries & house-made cocktail sauce. Finally, the Hot Truckstop Turkey complete with house-roasted turkey breast, garlic mashed potatoes, brown gravy, cranberry sauce, steamed veggies & a honey wheat roll is a filling way to grab some comfort food before playing games.
Kid's Menu
It's hard to go wrong with Sophie's Spaghetti & Meatballs with garlic cheese toast or the ginormous chicken fingers and bbq sauce, with a side of French fries and a milkshake.
Salads
All salads come with a honey wheat roll to complement all the vegetables they offer. It's hard to go wrong with the Santa Fe Salad's crisp chips, mixed greens, black bean corn salsa, shredded cheddar cheese & jack cheese, avocado, blackened chicken breast & chipotle ranch dressing
Gidget's Greek Salad is a great way to get the veggies in because it comes with mixed greens, tomatoes, kalamata olives, green & red peppers, cucumber, red onions, feta cheese, pepperoncini & greek dressing.
Soda Fountain  
In true 1950s form, this diner would not be complete without a soda fountain. Try the deluxe Chocolate Mint Patty, Pineapple Princess, or the 'Elvis.'
Custom Sodas
Shakes aren't the only cool drink here, though, because the custom sodas are SO unique. Grab a Green Frog, Corvette Diner's own Egg Cream, or a Black & White Soda- including vanilla ice cream with chocolate syrup.
Desserts
Finally, finish up with a dessert like the Vette Banana Split Boat, which has chocolate, vanilla, strawberry, and the 'fixins.'
The Games
San Diego's first green arcade, Corvette Diner uses reloadable gamer's cards instead of physical paper tickets, making things mess and hassle-free for all involved. The games are a big part of what makes this diner so special, along with the bright lights, positive atmosphere, and fun serving staff, of course 
Inside the 'Gamer's Garage' there are 64 different arcade games, new and old, from pinball to a Fruit Ninja game. Play air hockey against a friend or try to beat the skee ball game by yourself. There are so many games to choose from that you might not know where to start!
The Location
Corvette Diner is in Liberty Station, which is San Diego's old military barracks-turned-trendy shopping center.
The area has tons of green park space where you can watch planes land and take off from the nearby San Diego International Airport, shops to meander through, and plenty of free parking. You'll be right next to the waters of San Diego Bay, and quite close to downtown San Diego and all it has to offer, too.
Does Corvette Diner Have Promotions?
Corvette Diner does have a Dine & Play package offered on Wednesday and Thursday, designed for all ages. No matter how old you are, you are not too old to enjoy an arcade! In fact, Corvette Diner has labeled the appropriate ages '2 to 102.' There are three different deals that you can expect to find in the Dine & Play packages:
Pint Size
Meant for the younger kids in your group, this promotional offer gives you any kid's meal plus a gamer's card. For $16.99, you'll get the kid's meal and a $10 card, but for $25.99 you can get a kid's meal and a $20 gamer's card. Try the grilled American cheese sandwich with apple sauce, carrot sticks, or French fries.
Groovy Deal
Best for an older kid or an adult that's only a little hungry, grab a burger, sandwich, or salad plus a $10 gamer's card for $22.99. Try Sid's Cowboy Western burger, with Kentucky stud BBQ sauce, crispy bacon, hula hoop onion rings & cheddar cheese. For $32.50, you can get your pick of those 3 foods plus a $20 gamer's card.
Fill'er Up
Finally, for an adult that is wanting something more filling, grab any entrée platter and a $10 or $20 gamer's card for the same prices. You can get something like The Meat Loaf that comes with lots of savory ingredients, steamed veggies, garlic mashed potatoes, brown gravy & honey wheat roll, along with a side salad and fat-free honey mustard dressing.
This might just be their best promotional deal!
Does Corvette Diner Host Events?
Corvette Diner is a fun place to host larger events, as well as small family outings. For up to 60 guests, you can book a group reservation for lunch or dinner, as well as the Galaxy Room or the Corvette Clubhouse rooms for more private spaces. If you have more than 60 guests, that is no issue! You can do a partial buyout of Corvette Diner for up to 100 guests.
What if that still isn't enough people for you? You can do an entire buyout of Corvette Diner which allows for up to 300 people if you're hosting a super huge event. They have kids' and teen party packages, but we think that this could also be a great space for a fun work gathering. After all, you know the old saying- work hard, play hard!
What Are the Opening Hours of Corvette Diner?
Corvette Diner has varying hours throughout the week, which you can find here:
Wednesday and Thursday: 12 pm – 8 pm
Friday: 12 pm – 9 pm
Saturday: 11:30 am – 9 pm
Sunday: 11:30 am – 8 pm
Note: they are not open on Monday or Tuesday.
Wrapping Up
Corvette Diner is a unique space in Liberty Station, and a great way to add some fun to your meal! Whether you come with family, or a group of friends, or finally get to have a cool office outing at the arcade, you're sure to love this San Diego spot. Grab a famous Sting Ray Chili, a Chicken Polka Pasta, lean ground sirloin sloppy joes, or keep it simple with The Big Cheez: grilled American cheese, Swiss cheese, and cheddar cheese with tomatoes on grilled slices of sourdough garlic cheese toast.
Of course, for a smaller bite, try one of their ice cream sodas, some mashed potatoes, or sweet potato fries before diving into the arcade space. Most of all, have fun!