The Del Mar Racetrack is a San Diego staple, and the annual horse races bring out guests from all over! You can expect to run into Del Mar locals and go every year, those who live a few hours away and made the drive, and even people from states away that have come to join the fun.
As reliable as these horse races are, like American Outlaw being the best jockey a couple of years ago at Del Mar…for example, one thing tends to be uncertain as racegoers prepare to go off to the races. The menu at Del Mar Racetrack feels like the thing that guests are most curious about, especially those with allergies or specific food preferences. It changes yearly, and we have the 2023 Del Mar Racetrack dining scoop for you!
The racetrack, bordering Del Mar and Solana Beach, has plenty to offer guests this year, and we are excited to share a little bit of what you can expect as a patron of the races. So stick around for menu updates and an idea of the food and drinks you'll have throughout the day.
Del Mar Races Food Options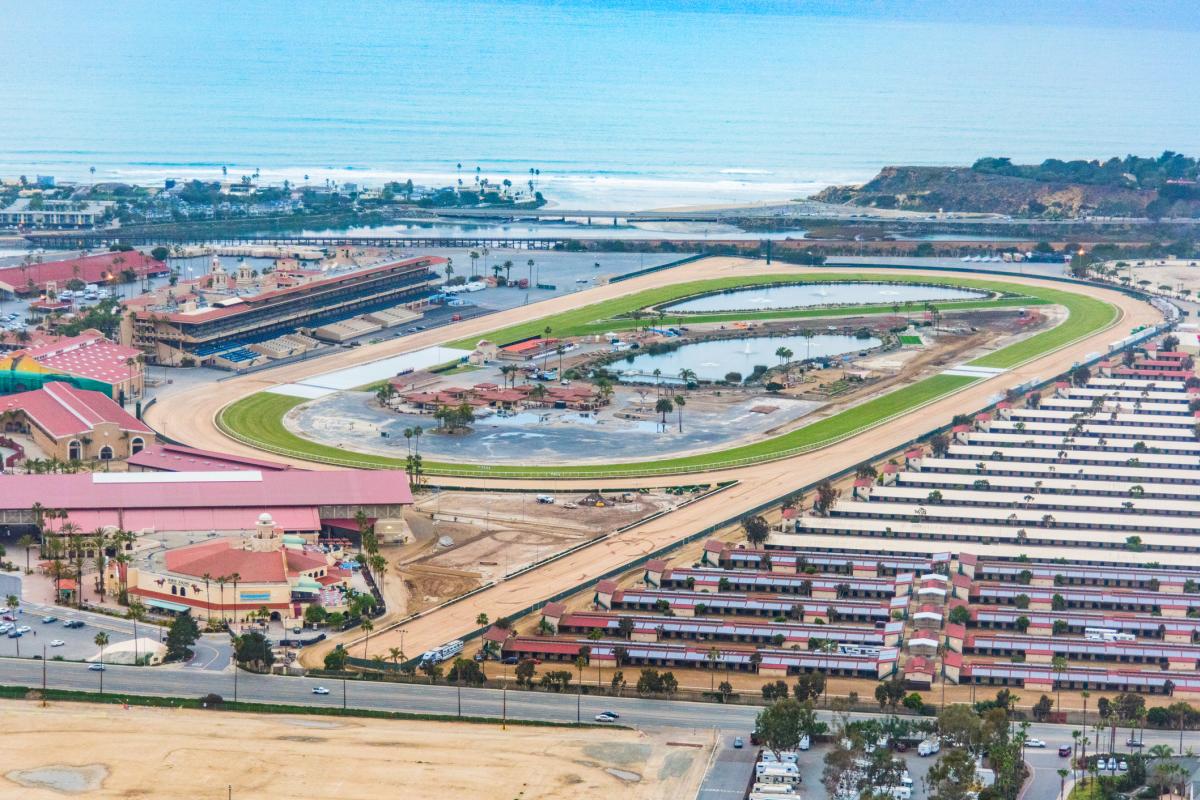 Once you pass under the horse logo and enter the Del Mar Racetrack, you'll want to be prepared for your experience at the races… that is where we come in! Del Mar Racetrack has plenty of dining options for patrons, including drink stations, coffee carts, snacks, quick bites, and sit-down restaurants with views of the paddock and screens.
Starting your Day
To start your day, head to the Roxy Del Mar coffee stand and grab the following breakfast items:
· Coffee
· Tea
· Water
· Smoothies
· Bagels and cream cheese
· Espresso drinks
This should tide you over if you didn't get a chance to grab breakfast beforehand. We all know that the traffic around Del Mar during the races can get crazy, and you may have wanted to beat the rush.
So, no worries if you forgot to grab something at home- this is a good way to get a boost in the morning before you switch to daytime bites and, let's be honest, alcohol (if you drink.)
Quick Bites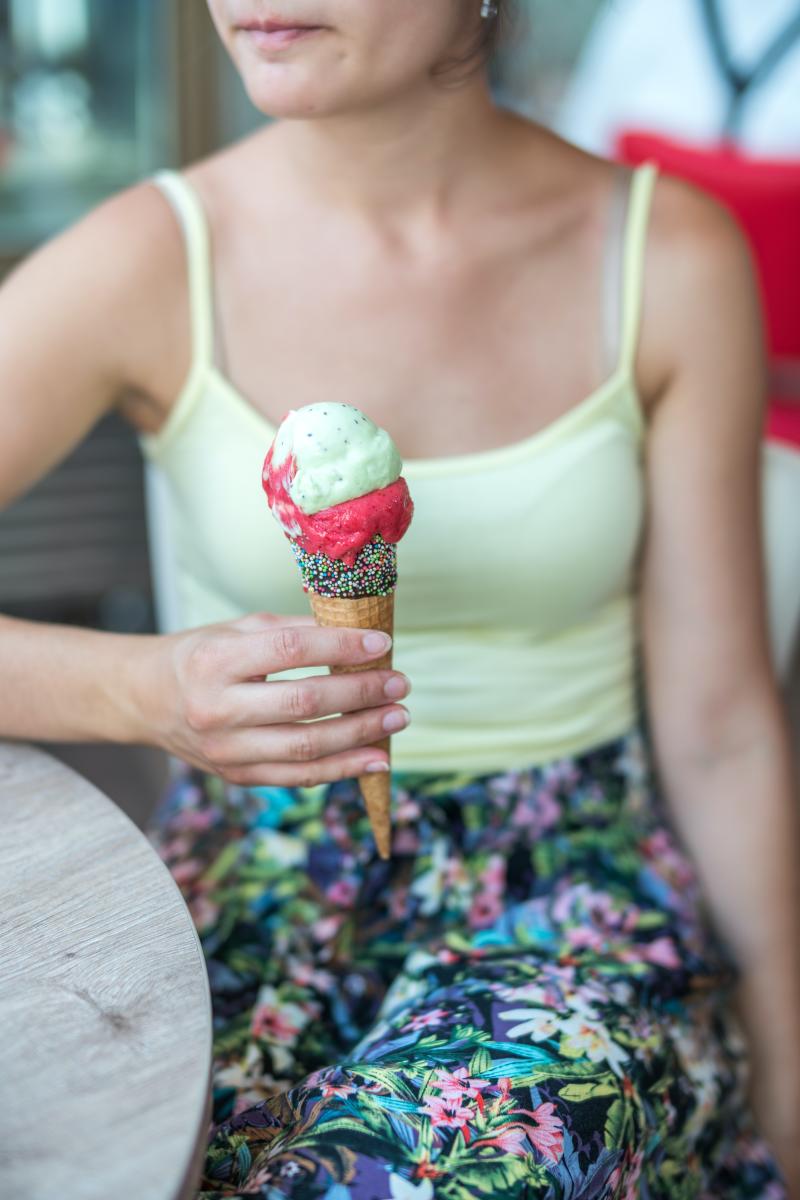 Like any good outdoor summer event, there are certain types of staples and 'fair food' that you can find for a quick bite when you aren't ready for a sit-down meal or want to eat but also prefer to be in your seat to watch your horses win.
In between races, you can head to the stands in the Plaza de Mexico that sell the following foods:
· Ice cream
· Lemonade
· Corn dogs
· Kettle corn
· Gyros
· Falafel
· Sausages
Of course, what's a bite to eat without a drink? This doesn't have to be alcoholic, and the food stands do sell lemonades, water, and sodas, but if you are looking to up your beverage game, you won't have to look far.
Beverages
Not only does the stadium have general cocktail stations sponsored by beverages like Coors and Patrón, but there is even a specific Crown Royal station this year, which sells mixed drinks, non-alcoholic drinks, and beer as well.
You can pair your alcoholic beverages, assuming you are 21+, with some quick bites, or skip these stands altogether and head to the Corona Beach House bar and restaurant to grab a drink. Even when dining is full, the bar moves fast and has great concoctions to sip on in the heat.
Restaurants Inside Del Mar Racetrack
Speaking of restaurants, let's dive in. We'll talk about two options, one indoor and one outdoor, for you to try if you're looking to get out of the stands and grab a bite in between races that you want to see first-hand.
17 Hands
On the ground, this is one of the first things you'll see as you walk into Plaza de Mexico from security. It's on the way from security to where guests enter the stands, so this restaurant on the right-hand side is hard to miss.
What can you get to eat, you may ask?
See this year's menu options:
· #1 Baja Beef (2 tacos)
o $15
· #2 Pork Adobada (2 tacos)
o $14
· #3 Chicken "PolloAsado" (2 tacos)
o $14
· BAJA Beef Taco Salad
o $15
· Chips Cortez
o $6
§ Add Avocado Salsa $2
· Churro Chips
o $6
With lesser options, this is a convenient pit stop that allows you to focus more on eating and enjoying some shade while watching the screens rather than deciding what you want to eat. Think of restaurants with pub food and an elevated quick bite in the midst of your busy day at the races.
Corona Beach House
An extensive menu is not a bad thing, don't get us wrong!
Another of the racetrack's restaurants, the Corona Beach House, has outdone itself this year, and everything from their gourmet salads and starters to the newly added Crispy Chicken Tender Basket is sure to hit the spot.
See this year's menu options:
Starters
· Chips, Salsa & Guacamole
o $16
· Surfside Chilled Shrimp Cocktail
o $16
· Bavarian Style Pretzel Puffs
o $10
· Mediterranean Meze popular
o $16
· Charcuterie, Imported & Domestic Cheese
§ $19
· Parmesan Truffle Fries
o $11
Greens 
· Del Mar Cobb Salad
o $17
· Grilled Chicken Caesar Salad
o $17
· Summer Beet Salad popular
o $17
Entrees
· Brandt Beef "The True All-Natural" Cheeseburger
o $17
§ Add Applewood Smoked Bacon for $3
· Roasted Turkey Sandwich
o $17
· Brandt All-Natural Corned Beef Rueben
o $19
· Beer-Battered Fish Tacos
o $15
· Crispy Chicken Tender Basket popular
o $17
§ Upgrade to Truffle Fries $4
Sweets
· Basque Cheesecake popular
o $10
· Mini Chocolate Fudge Bundt Cake
o $10
On top of their food menu, they offer things like wine, beer, hard kombucha, and non-alcoholic beverages, but we loved trying the signature drinks!
Signature Drinks 
· Del Margarita
o $20-22
· Bulleit Work
o $22
· Strawberry Stirrup
o $20-22
· Del Mary (Bloody Mary) popular
o $20-22
· Summer Breeze
o $20-22
· Make Your Mule
o $20-22
· Del Spritz
o $28
· Red Bull Fecta
o $27-29
· Red Bull Watermelon
o $27-29
Off to the Races
Now that you have a better idea of what you'll find to dine on during this year's 2023 Del Mar horse races, we hope that you feel a bit of ease in your planning. Whether it's food and drink stands or sit-down restaurants that grab your attention, you'll have plenty of dining options to choose from.
Of course, you'll want to show up in your best fascinator if you have one and dress to impress, but your style choices are ultimately dependent on what makes you the most comfortable in your seat and help you beat the heat!
Enjoy your race day, and let us know if you have any questions or comments @sandiegodotcom on socials.