If you first think of the beach when we talk about San Diego and, more specifically, La Jolla, we don't blame you! The beaches in this area are incredible and offer plenty of experiences from sunbathing and relaxing to adventuring into La Jolla Cove and even, get this…hiking around the water and cliffs! That's right, the mountains and cliffside areas of San Diego offer you a new way to get close to the ocean and seek a little adventure, while you're at it.
La Jolla has some fun day hiking trails and hikes that give you views of the ocean, nearby coastal areas, and even the greenery of the hills nearby. As a coastal desert environment, San Diego happens to have some of the best coastal hikes around, and La Jolla is a hub for these hike-worthy spaces. So, you don't have to only think of the ocean when you think of San Diego… you can get the best of both worlds.
We'll talk about our top four picks when it comes to La Jolla Trails and day hikes, how to combine a beautiful trail and beach access, where to get the stunning views you seek, and navigating the La Jolla hiking scene.
Black's Beach Hiking Trail – Black's Beach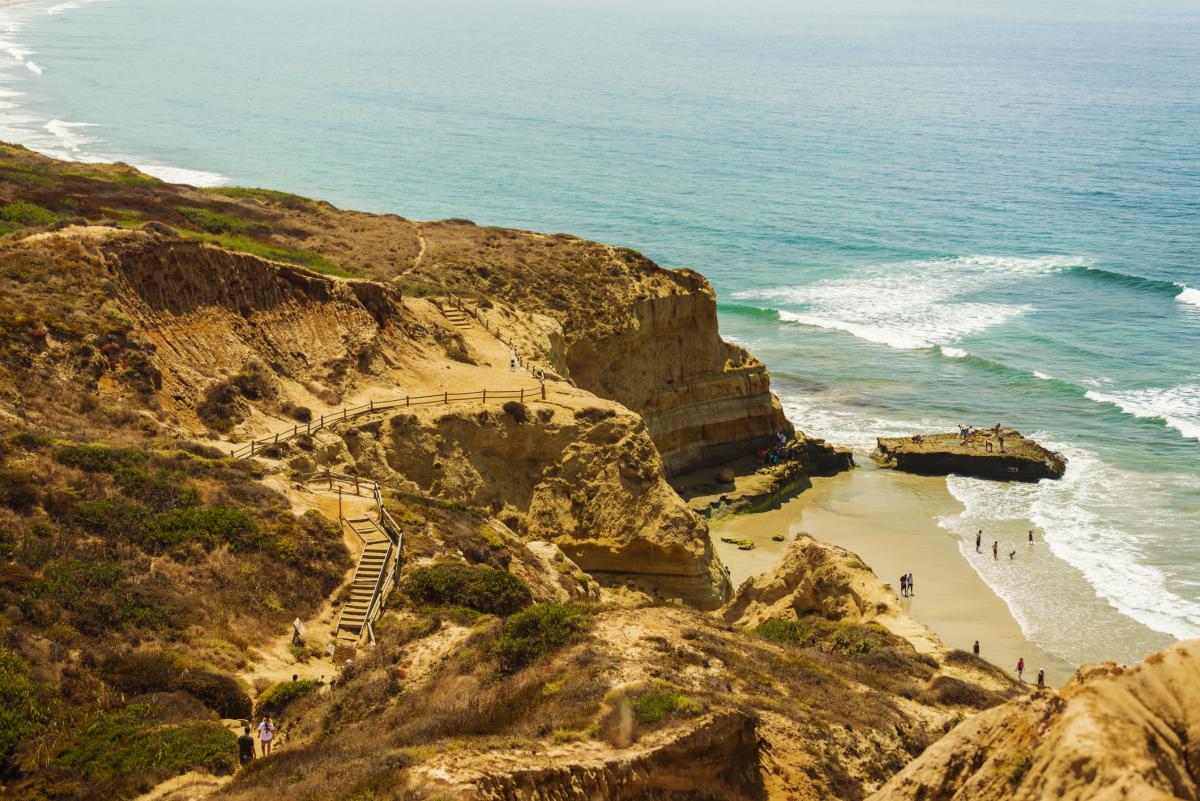 This first trail leads directly down to Black's Beach. Some might think of it simply as a beach access point, but to be truthful, (and from personal experience of not wearing attire that was even remotely geared toward hiking) this is a hiking trail just as much as any other.
In fact, this 1.1-mile trail is steep, and don't let the fact that it's only a mile out-and-back fool you. The elevation gain is 328 feet so, especially on your way back up, you'll want to be prepared for this moderately challenging route. It should take an average of 40 minutes to complete, but hiking times vary per person, of course.
The area is very popular for walking, hiking, and even birdwatching, so you'll be hiking with plenty of other people around. You'll see individuals, families with kids, and even dogs (only allowed on leash) as you make your way down to the popular Black's Beach.
A beautiful space where everyone is welcome, we would be remiss not to mention that this is a nude beach. So, enter at your own risk if this is an experience you aren't quite familiar with.
Saigon Trail (Ho Chi Minh Trail)
Another trail near La Jolla, California, the Ho Chi Minh Trail is generally considered to be a challenging route… so don't let the fact that it is only 0.7 miles roundtrip fool you.
The elevation gain is 282 feet, and the popular trail is open year-round, so you can always expect to be hiking near others. However, dogs aren't allowed on this trail, so you'll have to plan to leave any pups at home.
Combining elements of a slot canyon and a wide-open path, this trail is dry in some places and crosses a bit of water in others. So, bring proper hiking attire as well as water as you embark on this trail.
This coastal trail can be accessed from La Jolla Farms Road, where you can plan to park your car on the street and then walk to the trailhead.
La Jolla Beach Trail – La Jolla Shores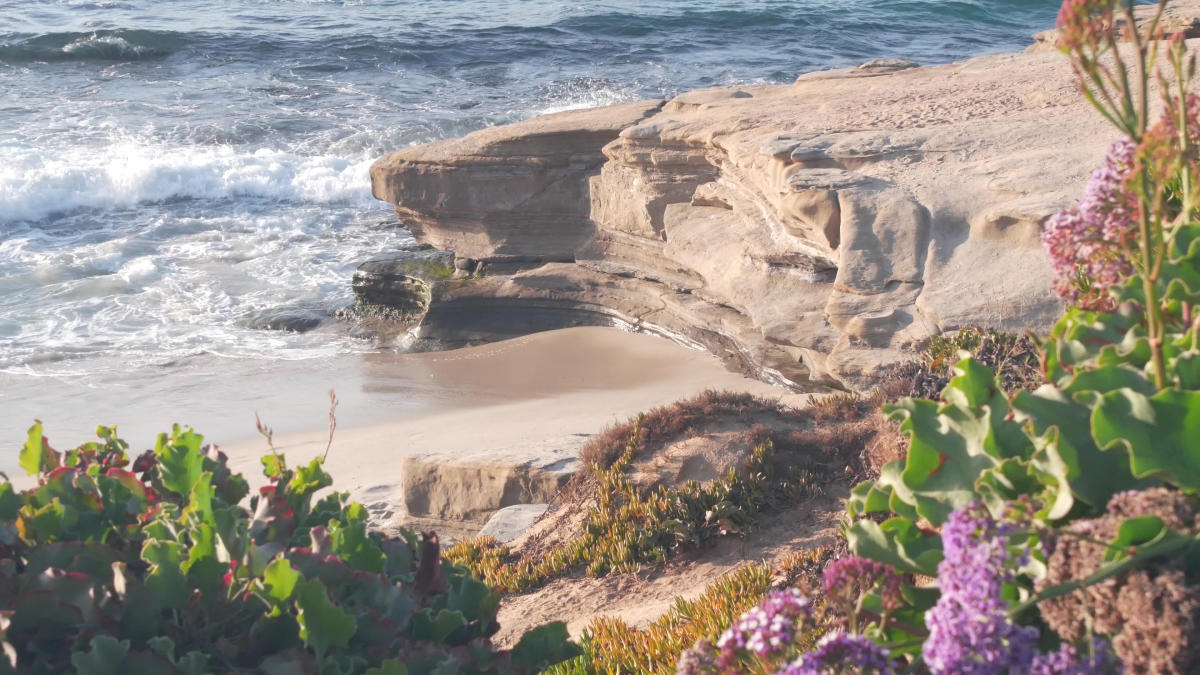 We have an easy route for you, now! The La Jolla Beach Trail takes an average of 50 minutes to complete, which is great for a 2.3-mile out-and-back trail.
There is still some elevation gain, but it's the least that we have seen yet on this list, at just 167 feet. Dogs are allowed, on-leash, here, and it is a great spot to bring even older pups who can't manage the harder hikes anymore.
Like the other trails, this area is quite popular when it comes not only to hiking but also to running, leisurely strolls, and birdwatching. So, expect to see other people as you traverse this trail, which is open year-round for your enjoyment.
Near La Jolla Shores Beach, you can take in stunning views from this La Jolla trail before heading down to the sand to soak in some sun and enjoy a relaxing afternoon next to the Pacific Ocean.
Torrey Pines State Beach and Broken Hill Trail Loop – Torrey Pines
One of the best hiking trails in the area (we think many San Diegans would agree,) the Broken Hill Loop is a moderately challenging route that combines some of the best coastal views of the Pacific Ocean with a trail that winds through the greenery, Torrey Pine trees, and seasonal blooms.
A 3.3-mile loop trail, you can expect it to take about an hour and 20 minutes to complete, on average. Another area that is extremely popular for not only hiking but running, walking, and sitting on a bench overlooking the water, you'll have a bit more space here and will see other people, but can still have a very individualized experience.
The longest trail in the reserve, this trail joins the Beach Trail down to the sand and can be started from either South Fork or North Fork at the highest point of the reserve.
Pups aren't allowed on this trail, though you do see a few from time to time, so plan to leave yours at home to ensure that you and other hikers are most comfortable.
Additional Torrey Pines Trails
In the Torrey Pines area, there are also various trails to explore. The Broken Hill Loop is just one of many great hikes that you can find at Torrey Pines State Natural Reserve.
The reserve itself is made up of 2,000 acres of coastal state park land in La Jolla, remaining one of the wildest stretches of land on the coast of Southern California. Home to some of the country's rarest pine trees, not only is the area unique in its landscape and flora but in the sweeping views that it offers of the coast itself.
So, what are some of the other hikes you can find yourself exploring in Torrey Pines?
Guy Fleming Trail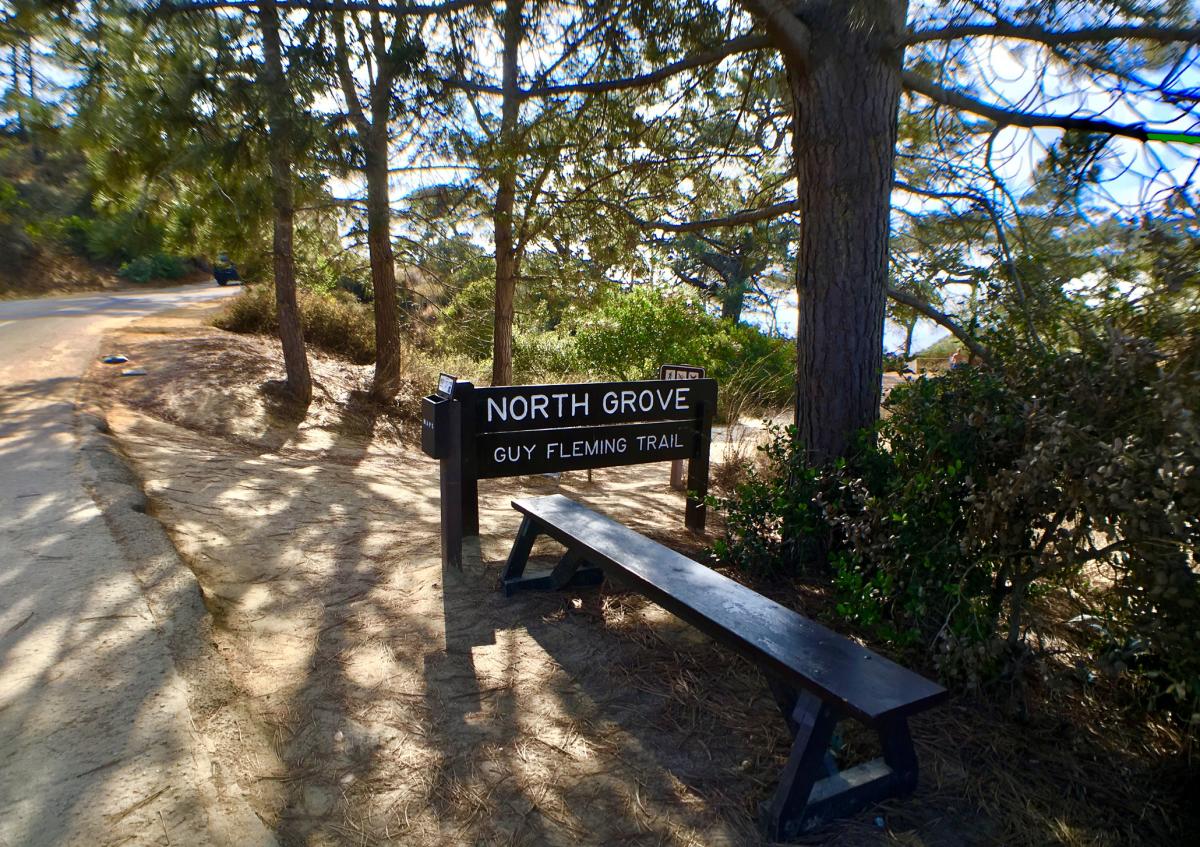 More of an easy walk, the Guy Fleming Trail is one of our top picks when it comes to ocean views, seeing the bluffs close-up, and enjoying a walk that won't feel too overly exerting.
With an elevation gain of only 52 feet, this 0.8-mile loop trail is on the northernmost portion of La Jolla's Torrey Pines region, bordering Del Mar, California.
The route takes only about 17 minutes to complete and is a popular area for those looking to cool down after an even longer hike, get a bit of a walk in, or just take in some views. Like the other Torrey Pines trails, dogs aren't allowed, so you'll have to play with your pups when you get home from this hike.
Of course, this is not the only hike you can find at Torrey Pines State Beach and Natural Reserve. Other hikes include the Razor Point Trail, High Point Trail, Parry Grove Trail, and Beach Trail. Many, if not all, of these trails, connect with one another or are connected via an intermediary trail.
 The Torrey Pines State Natural Reserve trails work together as a system, meaning that you can essentially create your own loops and switch up your hiking path each time you go. Especially if you are a local and plan to make this a regular hiking spot, we recommend trying plenty of other routes to keep things interesting!
Explore Some More!
Now, keep in mind that there are plenty of other great hikes in San Diego for you to explore, regardless of what length, difficulty, and view you are looking for.
There are other La Jolla Hikes to be hiked, from Pottery Canyon to Scripps Coastal Reserve Biodiversity Trail, and many others. Outside of La Jolla, you'll find additional hikes that fit any range of needs, preferences, and accessibility. Things like a coast walk trail, canyon trail, hikes with a nearby parking lot, and views of the downtown San Diego area are also readily available.
You can stay central to the San Diego city limits and hike in Clairemont Mesa West, La Jolla, and Encinitas, to name a few spots, or you can head out to the larger outdoor spaces in East San Diego County like Santee, Ramona, Cuyamaca Rancho State Park, and Poway.
Are you a San Diego hiker? Let us know what you think on socials @sandiegodotcom so that we can continue to help provide information on getting out and exploring the wild side of San Diego.
Until next time, happy trails!