It's no secret that San Diego has some of the best beaches on the West Coast and, by that token, in the entire United States. This is a wonderful attribute of America's Finest City, but we also know that it might make things a little overwhelming as you search for a spot to call your own go-to swimming location.
Whether you even like ocean swims, or you'd rather play beach volleyball, have a picnic with friends, or take a sunrise beach walk, these San Diego beaches offer visitors the opportunity to experience a beach day any way they'd like! So, we'll go through all of the best beaches in San Diego and let you make your final decision.
Take into consideration how far beaches are from your hotel or home, what traffic may look like, and whether you'd prefer to be around people and beachfront shops or if a laid-back surfing haven is more your speed. Regardless, let's dive into the best beaches in San Diego.
Ocean Beach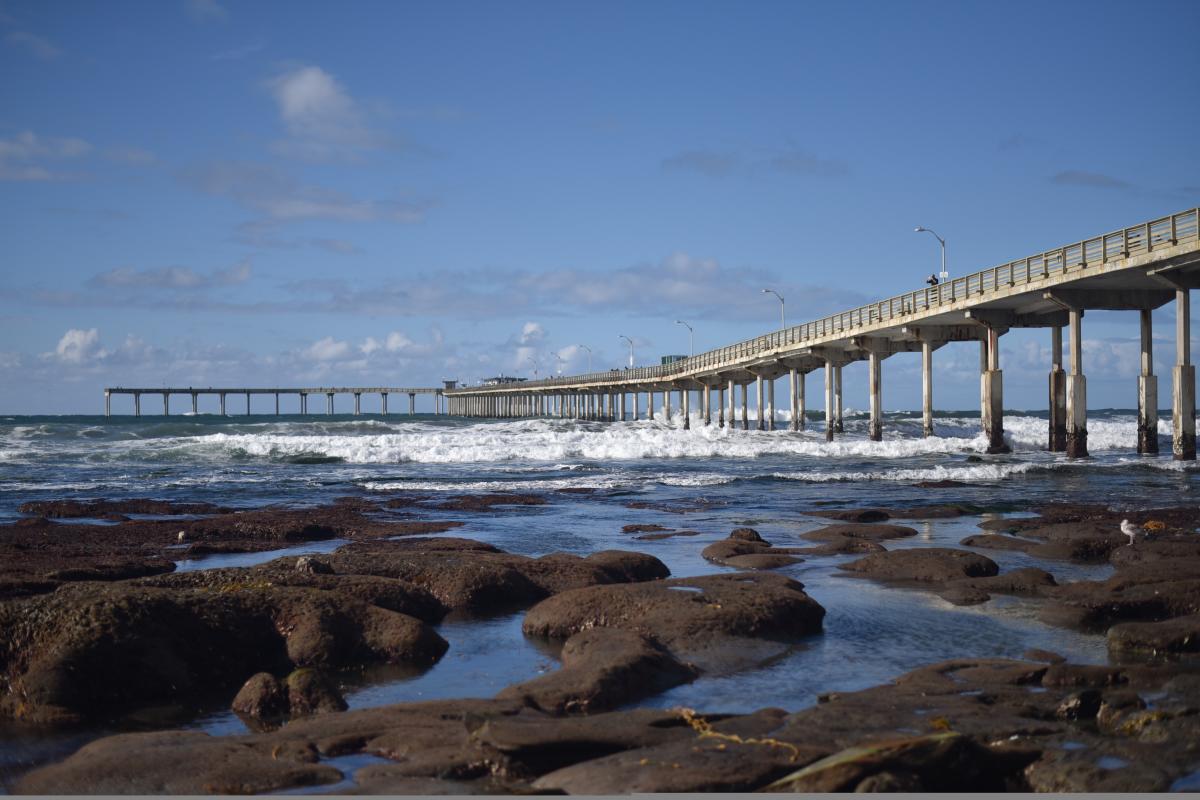 Ocean Beach brings an almost-forgotten classic San Diego beach town feel to the area, which is rapidly becoming more commercialized. You can walk from a nearby hostel or one of many restaurants to the beach, where you'll be able to buy plenty of knickknacks, food, and other goods sold by vendors, often outfitted in tie-dye t-shirts.
Walk out to Ocean Beach pier for a nice view, or come back to the sand for an evening picnic surrounded by music and friends.
South Mission Beach and Beyond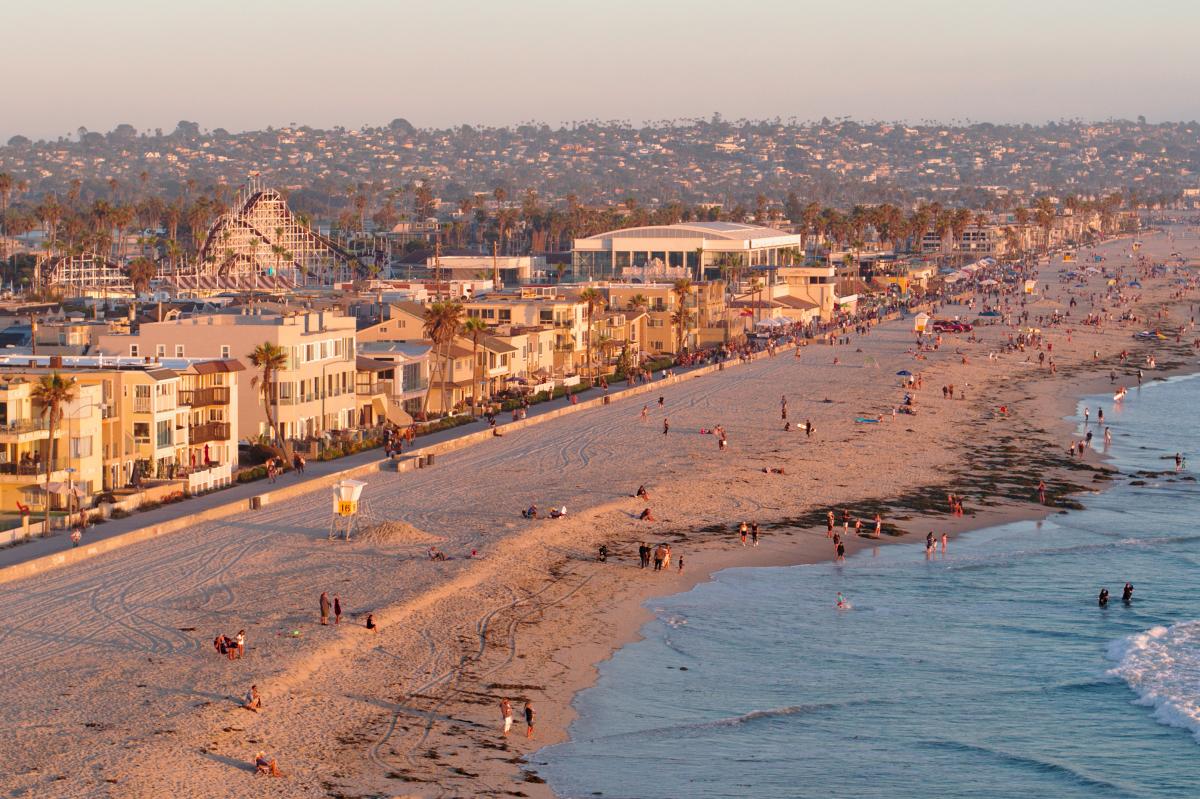 A one-mile stretch of beach, this is bordered by Ocean Beach and Pacific Beach and can be accessed by walking from either area. This, by nature of accessibility, is one of the most popular beaches in San Diego County. Get to south Mission beach from Ocean beach or north beach from Pacific beach.
There are lots of little restaurants, shops, vendors, and beach bars along the water, and it tends to be loud and full of life. A fun beach for volleyball games, beach house parties, and nights out, this may be less ideal for those looking for a quiet swim in solitude.
Pacific Beach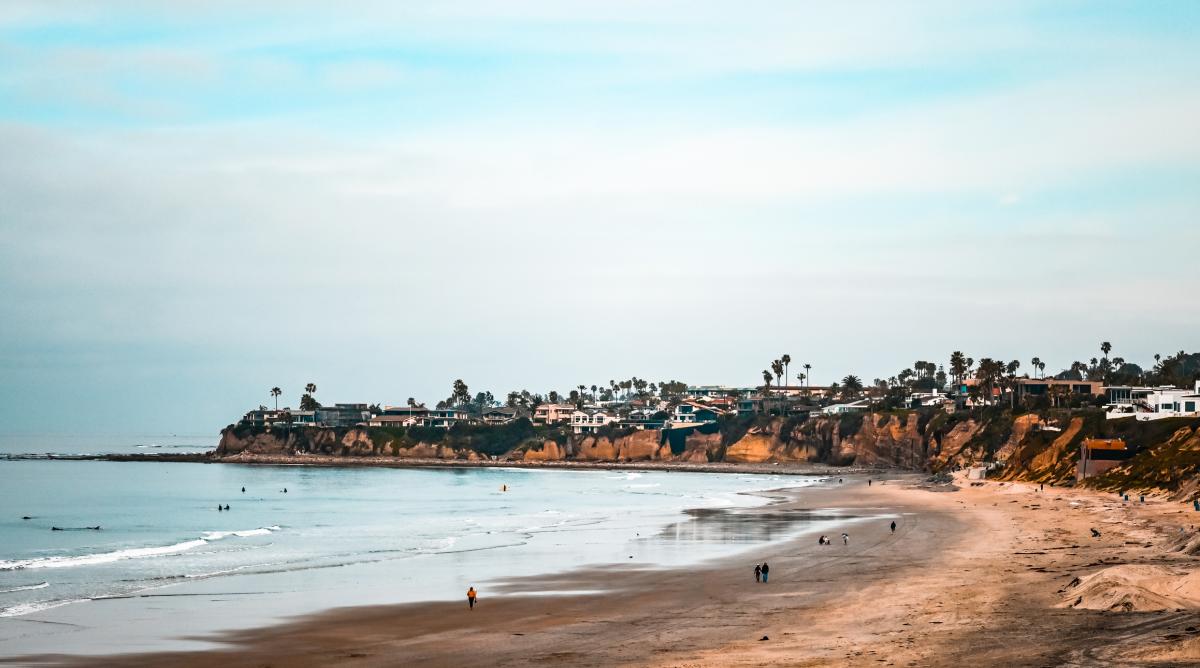 Pacific Beach is a San Diego staple, and its pier includes vacation homes at the base before ending at a point with a restaurant, fishing areas, and great views of the city. This is an extremely walkable beach that can be reached by walking on the boardwalk area all the way from its southern counterpart, Mission Beach.
Pacific Beach itself borders tons of restaurants, beach bars, and beach clubs.
Law Street Beach (North Pacific Beach)
As you continue to walk north up Pacific Beach, you'll hit Law Street Beach, which has more hotels and grassy areas for sunset yoga and impromptu picnics. The area gets quieter and a bit less busy while still offering the chance to walk a block or two inland and grab great food and drinks
Del Mar Beaches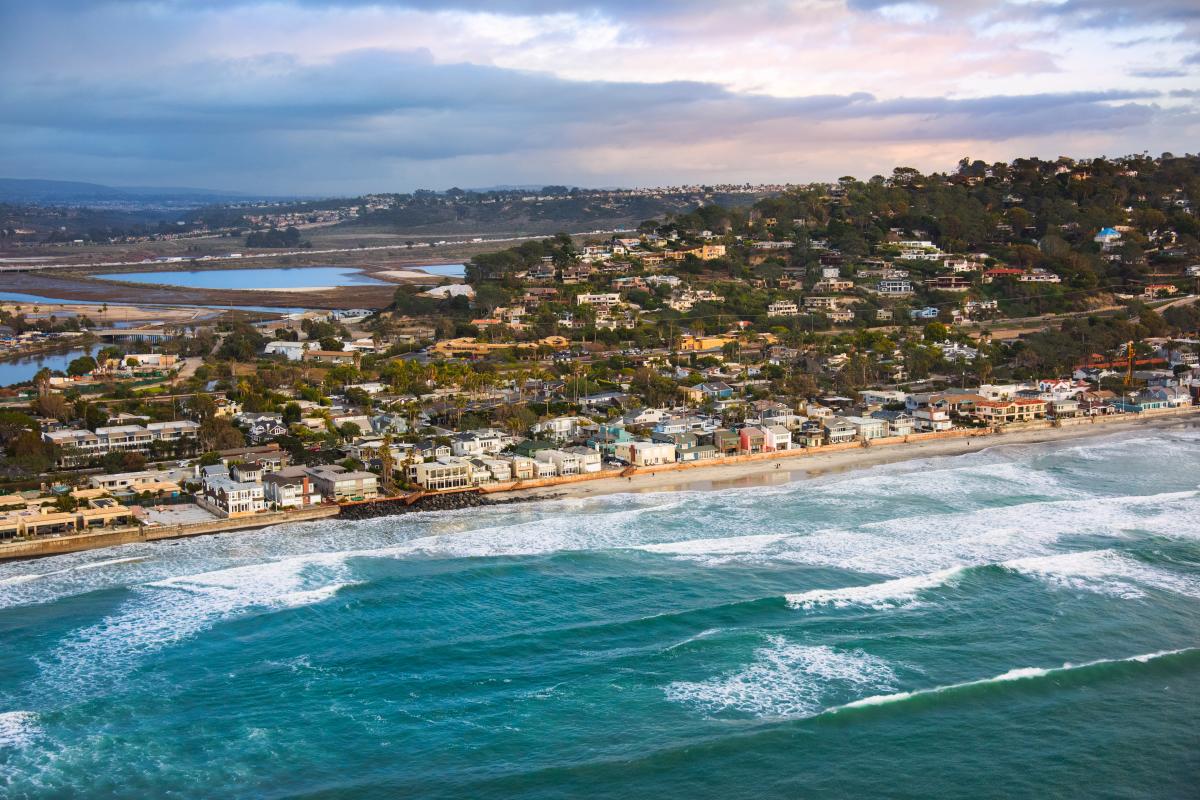 Del Mar has arguably some of the best beaches in San Diego, from Del Mar City Beach to North Beach, with nice sand, long stretches of unbroken coastline, and easy access to the water, in stark contrast to some of the other nearby beaches that require a hike down cliffs to access the sand and water. Here, you can find street parking and be on your towel or throw a frisbee in the water in no more than 5 minutes.
Del Mar Dog Beach – North Beach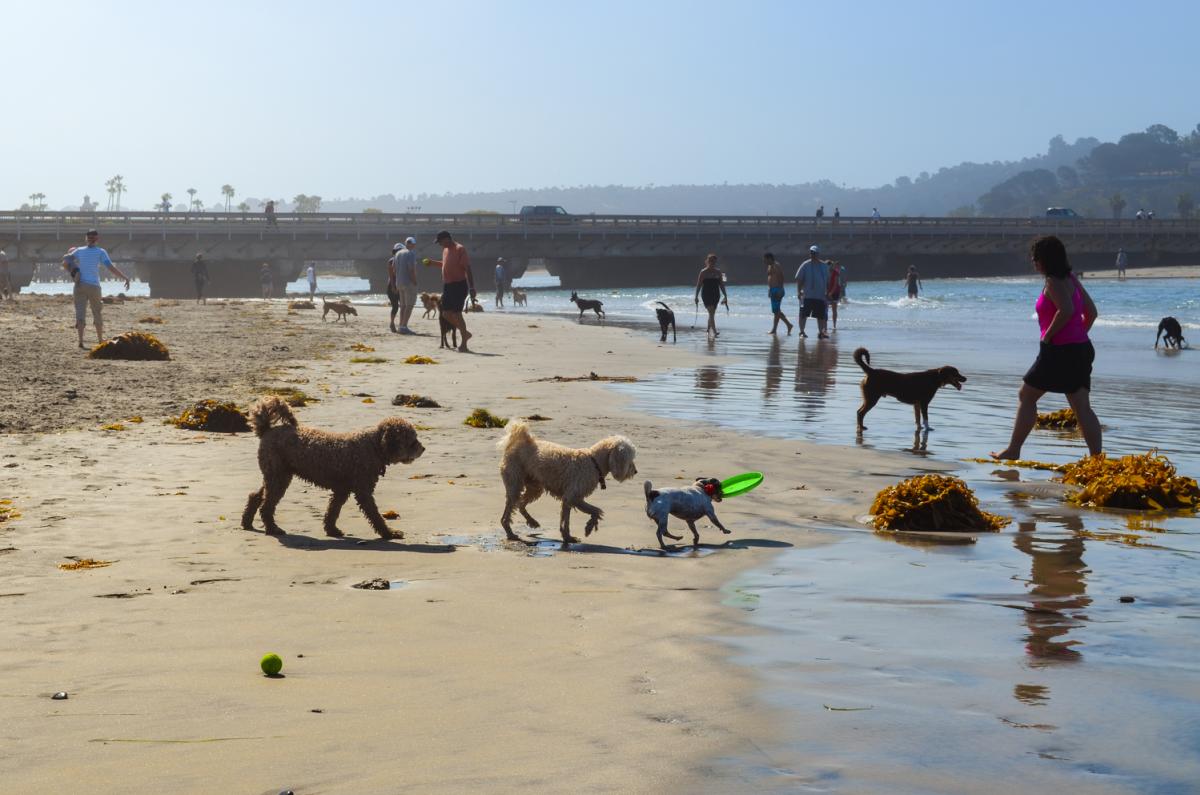 We would be remiss not to mention Del Mar Dog Beach, which is not only the perfect spot to bring your pup but also a wonderful area to get in the water, walk on the sand, play volleyball at the courts near a hill, or walk up the hill for a perfect view of the sunset (and all the dogs playing below.)
This is also technically called Del Mar North Beach, as Del Mar changes to Solana Beach shortly after this point. 
South Carlsbad State Beach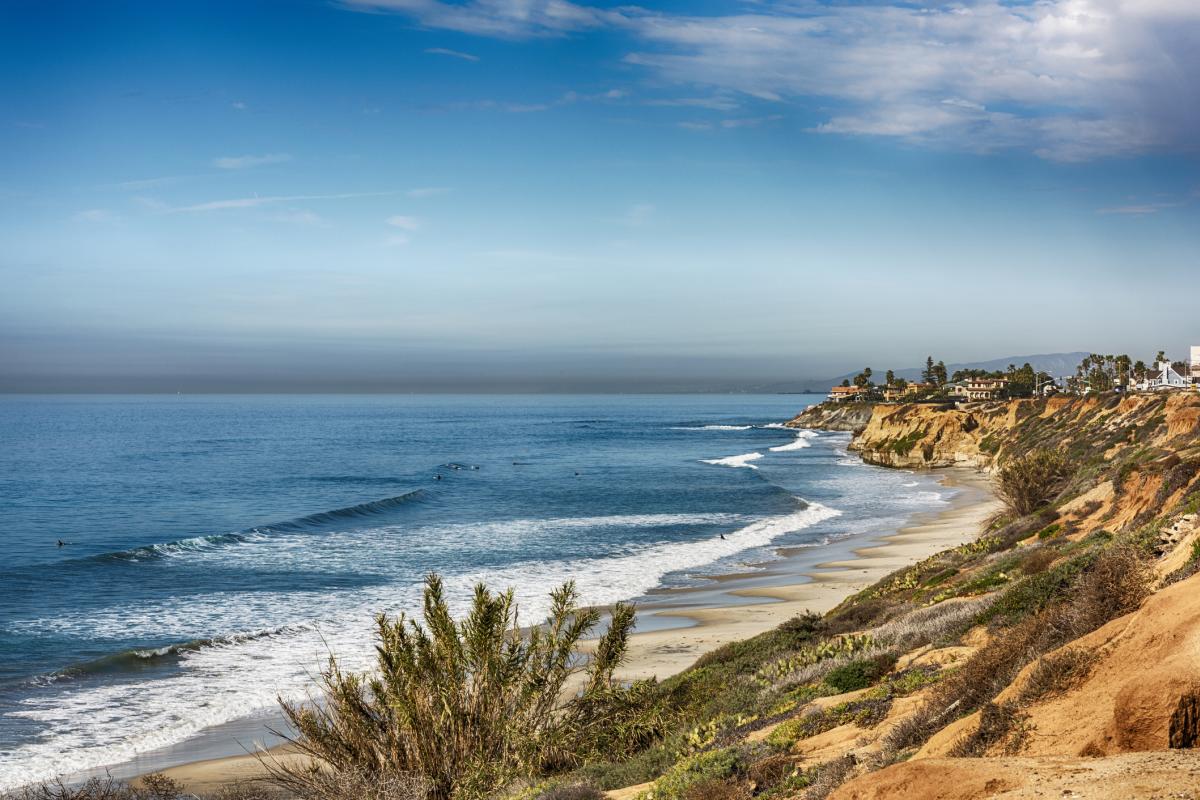 Less accessible than some of the Carlsbad beaches thanks to more rugged cliffs with fewer entry points, this might not be great for some that prefer a quick commute to the water. On the other hand, people who enjoy a secluded space love this beach.
The beach is perfect for a stroll or a morning jog and can even be capped off by a quick jog up the stairs to get to the top of the bluffs (unless you prefer a post-jog cooldown instead of a final push of cardio, that is.)
Lifeguards patrol in vehicles, but there are no lifeguard towers or public restrooms, so prepare ahead of time for this.
Moonlight State Beach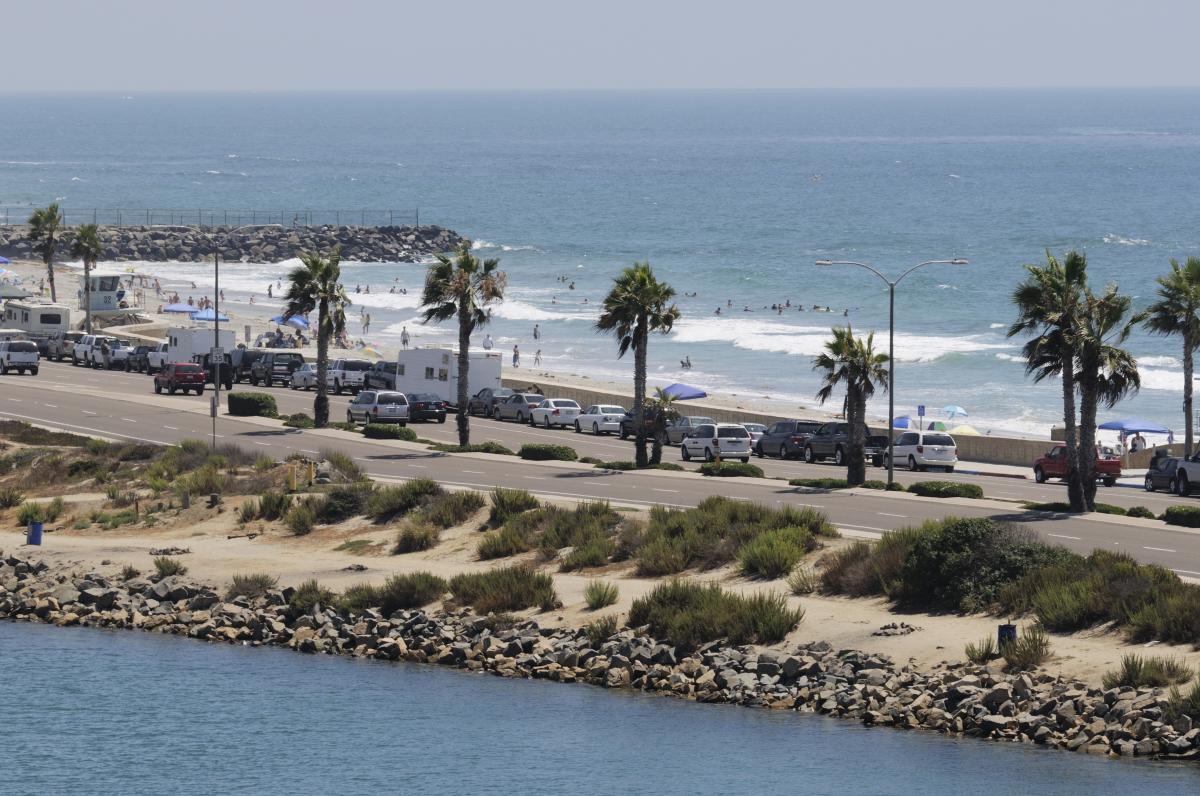 A gorgeous beach in Encinitas, Moonlight Beach has lifeguard towers and patrol, volleyball nets, an expansive parking lot to make for easy access, picnic tables, and more.
This one is quite popular among everyone who visits, thanks to its live music during summer evenings, space for small parties and gatherings, restrooms and showers, concessions area, and less crowded stretches of sand the further down you walk.
Moonlight State Beach combines aspects of many of the best San Diego beaches by including amenities and crowded central areas with smaller stretches of sand at the bottom of the cliffs that taper off into perfect picnic spots.