As cooler weather rolls into San Diego, the excitement level starts to ramp up in anticipation of holiday festivities. Holiday lights are popping up all around town, Christmas trees are getting decorated, and holiday music is playing to evoke the holiday spirit. Brave San Diegans have hit the shopping malls and joined the hustle and bustle of the season - but there's plenty more to do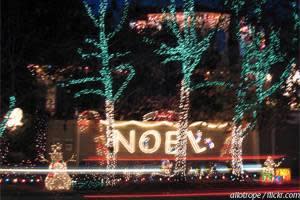 besides picking out presents for loved ones. Christmas events in San Diego are as fun for little Johnny and Susie as they are for Mom and Dad.
Santa and his reindeer will soon be on their way here from the famous North Pole! In the meantime, plenty of Christmas events in San Diego will keep you and your family busy until Old Saint Nick's arrival. Since San Diego weather is so pleasant, you won't have to go over the river and through the fields in order to check out all the fun. Enjoy a breezy cruise on over to these San Diego Christmas events. We've made a list, checked it twice and now we are sharing where all the holiday fun is in the town that we call home. Happy holidays, San Diego!
Balboa Park December Nights: Families and friends can gather for Balboa Park December Nights, now in its 39th year. Wander through Balboa Park and see top-notch musical and dance performances by the San Diego Junior Theatre, San Diego Civic Youth Ballet, Del Cerro Baptist's Christmas Story Tree and more. Food lovers can get multi-cultural cuisine from many vendors, including the House of Pacific Relations Cottages. Unique gift shopping is available - find the perfect presents at museum stores and from Spanish Village artisans. You and your loved ones can visit Balboa Park museums, many of which will feature free admission from 5pm to 9pm. Check it out Friday, December 21 between 3pm and 11pm and Saturday, December 2 between noon and 11pm.
San Diego Bay Parade of Lights: Take your family to the San Diego Bay Parade of Lights. More than 80 boats decorated in fun holiday style will cruise across the waters in a procession. This year's theme for San Diego Bay Parade of Lights is "Christmas around the World". Some of the boats play Christmas music, other boats have participants dancing and being silly on board, and all the boats add great energy to the holiday season. You've got two dates for checking out the parade - Sunday, December 10 and Sunday, December 17. On both dates, the parade is from 5:00pm to 9pm. Make sure to be there early - find good parking spots! For the best viewing of San Diego Bay Parade of Lights, Harbor Island, the north and south ends of the Embarcadero, the pathway along Coronado, and the park behind Seaport Village are good spots to stake out.
Port of San Diego Big Bay Balloon Parade: Downtown San Diego streets right by the gorgeous bay will be filled with world-class marching bands, festively decorated floats, lively drill teams, and eye-catching balloons. San Diego's balloon parade features more balloons than any other parade in the U.S. More than 100,000 spectators and a nationwide television audience will be entertained by this year's Port of San Diego Big Bay Balloon Parade. You can see "America's Largest Balloon Parade" on December 28, starting at 10am. The fun continues after the parade with the Family Festival, so bring your kids so that they can play games and enjoy entertainment just for them.
Christmas events in San Diego are plentiful, so pull out your calendar and pencil these events into your holiday season! You've seen Christmas lights before, but just wait until you see Holiday of Lights at the Del Mar Fairgrounds. More than 400 light displays will bombard your senses and fill you with holiday cheer. For an especially fun Holiday of Lights experience, make reservations for you and your loved ones to take the Holiday Hayride. Included with your Holiday Hayride ticket are music, fire pits for roasting marshmallows, hot cocoa or cider, and a big Christmas cookie. Balboa Park December Nights is a San Diego tradition that you can continue with your family. Eat food, find great gifts, visit museums offering free admission, and take in plenty of live music and dance entertainment. With such fun San Diego Christmas events happening, you and yours can have plenty of quality time together during the best time of the year. Bundle up, be safe and enjoy the season!