So, you're moving to Camp Pendleton - welcome to the land of perfect SoCal weather, beautiful beaches, and majestic mountains!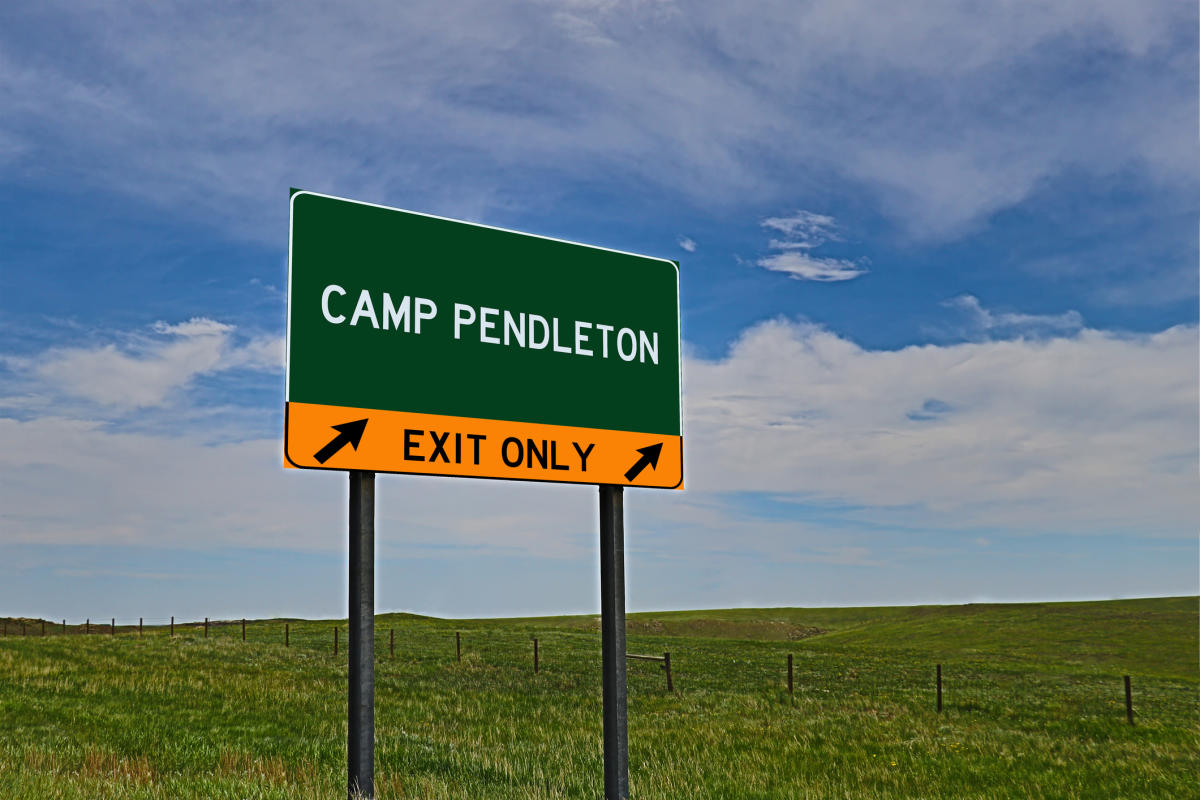 San Diego's rich military history is a huge part of the culture - it is home to more military personnel than any other city in the United States. More than 100,000 active duty service members call San Diego home. With gorgeous beaches, mouthwatering restaurants, perfect weather year-round, and plenty of things to do - it's no wonder so many military families stationed in San Diego don't want to leave. Now, more than 240,000 military veterans call the city home.
There are several massive military bases located within San Diego County limits where service members work, live, train, and make the most out of military life. These include two of the prime amphibious training bases on the West Coast. For the Navy - it's Naval Base San Diego. For the Marines - it's the famous Marine Corps Base and Marine Corps Air Station Camp Pendleton - the largest military base in the state of California.
If you're about to make the move to Camp Pendleton, or even if you're just doing some preliminary research before you receive your official orders we've created this guide with everything you need to know - from things to do around the city, to find the perfect housing for your family. Let us be the first to welcome you to Southern California! 
About Camp Pendleton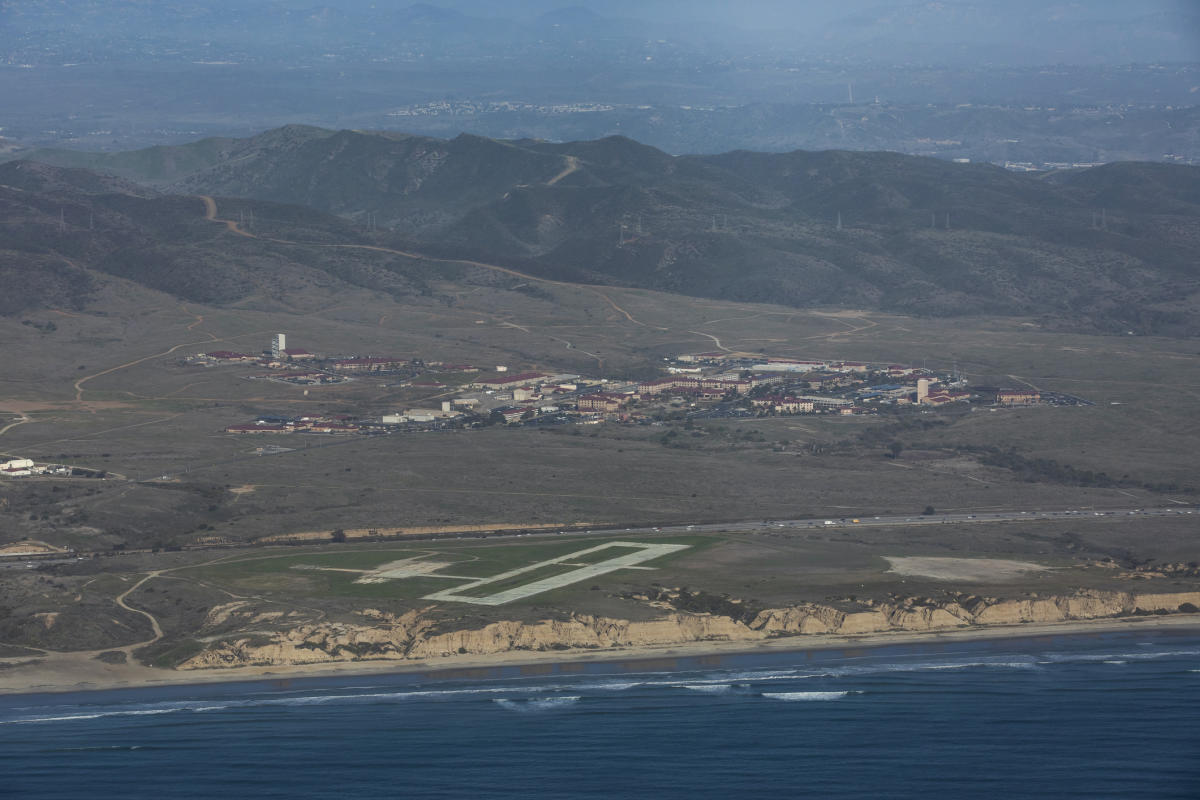 Camp Pendleton is massive! It occupies around 125,000 acres, with more than 17 miles of coastline. Interestingly, the Marine base also plays an important ecological role in Southern California ecosystems. Camp Pendleton is the only military base on the West Coast where air, sea, and ground assault training is executed.
The area surrounding the base is heavily developed with cities, towns, and houses along the coast. Each year, more and more people move to the region due to its ideal climate and beautiful setting. In contrast to the nearby cities, more than 80% of the land Camp Pendleton occupies has remained undeveloped. The Marine Corps is committed to environmental protection so that the land can be used for generations.
The virgin ecosystem provides excellent terrain for military training, but it also protects important natural ecosystems like tidal estuaries, riparian corridors, rolling hills, canyons, mountains, and coastlines. These spaces provide critical habitat for more than 1,100 species of flora and fauna, including 18 federally endangered or threatened species. There is even a roaming heard of bison on base!
Those who chose to live on base have an immense appreciation for the natural beauty of the area. In addition to the wildlife, service members and their families get to enjoy on-base amenities like community centers, playgrounds, gyms, schools, and more.
Camp Pendleton History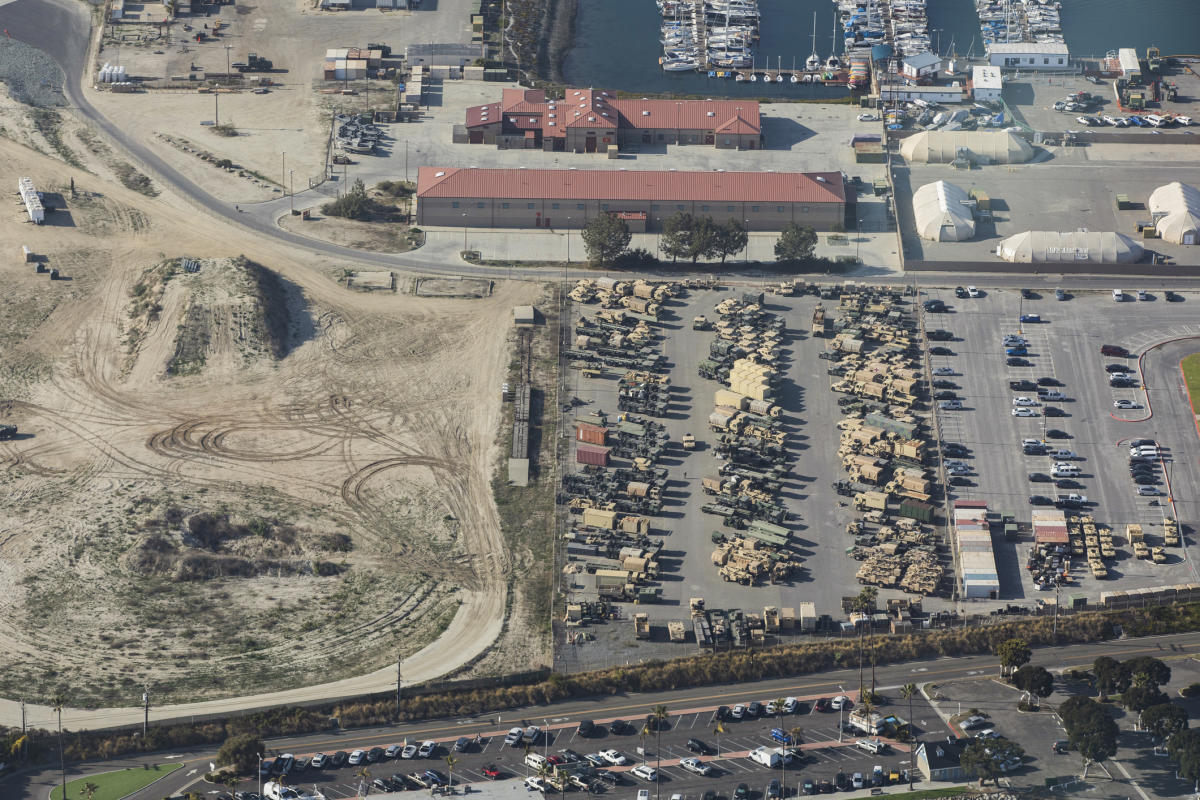 Camp Pendleton has a fascinating history. The land has been occupied since the late 1700's first by Spanish explorers and missionaries, and later by ranchers who raised cattle on the property and made an immense profit.
In 1941 President Roosevelt called for the expansion of all branches of the United States armed forces. It was clear that need for more amphibious force training facilities, and so the Marines began to search for the ideal West Coast base. By April 1942, it was announced that a large ranch in Oceanside, California would become the new Marine Corps base, and Camp Pendleton was born. The property was purchased for $4,239,062.
Initial construction took around 5 months, and then the first troops were brought in. The first Marines on base were the 9th Marine Regiment with the 1st Battalion, 12th Marines. They marched all the way from the Camp Elliot base, which is located in the city of San Diego. The official dedication ceremony was held on September 25, 1942. It was named to honor General Joseph H. Pendelton who fought in WWI and was a big advocate for developing a West Coast base with facilities.
After WWII the base continued to grow, and it was one of the main training facilities for 200,000 troops who served in both the Korean War and Vietnam War. In the 1980s Camp Pendleton grew yet again, and the Marines added infantry, air power, armor, and more. The base played an important role in deployment to multiple combat zones.
Where is Camp Pendleton Located
Camp Pendleton is located in Southern California in a city called Oceanside, which is within North San Diego County on the coast of the Pacific Ocean. Downtown San Diego can be reached in around 45 minutes from the Marine Corps base camp. Some nearby cities include Escondido, Carlsbad, San Marcos, and San Clemente.
How many people live on base at Camp Pendleton?
Camp Pendleton is one of the largest military bases in the country and is currently the largest Marine Corps base in the country. Many troops choose to take advantage of the excellent housing options on the base. Over 42,000 active troops live on-site along with 38,000 family members. In addition to the active-duty service members, more than 77,000 retired military members live within 50 miles of Camp Pendleton and can take advantage of Base perks like commissary and medical services.
Camp Pendleton BAH
BAH stands for basic allowance for housing. It is paid out to service men and women in order to help offset housing costs for service members who do not receive government housing. Individual BAH rates are determined by a number of factors including rank and family size.
Where you live also place a major role in BAH rates. More expensive parts of the country (like San Diego) will have higher BAH rates than other parts of the nation. Higher BAH rates are paid to troops who have dependents and require family housing. The Marine Corps recognizes that housing costs are increasing, especially in Southern California, so the BAH rates have increased around 15% since 2022.
The 2023 BAH rates for Camp Pendleton are as follows: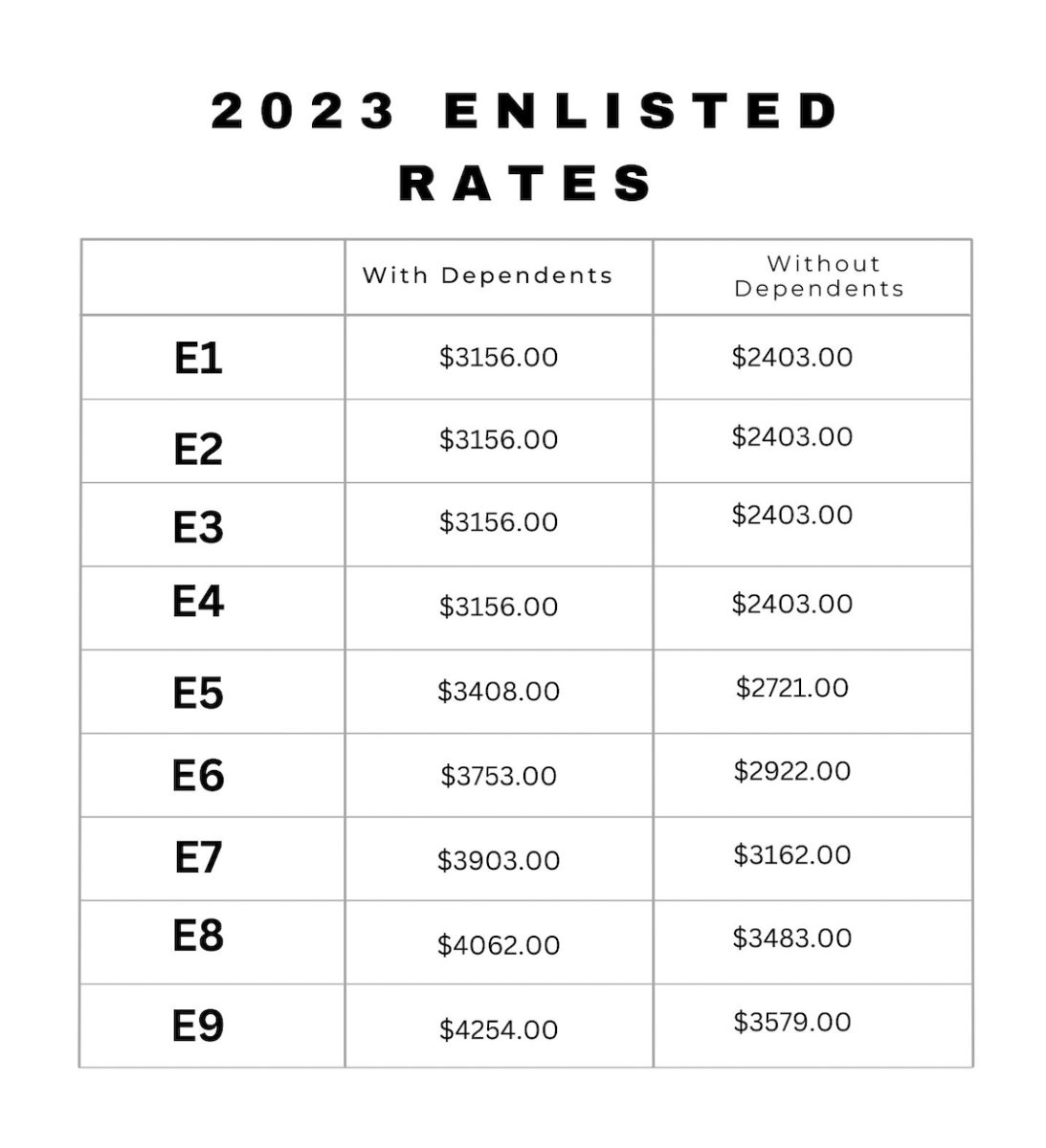 Camp Pendleton Housing Office
The Camp Pendleton Housing Office is your one-stop shop for all of your questions and concerns regarding on-base housing. Moving can be stressful, especially if you're new to the military or have never visited San Diego County. The office will help with relocation services and duty stations for both Marines and their family members.
At the Main Housing Office, experts will help you learn about available on-base options as well as walk you through the process of acquiring off-base housing options.
To reach the Main Housing Office, you can call 1(760)725-5995. Families with kids and higher-ranking military personnel can call Lincoln Military Housing at 1(760)712-3788 or Deluz Family Housing at 1(760)385-4835.
Military Homes for Rent in Oceanside, CA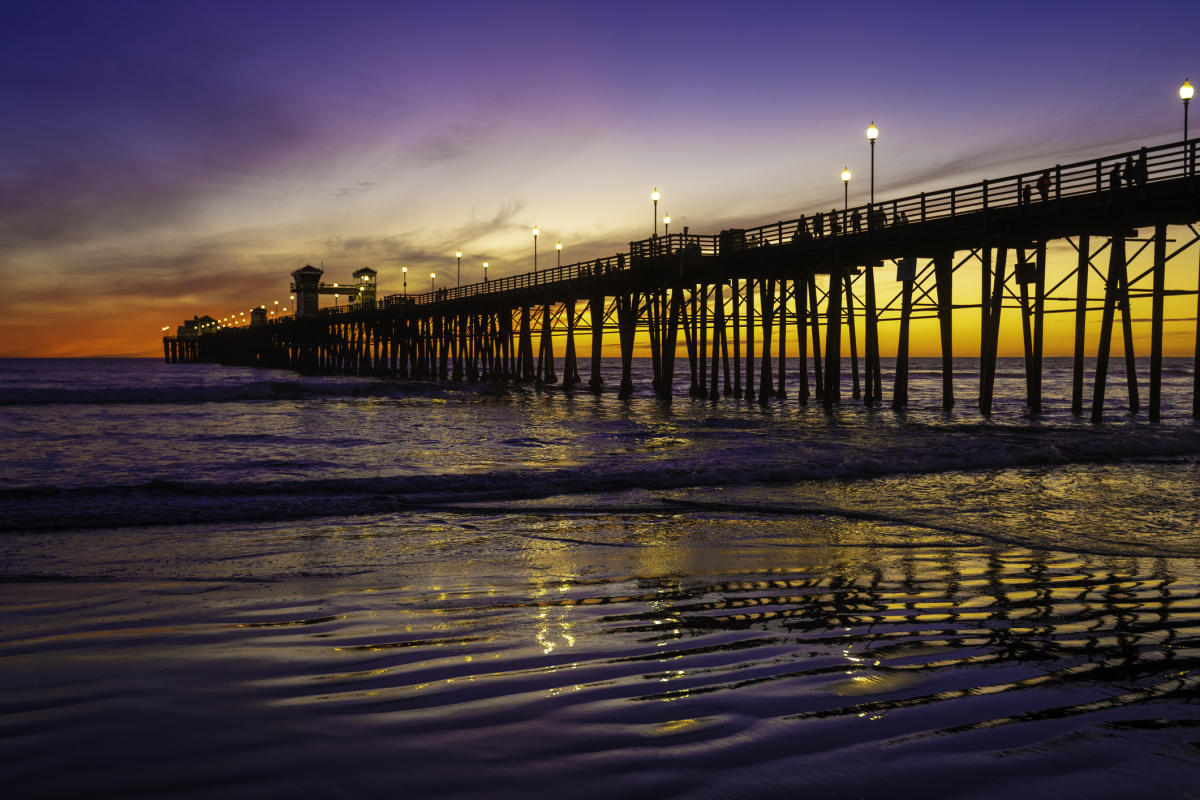 Most of Southern California is densely populated, especially along the coast. The neighborhoods surrounding the base are rather affluent, meaning the cost of living, including rent, isn't cheap. That being said, with the generous BAH rates in the area, service members and their families should have no trouble finding a place with all of the home features to meet their needs.
For service members who want to remain in close proximity to Camp Pendleton, but prefer to live in off-base housing, Oceanside, CA is an excellent choice. Oceanside is a military town and is just outside of the Main Gate to Camp Pendleton in the south. Within the city of Oceanside, there are several communities, particularly for military service members and their families. About 2/3rd of military families stationed at Camp Pendleton choose to live off-base, and many of them find their homes in these communities.
Del Mar I
Del Mar I allows you to be close to Camp Pendleton, while close to all of the Oceanside activities and attractions. The military community is close-knit and residents love the 3 and 4-bedroom family homes. It makes the perfect place to enjoy Southern California living, while the convenient location will set you up for success during your time stationed at Camp Pendleton.
San Luis Rey
San Luis Rey is another awesome off-base military community option that offers 3 and 4-bedroom family homes that are pet friendly. You'll be within a great school system, close to the base, and have access to all of the wonderful shopping and dining in Oceanside.
South Mesa I
South Mesa's community is described as warm and welcoming. You'll be close to the base as well as some of Oceanside's best schools, shopping, and dining.
Other popular areas to live
Other cities that border the base include Fallbrook to the east and the City of Clemente to the north. Each of these cities will offer excellent opportunities to find homes for rent.
San Onofre I
Located in the City of Clemente, San Onofre I offers tons of variety to suit the needs of your family. There are 2, 3, 4, and 5-bedroom homes available for rent. You'll be close to the base, as well as shopping and dining. Plus, Disneyland is only a 40-minute drive from San Onofre!
Camp Pendleton Family Homes
Welcome to Camp Pendleton, where your family home awaits! Camp Pendleton offers plenty of excellent options when it comes to on-base government housing. About 1/3rd of the Marines stationed at Camp Pendleton choose to live on base. There are around 6,680 housing units available on-site, and there is generally a wait of up to 16 months. There are schools located on the base as well as shops, dining, post offices, and everything else you would expect from a thriving community. So, who gets to live on base? On-base housing is available to active-duty military service members and their families. Availability depends on multiple factors like rank, family size, and area requirements.
Liberty Military Housing
There are more than 7,000 single-family homes that make up the Liberty Military Housing complex at Camp Pendleton. They are spread out amongst 22 separate communities. One of the benefits of living in Liberty Military Housing is that there are generally no out-of-pocket expenses, and utilities are included as part of your rent. There aren't any deposit fees or credit checks.
DeLuz Family Housing
DeLuz Family Housing is managed by Hunt Military Community and offers beautifully renovated gated community homes in 3 different communities with 712 total houses. This community is available to all Active Duty Military service members, and as of April 2023, there is availability. Amenities include community events, walkable neighborhoods, central AC, and new appliances.
Short-term stays at Camp Pendleton
If you're visiting base for a short time, or coming to find the perfect housing for your family before you move, there are some excellent short-stay options on Camp Pendleton as well that offer extremely affordable rates and comfort and convenience for the whole family.
Pacific Views
Pacific Views offers comfortable rooms with ocean views that can accommodate Marines, their families, and even four-legged friends! Deluxe rooms cost $138 per night and spacious sweets cost $165 per night. Amenities include wifi, fitness facilities, picnic areas with grills, laundry, and a business area. You'll be close to Pacific Views shopping and dining.
Schools at Camp Pendleton
Camp Pendleton has wonderful schools for elementary and middle school-aged children. At this time, there are no high schools on base, but there are many top-rated schools in the communities surrounding Camp Pendelton that offer excellent education and preparation for University. 
On-base Elementary Schools 
North Terrace Elementary School (Wire Mountain Housing Area)

Mary Fay Elementary School (De Luz Housing Area)

Stuart Mesa Elementary School (Stuart Mesa Housing Area)

San Onofre Elementary School (San Onofre Housing Area)
On-Base Middle Schools 
Stuart Mesa Middle School (Stuart Mesa Housing Area)

Santa Margarita Middle School (Wire Mountain Housing Area)

Mary Fay Middle School (De Luz Housing Area)

San Onofre Middle School (San Onofre Housing Area)
Things to do near Camp Pendleton
If you're lucky enough to get orders to Camp Pendleton, rest assured that you and your family will never run out of fun things to do in San Diego County. You'll be driving distance from downtown San Diego which offers tons of family-friendly activities like trips to Balboa Park and the world-famous San Diego Zoo as well as endless shopping and dining options.
You can spend weekends exploring the beautiful beaches and enjoying year-round outdoor recreation like hiking, biking, and surfing. Just next door to the base you can explore the thriving community of Oceanside and walk along the longest wooden pier on the West Coast. You might even choose to take up surfing - San Onofre Recreation Beach is an ideal spot to catch a wave.
However you choose to spend your time, we know you will love being based at Camp Pendleton, and enjoying all of the amenities and activities San Diego has to offer! Welcome home!