When you think of access to vineyards and wineries in Southern California, your search might tend to be limited to…well, Southern California. If you love Temecula and its many wineries, we urge you to broaden your search further south, to Mexico's Valle de Guadalupe. The area is constantly gaining more notability, though it has long been a hub for Mexico's wine exports.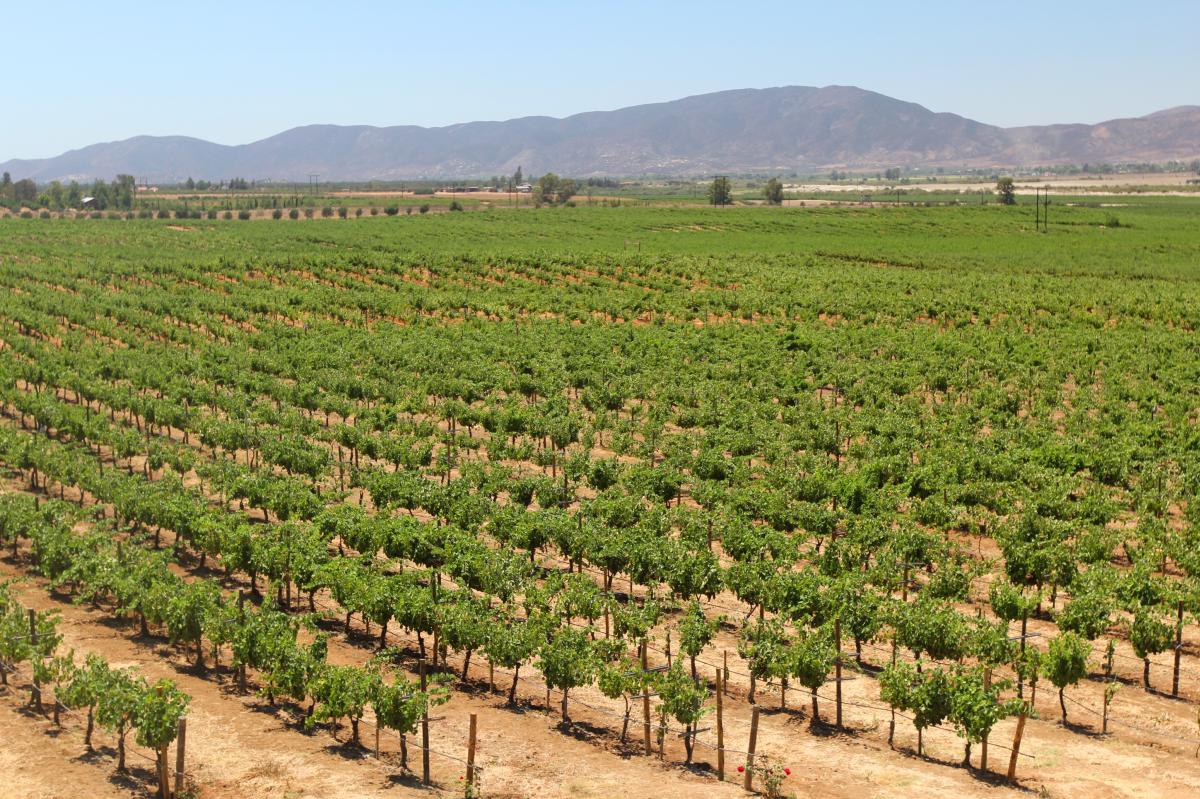 The Valle de Guadalupe region, closest to the popular coastal town of Ensenada, is known for its amazing wines, producing the majority of the product used by the whole of Mexico. Wineries like L.A. Cetto, one of the oldest producers in the region, are behind most of the popular table wines seen across the country.
If you're looking for a wine-tasting experience that features local wine, can be done in a day, and can be reached on your own, via public transportation, or as a guided tour with a tour guide, we encourage you to head down past the 'playas de Tijuana' and into the Valle de Guadalupe. Not only is it a picturesque drive, but you'll have the ability to relax, drink great wines, and even add an additional little food tour to your visit.
Finding a Valle de Guadalupe Wine Tasting
To find the best Valle de Guadalupe wine tasting, you should remember that each experience is subjective, and a recommendation from one person with a certain set of preferences might be extremely different than what you'll get from another who enjoys different things.
We can recommend a few regional vineyards and wineries, though it is hard to go wrong with a visit to any of the area's great local institutions.
Some of our top choices:
Bruma
An eco-wine resort, Bruma produces not only delicious wines but stunning views. If you have more than a day…stay at their on-site accommodation, dine in their restaurant, and explore the grounds.
Vena Cava Winery
This boutique winery is built on sustainable practices, showcases an eclectic tasting room, and offers only organic wines. They combine modern and old-world methods to create beautifully balanced wines.
Troika Food Truck
The winery also hosts a food truck, with seafood, salads, and meats that pair well with the Vena Cava wines they sell right there at the truck. Enjoy a delicious lunch as you continue along with your full day of wine tastings.
Nativo Vinicola
A cozy winery, they also have on-site accommodation and a restaurant for those with more time to stay and enjoy their local wines. If you're here on a day trip, enjoy a quick snack in the courtyard after your wine tasting and before moving on to the next place.
El Cielo
One of the top producers of Mexican wines, this vineyard's solar panels, spacious area, and diverse wines helped it to be recognized by the Ensenada government as the first eco-responsible company in the region back in 2015.
L.A. Cetto
One of Valle de Guadalupe's oldest producers, this spot is also the largest producer of Mexican table wines and exports to nearly 20 countries globally. A famous spot, this one is still a must-try, thanks to its many awards.
Monte Xanic
The picturesque wooden deck that acts as a tasting room helps to create a unique experience surrounding your winery visit. Enjoy your 4-wine tasting with a view of mountains, trees, and the pond that sits right in front.
Villa Montefiori
Famous for its French and Italian varietals, it is hard not to love this brilliant red exterior and the beautiful views of the landscape from this winery's glass-walled tasting rooms. With yummy food and a great space to explore, you can be sure you'll love your experience here.
Getting to Valle de Guadalupe
There are a few options here when it comes to getting from San Diego down to Valle de Guadalupe in northern Baja California.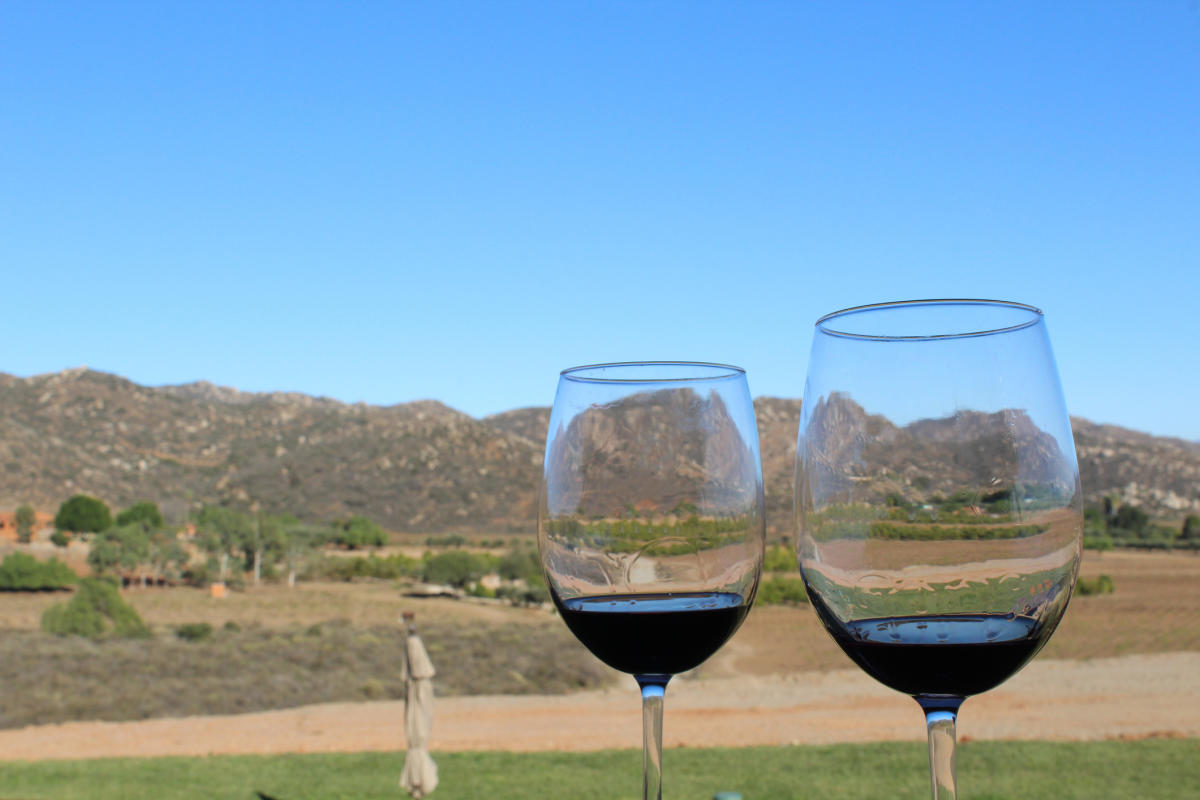 If, for any reason, you're concerned about taking your own car down to Mexico (or are visiting San Diego and don't have a car) you might choose to take the Blue Line trolley from downtown to the San Ysidro border crossing point. Once you enter Tijuana on the other side of the border, you can take a bus down to Ensenada, call an Uber if you really prefer, or find a tour that is offered that will take you all the way down.
Otherwise, the easiest option is going to be driving yourself down through Baja and into the popular Valle de Guadalupe region. A bus may be cheaper and a tour might be more convenient, but driving your own car gives you a mixture of autonomy over your day, a decent price tag, and can offer a fun opportunity for a road trip through this stunning region of Mexico.
You can still take a wine tour, which may be a bit pricey but will include your transportation and itinerary while you relax and enjoy. If it sounds ideal to not have to make many decisions, or you just don't know where to start, a tour could be just the thing. You will want to make sure whether your tour will begin all the way up in San Diego, or if it will require you to drive down to a nearby starting point, like Ensenada.
If this is the case, and you want some structure after driving yourself down to Valle de Guadalupe, you'll have plenty of choices! Otherwise, do your research to find a tour that will bring you all the way from downtown San Diego, across the border, and through Baja California. In fact, we'll dive more into that type of tour option below.
Take a Wine Tour from San Diego
If you don't want to have a designated driver during your wine-tasting day trip, there are more than a few good options to look through in your search for a tour company that can take care of you, your schedule, and your budget for the day. While a wine tour may seem like a more expensive way to do a wine-tasting day in Baja, and it certainly can be, there are many reasons that this might be the choice for you.
Cost
When you total gas money, each vineyard's wine tasting, food, and any other expenses splitting a wine tour with your group may end up being comparably priced. In some cases, you'll be paying extra money for the experience and the knowledge of local guides. In other instances, you may end up paying less than you would have trying to do it all yourself.
Ease
Regardless of the cost, the ease of having a local, knowledgeable guide and driver will ensure that your day trip to Baja goes smoothly. You'll be able to chat away, listen to music, and begin your trip even as you begin the drive down. Nobody will need to worry about staying under a certain safe drinking limit (related to driving, that is,) and you'll be able to relax the whole way there and back.
Access
Often, going to wineries on a tour, either choosing open or private tours, will help allow you access to tastings that you might otherwise have to wait quite a while to get to.
Whether it's a private tour, or you choose to go explore with a group, there are many wine tours to choose from as you make your way down from San Diego. Really, this is only less ideal if planning everything yourself and doing exactly what you want, and going where you want is the biggest priority for you.
No matter how you choose to enjoy your day trip from San Diego to Valle de Guadalupe, we know that it will be an experience to remember.