San Diego is home to plenty of expressions of the different cultures that make the city the way that it is today. As either a visitor or a resident, there are always lots of fun ways to get involved in seeing more of our beautiful community and learning about some of the cultures that have had an impact on San Diego, as well as some of its sister cities around the world.
If you have never been to the Japanese Friendship Garden in Balboa Park, you are missing out! Not only on yummy food and a fun way to get a change of pace, but also on events, festivals, and all the life that this Japanese garden brings to Balboa Park and San Diego itself. Enjoy stunning seasonal scenery, meet new friends, and enjoy a taste of Japan all the way in California.
We'll talk about the history of the Japanese Friendship Garden, some activities and events that take place here, and how Balboa Park's history meshes with the Japanese Friendship Garden (often referred to as the JFG.)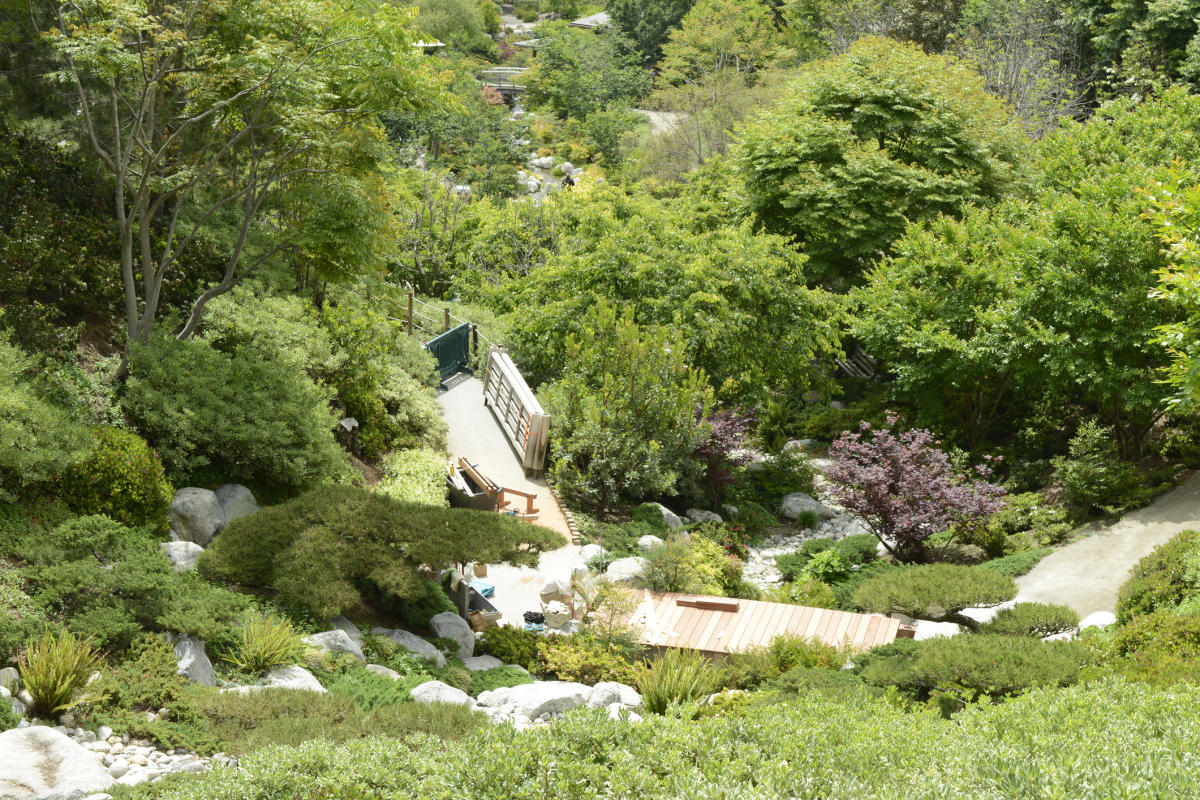 Experience a Touch of Japanese Culture in Southern California
Built to represent the bond of friendship between San Diego, California, and its sister city, Yokohama, in Japan, the Japanese Friendship Garden is a living work of art within our community. The site has accumulated multiple awards over the years for its dedication to highlighting culture through an educational, inclusive lens. They also have awards for sustainable programs, landscaping, and other features of the park.
From delightful water features and terraced walkways to calming koi ponds, traditional architectural structures, and meticulous stone designs, the JFG encapsulates what a garden in Japan might look like.
To help deepen visitors' appreciation and understanding of Japanese culture, the JFG hosts various exhibits, festivals, educational programs, and horticultural classes throughout each year.
The JFG is an accredited museum that sees over 330,000 visitors annually, coming from not only the United States but also international locations.
How the JFG Came to Be
All the way back in 1915, at the time of the Panama-California Exposition which helped create the Balboa Park of today, there was an original Japanese tea house. This tea house stood in the park for nearly 40 years as a representation of the strong cultural bond between Japan and the United States, not to mention the commercial ties between these two of the world's leading nations.
Local Japanese operators eventually took over the space and it served as a cultural center until the early 1940s. For decades, San Diegans wished for a new center like this, and after almost 5 more decades, that wish was granted.
The Japanese Friendship Garden opened to the public back in 1991 to highlight the friendship and community shared between San Diego and Yokohama. The garden drew inspiration from centuries of Japanese design techniques and this living exhibition is made of plants and other flora that are native to both Japan and Southern California, to show the intersection between both geographical locations coming together.
The garden's second phase began 8 years later in 1999, which included the addition of an activity center, exhibit hall, and upper koi fish pond all designed by Japanese landscape architect Takeo Uesugi.
In 2015, a third phase was completed, which incorporated the addition of a large azalea and camellia garden, a water feature to reflect the San Diego watershed, a 200-tree cherry tree grove, and the Inamori Pavilion.
The JFG helps to foster a relationship not only between Japanese and American cultures but between humans and nature by providing an environment spanning 12 acres that is full of simplicity and serenity.
With elements like a three-scene garden, koi pond, dry stone garden, bonsai exhibit, and more, this park is clear in its elegant simplicity and charge to promote friendship and highlight diverse cultures. The JFG blends not only cultural concepts but also plants from both locations, in a way that creates a unique experience steeped in tranquility and a better understanding of Japanese principles.
Cherry Blossom Festival at the Japanese Friendship Garden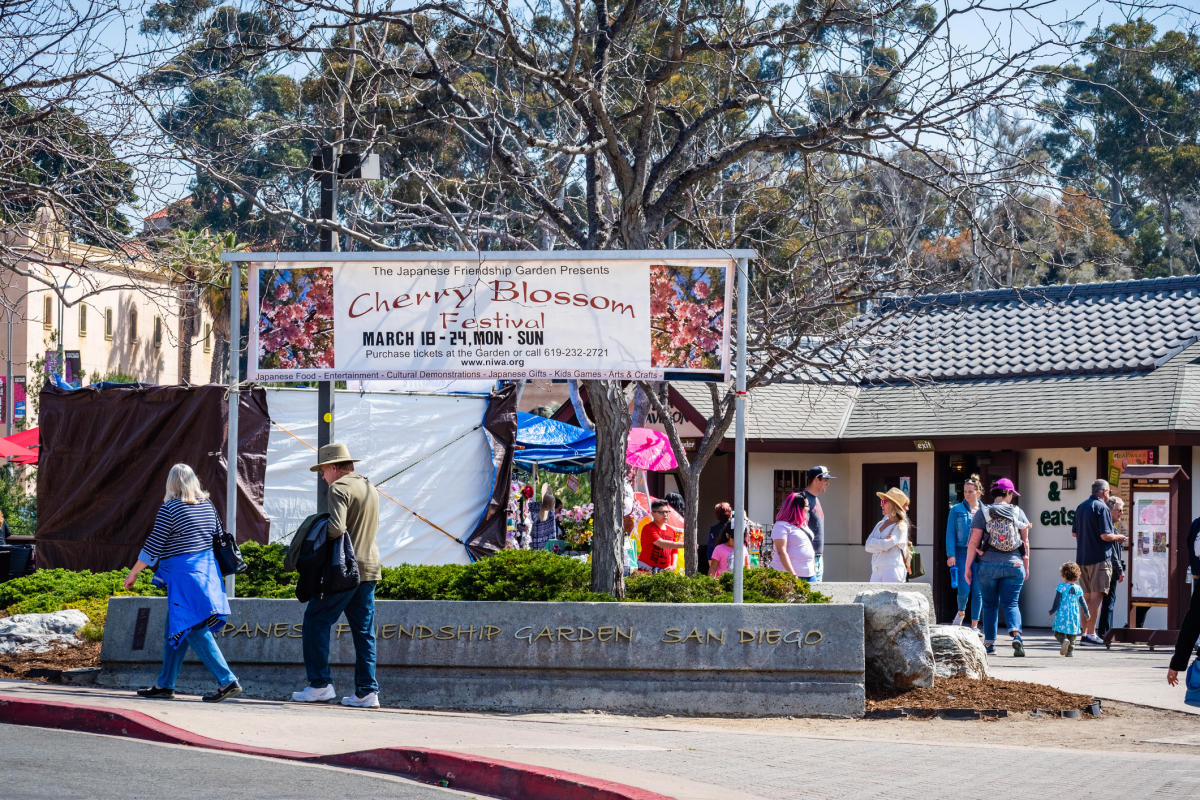 One of the reasons that the cherry blossoms at the JFG are so special, aside from their obvious beauty and fragrance, is that cherry blossom trees won't reliably blossom in Southern California thanks to the area's coastal climate.
This means that extra funding was needed in order for hundreds of special cherry trees to be purchased and planted in the garden. A double hybrid graft cherry tree was eventually developed as a direct solution to San Diego's climate and the impact it has on standard cherry trees.
These special trees now blossom annually and provide a clear reminder of the special relationship that is held between the Japanese and American people.
The Cherry Blossom Festival runs annually for 3 days in March when the blossoms are at their most spectacular.
About Balboa Park
Founded all the way back in 1868, Balboa Park began as a plan by civic leaders to set aside 1,400 acres of land and turn the scrub-filled mesa into a city park space known, conveniently, as 'City Park.'
It wasn't until 1909, however, that the idea for the current Balboa Park came into play, as talks of it hosting the Panama-California Exposition began.
In 1910, the park was renamed to Balboa Park by the Park Commissioners. The name honors Spanish-born explorer Vasco Nuñez de Balboa, the first European to spot the Pacific Ocean during his exploration in Panama. A fitting title for a park that was evolving to symbolize the intersection of cultures, geography, and history.
Other Cultural Centers at Balboa Park
Balboa Park, as we know it today, comes from its run as the host of the Panama-California Exposition of 1915-1916, which means that cultural exchange is at the very core of this park's ethos.
Here are some of the other cultural centers and educational opportunities that Balboa Park offers:
Centro Cultural de La Raza
The Centro Cultural de La Raza was founded in 1970 as a Chicano Community Cultural Center and functions now as a space to promote, preserve, and educate about Chicano, Mexican, Native American, and other Indigenous art and culture.
The goal of this cultural center is to spark both conversation and community surrounding art. You can expect to find visual arts exhibitions, film screenings, live performances, and other artistic representations that take place in a space that is full of murals and vibrance.
Houses of Pacific Relations International Cottages 
A space quite unique to Balboa Park, the House of Pacific Relations International Cottages is a way for visitors to step into dozens of different international cultures.
With a little neighborhood of standalone cottages each representing a different country, this is a cool, interactive way to get a feel for the household goods, clothing, customs, and other representational materials of a given place.
These 34 countries represented are housed in historic 1935 Exposition cottages, continuing the initial goal of promoting education and awareness surrounding other cultures.
Attend annual special events such as the Ethnic Food Fair and the International Christmas Festival at Balboa Park December Nights.
WorldBeat Center
Balboa Park's WorldBeat Center has the goal of uniting people and cultures by way of diversity, instead of similarity. What makes us different is beautiful, and that is highlighted through multimedia, education, live arts, and research.
WorldBeat offers year-round classes in international dance, drumming, African history, and gardening. These are all ways that the center helps to promote and preserve the African diaspora and other Indigenous cultures.
Getting to the Japanese Friendship Garden (JFG)
As you head to the JFG, here are some things you might need to know before you go:
Address: 2215 Pan American Rd E, San Diego, CA 92101
Phone Number: (619) 232-2721
Hours: Daily from 10 am to 7 pm (Last admission at 6 pm)
Admission: $14 for adults (18+)
      $12 for students, seniors (65+), military
                Free for children 6 and under
Keep Exploring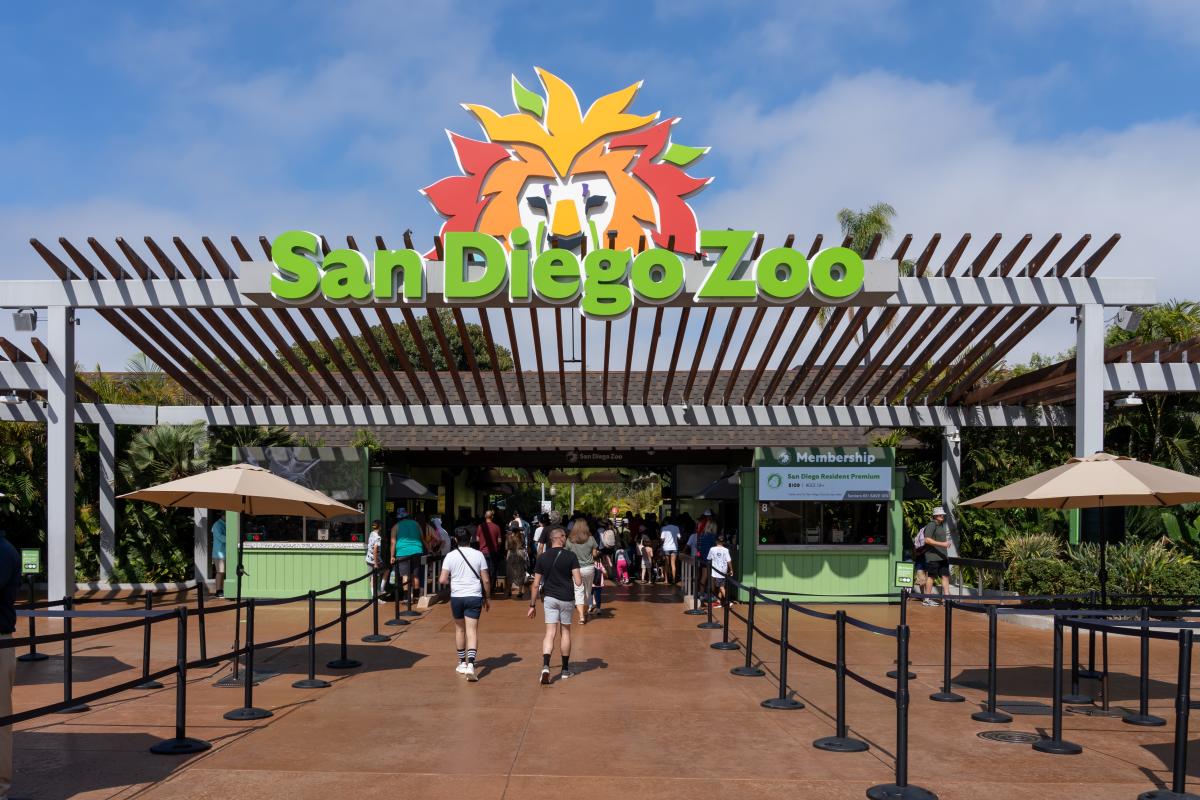 As you explore Balboa Park and the Japanese Friendship Garden, we hope that you are inspired to keep learning more about San Diego's history, cultural intersections, and the community that makes America's Finest City what it is today.
We encourage you to check out the popular San Diego Zoo, whose parking lot is shared with Balboa Park and can be an easy addition to a full day spent in the area.
To dive deeper into the Asian culture that exists in San Diego, head to the Convoy District, located in Kearny Mesa. This district is one of the largest Pan-Asian business districts in the entire United States, and is home to great food, more community and culture-based events, and some of the best Asian grocery stores in the region!
However you choose to experience San Diego beyond the Japanese Friendship Garden, we hope that you enjoy your stay and learn a little something, too.
Do you have some more information about the JFG that you think we should mention? Let us know on our socials @sandiegodotcom and feel free to follow us, while you're at it!