Guide to MICHELIN Star Restaurants - San Diego
When you think of San Diego, CA, known appropriately as America's Finest City, do you first think of beaches, baseball, or perhaps the bustling food scene that the city boasts? The Southern Californian oasis has more than your typical fine dining, boasting some of the best MICHELIN Star restaurants in the state.
MICHELIN stars are not an easy accolade to earn, and San Diego County is home to 5 restaurants that have beaten the odds and been labeled as truly great fine dining experiences. Not only that but there are 8 more restaurants under the Bib Gourmand distinction, also given out by the MICHELIN inspectors.
From sitting down to enjoy delicious food at a California gastronomy to traversing San Diego for the best restaurant experience, this guide is a great starting place. So, let's dive into the MICHELIN star portfolio of sunny San Diego.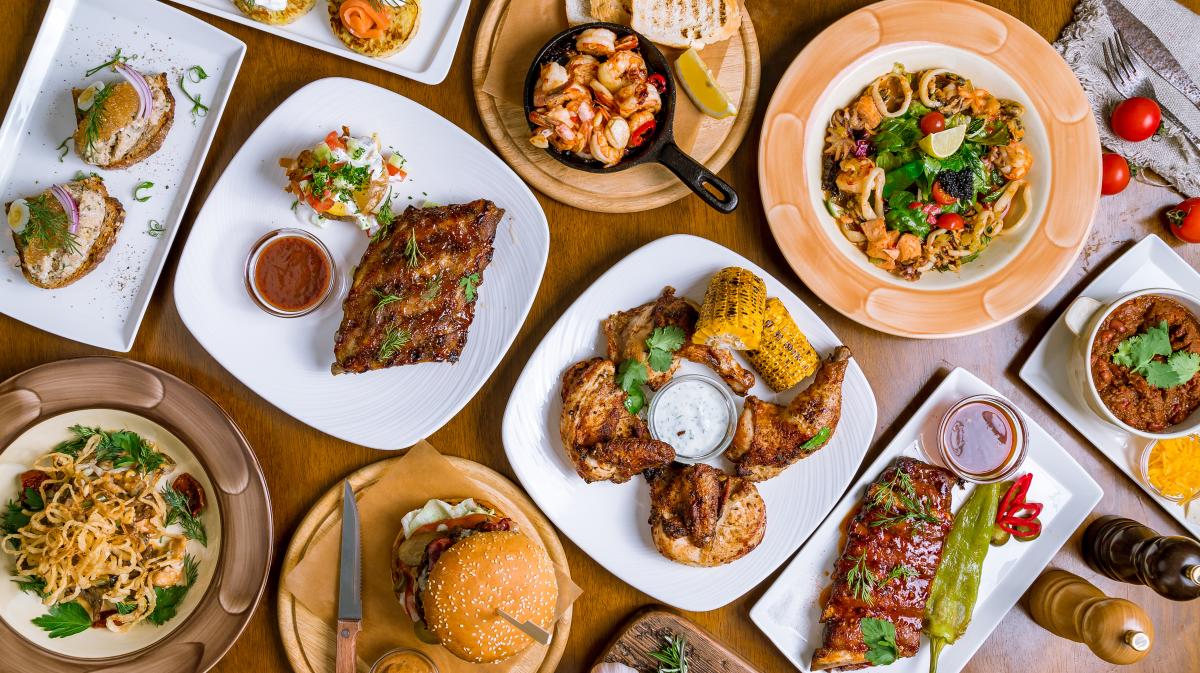 What Constitutes a MICHELIN Star Restaurant?
San Diego is home to not 1, not 2, and not even 3 or 4…but now to 5 MICHELIN Star restaurants. You may have heard of this famous designation but wonder what exactly it means.
MICHELIN Stars and their relative meanings are a huge deal in the restaurant community, to say the least.
Earning a MICHELIN Star means that your restaurant has been sampled multiple times by undercover MICHELIN inspectors to judge different criteria. Earning a MICHELIN Star tells the world that a restaurant has outstanding cooking practices, exceptional cuisine, a delightful dining experience, and meets 5 main criteria.
A MICHELIN Star restaurant must have quality ingredients, a harmony of flavors, mastery of techniques, a chef's personality expressed through their cuisine, and consistency across the menu and over time.
One MICHELIN Star
A restaurant that has top-quality ingredients and dishes that are distinctly flavorful with consistent preparation at a high standard will be likely to receive 1 MICHELIN Star.
Two MICHELIN Stars
Once the personality and talent of the chef can be distinctly seen in the crafting of their dishes, which are refined and inspired, the restaurant will be moving into 2 MICHELIN Star territory.
Three MICHELIN Stars
Finally, some chefs are at the peak of their profession, creating superlative dishes and experiences. These chefs create dishes that are bound to become classics thanks to elevated cooking practices bordering on an art form, and it is then that a restaurant may receive 3 MICHELIN Stars.
Often, after earning the first Star, restaurants will be re-evaluated to receive a second Star or third Star. However, receiving one's first MICHELIN Star is a wildly special award that restaurants yearn for.
What Defines the Bib Gourmand Criteria?
Not everything is meant to be geared toward dining experiences of the finest quality. After all, this adds a hefty price tag, long waits, and often, less accessible eats.
So, the MICHELIN Guide opts to give out these additional distinctions, referring to the feeling of satisfaction at a reasonable price that is expected of these spots.
In the United States, the general rule of thumb for a Bib Gourmand restaurant is that it should allow patrons to order 2 courses, a glass of wine, and a dessert for under $40. Sound like a steal? Well, in today's economy… it is!
This is a great distinction to reference when looking for some of the best food in San Diego at a price that won't put you painfully over budget.
The 5 San Diego Restaurants with MICHELIN Stars
There are currently 5 restaurants in San Diego with MICHELIN Stars, 4 of which have one Star and 1 of which has three Stars. At the moment, there are no San Diego restaurants with two Stars.
Addison Restaurant
MICHELIN Stars: 3
Chef: William Bradley
Type of Cuisine: Contemporary
Location: Del Mar
Price: $$$$
Chef William Bradley has brought Del Mar's favorite contemporary dining experience to new heights, earning Addison Restaurant 3 MICHELIN Stars. The only three-star restaurant in San Diego, the third star was awarded by Gwendal Poullennec, international director of the Michelin Guide, on December 5, 2022.
Chef Bradley's cooking is truly one-of-a-kind, especially as Addison is Southern California's first and only three-star MICHELIN restaurant. Located in San Diego's Carmel Valley, Addison makes not only Del Mar but an even larger portion of San Diego proud.
The basis of these 3 MICHELIN Stars can be found in the nine-course tasting menu that is offered at $355 a person and can be enhanced by wine pairings from the extensive wine list with each course.
Three Stars is an impressive award, to say the least, but you won't be surprised that the praise is so high once you step inside this world-class dining destination.
Sushi Tadokoro
MICHELIN Stars: 1
Chef: Tatsuro Tsuchiya
Type of Cuisine: Japanese
Location: Old Town, San Diego
Price: $$$
Owner and executive chef Takeaki Tadokoro along with young chef Tatsuro Tsuchiya has done incredible things with Sushi Takodoro, earning the Old Town Japanese joint 1 MICHELIN Star.
The focus of this spot is to prepare the best of Japanese cuisine, creating traditional style sushi, known as Edo-mae, and using the best ingredients, hours of preparation, and homemade recipes. MICHELIN inspectors highlighted, "Attention to detail is a hallmark, as sauces are homemade and the fish of the day rests within a wood box awaiting very special treatment."
Make a reservation for this mini counter space so that you can enjoy your omakase-style Japanese cuisine. The space is small, which offers an intimate dining experience but extremely limited seating options. Don't miss the Saba Salmon Toro.
Soichi Sushi
MICHELIN Stars: 1
Chef: Soichi Kadoya
Type of Cuisine: Japanese
Location: University Heights, San Diego
Price: $$$$
Chef Soichi Kadoya's namesake Soichi Sushi restaurant brings the Japanese restaurant game of University Heights to a new standard, especially after earning 1 MICHELIN Star.
Not only does Soichi Sushi have excellent cooking, but the omakase-style menu is customized for each seating thanks to daily changes in the farm-to-table and sea-to-table.
Make sure to reserve your seating far in advance to make sure you get a chance to enjoy the acclaimed Soichi Sushi dishes and dining experience.
Jeune et Jolie
MICHELIN Stars: 1
Chef: Eric Bost
Type of Cuisine: French
Location: Carlsbad
Price: $$$$
Executive Chef Eric Bost has elevated Carlsbad's community-favorite French spot, Jeune et Jolie, to greatness as it boasts 1 MICHELIN Star. 
Try their $105 4-course tasting menu or opt for the à la carte offerings. The motto of this location is to celebrate the ordinary as well as the special occasions, and you'll find that Jeune et Julie does a wonderful job of highlighting this ethos.
If French cuisine MICHELIN-rated restaurants in San Diego are your thing, Jeune et Jolie is for you.
Valle
MICHELIN Stars: 1
Chef: Roberto Alcocer
Type of Cuisine: Mexican
Location: Oceanside
Price: $$$$
Located in the Mission Pacific Hotel, Valle expertly references the Guadalupe Valley of Baja California, in a creative yet authentic expression of the Mexican culture and its cuisine.
The positioning of this elegant oceanfront restaurant allows ingredients to be sourced from both Southern California as well as Valle de Guadalupe, including the wines from the premiere viticultural region itself.
Executive chef Roberto Alcocer highlights the balance between tradition and innovation in San Diego's newest MICHELIN Star restaurant, having received its first Star just a few months ago during the summer of 2023.
10 San Diego Bib Gourmand Restaurants Designated by the MICHELIN Guide
Not only does San Diego County boast 5 MICHELIN Star restaurants, but it is also home to 10 Bib Gourmand restaurants, bringing exceptional dining at a lower price point to America's Finest City.
Mabel's Gone Fishing
Chefs: Chelsea Coleman & Dan Luong
Type of Cuisine: Spanish/Iberian, Seafood
Location: North Park, San Diego
Price: $$
This is the spot for Iberian-style seafood in San Diego, having received its Bib Gourmand designation this year as one of the just 10 California restaurants to do so in 2023.
Gin-forward cocktails, Swordfish Schnitzel, and plenty of Tapas bring the delights of Spanish dining to the heart of Southern California gastronomy.
Named after a dog with a charming, eclectic backstory, Mabel's Gone Fishing is the next place to try as you eat your way through San Diego.
Dija Mara
Chef: Jason Ambacher
Type of Cuisine: Indonesian, Thai, Vietnamese
Location: Oceanside
Price: $$
Off of San Diego's Coast Hwy, this restaurant combines Southeast Asian flavors with Western ones, all while using Japanese cooking techniques to prepare its Balinese-inspired dishes.
Enjoy an elevated Mie Goreng or a Gado Gado paired with a Lychee Camo or Pineapple Soda.
Kettner Exchange
Chef: Brian Redzikowski
Type of Cuisine: American Contemporary
Location: Little Italy, San Diego
Price: $$
Chef Brian Redzikowski takes American contemporary dining to a new level with the food at Little Italy's ever-popular Kettner Exchange.
Try the Roasted Chinese Eggplant, Whipped Buttermilk Ricotta, Sonoma Lamb Szechuan Noodles, or the Niman Ranch Pork Chop.
LOLA 55
Chef: Kathleen Beran
Type of Cuisine: Mexican
Location: East Village, San Diego
Price: $
LOLA 55 brings authentic Mexican dishes with a contemporary twist to San Diego's East Village at Lola55. The kitchen is led by chef Kathleen Beran- a NY CIA graduate who was mentored by none other than the legendary chef Francisco Migoya. 
Try the Elote Salad, Squa-shroom, or Smoked Carnitas Tacos, or the Panko Fried Eggplant & Mushroom Mole. This Mexican cuisine is taken to a whole new level, even in southern California.
Morning Glory
Chef: Jason McLeod
Type of Cuisine: American
Location: Little Italy, San Diego
Price: $$
Chef Jason McLeod works as the executive chef along with a stacked kitchen team of top-notch chefs to add to the quirky ambiance of Morning Glory and create impeccable contemporary food.
Try the Turkish Eggs, Breakfast Dim Sum, Khachapuri, or Souffle Pancakes at this San Diego staple, located on Date St.
Ciccia Osteria
Chef: Mario Cassineri & Francesca Penoncelli  
Type of Cuisine: Italian, Milanese
Location: Barrio Logan, San Diego
Price: $$
Chefs Mario Cassineri and Francesca Penoncelli work together beautifully to bring authentic Italian cuisine to Barrio Logan at Ciccia, which translates to a term like 'sweetie' in Italian.
Try the Mafalde Ragu dell'Aia, the Peperonata di Nonna Elvira, the Truffle Mushrooms, or the Tricolore Salad.
Cesarina
Chef: Cesarina Mezzoni
Type of Cuisine: Italian
Location: Point Loma, San Diego
Price: $$
Chef Cesarina Mezzoni's namesake restaurant, Cesarina, does a wonderful job of honoring the Italian matriarchy through their fresh Italian dishes, which are all made in-house.
Guests are advised that "those on a quest for indulgence should look no further than the truffled gnocchi with a cream sauce, served in its own copper pot."
Solare Ristorante
Chef: Filippo Piccini
Type of Cuisine: Italian, Tuscan
Location: Liberty Station, San Diego
Price: $$
Chef Filippo Piccini embodies the Tuscan feel of Solare Lounge, Liberty Station's best Italian spot, undeniably well.
Try the Ravioli di Aragosta, Bruschetta alla Mano, Pescato del Giorno, or the Lasagna Tradizionale.
Cucina Urbana
Chef: Tim Kolanko
Type of Cuisine: Italian
Location: Banker's Hill, San Diego
Price: $$
Chef Tim Kolanko has helped bring this Urban Kitchen Group restaurant to its full glory. Cucina Urbana is well-known by many San Diegans, and for great reason. The intuitive, seasonal menu speaks volumes and keeps guests coming right on back.
Try the Fried Squash Blossoms, Ribeye Carpaccio, Bucatini Amatriciana, Clam Linguine, or Cucina Burger.
Callie Restaurant
Chef: Travis Swikard
Type of Cuisine: Mediterranean, Middle Eastern
Location: East Village, San Diego
Price: $$
Executive chef Travis Swikard has done exceptionally well with Callie, his first solo restaurant, putting it on the map as the go-to Mediterranean spot for many.
Try the Babaganoush, Japanese Kanpachi, Lemon Saffron Linguine, or Harissa Lamb Chops.
Experiencing MICHELIN Star Restaurants in San Diego, CA
Choosing a place to eat in San Diego is never an easy feat, thanks to all the award-winning, 5-star restaurants, fun local spots, popular new pop-ups, and MICHELIN Star or Bib Gourmand designations.
We hope this list gives you some inspiration for your next Southern California dining experience, and that you get to try new food, one way or another
There are plenty of other San Diego restaurants providing diners with a special journey and finding their voice. Names like Eric Wolfinger, Thomas Keller of French Laundry, and others should be on your list of San Diego chefs to watch.
Tried any of these spots? Let us know your thoughts @sandiegodotcom!