Skate Parks in San Diego
No coastal town is complete without surfers and skaters, right? If you're looking to take your board and get a little more technical than the Pacific Beach boardwalk may allow you to, it's time to find a skate park in San Diego.
The city of San Diego has a few skate parks, but there are a total of 56 skate parks across San Diego County that you can choose from. Do you want one by the beach, with a certain vibe, or simply just a location close to home? San Diego has no shortage, as you'll see when you search for a skate park that suits you.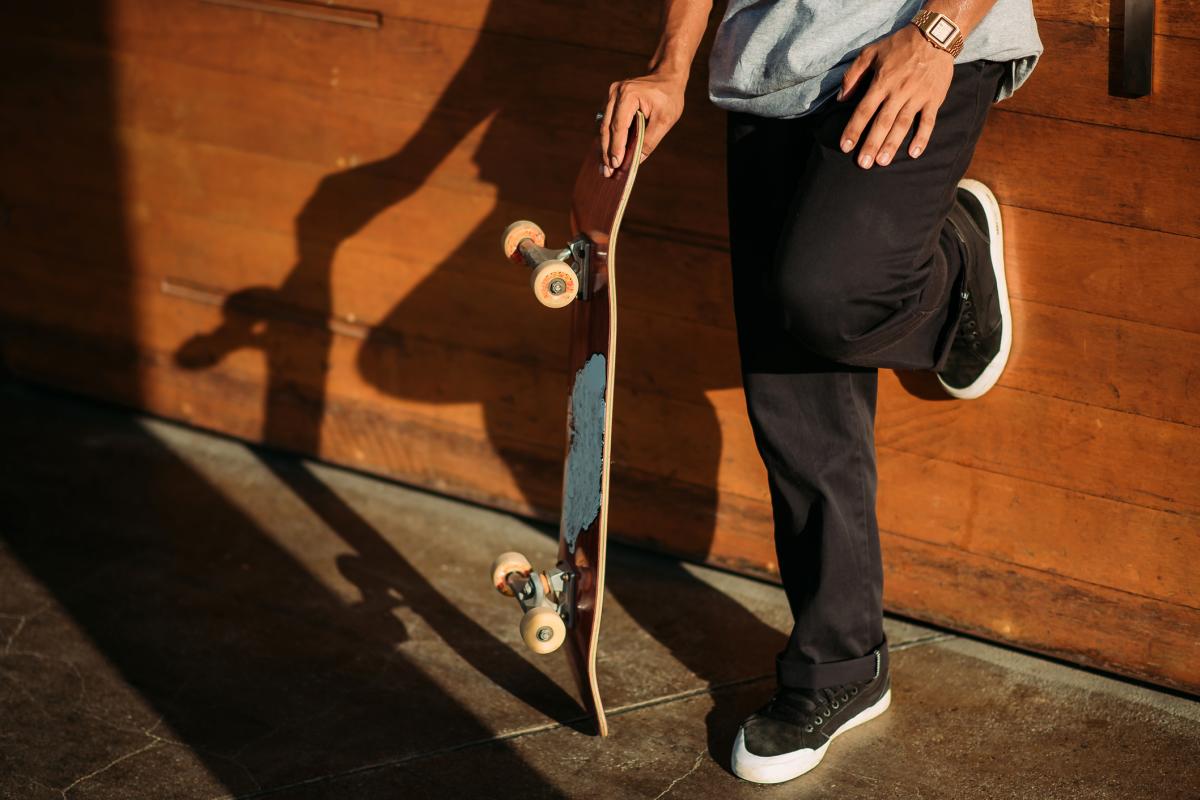 As you check out skate parks in San Diego, beyond the street plazas, boardwalks, and pedestrian bridge areas you may have used before, you can link up with local skateboarders to find one hell of a skate park in San Diego County.
Skate Parks in the City of San Diego
From the largest skateparks in San Diego County to some of the best skateparks in SoCal, you'll find a mixture of everything here in the city itself. Whether you are a San Diegan native, just moved here, or are passing through and looking for the best place to shred for a few days, here are the 7 skate parks within San Diego city limits:
Memorial Skatepark (AKA Bill and Maxine Wilson Skate Park)
702 South 30th St. San Diego, CA 92113
Skate Park Hours: 10 am to dusk
With 22,000 square feet of surface to skate on, skaters will find elements like railings, stairs, a 10-foot "keyhole," a 90-foot long "snake run," and a beginner's bowl. This makes the park fit for both advanced and beginner skaters, where everyone can share a space and learn from one another.
Opened in 2004, you can find Memorial Skatepark on 30th Street, near Memorial Community Park and the Memorial Recreation Center.
This park is best for those living or staying in Memorial, Barrio Logan, Grant Hill, Logan Heights, Sherman Heights, Stockton, Southcrest, Mount Hope, Mountain View, and Shelltown.
Carmel Valley Skate Park
12600 El Camino Real, San Diego, CA 92130
Skate Park Hours: 9 am to 8 pm
Opened in 2008, the Carmel Valley Skate Park is 13,500 square feet of skateable space with a challenge course and concrete bowl. Skaters appreciate urban elements for tricks such as railings, stairs, banks, and ledges. Unlike many nearby parks, this one has night lighting and uses the feature to allow the space to stay open after the sun goes down.
Stay longer thanks to this lighting, the restrooms on-site, a shade structure, and even bring along a non-skating friend to hang out at the sitting/observation area.
Charles L. Lewis III Memorial Skate Park
6610 Potomac St San Diego, CA 92139
Skate Park Hours: 10 am to dusk
Made of about 7,000 square feet of space, this park is made of above-ground ramps and rails. The park was named after the former District 4 Councilmember who was instrumental in this park's ability to be built and opened back in 2005. There are bleachers for parents or friends to sit and watch, though the viewing area feels a bit more geared toward those with beginner skaters to keep an eye on.
The space is fun, with a picnic area, a walking path around the park, and even some equipment available for public rental (with appropriate ID, of course.) Skaters can rent helmets, knee pads, elbow pads, and skateboards if needed.
Linda Vista Skateboard Park
7064 Levant Street San Diego, CA 92111
Skate Park Hours: 9 am to 8 pm
Part of Linda Vista Community Park, this is also the largest skate park in San Diego as of its opening in January 2018. Skaters will find jumps, bench-like features, rails, stairs, ramps, ledges, and banks to accommodate varying levels of expertise. There are also several bowls, a street course, a full pipe, lights, and a bridge.
The focal point of the park, the bridge also acts as a viewing location to watch the skaters do their thing. Non-skaters can also sit under shade structures and in other observation areas. This park is the result of a citizen-based signature campaign back in 2013. The campaign resulted in the Friends of Linda Vista Skateboard Park, backed by skaters, skating professionals, and the community. 
Park de la Cruz Skate Park
3901 Landis Street San Diego, CA 92105
Skate Park Hours: 10 am to 8 pm
The Park de la Cruz Skate Park is made up of 19,300 square feet and opened back in 2018. Its street plaza a-frame with gap and rail features, street plaza with flow features, banks and transition ramps, and flow bowl with a spine ramp make this great for whatever a skater may wish to focus on.
Skaters also enjoy the urban elements like stairs, ledges, railing, and banks, along with the park's signature mid-city ramp feature, beginner gap, rail, and backyard-style pool. Sports and skatepark lighting are paired with seating and viewpoints so that both skaters and non-skaters can enjoy their time here. The project design dates all the way back to 2007 and was discussed by a combination of skateboard professionals and the City Heights-Mid City community members.
Rancho Peñasquitos Skate Park
10111 Carmel Mountain Rd, San Diego, CA 92129
Skate Park Hours: 10 am to 8 pm
July 2014 saw renovations to Rancho Peñasquitos Skate Park completed, and the park now offers 22,000 square feet of concrete skateboarding space. Skaters love the array of the ramp and street-styled features, including a multi-level skate plaza with a four-stair handrail, a grind box, and bank ramps. There is also a high to low banked hip, double-sided hubba grind ledge, banked hip with a gap, SF-styled Pier 7 manual pad, angled manual pad, and generous staging/seating area.
Transition ramps, euro gaps, grind rails, quarter pipes, a pole jam, and so many additional features make this park an absolute playground for all skaters of all levels. There are also four new shade structures to go along with the seating so that friends or family can watch without baking in the summer sun.
Robb Field Skate Park
2525 Bacon St San Diego, CA 92107
Skate Park Hours: 10 am to dusk
This park is made of a whopping 40,000 square feet of concrete and has something to accommodate skaters of all skill levels, ages, and goals. There is a street course design that features a combination bowl, numerous blocks, ledges, handrails, a pump bump, and an octagon volcano.
Often called one of the coolest skate parks in SoCal, this is the first one entirely constructed and operated by the City of San Diego. It was, of course, designed with input from top local skateboarders along with the community before its opening in February 2000.
Skate Parks in San Diego County
There are many skate parks in San Diego, from North County to all the way down near the U.S./Mexico border. You've got skate parks right on the beach and those as far inland as Julian and Borrego, far from the city region that most people associate with San Diego.
We've compiled a short list of a few of the best San Diego area skate parks that aren't in the city itself. Of course, this is nowhere near a comprehensive list, but here are some of our top picks for skate parks in the county of San Diego.
Washington Street Skate Park – Five Points
Washington Street, Pacific Hwy US 101, San Diego, CA 92101
Skate Park Hours: 9 am to 5 pm M/F/St, 9 am to 7 pm T-Th/Sun
This park offers terrain for more advanced skateboarders, and its cool location underneath an underpass makes it not only unique but requires that skaters have more technique in navigating the park.
You'll find it near Little Italy and surrounded by artwork. It's been around since some local skaters decided to found a place where fines from the city and entry fees were not of concern back in 1999. The park was shut down before that initial construction was done, but it finally reopened for use in 2002 after a long battle with the city commenced and proper permits could be obtained.
Chicano Park Skatepark – Barrio Logan
Under Coronado Bridge in Chicano Park San Diego, CA 92113
Skate Park Hours: Open 24 hours
This park doesn't have the craziest features, but its large space allows skaters to play and hone their skills in a unique setting. With a DIY skatepark with a street plaza style, the park was created in 2015 thanks to help from the Tony Hawk Foundation.
Another park under a bridge that is surrounded by art, the area pays homage to the culture and history of both Chicano Park and Barrio Logan. This area thrives on its cultural solidarity and political strength in the community, all of which can be felt at Chicano Park Skatepark.
Prince Skatepark (AKA Alex Road Skatepark) – Oceanside
Alex Rd & Foussat Road Oceanside, CA 92058
Skate Park Hours: Dawn to dusk
This 22,000-square-foot skatepark features a street plaza, a combi bowl, a backyard bowl, snake runs, hubbas, banks, handrails, quarter pipes, Euro gap, ledges, and more. Prince Memorial Skatepark was renamed from its original title, Alex Park, to honor a local skater who passed away. It's one of San Diego County's best skate parks, especially for those residing up in North County's Oceanside. What's better than hitting the surf and the skate park all in one fell swoop?
Are you a San Diego local with experience around the area's skate parks? Let us know your thoughts @sandiegodotcom.