When it comes to trying new food places, San Diego has got everyone covered. Whether you are a burger lover or just looking for good San Diego burgers, there is no shortage of places to go There are 11 places in San Diego that we would mark as the best burger joints, thanks to not only their amazing burgers but because of the area that they are in, the feel of the restaurants, and your options for additional food and drinks. No matter where in San Diego you're located, you'll find notorious burgers all around.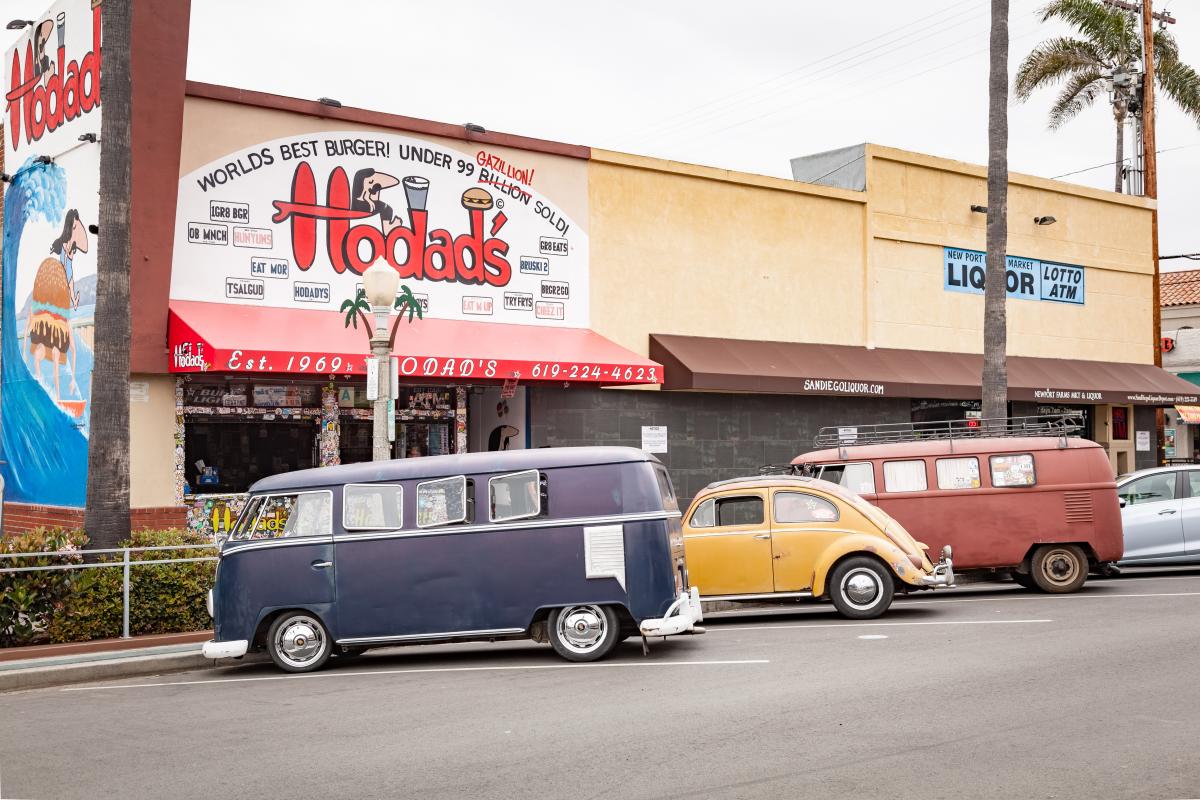 Photo by Joshua McDonough
So, stick with us for a bit as we dive into our top 11 delicious burgers in Sunny San Diego but keep in mind that there are plenty of others around. Depending on how long you have in town, you might even have a chance to hit multiple spots on this list!
Best Burger in San Diego
If you ask around for the best burger in San Diego, you'll probably get a few different answers. After all, there are plenty of options, from a bare lamb burger to grass-fed beef, organic beef, half-pound burgers, specialty burgers, and so many other signature burgers. That's why we're going to dive into our top 11 picks because it all depends on what kind of delicious burgers you prefer.
You want more than just a fine burger when you are visiting San Diego's best burger places, and that's where we come in. San Diego's many different neighborhoods make it the great city that it is, each with a unique feel and offerings, including when it comes to the food scene. Regardless of where you choose to stay, we don't think that you can go wrong when it comes to scouting out a good burger lounge around town.
Without further ado, the best San Diego burger options:
Raglan Public House is New Zealand-inspired and happens to be one of the best kiwi-style restaurants in San Diego. You can find it situated just minutes from the water in Ocean Beach, in an eclectic area that has its fair share of shops and street vendors. Raglan is known for its signature lamb-based burger, which comes with a house-ground leg of lamb, bleu cheese, mint dressing, beetroot lettuce, tomato, red onion, tomato chutney, and garlic aioli. You can also add a fried egg, if you're feeling extra hungry!
The restaurant has a burger of the month club, where you get early access to new menu offerings as well as a free burger if you purchase a burger, salad, or entrée. Really, it's perfect for burger lovers in San Diego.
Raglan Public House does a great job of making sure that patrons keep on coming back thanks to the amazing food, not to mention their amazing happy hour deals that run Monday-Friday, from 3-6 pm. With $5 beer, wine, and sangria, along with ½ off appetizers, you can try lots of grub before even getting to your amazing burger.
Swagyu Chop Shop has no shortage of locations, which makes it an easy spot to hit as well as one of the best that there is!
Created by San Diego's restauranteur and modern chef Steve Brown, the signature wagyu burger is the thing to try at this chop shop. You'll get 2 wagyu patties of 4 oz each, American cheese, house bread and butter pickles, and secret sauce all on a toasted brioche bun from a local Oceanside bakery, Sadie Rose. More than just a restaurant, this doubles as a butcher shop where you can also browse a large selection of wagyu steaks, other meat, and even merch to bring back home with you after your meal.
The Pacific Beach location has been remodeled to be a bit more upscale, but you'll find that each location has its own charm, including the food truck that frequents many different parts of Southern California.
You can be as far north as Oceanside, as far east as Poway, and as far south as Imperial Beach and still get a chance to try this popular spot. Their locations are Pacific Beach, Imperial Beach, Oceanside, Poway and Food Trucks
Madison on Park is located in University Heights, between San Diego's Mission Valley, North Park, and Hillcrest areas, all of which are known for their wide variety of eateries and places to visit. Don't get confused, though, because you won't find a university here- just the best brunch burger! Don't get us wrong, there are some other awesome burgers to choose from on the dinner menu, but Madison on Park's Brunch Burger is a standout menu item.
The burger comes with a third pound of Angus beef, chargrilled to perfection, aged white cheddar cheese, pickled shallots, charred bacon, and house pickles all on a brioche bun. You'll get za'atar waffle fries with your burger and can add a fried egg to the burger for an added breakfast element. Vegetarians can sub a black bean patty on any of their burgers for no charge, which makes this spot great for everyone.
With clear views of the San Dieguito Lagoon and the ocean beyond it, you already can't go wrong with Viewpoint Brewing Company. Add in some fresh burgers and craft beer, and this is one of the best spots in town to enjoy either a large group dinner or an intimate meal with friends. The Backyard Burger comes in a classic style with American cheese, iceberg lettuce, tomato, onion, and a tangy, house-made burger sauce. Think of chipotle aioli, but not quite.
For a vegetarian option (that can be made vegan, too) the Farmer's Burger pairs a black bean and sweet potato patty with pepper jack cheese, lettuce, tomato, avocado, crunchy onions, and an aioli special sauce. There is no skimping on the flavor here! Both burgers come on those local Sadie Rose brioche buns that we cannot get enough of.
Wash your burger of choice down with one craft beer, or one of their wines or flight options for the perfect Del Mar dinner.
Not too far from Del Mar, La Jolla's famous Torrey Pines Golf Course and State Reserve are located just to the south. Here you'll find The Grill at The Lodge Torrey Pines, which is connected to the golf course itself. It's known for its locally sourced cuisine, and the Drugstore Burger might just be one of the most iconic that San Diego has to offer. It begins with a Niman Ranch chuck, topped with lettuce, pickles, tomato, onion, and a house-made mayonnaise that wraps up the burger perfectly.
There is also a falafel burger for any vegetarian, which comes with tomato, pickled onions, arugula, and a tzatziki sauce.
Come here after a day of golf or hiking around the reserve and enjoy an expansive view of the ocean as the sun sets over Torrey Pines. The patio and outdoor fire pits create a warm, welcoming environment to make sure that enjoy every moment of your dinner.
Rocky's Crown Pub is a no-frills establishment that many locals refer to as the best burger in San Diego. It's been around since 1977 and the restaurant remains a cash-only pub, so be prepared to ditch Apple Pay and credit cards for a minute. The perfectly greasy burgers that you can get here come as an 80/20 blend of chuck from a local supplier and are made into patties daily to offer the freshest burgers to patrons. Order a third-pound or half-pound hamburger or cheeseburger, all of which come with lettuce tomato, onion, pickles, and mayonnaise. Order fries on the side and grab a drink to make it a full meal.
Pro tip: you can ask for grilled onions if you prefer them that way.
Seating is first come, first served and Rocky's Crown Pub does require an ID to enter because the bar is 21+. Yes, even if you're just grabbing a bite to eat.
This Pacific Beach staple reflects the constantly moving, lively feel of the area while offering a great place to grab a bite before heading to one of the many larger bars in the area for a fun night out.
Juniper & Ivy's top burger is technically a 'secret menu' item, but it's not quite so secret these days. The In N Haute is an homage to the In N Out burger created by executive chef Anthony Wells. You'll find this spot in Little Italy, among some of San Diego's top restaurants for local and visiting foodies alike. The chef-driven menu here ensures that all items are prepared with fresh, seasonal ingredients. When you want a burger, though, the In N Haute comes with an added level of suspense because there are only a handful of these notorious burgers available each day.
So, you could get lucky if you're one of the first in-the-know guests to arrive. We recommend showing up early for this one.
The In N Haute burger is made of 2 locally sourced beef patties that are dried for 28 days, and topped with sous vide mustard onions, pickles, and house-made 'animal sauce.' Their fries take 2 days to prepare and come with kimchi ketchup.
It's no wonder that these sell out fast. Juniper and Ivy takes intentional cooking and fine dining to the next level with this burger that reflects one of California's favorite fast foods.
We've got another New Zealand restaurant for you with the popular Queenstown Public House, which can be found at its flagship location in Little Italy or at the newer La Jolla location. You can stop by after a Saturday Farmers Market for a Little Italy weekend brunch, or head over for dinner in La Jolla after a day exploring the coves and hanging with their famous sea lions. Take your pick between the Queenstown Fav Burger, made of grass-fed beef, and the Bare Lamb Burger.
It's the Bare Lamb Burger that makes this a top burger joint, for its unique combination of good meat and great flavors.
You'll get a New Zealand lamb patty, and the classic toppings of lettuce, tomato, and red onion are supported by a fried egg, blue cheese crumbles, mint jelly, and beetroot, all on a brioche bun.
Barrio Logan, one of the oldest neighborhoods in San Diego, is home to Mish Mash, a fusion restaurant that is only appropriate in this area which is a cultural hub and celebrates the city's Mexican American roots. Branded as 'burgers, BBQ, and stuff' this restaurant has plenty to choose from, but it's Clinton Burger is an undeniable star of the show. The half-pound all-natural beef patty is stuffed with goat cheese, already adding a pop of flavor that could stand on its own. It doesn't stop there, though, the burger is topped with an over-easy egg, bacon, crispy grilled onions, and mozzarella cheese. This all comes on a brioche bun with garlic aioli to really tie it together.
Not to worry, vegetarians, the Parmesan Mushroom Burger packs a similar flavor just without the meat. This one is made of parmesan, sauteed mushrooms, and rolled oats. It's topped with mozzarella and crunchy onions, as well as that garlic aioli on the brioche bun.
Enjoy a bite to eat here after you've spent the day exploring the many murals of Chicano Park.
The Balboa Bar & Grill can be found at the southwest corner of Balboa Park, not far from the popular San Diego Air & Space Museum. It's across the park from San Diego's popular North Park neighborhood, which is often associated with the Balboa area, and it helps to put Bankers Hill on the foodie map. You can explore the park and its many sites for hours on end, and we highly recommend finishing off your day at Balboa with the Balboa Burger. You can't go wrong with this combination of a seared patty and lettuce, tomato, onion, gooey American cheese, and a zesty, homemade, aioli all sandwiched between a bolillo bun that holds everything together quite well.
The Balboa South is a great option if you're further south, in the Chula Vista area. It is an outpost of the original location, bringing great burgers to even more of San Diego. If you've got a heartier appetite, the Centennial Burger is a great spin on the original burger and is a double bacon cheeseburger that comes with all of the other flavorful toppings. You get extra American cheese, too, which just helps to make this burger great.
After exploring the trails of the nearby San Diego Bay National Wildlife Refuge, or spending time in the bay itself, odds are you might have worked up a bigger appetite to enjoy the double helpings of all the good stuff on this burger.
Hodad's is probably what you think of when you envision a good, classic burger joint that serves up the best onion rings and thick-cut fries alongside their delicious burgers. Established in Ocean Beach as a burger stand back in 1973, Hodad's now has an additional downtown San Diego location so that more people can experience their yummy food. The nationally recognized spot is another one that is quite a famous name among local San Diegans, and for great reason. Burgers come as minis, singles, or doubles and you can order a hamburger, cheeseburger, or one of the two with bacon on top. You can also choose a vegetarian option or a vegan patty.
Don't be fooled by the titles, though, these burgers are bigger than you might expect- even the minis. For example, if you get a double bacon cheeseburger, or any other type, ordered 'all the way' it'd be more than enough for two people, at 5 or 6 inches in height. We recommend getting a signature Blue Jay Burger, which is a bacon cheeseburger topped with a rich blue cheese sauce and golden, grilled onions.
Regardless of your burger, a side of 'frings' is a must. Just a basket of fries and onion rings, both items are perfectly crispy on the outside but hold a tender, delicious inner layer. If you have space, grab a shake or a beer to really make you full!
12. Special Mention- In N Out- Various Locations
This regional fast-food chain is a cult classic, especially in the great state of California. While we love a good independent, unique burger joint, we would be remiss if we didn't tell you to head over to In N Out for a truly quintessential California burger experience. There's a reason we've already made mention of In N Out once in the article already. Grab a double-double animal-style burger and animal-style fries with a chocolate shake on the side to get the most popular meal that will leave you feeling quite full but satisfied.  
For vegetarians, you can order a 'grilled cheese with everything on it' which will come the same as a burger, but without the meat patty inside. Ask for some pepperoncini and extra spread (special sauce) on the side to add a little oomph to your grilled cheese.
All burgers come with onions, raw or grilled, tomato, lettuce, spread, and a classic bun, though pickles, cheese, and pepperoncini are also available.
If you are overwhelmed inside the restaurant, know that most In N Out dishes are technically 'off-menu' items that you have to know about ahead of time. Their website has a whole list of the not-so-secret menu items that you can browse before heading to an in-person location.
Wrapping Up
There are so many awesome burgers to try around San Diego that you might want to hit a few spots while you're here. Luckily, each neighborhood has its own pull, so you can guarantee that you'll find good things to do and see before you try each new burger joint. Whether you're a first-time visitor, returning guest, or newly minted local, you'll find that you never run out of new things to experience in Sunny San Diego. So, let us know if you have any other favorite San Diego burger joints that didn't make the list this time around. See you in the comments!