When it comes to dining out in San Diego County, you'll find that there are endless options available to fit every palette. You're sure to find whatever you crave in America's Finest City. While San Diego might be famous for mouthwatering fish tacos and burritos, farm-to-table eateries, gourmet restaurants, and Cali-fresh cuisine - sometimes all you want is a nice cheesy slice of pizza.
After a long day of soaking up the sun on San Diego's beautiful beaches or enjoying the museums at Balboa Park, nothing beats ordering a feel-good classic like pizza. Pizza is a quick, easy, and budget-friendly meal that can feed the whole family. Whether you're craving deep-dish Chicago pizza or a thin and crispy brick-oven slice - you'll find the perfect pizza to suit your taste.
With so many great San Diego pizza restaurants, it can be challenging to choose just one! Read on to learn our top picks for your pizza-craving needs.
Regents Pizzeria
Address: 4150 Regents Park Row #100, La Jolla, CA 92037
Regents are the perfect choice if you're craving the flavors of New York or Chicago - the hip pizza place serves both styles of pizza, other tasty options like burgers and pasta dishes, and a great selection of local craft beers. It's located in the La Jolla area of San Diego.
Angry Petes Pizza
Address: 2734 Lytton St, San Diego, CA 92110
You might find a slice of Angry Petes Pizza at some of San Diego's most popular local breweries, which often have pop-up pizza joints. Now you can get a slice of Detroit-style pizza at Deli's Bar. Located in Point Loma, Desi's is a popular beer or cocktail spot. There's also a location near Santee Lakes.
Ambrogio15
Address: 550 W Date St, San Diego, CA 92101
If you dream of experiencing the tastes and ambiance of Italy right in the heart of San Diego, head to Ambrogio15, which claims to deliver the Milan experience with wine and gourmet pizza. Ambrogio15 has several locations, including Little Italy Food Hall and the Sky Deck at Del Mar Highlands Town Center. This eatery offers thin-crust Italian classic pizza made with sustainably sourced organic ingredients.
Buona Forchetta
Address: 3001 Beech St, San Diego, CA 92102
Buona Forchetta has multiple locations - including Liberty Station, Encinitas, San Marcos, Coronado, and South Park. The pizza is Neapolitan-style, and plenty of options are available for different dietary preferences. There are even gluten-free options and plenty of vegan and vegetarian options available. Try a seasonal vegetarian pie for a real treat!
Caffé Calabria
Address: 3933 30th St, San Diego, CA 92104
Caffe Calabria is another excellent choice when you're craving Neapolitan pizza using great local ingredients like organic San Marzano tomatoes. Pizza is served from 11 am - 3 pm on weekdays and 11 am - 10 pm Thursday - Sunday. In addition to pizza, they also roast their own tasty coffee and have a lovely cafe.
Tribute Pizza
Address: 3077 N Park Way, San Diego, CA 92104
For classic wood-fired pizza, craft beer, and wine, check out Tribute Pizza. The pizza restaurant menu includes fresh seasonal ingredients that are inspired by the local San Diego farmer's markets. The pizza style is a combo of New York style and Neapolitan, and the dough is made with premium North American flour.
Bronx Pizza
Address: 111 Washington St, San Diego, CA 92103
Bronx Pizza is New York-style pizza at its finest and has been around since the 90s and emerged as a San Diego stable and a beloved spot for San Diego locals to enjoy the flavors of New York pizza. Even the pickiest of East Coasters will be impressed with the mouthwatering thin-crust pies.
Lefty's Chicago Pizzeria
Address: 4030 Goldfinch St, San Diego, CA 92103
Lefty's Chicago Pizza is a family-owned and operated spot serving traditional Chicago pizza just like the owners enjoyed growing up in Chicago. The menu also includes other San Diego favorites like dogs, beef sandwiches, and more. Craft beer from local breweries makes this spot a choice and a great place to eat and drink the night away. You can visit their locations in Mission Hills and North Park.
Isola Pizza Bar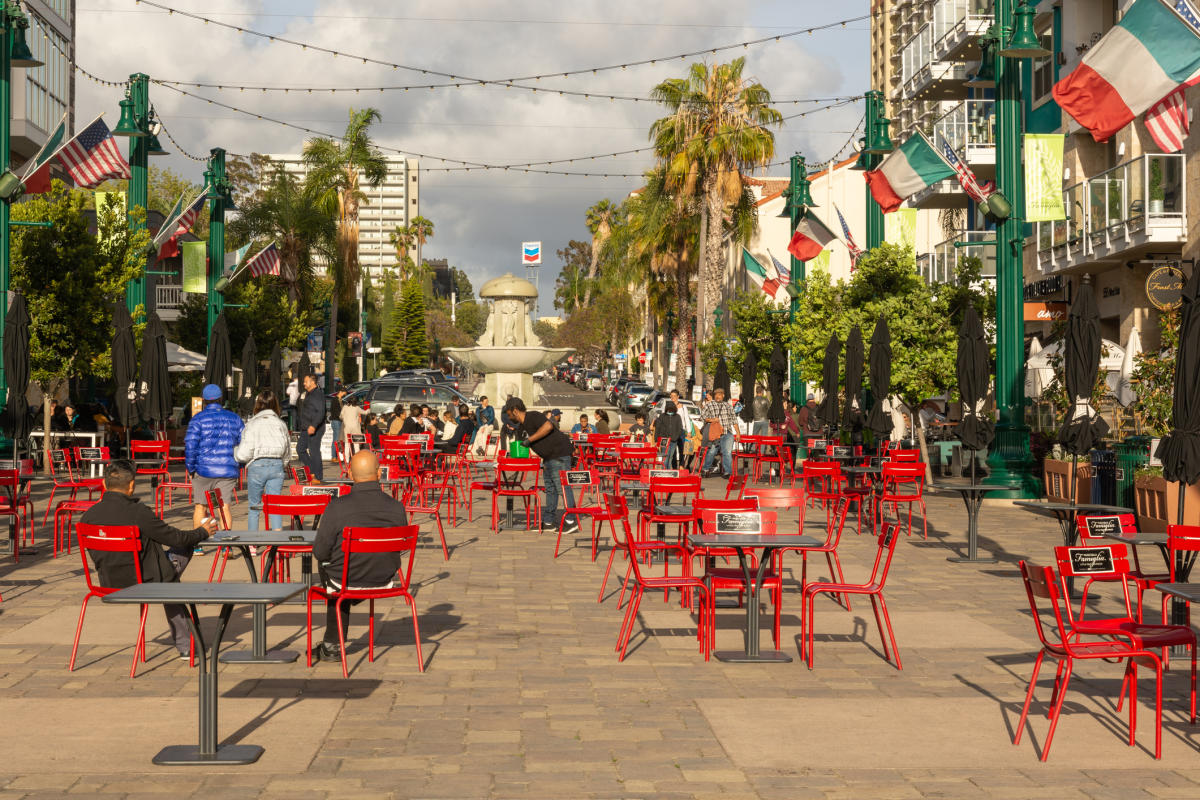 Address: 1526 India St, San Diego, CA 92101
Grab authentic Italian pizza at Isola's in either Little Italy or La Jolla. The food is inspired by the owner's grandmother's traditional Italian recipes that are pizza perfection. The restaurant's name, Isola, is in honor of her. With authentic ingredients like fresh mozzarella and fennel sausage, you'll crave Isola's long after your San Diego vacation comes to an end.
Pizzeria Luigi
Address: 1137 25th St, San Diego, Ca 92102
Pizza lovers will adore Pizzeria Luigi. The flagship location in Golden Hill opened its doors in 2004 and has since expanded to North Park and Imperial Beach. The owner grew up in Italy before moving to California and beginning his career in pizza. The Golden Hill location was featured on the hit show Diners, Drive-ins & Dives with Guy Fieri in 2008, making it popular around the United States and a must-visit spot for tourists visiting San Diego and locals who have always loved the pizza joint. Try the spinach and ricotta pizza - you won't regret it!
Blue Ribbon Artisan Pizza
Address: 897 S Coast Hwy 101, Encinitas, CA 92024
Fine dining and pizza? Blue Ribbon Artisan Pizza in Encinitas has created an elevated pizza experience that blends iconic comfort food with luxury dining. Proprietor Wade Hageman has worked out a variety of world-class gourmet restaurants throughout his career before opening his very own brick oven pizza place.
The Shop: Pizza + Cocktails
Address: 11967 Bernardo Plaza Dr, San Diego, CA 92128
The Shop has locations in both Ocean Beach and Rancho Bernardo, with options ranging from traditional crust to deep dishes and salads, sandwiches, and some great appetizers. It's the perfect spot to enjoy a cocktail on the patio while eating pizza with friends. Everything is made from scratch daily, and the establishment remains family-owned and operated.