San Diego has a gorgeous climate year-round, and you won't have to worry about the super hot days like you would in other parts of the country. The temperatures hover in the mid to high seventies in the summer months. Late summer is the warmest time of year, and the occasional heatwave makes splash pads the perfect escape to cool off. Throughout San Diego's beautiful parks, you'll find fun water elements designed for kids (and fun-loving adults) to cool off and escape the summer heat.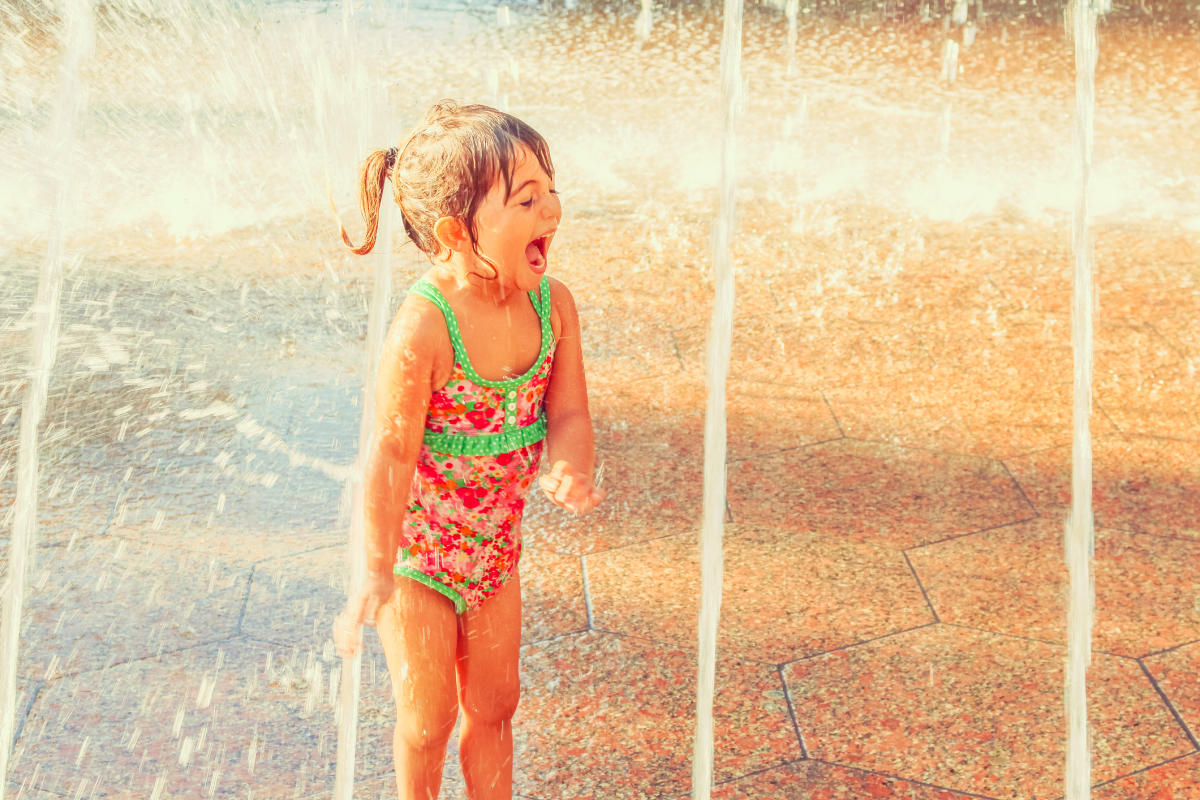 If the hot days ahead have you looking for an oasis in America's Finest City, you'll have plenty of splash pads to choose from throughout the city. Most of them are free and open to the public, so it's a great budget-friendly way to get outside, soak up some sun, and have family-friendly fun.
If you're curious about where to find the best San Diego splash pads, we've rounded up a list of our favorites. From Downtown San Diego to the surrounding suburbs, there's sure to be an excellent option near you. Pack up your sunscreen, wear your swimsuit, and prepare to splash the day away.
What are the warmest months in San Diego?
Late summer and early fall are when the temperatures get the hottest. Average August and September temperatures linger primarily in the high seventies but can reach as high as 90 degrees. With the warm weather in the next few months, you'll likely need to find a place to cool off. It's the perfect time to head to one of San Diego's great splash pads to let the kids cool off and play while you relax.
Waterfront Park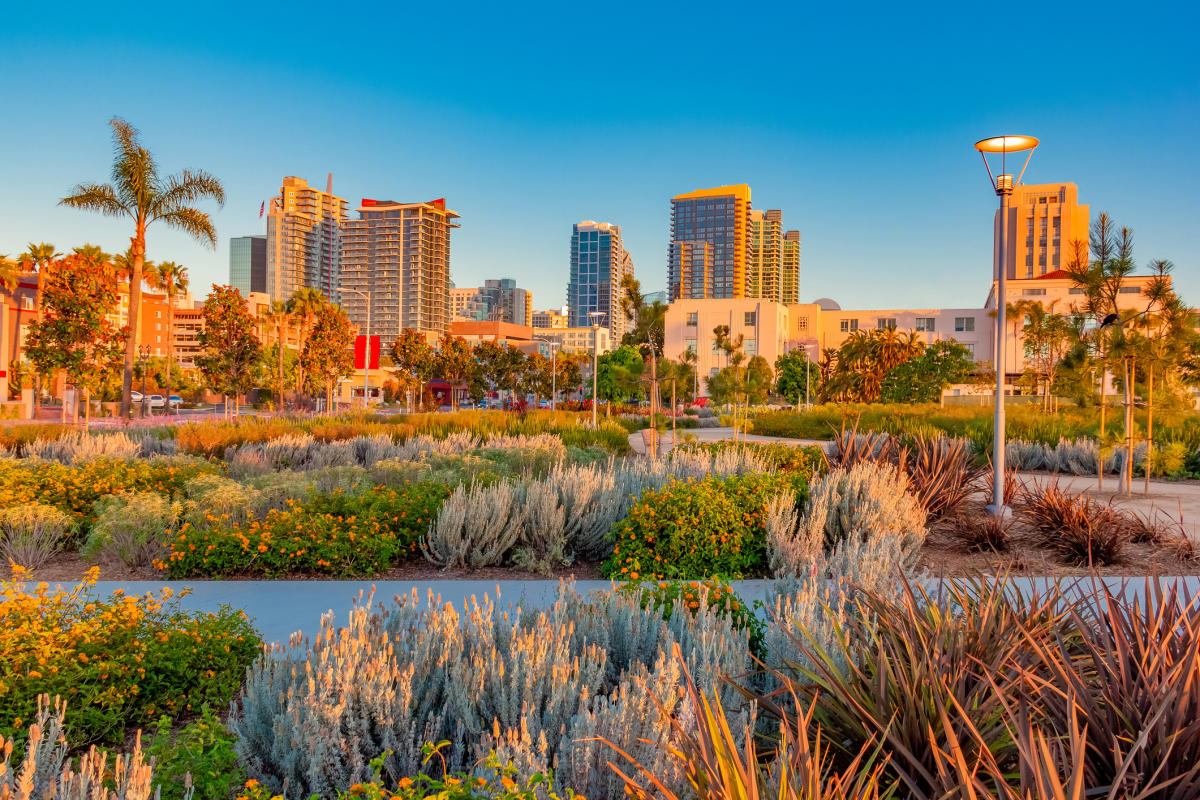 Address: 1600 Pacific Hwy, San Diego, CA 92101
Waterfront Park opened in 2014, quickly becoming one of the favorite places for locals to visit throughout the year. The park encompasses 12 beautiful acres close to San Diego Bay. In addition to the splash pad area, there are large playgrounds with equipment for kids to burn off some energy as they climb, jump, swing, and play.
The water element is a massive fountain type of structure with plenty of interactive features and jets that shoot up water all over the place. It's perfect for kids of all ages and will provide hours of entertainment. Throughout the summer, the downtown Waterfront Park is a trendy place for San Diego families to enjoy the days when kids are out of school. With anti-slip flooring, kids can run, jump, and play without worry of slipping and getting injured.
Nearby you'll find a grassy lawn for playing games and for adults to spread out a blanket and relax with a good book while the kids are occupied. There's also a picnic area that you can reserve for birthday parties or family gatherings if you choose. The park also features intimate garden rooms that adults will love. Waterfront Park splash pad is free and open to the public. The water is turned on all day from 9 am to 9 pm, so you can visit well into the evening during those long daylight hours.
Poway Community Swim Center
Address: 13094 Civic Center Dr, Poway, CA 92064
The Poway Community Swim Center has an epic splash pad that is the perfect place for kids. Families from around the area love visiting, and there are activities for people of all ages. The splash pad has all kinds of water features like buckets that dump on your head, a tunnel of water, and giant geysers that explode with water resulting in so many laughs from little ones.
The splash pad is open daily. From Monday through Thursday, the hours are from 9:15 am until 7 pm. On Fridays, it opens at 11 am and stays open until 8 pm, and on Saturdays, it remains open from 10:30 am - 5 pm. The cost to visit the splash pad is just $4 per adult and $3 per kid for San Diego locals. If you aren't from the San Diego area, you can still visit for $8 per adult and $6 per kid. It's an affordable and fun way to keep kids busy during the hot days.
Sweetwater Summit Regional Park
Address: 3218 Summit Meadow Rd, Bonita, CA 91902
Sweetwater Summit Regional Park is a massive 500-acre park located just over 20 minutes from downtown San Diego. During the summer, it's an extremely popular spot for locals to cool off in the super fun splash pad. There are dumping buckets, a spray zone, plenty of other fun water features for kids, and an expansive area for adults to work out while kids play.
You can even make a whole mini-vacation out of your visit and camp overnight at the campground, or stay for an afternoon and pack some food to enjoy at the picnic areas throughout the park.
The splash pad is turned on from May 1 until October 21. Splash pad hours are from 9:30 to sunset. The splash pad costs just $3 per car.
Alga Norte Aquatic Park
Address: 6565 Alicante Rd, Carlsbad, CA 92009
Alga Norte Aquatic Park is located in the Carlsbad area and makes a great stop after you visit some of the other great Carlsbad activities like The Carlsbad Flower Fields or LEGOland California. There is a big learning tool for teaching kids to swim and a fun splash pad with plenty of places to play in the vibrant children's play zone. The cost to visit is just $5 per adult and $3 per kid. It's open weekdays from 9 am to 7 pm, Saturdays from 8 am to 4 pm, and Sundays from 9:30 - 4 pm.
Wave Waterpark
Wave Waterpark is in the Vista area, and it's the perfect way for adults and kids to cool off this summer. It's one of San Diego's best and most affordable water parks. There is a lazy river, a wave pool, slides, and of course plenty of places to splash and play throughout the park. The cost to visit is just $24 per person over 42 inches and $19 per person under 42 inches. There are discounts for later afternoon admissions available too.
Catch some waves at this rad water park in Vista. Whether your little swimmer prefers to casually float along the lazy river, ride the wave machine or plunge down the Riptide Slide, they're sure to have a total blast. There's even a splash pad area and a large pool as well. And if you need refuge from the sun, score a cabana day rental. Also, you can grab a bite at the Wave Shack and Surf Spot Grill when everyone gets hungry.
Las Posas Pool
Address: 1387 W Borden Rd, San Marcos, CA 92069
The Las Posas Pool in San Marcos has a great splash area for kids. There are plenty of great water elements to splash and run around, as well as a 25-yard lap pool that is heated and offers swim lessons for kids. The fee to visit is just $4. Annual Splash Pass Membership costs $60 per person or $150 per family.
The Las Posas Pool and splash pad is always a groovy time for the family. Wee ones can play in the funneled water play area without getting too soaked. The 25-yard recreational lap pool is heated all year long and offers swim lessons for kids. Shade is limited, so arrive early to snag a spot. After your day of water play comes to an end, let the kids work out any remaining energy at the large grassy park next door.
Del Mar Highlands Town Center Fountain
Address: 12925 El Camino Real, San Diego, CA 92130
In the heart of the beautiful Del Mar neighborhood, kids can enjoy the Del Mar Highlands Town Fountain, which is surrounded by seating areas for adults to relax and watch their little ones play. The area is surrounded by shops, cafes, and restaurants. It's the perfect way to cool off during a day of shopping and exploring Del Mar.
The splash fountain is free and open to the public.
San Diego Safari Park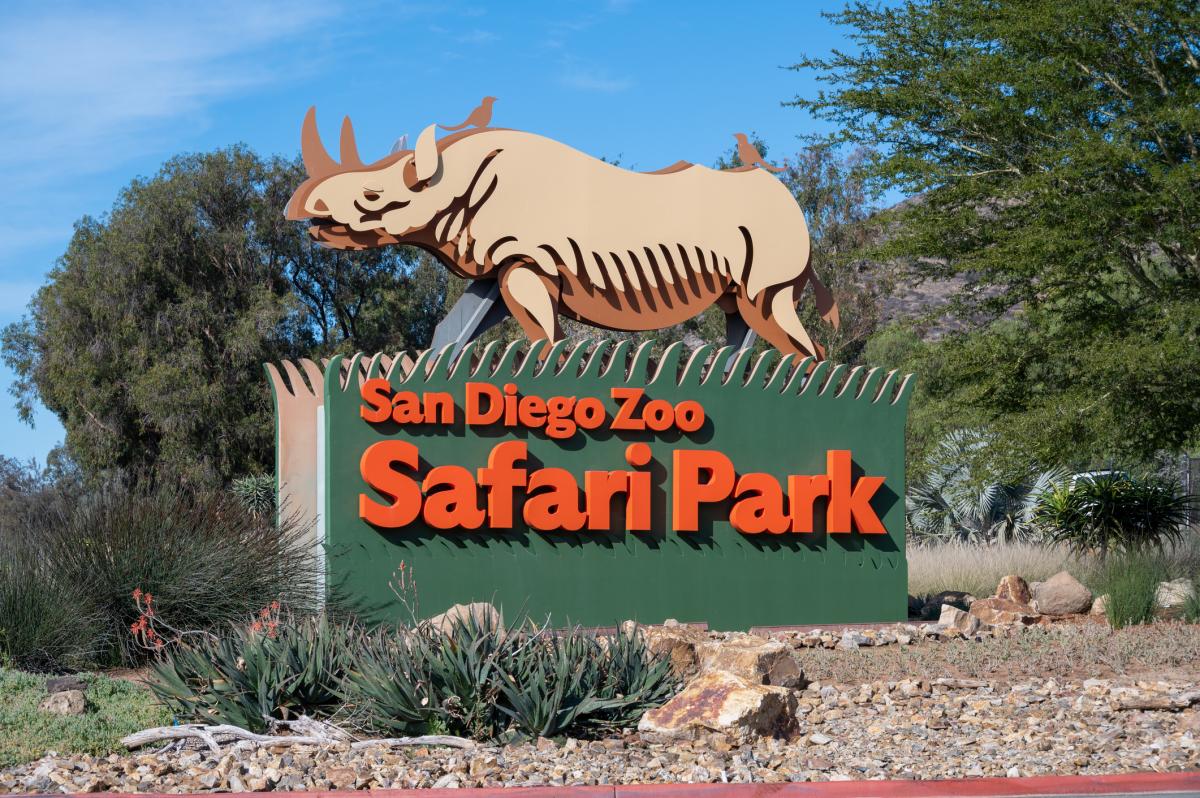 Address: 15500 San Pasqual Valley Rd, Escondido, CA 92027
If you're visiting the San Diego Zoo Safari Park, make sure to pack your swimsuit because, within the park, there's an awesome splash pad perfect for kids to cool off and play after a day of checking out the animals. The Savanna Cool Zone is located within the Lion Camp Play area. There are palm trees that shoot out mist and animals like turtles, lions, and crocodiles that act as fun interactive water features for little ones.
A day pass to the San Diego Safari Park costs $69 per person over 12 and $59 for kids aged 3-11.
Mountain Hawk Park Splash Pad
Address: 1475 Lake Crest Dr, Chula Vista, CA 91915
Located in the Chula Vista neighborhood of San Diego County, Mountain Hawk Splash Pad is a fun and free place to spend the day with your kids. It's within the larger Mountain Hawk Park. It is one of the first splash pads to open in early spring on April 1 and stays open all the way until November 1 - so it's ideal for making the most of those lingering warm days in the fall. In addition to the public, there are hiking trails, a playground, a basketball court, and of course, the Otay Lake views.
Sunset Park
Address: 909 Puesto Del Sol, San Marcos
Sunset Park is located in San Marcos and is great for kids of all ages, from toddlers up. There are separate playgrounds for little kids so parents can relax and feel safe letting little ones run around. Next to the playground, there is a great little splash pad to refresh kids during their play sessions. Sunset Park is open from 7 am to 9 pm, and admission is free.
Hilton Head County Park
Hilton Head County Park is the perfect place for little pirates to have some summer fun. The splash pad is pirate-themed, with plenty for adults to enjoy as well, like a large grassy area for relaxing and plenty of picnic areas and even BBQs to grill out some delicious food. In addition to the splash pad, kids can burn off some energy on the playground.
The splash pad is turned on from May through October, and there are season passes available for $30 per person or $75 per family of three. A day pass costs just $3. The hours are from 11 am to 4 pm daily.