Any given day during low-tide in San Diego I can walk along the beach and see adults and children alike enjoying the wonders of the San Diego tide-pools. These delicate ecosystems thrive along the San Diego coastline in shallow pools and deep cavernous ravines. Organisms from anemones to sea-cucumbers make their homes among the reefs of San Diego and survive in the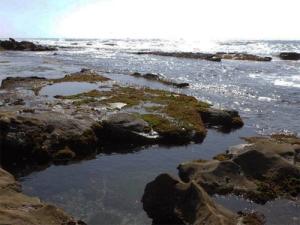 extreme environment of a tide-pool.
When most people think of ocean tides, they think of 'high' and 'low,' but what does this mean for tide-pools? The constant ebb and flow of the tides makes tide-pools a diverse and formidable ecosystem. Organisms in tide-pools have to adapt to survive in both wet and dry environments as well as salt and freshwater depending on the amount of rainfall any given day. The beauty that lies within tide-pools is unlike any other and each shallow pool creates a new environment for its living creatures and a window into their world for curious San Diego residents like me.
A common way to enjoy nature and the beauty of our surroundings is by taking a stroll near local tide-pools. A personal favorite San Diego pastime is walking the beach and tide-pools during a low-tide sunset. It's a gift to capture the overwhelming beauty of a pristine beach, rocky reef, and beautiful sunset. The captivating green seaweed illuminates the water while the dark purple sea-cucumbers slink across the sand, orange starfish jumble the rocks, and fluorescent green sea anemones reach for the sun along the water's edge.
If you're looking for a great way to spend a few hours at low-tide, here are a few of my favorite San Diego tide-pools:
The tide-pools of San Diego are just another reason why I love this city so much. Their natural beauty is unwavering and there is so much to discover, it's a never-ending adventure. Please keep in mind that the tide-pools are alive and to be cherished. Locals and visitors alike love this part of San Diego and spending time at the tide-pools is a lasting memory for most San Diego residents. Please be respectful of the beaches and pools and do not touch or remove any of their inhabitants. We all enjoy this beautiful city together and respect our wonderful neighbors along our coastline.