Best Restaurants in San Diego with a View (Waterfront Dining)
San Diego is known for many things, but America's Finest City wouldn't be complete without all the ways it allows for proximity to the ocean. After all, this coastal city has no shortage of beaches, boardwalks, water-based activities, and, of course, restaurant locations situated right near the water.
It can be hard to know where to begin when there are so many of the best waterfront restaurants, bars, and shops all with great views. You may be looking for a certain type of food to go along with your view, or perhaps there's an area of San Diego you've been dying to visit but need some recommendations for.
So, stick with us as we dive into our top 11 waterfront restaurants in San Diego, featuring things like patio seating, fine dining, views of San Diego's city skyline, casual dining, local seafood, and views of the Pacific Ocean or San Diego Bay.
1.    Hotel Del Coronado - Coronado Island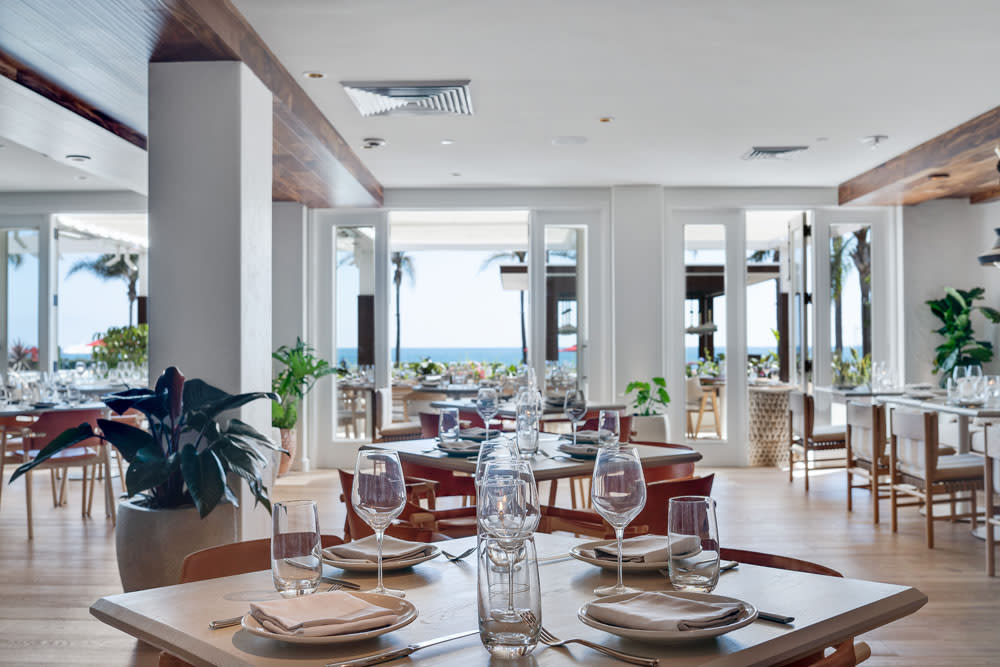 The 'Hotel Del' is one of the most popular places in San Diego by far. Known for hosting the likes of past presidents, movie stars, international leaders, and many other notable guests, the hotel is a historical fixture here.
Located on San Diego's Coronado Island, the Hotel del Coronado is just a short drive from central San Diego and offers some of the most beautiful waterfront views thanks to its clean beaches and great location.
While a stay at the Hotel Del may or may not be in your plans, you can still get a feel of what it is like to sit on the grounds and eat a meal overlooking the ocean.
Sit down at the ocean terrace to take in the palm trees, sandy shores, and the ocean as you enjoy any one of the world-class dishes offered on the menu.
Restaurant options include Serēa, Sun Deck, a pizza bar, fish tacos, and more. If you want it, the odds are that the Hotel Del has it!
There is also a bar, an ice cream shop, and other smaller bites if you're looking to just take a quick break during your walk around the island.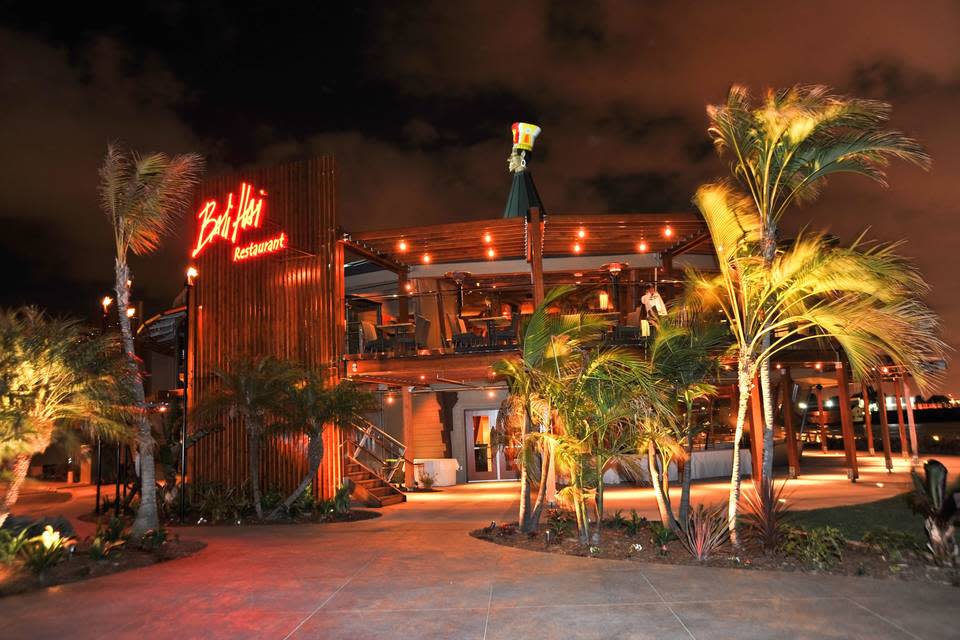 This Polynesian spot is located on San Diego's Shelter 'Island,' a man-made sandbar that has since turned into a fun, nautical neighborhood in Point Loma.
Shelter Island may not be an island, since it's connected by a strip of land to the rest of the larger neighborhoods it neighbors, but it does provide the perfect vantage point for a waterfront meal.
The restaurant itself is a circular building with huge, floor-to-ceiling windows, outdoor seating, and an ambiance that shows why Bali Hai is truly meant to be right on the water.
Pair all the fresh seafood your heart desires with some delicious, sweet cocktails while you enjoy your front-row view of the North San Diego Bay.
Brunch runs from 9:30 am to 2 pm, with their buffet option closing at 2:45 pm, and you can always grab lunch from 11:30 am to 3 pm. Dinner begins at 4 pm on Sunday and 5 pm the rest of the week, running until 9 pm on weeknights and 10 pm on Friday and Saturday.
3.    Pacific Coast Grill- Cardiff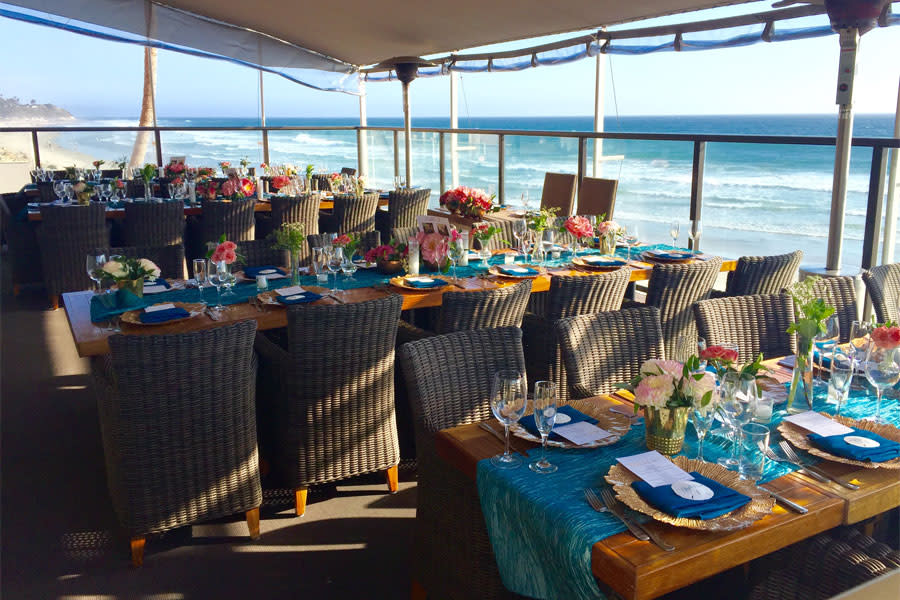 Head a little way up to San Diego's North County to enjoy lunch, the raw bar, or dinner at the Pacific Coast Grill. Conveniently located right on the beach, this is the perfect place to kick back while you enjoy fresh seafood on the ocean terrace.
You can sit indoors or outdoors on either of the two levels of the bars and patios, ensuring that you'll have a great ocean view no matter where you choose to enjoy your food.
From the wild shrimp dumplings to truffle fries, and steamed mussels to the oysters on the half shell, the Pacific Coast Grill is the perfect combination of fine dining and a casual atmosphere.
Head over after a surf session or volleyball game at Cardiff State Beach, you'll be grateful you have an extra appetite to try more of their amazing food.
Lunch runs from 11 am to 3 pm, the oyster bar (raw bar) is from 3 to 4 pm, and then dinner is 4 pm to 8:30 pm (9 pm on Friday and Saturday.)
4.    Brigantine- Downtown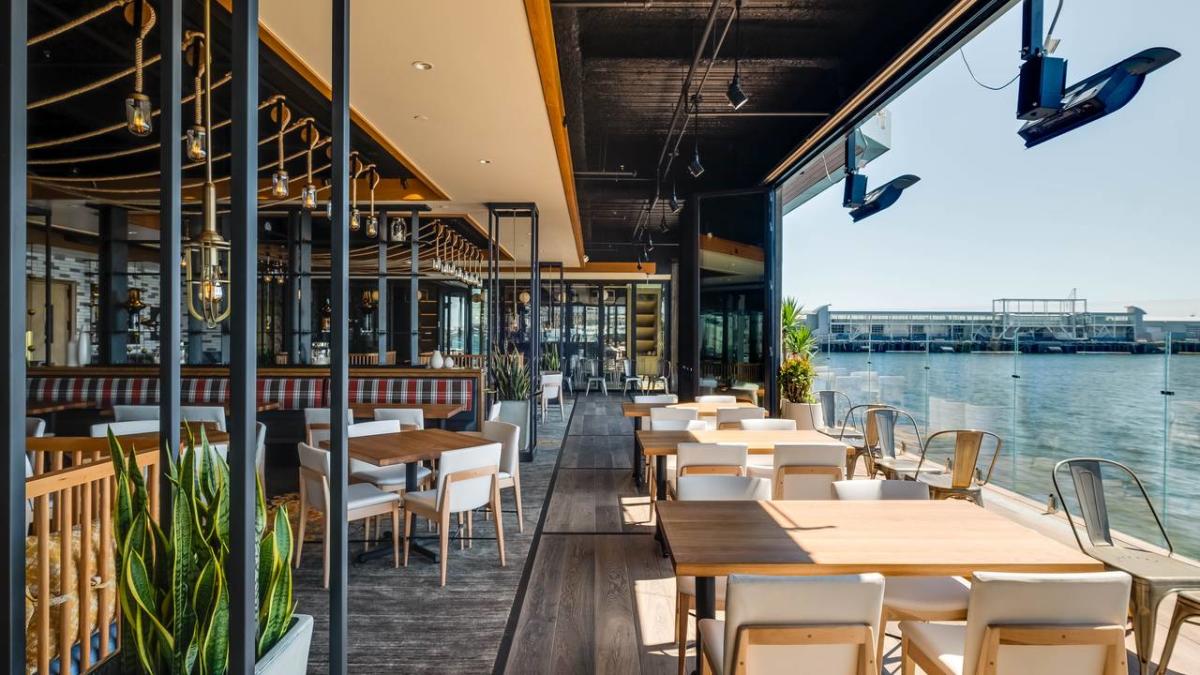 If you're looking for great seafood, right on the water, then Brigantine on San Diego's Portside Pier is the perfect place to enjoy some patio seating while digging into seafood pasta, beer-battered fish, and other local seafood.
You can easily walk over after a Little Italy farmers market or a tour of the nearby USS Midway Museum.
A huge perk of this location is that it is very close to many of the downtown-area hotels, so there's a good chance you won't have to Uber or take the train to get here.
The outdoor seating gives you the full experience of being on the water, and the atmosphere is nice, but not too overly fancy, either.
Grab lunch from 11 am to 2:30 pm or Sunday brunch from 10 am to 2 pm. You can plan dinner from 4 to 10 pm, and the oyster bar is open daily until 10 pm, as well.
There are other Brigantine locations, and Point Loma and Imperial Beach are two more San Diego restaurants that also have some great waterfront views, especially if you're a seafood lover.
5.    Brockton Villa Restaurant- La Jolla Cove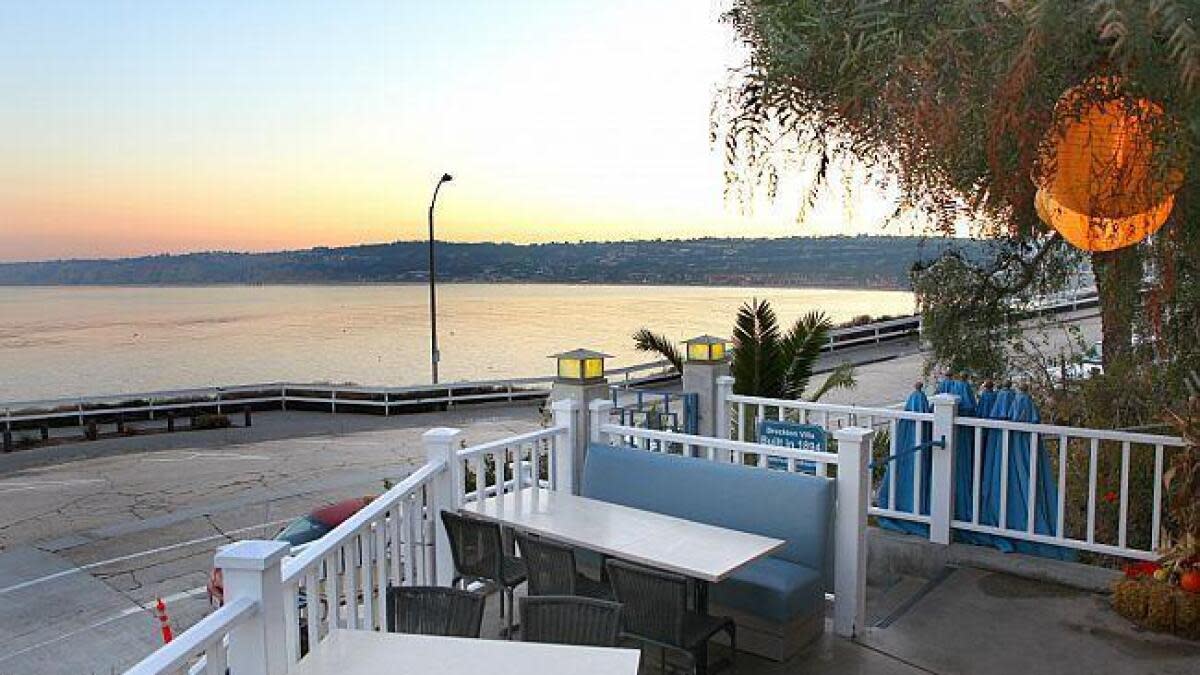 In a great position to offer views of the La Jolla Cove, Brockton Villa Restaurant is a wonderful place to head for breakfast or lunch…with a view!
With a beautiful patio space overlooking the water and its famous rock formations, sea lions, and more, this La Jolla Shores spot can't be beaten.
Open daily from 9 am to 3 pm and starting a little earlier at 8 am on the weekend, you'll have plenty of time to grab a bite before heading to the water, or to explore all of the cute, locally owned shops in the area.
Order anything from French toast to chilaquiles, burrata, surf and turf, fish tacos, and so many other delicious dishes. Of course, seafood is always a good way to go when you're this close to the water, but there are plenty of options if that isn't your thing.
6.    Jake's Del Mar- Del Mar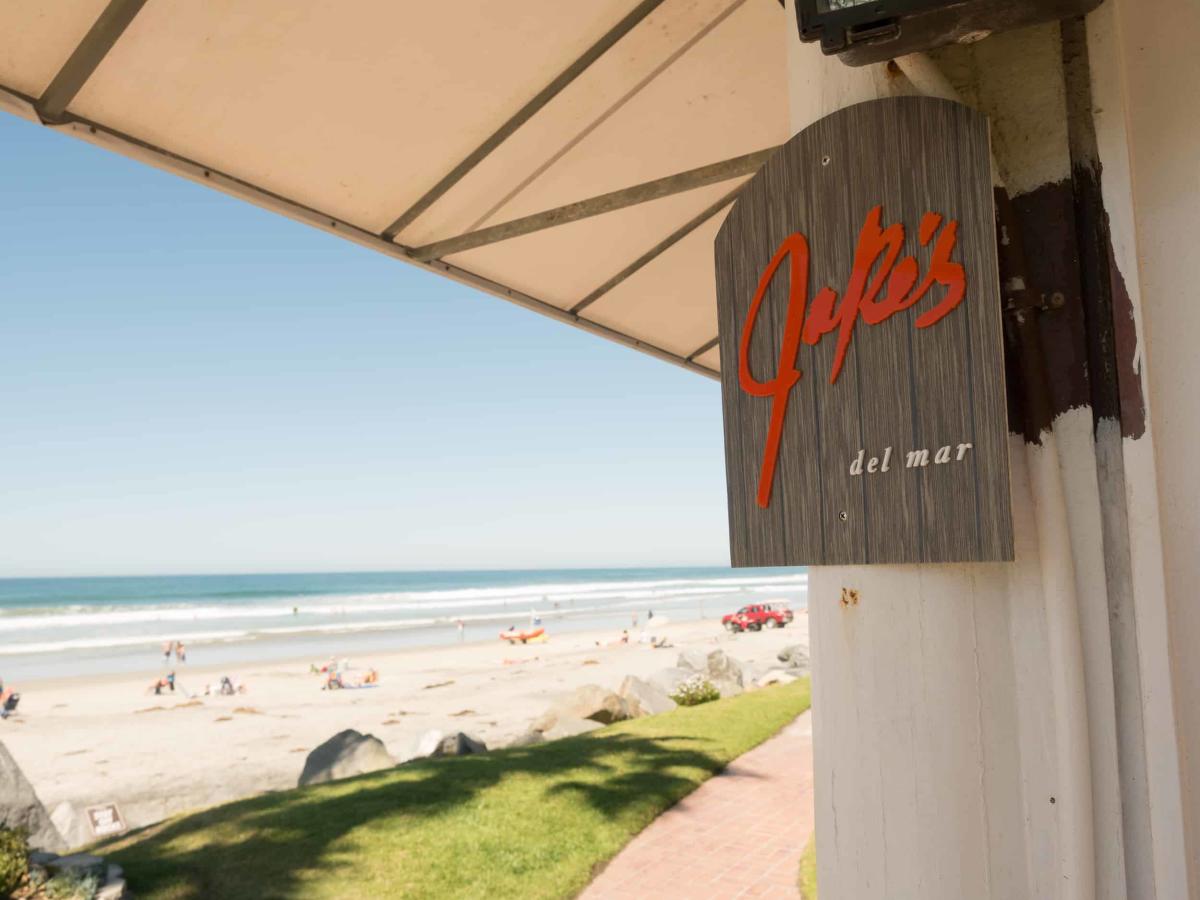 It's hard to get as close to the beach as you can at Jake's Del Mar. Coastal fare and craft cocktails are at the center of this experience, but the water is hard to miss. In fact, 'del mar' means 'of the sea' in Spanish, and it's clear that this restaurant has opted to keep the white sand beaches and waves of the Pacific Ocean as a focal point.
Try some ceviche, grilled prawns, grilled fish tacos, crab cakes, or the mixed seafood pot. Split some dishes with friends to try more!
If you're going for a dessert option after your meal, the Hula Pie is what they are known for, and for good reason.
The hours at this spot vary, but they generally open around 11:30 am, except for Sunday when they open at 10 am, and Monday when they only offer dinner, beginning at 4 pm. Jake's closes at 8:30 pm during the week and at 9 pm on Friday and Saturday.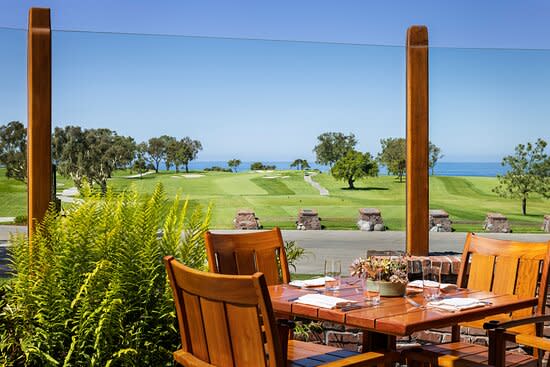 Another La Jolla option, this is far from the La Jolla Cove that neighbors Brockton Villa Restaurant.
With an amazing vantage point over the famous Torrey Pines golf course and the ocean beyond it, The Grill at Torrey Pines is a local favorite not only for its amazing food but also for its location.
The waterfront dining here, paired with the harbor fish, sides like baked potato, and other meat dishes, makes for a great break from golfing, exploring, or even lying on a nearby beach.
Open daily from 6:30 am to 10 pm, you'll have your pick of mealtimes, and types of foods, and can enjoy your meal at an indoor or outdoor spot. They also have live music from Wednesday to Saturday, which adds a fun touch to this already great spot.
Try their sea bass ceviche, albacore schnitzel, or the smoked tuna salad sandwich with a drink of your choice.
Sunset may just be the best time to go and make the most of your dining experience, but the waterfront views are spectacular at any time of day.
8.    Tom Ham's Lighthouse- Harbor Island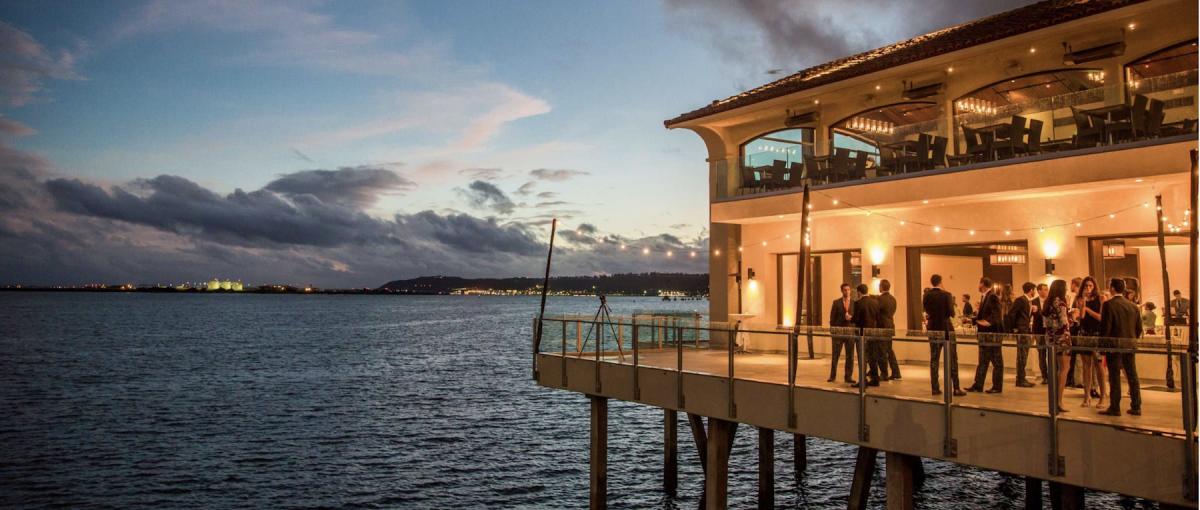 Quite close to the San Diego airport, Tom Ham's Lighthouse is one of the best waterfront restaurants in San Diego and could make for a great first stop, if you're hungry.
With views of not only the Pacific Ocean but also of the coast, this might also be one of the very best seafood dining options in all of San Diego. It gives you a unique view of the city and the water, in a way that perfectly complements the fresh fish at this seafood restaurant.
Open from 11:30 am to 9 pm, with Sunday brunch starting early at 9:30 and dinner ending at 10 pm over the weekend, as well.
Try the seafood platter options, you can even combine your own, or the paella, seafood pasta, or harbor fish.
For Sunday brunch, you can take advantage of a buffet option that offers everything you could want. From French toast to a quinoa garbanzo salad, seared yellowtail, wild shrimp, oysters, and Maine lobster claws that will have you feeling like you're on the East Coast.
9.    Miguel's Cocina- Downtown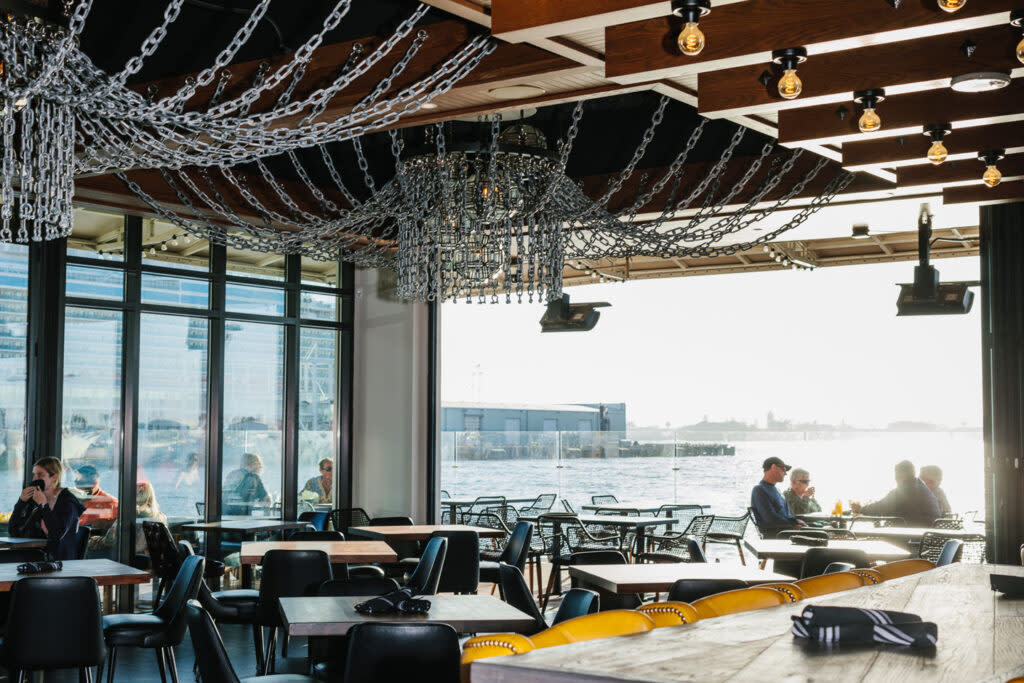 Miguel's Cocina has a few locations around San Diego and while some, like the Point Loma location, have a more family-owned feel, the downtown location elevates everything about your dining experience.
Not only is the restaurant located on the San Diego Bay, but it's also just a couple minutes' walk to popular downtown locations like Little Italy, the Gaslamp Quarter, and Seaport Village.
Contrary to the style of other Miguel's locations, this one on the Portside Pier doesn't offer a happy hour service. This waterfront restaurant backs up to the San Diego skyline, which more than makes up for its lack of happy hour, as does the upscale feel of the entire restaurant.
Miguel's Cocina's waterfront location gives you an experience that focuses on great California cuisine while differing from the seafood restaurants nearby.
The Mexican cuisine is incredible, and you can start with some ceviche before heading into your main course, where the fish tacos and surf and turf burrito tend to be popular options.
Open at 10 am on Sundays only, you can come in at 11 am through 9 pm the rest of the week, though they do stay open until 10 pm on Friday and Saturday.
10. JRDN- Pacific Beach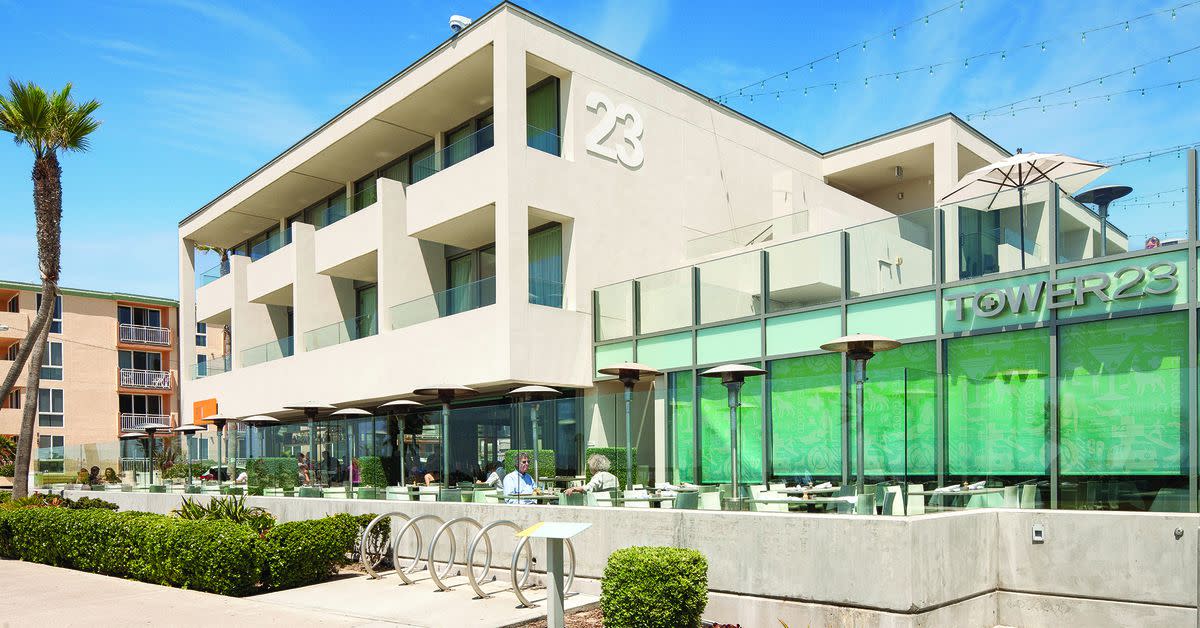 Led by new (as of 2021) executive chef Stephen Gage, the oceanfront restaurant JRDN restaurant is last, but certainly not least, on our list.
Located at Tower 23 Hotel in Pacific Beach, this is an incredibly central, accessible location if you're staying in San Diego.
The hotel has a beautiful view of the ocean and all the happenings of Pacific Beach's boardwalk and sand.
Enjoy a seared albacore tuna sandwich, oxtail pasta, or one of the other many recent additions to the contemporary steakhouse's menu. The ahi tuna nachos and steamed mussels are also great dishes to split ahead of trying out some other menu items.
Visit the JRDN restaurant for brunch on weekends from 9 am to 3:30 pm, lunch daily from 11 am to 4 pm, or dinner daily from 4 pm to 9 pm.
11. Oceana Coastal Kitchen - Mission Bay
Now, the heart of San Diego is centered around its coastal location, so it's only right to head to Oceana Coastal Kitchen to enjoy a signature Oceana House Roll, among other sushi rolls, and stunning views.
You can find the restaurant at the Catamaran Resort Hotel, just a walk away from the popular Mission Beach Boardwalk and directly facing Mission Bay's smaller Sail Bay.
Executive Chef Paul Arias does a wonderful job at combining flavors of San Diego, CA with sustainable produce sourced from Baja California and the Pacific Ocean, of course.
Breakfast, lunch, dinner, and a Sunday brunch are offered at this restaurant that stays open from 7 am until 11 pm on weekends, and 10 pm on weeknights.
Bon Appetite!
As you can see, San Diego is no stranger to waterfront restaurants. Its selection of waterfront dining options spans from places with a casual atmosphere to those with an award-winning wine list. You'll get panoramic views at some and more direct views of the water at others. No matter what, you will find yourself taking in some of the best California coastal cuisine at all of them.
Head to Miguel's or Brigantine on the Portside Pier for great views of San Diego Bay and the rest of the harbor area. Stop by La Jolla Shores, The Grill at Torrey Pines, or dine at the Hotel del Coronado for more elevated meals with direct ocean views. Grab a bite in Del Mar, Imperial Beach, or near the Pacific Beach Boardwalk for a more casual eatery with spectacular panoramic views all the same.
As you continue your journey eating, drinking, and exploring all that San Diego has to offer, remember that there are so many waterfront dining locations in this SoCal city. The right place for you is out there, and we know that you'll find it!
Let us know @sandiegodotcom on socials if you have any top picks that haven't made it on this list. Happy exploring!