If these are questions that make you shake your head up and down and go "uh-huh", then you're in the right place: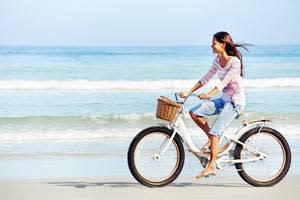 What are the top bike shops in San Diego for bike rentals? 
 
How can I find the best bike rental shops in San Diego?
 
Are there cheap bike rentals in Mission Beach?
 
Can I rent a bike in downtown San Diego and cruise around safely?
 
Is renting a bike in San Diego cheap, affordable and easy?                     
 
Does anyone offer bike rentals for all ages, sizes and abilities?
What better way to spend a day in San Diego than to hop on a bike and cruise the town! Here are our top 5 picks for bike shops in San Diego for bike rentals with the locations and contact information following! 
Wheel of Fun Rentals - With locations in Balboa Park, Hotel Del Coronado, Downtown San Diego at Marriott Marquis & Marina, Santee, Wyndham San Diego Bayside, Wheel of Fun Rentals is extremely convenient. Offering rentals for all of your biking needs, from a regular pedal bike to a tandem bike or even a surrey. (wheelfunrentals.com)
 
Pedego Carlsbad - A new spin on biking, rent an electric bike and cruise in style and with ease. Pedego bike rentals also has pedal bikes available for those of you who want to ride a regular old fashioned bike. (pedegocarlsbad.com)
 
Ride Cyclery - Home to a great selection of bike choices, Ride Cyclery rents road, touring and mountain bikes. You can conveniently rent your bike online and just come and pick it up when you are ready! (ridecyclery.com)
 
Cheap Rentals - Bikes, skates and more, Cheap Rentals is your full service beach rental shop located in Mission beach. True to it's name Cheap Rentals has great quality rentals at some of the lowest prices around! (cheap-rentals.com)
 
Revolution Bike Shop - Truly making the customers their number 1 priority, this family owned business has the bike for you. All their products are new and current and maintained to the highest degree. (revolutionbikeshop.com)
For more information on bike paths around San Diego and Misson Bay, tips and bike rentals, see our main bike and San Diego bike rentals page.
Bike Rentals by Location
Downtown San Diego
Wheel of Fun Rentals -1355 N. Harbor Drive San Diego, CA. 92101 (619) 342-7244
Wheel of Fun Rentals- 333 W Harbor Drive San Diego, CA. 92101 (619) 342-7244
Wheel of Fun Rentals - 1660 Old Globe Way San Diego, CA. 92101 (619) 342-7244
Mission Beach
Cheap Rentals - 3689 Mission Blvd San Diego, CA 92109 ‎ (858) 488-9070
Carlsbad
Pedego Carlsbad - 355 Carlsbad Village Dr., Carlsbad, CA 92008 (760) 729-2453
La Jolla
San Diego Bike and Kayak Tours - 2158 Avenida De La Playa La Jolla, CA 92037 (858) 454-1010
Coronado
Wheel of Fun Rentals - 1500 Orange Avenue Coronado, CA. 92118 (619) 342-7244
Solana Beach
Revolution Bike Shop - 235 S. Hwy 101 Solana Beach, CA 92075 (800) 985-7814
Encinitas
Ride Cyclery - 449 South Coast Highway 101 Encinitas, CA 92024 (760) 632-1500
Santee
Wheel of Fun Rentals - 9310 Fanita Parkway Santee, CA. 92071 (619) 596-3141