Being in San Diego for the 4th of July is a great place to be. Whether you are here on vacation or are a San Diego native, there is no better place to celebrate America's Independence than its finest city. Every year, a colorful display of fireworks can be seen exploding along San Diego's sparkling coastline, a sight that will never be forgotten.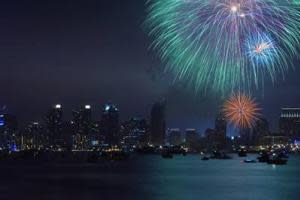 This 4th of July, scores of people will be flocking to San Diego beaches to grab a front row seat. The Port of San Diego will be hosting the Big Bay Boom, the city's largest fireworks display spanning five beautiful bay front locations. Gather your friends and family, come early and grab a good seat at one of these locations. San Diego's Big Bay Boom begins at 9pm.
Shelter Island: Catch the fireworks from this small and intimate beach spot. Shelter Island is a narrow strip of land located on Point Loma's bay front. Pack a basket full of goodies and beverages, bring a few lawn chairs and warm blankets and relax along the shoreline. 2071 Shelter Island Drive, San Diego, CA 92106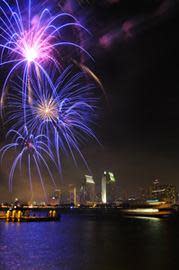 Harbor Island: Located near the San Diego International Airport, Harbor Island is a prime waterfront location to watch the fireworks and enjoy San Diego's bright city skyline. 2040 Harbor Island Drive, San Diego, CA 92101
Embarcadero: Located behind San Diego's convention center, the embarcadero is another gorgeous bay front location to catch the firework show. There is plenty of parking nearby in the Gaslamp Quarter and during the day you can enjoy walking around the shops and restaurants in downtown. 1325 Pacific Highway, San Diego, CA 92101
Seaport Village/Coronado Landing: One of San Diego's favorite local attractions is Seaport Village. Enjoy a delicious lunch or dinner at one of their waterfront restaurants, visit the local shops or simply layout on the grass, relax and enjoy the view. 809 W Harbor Dr # A , San Diego, CA 92101
Imperial Beach Pier: Folks living in South Bay, can catch the Big Bay Boom fireworks display from Imperial Beach Pier. Imperial Beach is a large beach with its own pier and many tasty shops and restaurants. 2 Elder Avenue, Imperial Beach, CA 91932
San Diego County Fair: Enjoy a full day of patriotic festivities, live music, entertainment and of course delicious fair food and fast coasters and rides. Join hundreds of people at the San Diego Fair and catch their grand 4th of July fireworks display starting at 9pm. 
SeaWorld: SeaWorld San Diego is known for its spectacle shows and summertime fireworks show - "Into the Blue," but the 4th of July is especially breathtaking. With the San Diego bay as its backdrop, visitors will be treated to a magnificent fireworks display. Get to the park early and enjoy a day full of fun water rides, attractions and popular whale and dolphin shows. You can catch Seaworld's fireworks show at 9:30pm. 
City Cruises: Grab a front row seat right under the action and enjoy a romantic cruise for two. City Cruises will be hosting the "Fireworks Dinner Cruise Celebration." Enjoy a scenic three hour cruise aboard a grand yacht, gourmet buffet dinner, wine and cocktails, live music, dancing and more. At night, guests will have the best view to the Big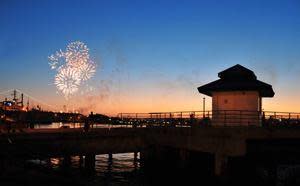 Bay Boom Fireworks Show, presented by the Port of San Diego. 
Many people anticipate Independence Day and look forward to heading to the beach to watch San Diego fireworks. The 4th of July is a great way to spend time with close family and friends, head to the beaches and parks and enjoy the beautiful spectacle of fireworks in the night sky. If you are visiting from out of town, check out which San Diego hotels offer the best views and start planning your 4th of July escape today.