If you've been to San Diego before or have done your research in planning to visit the area, you're likely familiar with the island of Coronado. This portion of San Diego is home to plenty of food, activities, and views of mainland San Diego as far as the eye can see.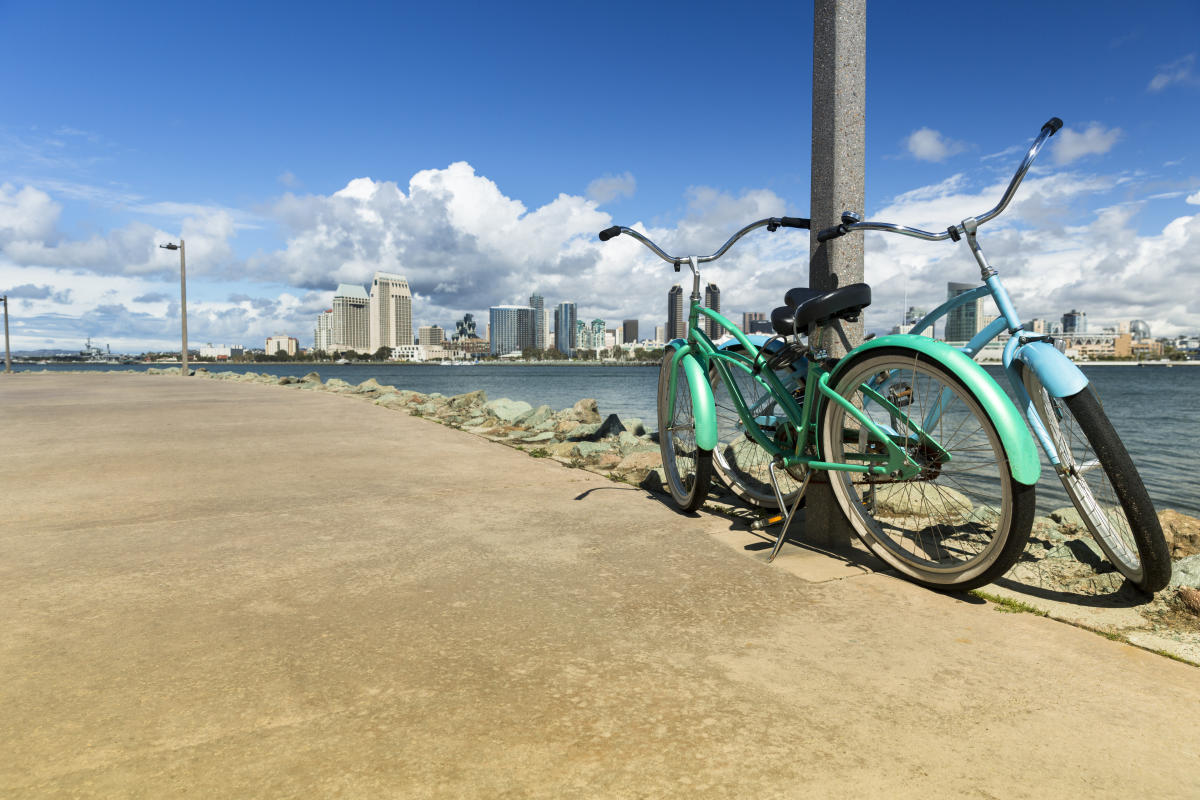 The Coronado Ferry Landing itself is the direct drop-off point for ferries coming from downtown San Diego, often running between the downtown convention center and Coronado Island. The ferry landing has so much in store right as travelers disembark- from good eats to eclectic shops, and outdoor activities to special events, you'll never be bored.
The views from the Coronado Ferry Landing are some of the best on the island and certainly provide you with an amazing way to begin and end your trip to Coronado Island. Spend some time exploring by foot or bike, and make sure you make a stop at the iconic 'Hotel Del' before you head back to the mainland.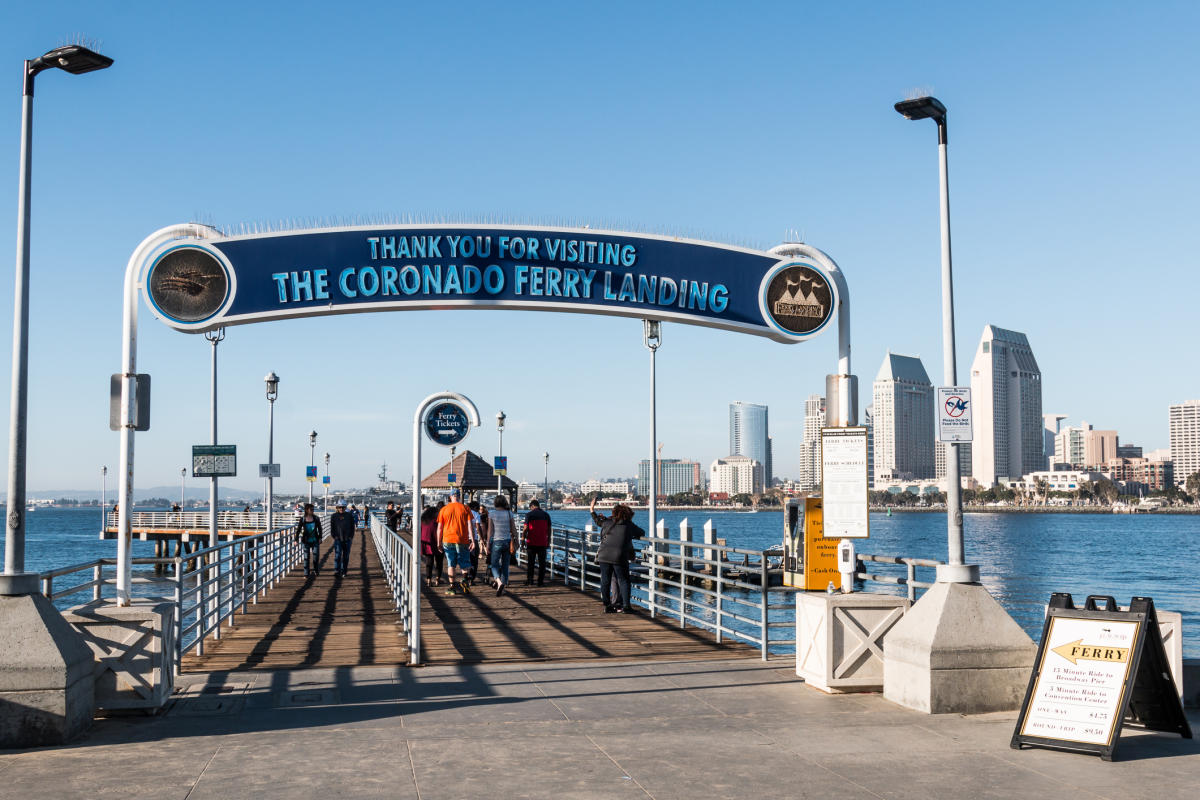 Dining
After the ferry ride over on the San Diego Bay ferry, which takes about 30 minutes from start to finish and provides wonderful views of the San Diego Bay, you'll want to plan to grab some food.
Lucky for you, Coronado Ferry Landing has plenty of options, from casual to classy, that you can make fit any budget or occasion.
Try One of Three Premier Waterfront Restaurants
If you're looking for a dining option that's elevated, try one of their three premier waterfront restaurants. The wonderful Il Fornaio offers Italian food, Costa Azul has some exquisite Mexican food, and the newly remodeled Peohe's specializes in fresh seafood. No matter which option you choose, you're in for decadent fine dining with lots of flavor, ambience, and great service.
Il Fornaio brings authentic Italian fare to the plate, using traditional cooking techniques paired with the freshest ingredients. As much as we all love San Diego, it's fun to feel as if you're being transported to a European vacation destination somewhere through food, too.
Pair the delicious food with curated wines and cocktails, along with a view of San Diego's skyline, of course! Executive Chef Maurizio Mazzon uses preparations and recipes that have been perfected for generations as he supervises and guides the kitchen in a traditional Italian form.
Costa Azul brings earthy tones and a creative, subtle lighting to bring diners not only views of downtown but also an enriched atmosphere to enjoy exquisite fine dining in a way that feels like they are on a far-off island somewhere.
With Happy Hour all week long, live music, and indoor and outdoor seating options, you'll enjoy dishes like coconut crunchy shrimp, pozole de pollo, burritos, salads, and more. These options combine healthy ingredients with full, rich flavors, and sometimes adjust to market offerings to ensure that ingredients are the best they can be.
Peohe's specializes in fresh tropical fish and flavors of the Pacific Rim, including at their sushi bar filled with new wave rolls and innovative creations. This is one of our favorite spots when it comes to getting views of the San Diego skyline, but that's just a side note when we talk about the delicious food that Peohe's offers.
Enjoy Al fresco dining on the patio or in the courtyard if the weather is nice and you don't want to stay indoors. Otherwise, their dining room has stunning, tiered seating so that all guests can enjoy the views.
Let's say you have your own boat…well, you can dock it at Peohe's private dock, in that case!
These fine restaurants offer a great way to experience more of Coronado Ferry Landing.
Casual Eats
If fine dining isn't your thing, or you'd rather save that for dinnertime, not to worry! Coronado Ferry Landing is also home to plenty of great, casual eateries that you can enjoy.
Spiro's Gyros Greek Café has some great Mediterranean options like Greek fries, fresh fish options, and nice wines and beers.
Village Pizzeria Bayside will indulge your Italian craving with calzones, pizzas, pastas, and hoagies. This spot is often hailed as the best pizza on Coronado!
Crown Town Deli has lovely sandwiches, kombucha, and wraps to enjoy no matter if you want a sit-down meal or need to grab a bite on the go.
Lil' Piggy's Bar-B-Q focuses on Memphis Style barbeque in its meats and authentic specialties. The concept is locally owned, has great blues music, views, and over 100 beers to choose from.
If you need something really quick and/or really cheap, there is also a Burger King here.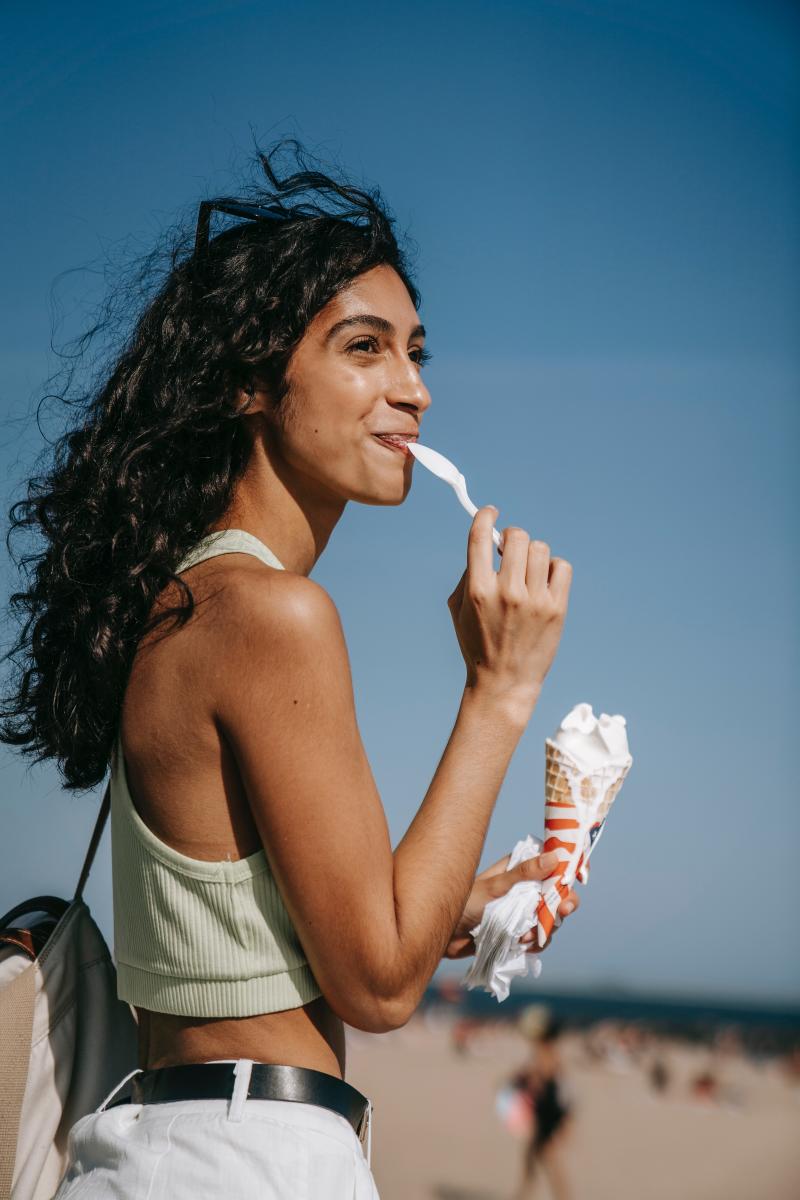 For dessert, you have a few different casual options to take advantage of, too.
Stop at Le Parfait for award-winning macarons, pastries, and other desserts that will make you feel as if you've teleported right to Paris. Handcrafted drinks, brunch options, and plenty of sweet treats will have you wishing you had time to come back for more.
Cold Stone Creamery is another solution for your sweet tooth, from menu item combinations to their 'Create Your Own Creation' option.
Finally, Coronado Coffee Company has great coffee and, dare we say it, even better views!
Shopping
Once you've gotten some sustenance and are ready to keep on exploring, hit some of the nearby shops for a range of things from souvenirs to clothing, home goods, and other items you can use in your daily life as a reminder of your trip.
A first-class shopping village, Coronado Ferry Landing's shops are intertwined with its restaurants as you cruise the streets looking for where to stop next.
Grab a few new clothing items at Lisa's Boutique, for example, before grabbing a drink at Coronado Coffee Company or heading to the Coronado Tasting Room for a wine, whiskey, or tequila flight of your choosing. They also have craft beers and cheese plates if you're wanting a spot to stop, snack, and chat while you enjoy the view for a while.
Miss Match is another fun boutique geared toward women's fashion, but La Camisa has some tourist merch and other beachy clothing that attracts customers of all sorts. The same goes for SD Trading Co, whose clothing and beach products are a hit with all types of Coronado visitors.
If you're looking for a tasting experience but alcohol isn't really your thing, Vom Fass could be the perfect next stop for you! A European Market and Tasting Room, they work with small family producers worldwide to provide extra virgin olive oil, balsamic vinegar, gourmet foods and spices, craft spirits, and more.
Activities
There is plenty to do on Coronado Island and in the waters of the San Diego Bay. At Coronado Ferry Landing you can rent bikes, kayaks and paddleboards, surreys, and more. What a fun way to get out there and explore!
Holland's Bikes and Beyond rents single bikes for kids and adults, tandem bikes, and surreys to carry the whole family! With easy access to the Bayshore Bikeway, this is a quick and simple way to rent your gear and get going as soon as you make it to Coronado Island.
Bike & Kayak Tours offer reservations to book, get this, tours done via either biking or kayaking. You can expect to get some great views of Petco Park, Embarcadero, Coronado Bridge, the Convention Center, the USS Midway ship, and more. No prior experience necessary for either option, just bring yourself, a good attitude, and be ready to have some fun and learn a little about America's Finest City along the way.
Flagship Cruises & Events is not only a locally and family-owned yacht charter, but also a San Diego Harbor Excursion luxury brand that both locals and visitors love. From quick bay tours to dinner cruises and private party rentals, their premier fleet of high-end yachts does not disappoint. You can book a tour to get even more views, gourmet food and drink selections, and to learn even more about San Diego and its surrounding areas.
Events
The Coronado Ferry Landing website has an event calendar that is constantly being updated to reflect their events. You can attend things like the weekly concert series featuring local artists on Saturdays and Sundays. There also tend to be fun holiday events, family events, and more!
So, be sure to look at their calendar ahead of your visit to prepare.
Using the Ferry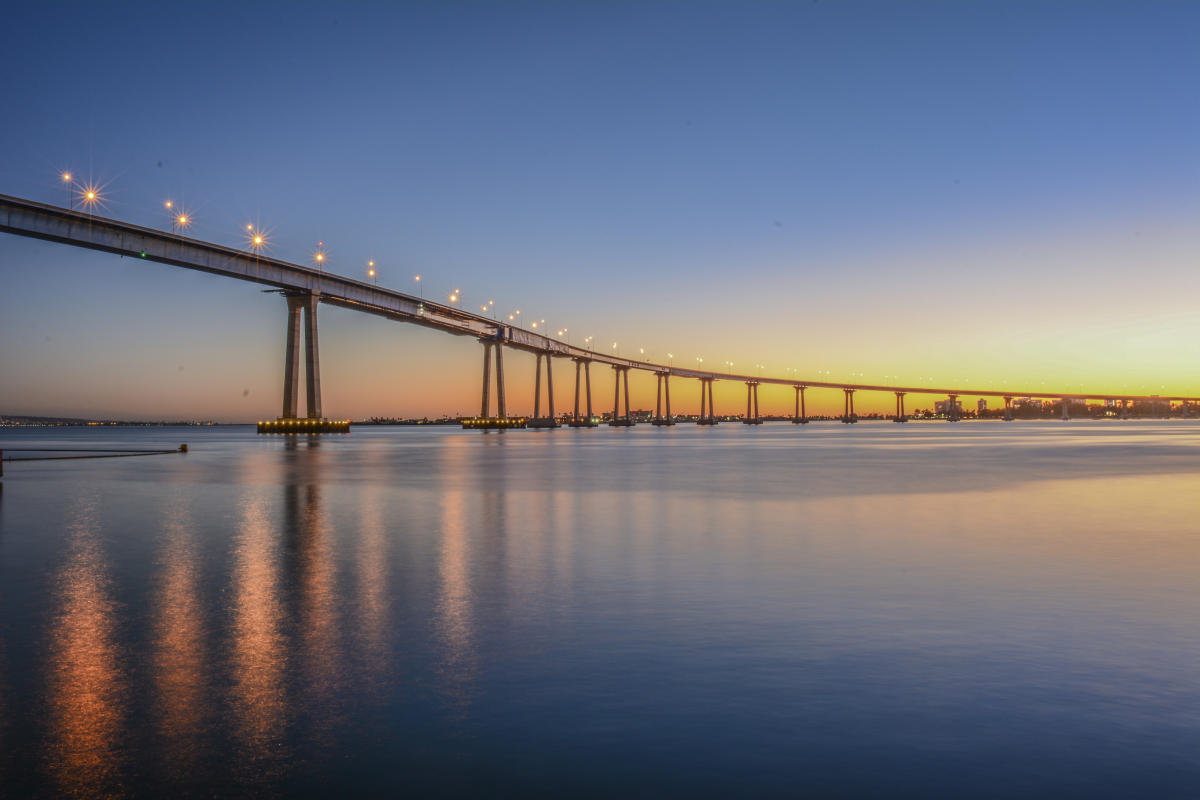 The main ferry service runs between Coronado Ferry Landing and Broadway Pier (north of the USS Midway in San Diego.)
Ferry service from San Diego to Coronado begins daily at 9 am, which means that service back to San Diego from the island begins at 9:30 am on the return trip.
Ferries run every hour, leaving San Diego on the hour and leaving Coronado on the half hour.
Sunday-Thursday, the last trip leaves San Diego at 9 pm and Coronado at 9:30 pm. On weekends, Friday-Saturday, ferries run until 10 pm and 10:30 pm, respectively.
There is another ferry route between Coronado Ferry Landing and 5th Avenue, or the San Diego Convention Center. This runs daily, leaving every 30 minutes, as well. It begins running at 9:10 am and continues until 9:55 pm during the week and 10:55 pm on Friday and Saturday.
Ferries cost $7/person one way, or $14/person for a round-trip ticket. Children under 3 years of age are free, accompanied by an adult, of course.
You may bring a bike or Segway on board with you at no extra charge. Service animals are the only pets allowed on the ferry.
Enjoy your Visit
As you come to San Diego, we certainly hope you get the chance to make it out to Coronado Island. Visit the famed Hotel del Coronado, of course, and make sure to experience the pristine beaches with views of both mainland San Diego and Tijuana, Mexico.
Do you frequent Coronado Island, or use the San Diego Bay Ferry? Let us know if we missed any details that you would have included here at @sandiegodotcom on socials.
Until next time, have a safe trip and enjoy San Diego!