The Rady Shell at Jacobs Park When it comes to enjoying your time in San Diego, we highly recomend outdoor spaces enough! After all, it is one of the top-ranking cities in the United States for best weather, no matter the season. The Rady Shell at Jacobs Park in San Diego is a…
Rady Shell is the new crown jewel of San Diego's Waterfront and a must-visit spot for anyone interested in experiencing arts and culture in America's Finest City. 
The brand-new outdoor music venue and event space features a shell-shaped stage that appears to emerge from the waterfront, stretching up into the skyline with gorgeous views of San Diego Bay. The Rady Shell serves as the home for the San Diego Symphony and hosts a variety of concerts and community events throughout the year.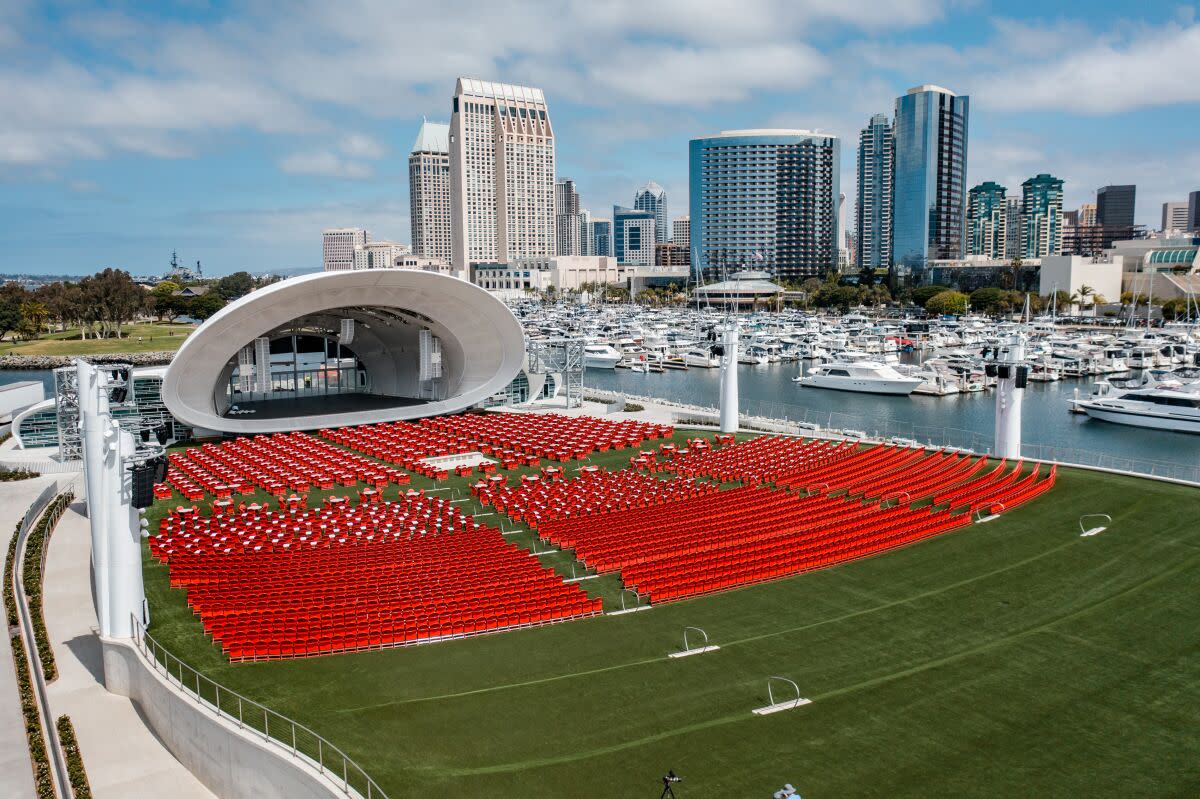 Breathtaking scenery, impeccable acoustics, and delicious local food make this venue one of the top destinations in San Diego's once-underutilized downtown area. It's close to the Gaslamp Quarter, San Diego Convention Center, the home field of the San Diego Padres, and the USS Midway Museum. The area has undergone a renaissance of sorts over the past decade and is quickly emerging as one of the hottest spots to visit in San Diego for locals and tourists visiting the city for the first time.
This summer, carve some time out of your schedule to visit the Rady Shell at Jacobs Park. There's something for everyone to enjoy at this world-class venue and public park – from community events like yoga to dinner and a symphony, to internationally touring rock bands – the visitor experience at Rady Shell can't be beaten. 
About Rady Shell at Jacobs Park
Rady Shell at Jacobs Park has been years in the making, and it finally opened to the public in the summer of 2021 after five years of planning and construction. The once-neglected area of San Diego is quickly transforming into one of the coolest neighborhoods in the city, and the Rady Shell at Jacobs Park has cemented San Diego's Waterfront district into one of the top destinations and a cultural landmark for the city.
Rady Shell aims to blend culture with the natural beauty of the surroundings, creating a one-of-a-kind space for the San Diego community to gather and enjoy the park, live music, delicious local food, and social events.
The venue seats up to 10,000 people and the park surrounding the venue is free and open to the public, offering a much-needed place to relax and take in the views of the San Diego Bay and the downtown skyline.
Rady Shell at Jacobs Park Design
The shell itself reaches 57 feet into the skyline and covers nearly 4,000 square feet. It was inspired by a venue at the 2012 Summer Olympics in London. The artificial turf lawn gently slopes, allowing unobstructed views of the stage from every possible vantage point. Bright coral chairs allow for flexible seating options that can host both intimate performances and large-scale productions with room for up to 10,000 attendees. The chairs are only used during concerts and events, so the large lawn acts as a flex space during non-concert days.
The large white shell shaped stage is a welcomed addition to the skyline during the day, and the design allows for incredible light shows and projections during the nighttime performances.  Many shows conclude with fireworks shows which shoot out from the towers surrounding the stage. 
The Rady Shell at Jacobs Park is the product of a collaboration between the San Diego Symphony and leading designers and construction experts. Tucker Sadler Architects lead the design process from the early stages and Greg Mueller, the firm's CEO, helped to headline the project and was responsible for the project, including the shell, the backstage spaces, three massive professional kitchens, underground facilities, and the sloped seating area.
Soundforms designed the shell stage, which was based on a portable shell stage design that they created in 2012, and Sean Murphy, a sound consultant, worked alongside San Diego Symphony CEO Martha Gilmer to make sure that the venue had incredible acoustics that it will undoubtedly become famous for.
The San Francisco-based Salter firm, Berkley Based Meyer Sound, Australian-based Fabritecture, HLB, and Schuler Shook, also collaborated to create the audiovisual components, sound systems, and architectural lighting design – it was truly a team effort and was almost entirely paid for through private donations and philanthropy efforts. It is named for two of the project's major donors – Ernest and Evelyn Rady who donated $15 million towards the project. In total, the project cost around $85 million to complete.
Where is Rady Shell at Jacobs Park Located?
Rady Shell at Jacobs Park is located at the Embarcadero Marina Park and replaces the temporary performance and event space that was called the Bayside Performance Park which was used by the San Diego Symphony for 15 years for summer performances.  The new permanent concert venue features exceptional design and immaculate acoustics.
Embarcadero Park South is located just behind the Convention Center along San Diego Bay. It is close to the heart of downtown San Diego, making it easily accessible from anywhere in the city.
Getting to Rady Shell
Location:
22 Marina Park Way
San Diego, CA 92101
Rady Shell is easily accessible from anywhere in San Diego.
It is only a short walk along the Embarcadero Foothpath from the San Diego Trolley's Convention Center and Gaslamp Quarter stops to Embarcadero Marina Park South. Public transportation is an ideal way to visit the venue via the Metropolitan Transit System. The Green Line trolley connects to both the Coaster commuter rail and Amtrak trains at the Downtown Santa Fe Depot station and the UC San Diego Blue Line Extension goes to La Jolla and UCSD.
 For those who are driving, there is a paid parking lot for the Rady Shell at the Convention Center Garage as well as the Padres Parkade and Seaport Village. There will be shuttles before and after each concert from the Hilton Bayfront Parking Structure.
Residents of Coronado can also reach Rady Shell by taking the Coronado Ferry from the Coronado Ferry Landing on concert nights. There are 5:10 pm and 6:10  pm departures and 10:25 pm and 10:55 pm return trips.
Taxis, Ubers, and rideshares are also able to reach the venue, but they only drop off and pick up at the Bayfront Hilton Parking Structure. From there you can hop on the shuttle to Rady Shell. 
How to Buy Concert Tickets for Rady Shell
You can purchase tickets for all the concerts and events at Rady Shell on their website or at the box office. You can reserve spots for free events through Eventbrite. The box office is open on show days from normal opening through intermission.
To contact the ticket office you can call (619) 235- 0804 or email tickets@sandiegosymphony.org
Food and Drink at Rady Shell
Rady Shell offers exceptional cuisine options which attendees can't get enough of. Many performances offer the option of enjoying dinner along with your show. The Shell Provisions is a culinary program that brings some of San Diego's best eats right to Rady Shell with options ranging from upscale to casual. Try out the creations of local Shell Provisions partners like Chef Richard Blais, Urban Kitchen, Biga, Lola 55, Achilles Coffee, Kitchens for Good, Wicked Popcorn, and Cali Cream. 
You can order a curated picnic box ahead of time with selections from Chef Richard Blais, or try some items from his fabulous Blais by the Bay pre-order menu. the Blais Picnic Boxes are highly recommended. Visit the Urban Kitchen Market which has great food along with beer and wine. The Street Food Pavilions offers a variety of quick bites on-site from some of San Diego's favorite eateries. There is also a café, an ice cream shop, and plenty of food carts. Certain seating areas can order food and beverages directly from their seats from the wait staff.
Amenities and ADA Accessibility at Rady Shell
During non-concert times, the Grady Shell restrooms are open to the public visiting the park, but they are closed to the public and only available to ticket holders during the shows. 
Rady Shell is ADA accessible, and each section has specially designated seats available. ADA seating will be the most easily accessible, making it a great venue for everyone to attend. Wheelchairs are available to help transfer guests to their seating. It is recommended that you contact the ticket office ahead of time for any special accommodations or assistance needs.
For the hearing impaired, Rady Shell offers an Assistive Listening System and you can check out a listening unit and headphones.
To contact the ticket office, you can call (619) 235- 0804 or email tickets@sandiegosymphony.org
Events at Rady Shell
Along with the San Diego Symphony performances, a variety of community events and other concerts are held at the concert venue each year. Whether you want to catch some world-class music, or simply want to connect with the community in a gorgeous setting – there are plenty of things going on for everyone to enjoy at Rady Shell. Open rehearsals in the afternoon can often be viewed for free!
Picnic in the Park
Picnic in the Park is an annual event that the whole family can enjoy! In 2023 the event will be held on Sunday, March 5. The event is free and open to the public. For this event, guests are welcome to bring their own food and beverages for a picnic or purchase food from one of the restaurants in the park. There will be free live music and activities and a celebration to announce the San Diego Symphony's Summer Season.
Yoga at Rady Shell
Regular community yoga classes are held at Rady Shell by Fit Athletic. Bring along your yoga mat and prepare to stretch, work out, and breathe alongside other fitness and yoga enthusiasts. Registration is required, but participation is completely free!
Concerts and Events
The 2023 season is already jam-packed with amazing performances with more to be announced. In addition to the symphony, you can expect to see Earth, Wind, Fire, Cake, Keshi, and more this season. 
San Diego Symphony
Of course, the San Diego Symphony's summer season is not to be missed. There is no better place to see California's largest symphony play live!
What to Bring for an Event at Rady Shell
When you visit the Rady Shell at Jacobs Park it is important to note that outside food and drinks are not permitted in Rady Shell, but there are plenty of snacks, meals, and drinks available for purchase from a variety of vendors on-site. On weekends the café stays open even during non-concert times. Smoking of any kind is not permitted within Embarcadero Marina Park South, including Rady Shell at Jacobs Park. Drones are also not permitted unless you receive special permission from the San Diego Symphony.
Guests are permitted to bring one soft-sided bag per person, and it can't be bigger than 16" x16"x8" due to safety and security concerns. All bags are subject to search. You are permitted to bring one empty aluminum or plastic water bottle to refill from the stations within the venue during San Diego Symphony performances.
During public hours, dogs are permitted but are not allowed on artificial grass. During concert times only service animals are permitted.
Guests are permitted to bring a folding chair or blankets for lawn seating during certain performances. If there is no lawn section, then chairs are not permitted.
The weather can get chilly, and the wind can pick up after the sun sets at Rady Shell, as you'll be right on the water. It is a good idea to bring an extra layer with you!
Where to Stay Near the Rady Shell
If you're looking for places to stay when you visit, you'll be pleased to learn there are plenty of wonderful options nearby.
San Diego Marriot Marquis and Marina is only .26 miles from Rady Shell and has rooms starting at around $130. It's a four-star hotel with plenty of amenities and harbor views.

Hilton San Diego Gaslamp Quarter is directly behind the venue. It's another four-star hotel with rooms starting at $120.

Hard Rock Hotel San Diego offers a fun environment, especially if you're visiting Rady Shell for a rock convert. Rooms at this four-star hotel start at around $120.

Omni San Diego Hotel is another four-star favorite with rooms starting around $130. It's less than a half of a mile's walk to Rady Shell.

Hilton San Diego Bayfront offers a lovely walk along the bay to Rady Shell, and you can reach the venue in just a few minutes. The four-star hotel has rooms starting at $130.