Are you looking for a SoCal getaway that involves golf, the water, and an easy location to stay in? You should check out San Diego's Mission Valley, an area rich with shopping, dining, golf courses, and proximity to both the local beaches and the very popular Mission Bay.
Mission Bay Golf Course and Practice Center sits on 49 acres in the heart of San Diego. Made of 18 holes, this executive course is the only golf course in the county to offer night lighting. It's also where Tiger Woods won a Junior World title. To golf on this par 58 executive course is not only to have a great experience but also to play where some of the best have played.
As amazing as it is, this course is not the only one in Mission Valley, let alone in San Diego as a whole. To determine where you'll play, you may first want to look into what's a good stay that meets your needs. We'll give you a couple of options in Mission Valley, as well as a few others around the county.
About Mission Valley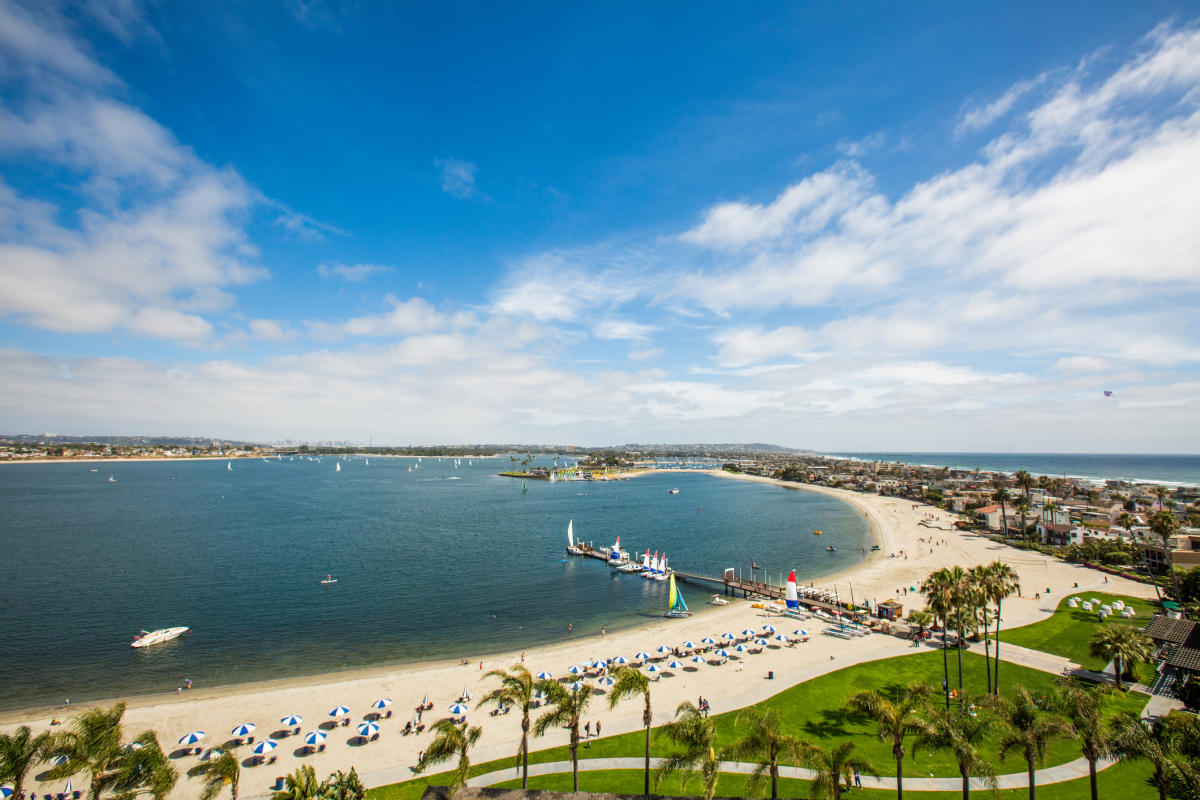 Mission Valley, often used interchangeably with Mission Bay when referencing this area, borders Pacific Beach, Mission Beach, and Ocean Beach. These staples of San Diego's southern county area all offer plenty of activities that can fit within the realm of a relaxing seaside vacation. Or, if you want… you can check out their beach bars, happy hours, and bottomless brunch offers.
You'll find everything from canyons and natural preserves to some of the best malls in San Diego County here. A truly diverse area, nothing ever seems to be far from reach… including really good golf!
Mission Bay Golf Course and Practice Center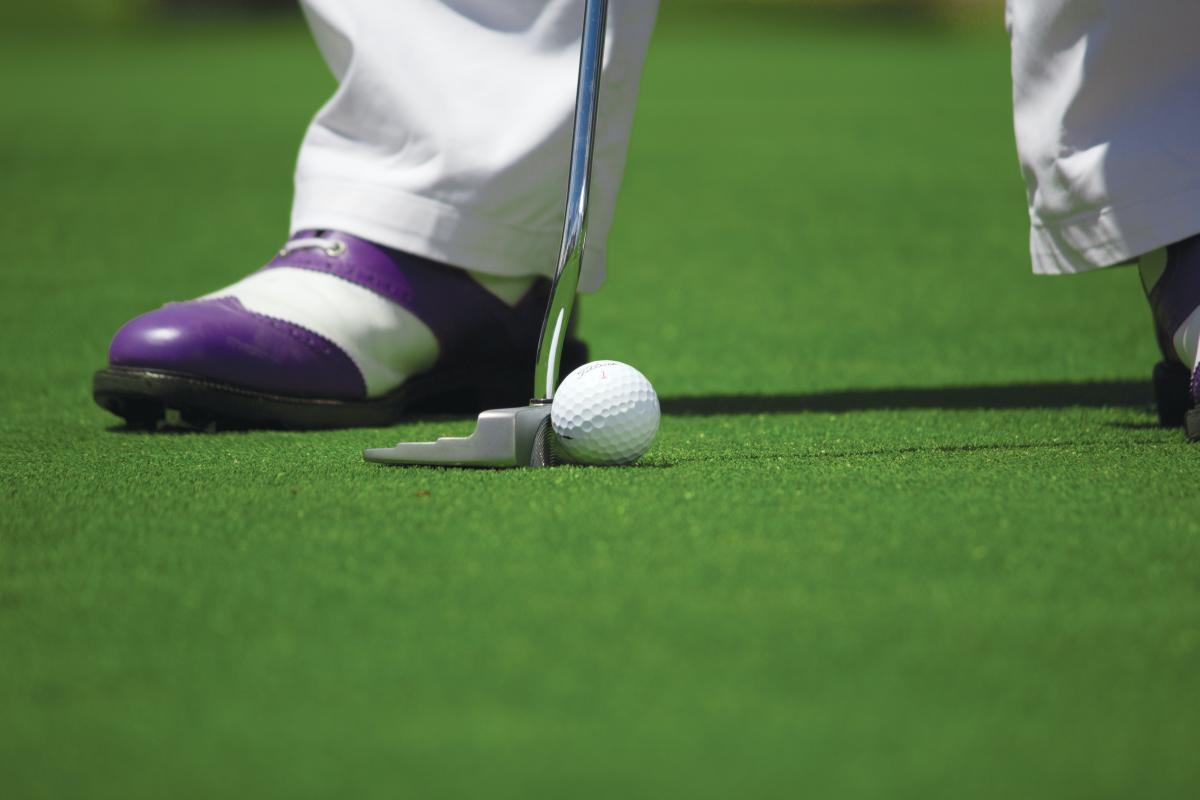 Designed by Ted Robinson, who happens to be the former president of the American Society of Golf Course Architects. So, you already know that this is going to be a good one!
This course tows the line between two very popular parts of San Diego and, while it is technically located in Pacific Beach, those in Mission Valley also claim the course as their own.
The course features four par-four holes and 14 par-three holes, a driving range, practice putting greens, chipping greens, a sand trap, and a refreshment hut for players to wind down.
Weather permitting, tee times are from 6:30 am until 8 pm. Lights are turned off promptly at 9:45 pm daily, so players must end their sessions by 9:30 pm.
To accommodate this, the last eighteen-hole tee time is at 6:22 pm and the last nine-hole tee time is at 8 pm. To use the practice range, players can come from 7 am to 8:30 pm and must finish practicing promptly by 9:30 pm. On Tuesdays, maintenance is done, and pushes back the opening time to 8 am for the practice range.
Night Golf Suspension
Currently, as of June 5, 2023, night golfing has been suspended due to an issue with the lighting on-site. Driving range lighting is only functional in dry weather conditions at the moment, meaning that both the course and driving range are open during regular, daylight, hours only.
Players can expect the first 9 holes and the driving range to be ready for night play first, followed by the final 9 holes later on. The goal is to reopen for night play as soon as they can, in all types of weather.
Of course, this repair process will not last forever. So, be sure to check back in to see you're your options are when it comes time for you to try out Mission Bay Golf Course.
Other Mission Valley Golf Opportunities
When it comes to golfing in Mission Valley, Mission Bay isn't the only place to play! Riverwalk Golf Club is a championship golf course that offers 18 holes in a resort-style, full-length 72 par courses.
This course does offer a driving range that is lit at night, as an alternative while the Mission Bay Golf Course undergoes adjustments.
Open to the public, there is a daily fee to play at this quality spot. Both juniors and adults can also take advantage of the instructional programs offered to better their skills, confidence, and understanding of golf.
Where to Stay in the Mission Valley Area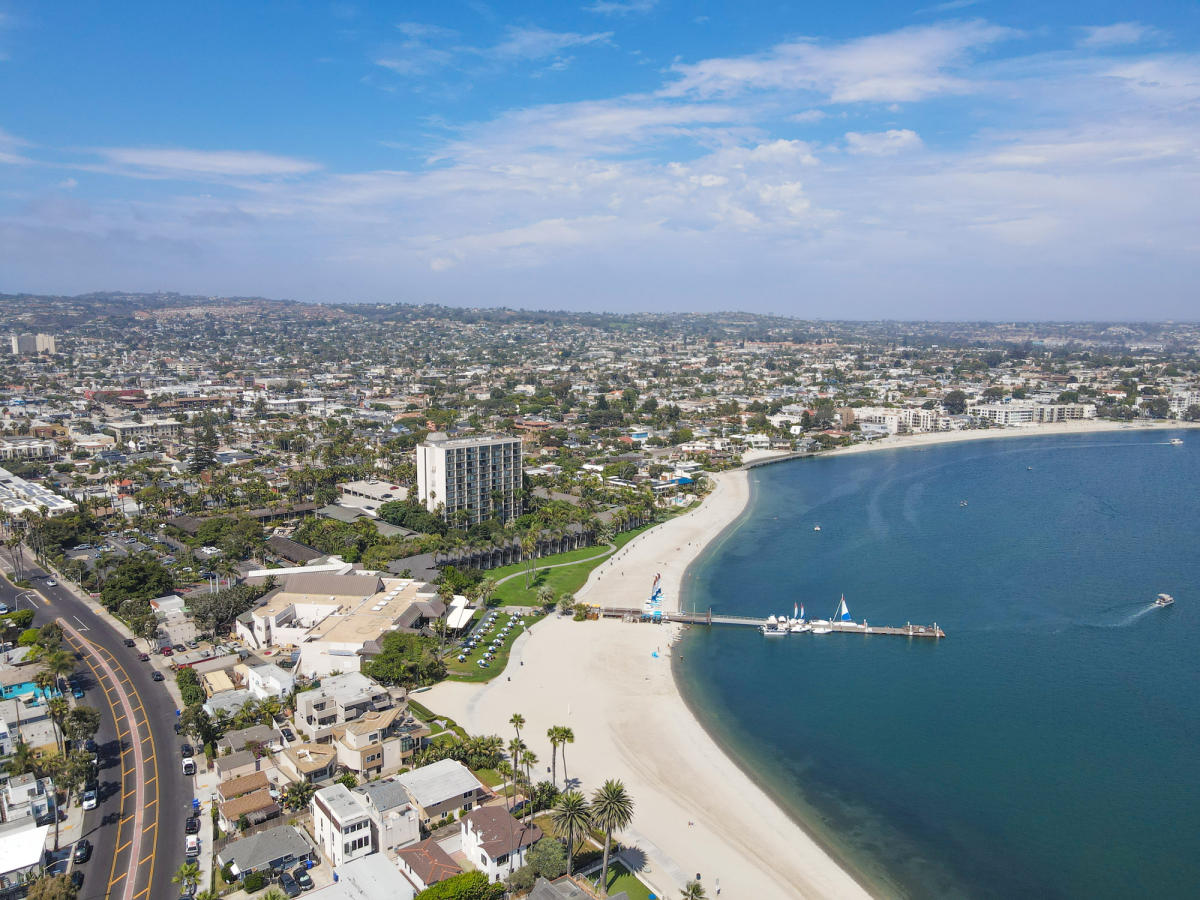 Don't yet have a place to stay in mind? Lucky for you, the Riverwalk Golf Club is located near San Diego's Hotel Circle.
With names ranging from Days Inn to the Town and Country San Diego Resort, you'll be able to choose what is most important to you- from your budget to space, amenities, location, and more.
The club itself has an upscale hotel, pro shop, and a popular grill restaurant on-site, so you can have an all-inclusive sort of feel to your stay if you wish.
Mission Bay itself is also packed with great options, which happen to be closer to the Mission Bay Golf Course, like the San Diego Mission Bay Resort that sits just south of the course along Mission Bay Dr.
If you want somewhere you can walk to the course from, we recommend staying at the Fairfield Inn & Suites by Marriott, which is directly north of the course. All you have to do is cross the street!
More Golf Around San Diego, CA
Mission Bay's executive course and Riverwalk Golf Club are not the only places that the greats have played. In fact, the Torrey Pines Golf Course is another PGA golf course open to the public. This one is a 36-hole municipal golf facility on San Diego's coast, overlooking the surrounding Torrey Pines area and the Pacific Ocean below.
Here, you can book guaranteed tee times, a The Lodge at Torrey Pines hotel room to stay in or reserve a dinner spot at The Grill at Torrey Pines for a great meal (and drinks) to end your day.
Further up, in North County San Diego, you can stay and play at Aviara Resort and Golf Club, Maderas Resort and Golf Club, as well as plenty more courses around the greater San Diego area.
Enjoy Your Stay by Mission Bay
Whether you stay on-site at Riverwalk Golf Club or want to walk the bay to get to Mission Bay Golf Course, your experience golfing near Mission Bay will be like no other.
If you have a long trip or reside nearby, we suggest you check out Torrey Pines and some of the Carlsbad courses, too. San Diego is home to so many great golf courses that it is hard to choose a favorite!
While you're staying in the Mission Valley area, you should check out Old Town State Park for a few hours. Just a couple-minute drive from the Hotel Circle, this is a fun way to enhance your stay and see more of the area. Walk around this unique portion of San Diego and then grab dinner at Miguel's Cocina for some great food and even better margaritas!
Do you golf in San Diego? Let us know what your favorite course is, or if you are a member of a club. We are @sandiegodotcom on socials.