The NFL season is finally upon us this Thursday with the Super Bowl Champions, the Philadelphia Eagles, taking on the Atlanta Falcons!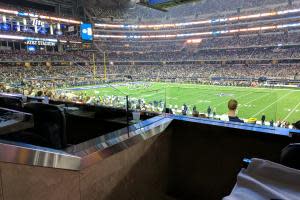 Every year people ask me, Where do I watch my team? So to mix it up a bit, this year I've broken down bars around town sorted by Preseason Power Rankings with the help of Bleacher Report. Below you will find a list of 32 bars and my comments on each of the teams, because, as you know, I have to put my two cents in. This year is extra special because I am a Vikings fan and we are currently #1.
If you are an LA Chargers fan that is still upset with the Spanos family, don't take it out on the bars! You can still pop into any sports bar and watch the Chargers (well, with the exception of a few…). And whether you want to say it out loud or not, I'm guessing the majority of you reading this are still rooting for them anyway, so have fun. I would probably cheer for the Chargers as I live in this wonderful city, but since this is SanDiego.com and NOT LosAngeles.com, you'll find me at Guava Beach.
Have fun watching your teams and remember to drink, eat and try not to swear at the TVs! It is just a game… EXCEPT when you lose in the NFC Championship game to the eventual Super Bowl Champs, then it's ok… As long as there are no kids around. Take an Uber, Lyft, LimeBike or Bird to any of these spots as we kick off a new season! Football!
Power Rankings
1. Minnesota Vikings
Guava Beach, Mission Beach
The best all-around team in the NFL from top to bottom. Guava's owners will have this place rocking for every game and you will want to be there in your purple & yellow. Get a SKOL chant going and I will see you there!
2. LA Rams
The Silver Fox Lounge, Pacific Beach
You can pretty much watch the Rams, just like the Chargers, anywhere, but this is a Chargers bar too. The Rams Defense is nasty this year and with a potent offense, they are poised to make a deep run this year… Just watch out for the Viking Horn!
3. New Orleans Saints
Fast Times, Clairemont
5th Ave Kitchen & Tap, Hillcrest
I am deathly scared of the Saints this year. They have a lot of talent and were a Minneapolis Miracle away from meeting the Eagles in the NFC Championship game.
4. New England Patriots
Tipsy Crow, Downtown
Sandbox Pizza, Pacific Beach
The dreaded Patriots… It just seems like they won't go away. Every year. At least if you are in San Diego and love Tawm Brayyydy, you can go to either of these places and get free chowder during every game and some great giveaways and drink specials. Both are fun, energetic places to watch the Pats.
5. Philadelphia Eagles
Avenue, Pacific Beach
Quad Ale House, Gaslamp
Fly Eagles Fly! If I hear that one more time… Well it must mean I am at either of these two bars. Philly fandom is always… entertaining… so let's hope they greased the light poles outside of both of these bars.
6. Atlanta Falcons
Dirty Birds, Pacific Beach
There really is not a Falcons bar that I know of (contact me if you do), but I would probably go to Dirty Birds. How could you NOT be a Falcons bar with that name? They also consistently win awards for their wings, which goes with football like PB & J!
7. Pittsburgh Steelers
Bub's Dive Bar, Pacific Beach & Downtown
Black & Yellow, Black & Yellow is what the Steelers GM will be if Le'Veon Bell doesn't show up to play this year. Give the guy his money so he can go to Bub's in San Diego and buy everyone a round.
8. Jacksonville Jaguars
The Bullpen, Clairemont
The Jaguars had a great run last year and their defense already seems to be impenetrable. I'd be worried about that offense, however, as it looks offensive (PUN) so far. If I am looking for a Jacksonville game in San Diego, this is the spot...
9. Green Bay Packers
El Prez, Pacific Beach
Aaron Rodgers, cheese heads. You already know my thoughts on this, but I actually think the Pack is back and El Prez will be right with you to celebrate.  The rooftop is pretty awesome, especially when you are losing to the Vikings by 30.
10. Los Angeles Chargers
PB Shore Club, Pacific Beach
BarleyMash, Downtown
Like I said before, anywhere in San Diego, even after the move. Don't sleep on the Chargers this year, I can see them making a run at the AFC Championship.  Maybe then they will come back? Wishful thinking…
11. Houston Texans
East Village Tavern & Bowl, Downtown
I feel like the Texans should be a lot higher on this list--Watson, Hopkins, Clowney, Watt… I hope the Tavern & Bowl is hyped for this squad, because they could make a serious run this year.
12. Kansas City Chiefs
Kansas City BBQ, Downtown
Is there a more obvious bar selection on this list than this one? Not only is it the Top Gun bar, but you can watch the Chiefs new 'Top Gun' Patrick Mahomes sling it all over the field on Sundays… See what I did there? I could also see the Chiefs way lower on this list as they are very polarizing this year.
13. Carolina Panthers
The Bullpen, Clairemont
Another team that baffles me. 10-6? Or 6-10? Who knows, but I would head to the Bullpen and try to outnumber Jaguars fans. I think that would be a step in the right direction.
14. Tennessee Titans
The Regal Beagle, Downtown
This used to be a Titans bar, but it is now a Packers bar… Make a good call and change the game! Where are all of my Tennessee people? Titans made the playoffs last year, but could be out this year. Good luck!
15. Dallas Cowboys
Johnny V, Pacific Beach
Ahhh yes, Jerry's kids… Injuries, retirements, cuts… This team could be in some trouble again this year. Zeke playing a full year will help, but their receiving corps has me saying Another drink please!
16. Chicago Bears
710 Beach Club, Pacific Beach
Well, now that the Raiders just gave the Bears the best linebacker in the NFL in Mack, I am nervous. They took a step forward this year and could be higher than 16 by year's end. Head to PB and Bear down…
17. San Francisco 49ers
Cerveza Jack's, Pacific Beach
Bootlegger, Downtown
Jimmy G is somewhat of a cult hero these days and can take this team to the top half of the NFL.  Both 9ers bars are fun and capable of cheering up any fan, even after a potential week one loss (SKOL).
18. Baltimore Ravens
Dirty Birds, Pacific Beach
This is a true Ravens bar and wow is it a great atmosphere on game day.  I am telling you the Ravens are a team to watch this year.  If you are from Baltimore and are tired of the Orioles being awful… Go here!
19. New York Giants
Knotty Barrel, Downtown
U31 Bar, North Park
The New York Football Giants could be really fun to watch with Odell and Saquon.  If you can handle being around all of the New Yorkers that left the snow to live out here (me)…
20. Seattle Seahawks
Thrusters Lounge, Pacific Beach
Pete Carroll himself would love this place and the awesome Seahawk crew that watches all of their games here.  Highly recommend it but do not be upset if they have another down year with that offensive line… OUCH
21. Denver Broncos
Guava Beach, Mission Beach
Truckstop, Pacific Beach
Case Keenum in charge and a rookie running back could be good for this franchise.  I think Broncos fans will have a roller coaster year but why not be at one of these two spots to enjoy the ride?
22. Cincinnati Bengals
The Local Eatery & Drinking Hole, Downtown
Who dey?  Marvin Lewis will once again try to keep his job another year.  How has he gone this long?  Well, your guess is as good as mine but this team could slip into the Playoffs this year…
23. Washington Redskins
Winstons Beach Club, Ocean Beach
Latitude 32, Pacific Beach
Daniel Snyder has had an up and down team that can never seem to get over the hump.  With Alex Smith at the helm and a slew of injured and ineffective running backs, this could be a tough year.  Adrian Peterson though... looks like he just never ages, anything can happen in the NFL...
24. Detroit Lions
The Dog, Pacific Beach
The NFC North division is a tough one and the Lions are going to be the casualty.  The cardiac kid Matthew Stafford is great to watch and this is not a bad team just a tough schedule.
25. Oakland Raiders
Buffalo Wild Wings, Chula Vista
Sunshine Company, Ocean Beach
Gruden is back… CHUCKIE!  Raider nation is working its way back and their fans will enjoy both of these spots with passion.  The NFL is better when the Raiders are good.  This year though… Not so much.
26. Indianapolis Colts
Sidecar, Mission Bay/Valley
Miss B's Coconut Club, Mission Beach
Andrew Luck is finally healthy again and ready to chuck the ball around the field.  The problem is that his team just is not that good.  Luck, is needed all around this year but go to Sidecar as it is pretty awesome.
27. Cleveland Browns
Elbow Room, Kearny Mesa
If the Elbow Room and Browns fans weren't so awesome, I would just say…  What did you expect from a coach that has won 1 game in 32 tries the last two seasons?  Hopefully, Hard Knocks isn't the only entertaining thing coming out of Cleveland this year.
28. Arizona Cardinals
Arizona Cafe, Ocean Beach
Coaster Saloon, Mission Beach
Zonies!  Attention all Zonies!  It's football season, which means it is no longer 120 degrees in the desert…  Nevertheless, if you want to stay because San Diego is so incredible, you can watch your squad at these two places.  You will love it.
29. New York Jets
Taste & Thirst, Downtown
J-E-T-S, bahhhh another year with a top pick and finally they got their guy at Quarterback.  Hey, at least this team played hard last year and we hope they can do the same this year.
30. Buffalo Bills
The Local PB, Pacific Beach
The Bills Mafia would approve of this bar.  As a former Western New York native, I always have a special place in my heart for the Buffalo Bills.  Troubles at QB will make it a long year but at least this group of fans knows their wings and how to have a good time.  Check out the San Diego Bill Backers Club on Facebook.
31. Tampa Bay Buccaneers
Wow, really Bucs fans? Maybe this is why your team is ranked #31… Get it together and cheer for your squad in San Diego. Let me know when you figure it all out.
32. Miami Dolphins
Bare Back Grill, Pacific Beach
Raglan Public House, Ocean Beach
Miami is, well, not very good.  The good news is that they play in the worst division in football so maybe, just maybe, that means they can grab some wins.  I doubt it though…
If you have any new fan clubs popping up in San Diego and want to promote your watch party, email us at SanDiego.com (Contact Us Link).  Now let's kick this season off already…

-Brett Murphy