For some of the best family-owned wineries outside of Napa, you should head to Southern California. Stay in San Diego and plan some local activities around your day trip (or trips) to nearby wineries. 
Whether you prefer an urban winery, want to tour an organic farm, or hope to find some great wine in a boutique winery, the San Diego area is home to plenty of local vineyards, tasting rooms, and other options for wine lovers of all sorts. You can easily take a trip from San Diego and enjoy the rolling hills and beautiful landscapes on your way.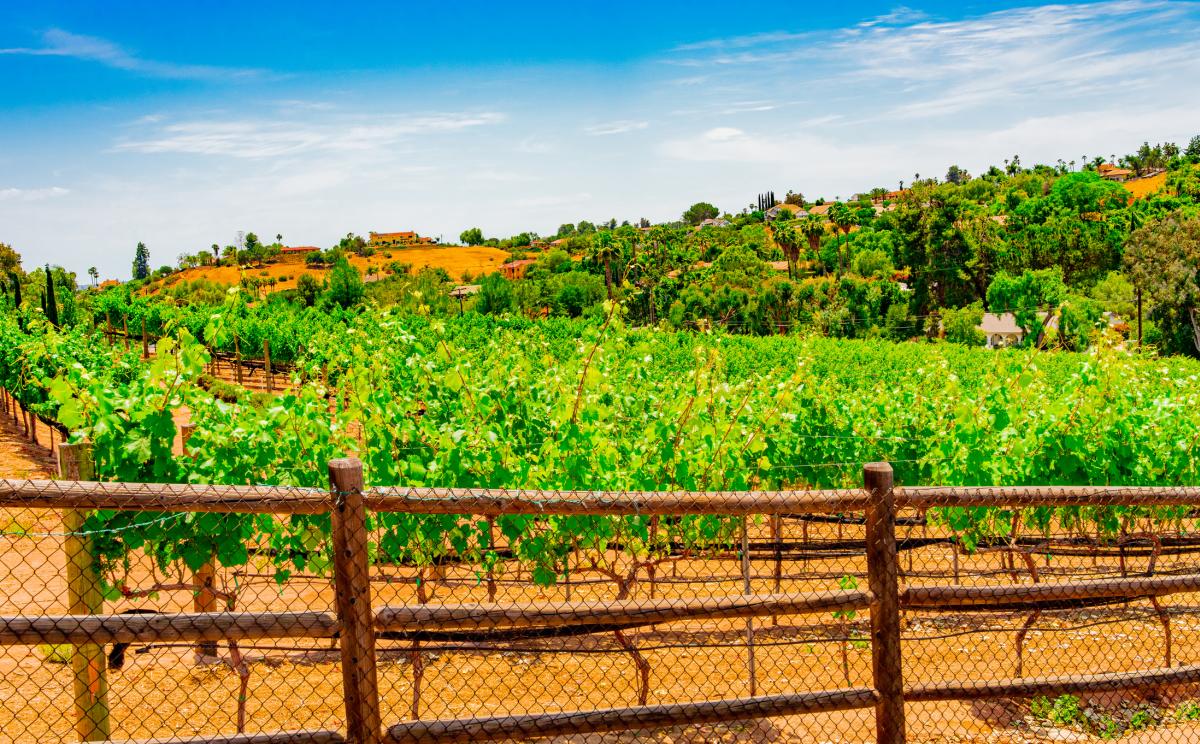 Ultimately, it doesn't matter if you decide to choose an urban winery in San Diego or go explore a family-owned vineyard in Mexico. As long as you get to taste wines, that's all that matters, really! So, let us go through some of the best wine tastings in and around San Diego so that you can spend less time researching and more time tasting.
Best Wine Tastings in San Diego
Just because you can find wine further out of San Diego doesn't mean you have to… there is plenty of great wine right here! If road-tripping isn't your ideal addition to a wine-tasting day, then stay right in San Diego by visiting 3 local wineries that we love.
Here are our top wineries in San Diego proper:
Blue Door Urban Winery – Clairemont
With a location in San Diego and in Julian, make sure to put the location on Morena Blvd. in your directions…unless you want a road trip out to Julian, which could be fun if not more time-consuming. Both locations focus primarily on red wines with a similar atmosphere overall, though the Julian location does happen to have a dog-friendly tasting room, if that's something you'd like.
The winery is a full production spot, meaning that you will likely get to see some part of the winemaking process being completed by the staff at Blue Door Urban Winery. They do it all, from harvesting to processing and bottling, which makes this a unique urban experience for everyone, but especially for those who are exceptionally interested in wine.

Their wine club gives you discounts, free tastings, and access to some members-only events. This is a super fun option if you live in the area, but it should be noted that they only ship within the state of California.
Burtech Family Vineyard 
The Burtech family started with the goal of creating something special to share with those they love. After planting roughly 3,000 vines at their 11-acre horse farm estate in Encinitas, CA, Dominic Burtech knew it was just the beginning. 
The Burtech family recently opened a tasting room in Vista, CA, complete with a modern construction finish, indoor and outdoor lounge seating, and a crushing facility. Stop by for a curated tasting flight or to enjoy a Burtech Family Vineyard bottle with friends and family.
Koi Zen Cellars – Carmel Valley Ranch
This award-winning winery is open Wednesday through Sunday and has both indoor and outdoor seating available.
You can explore the wine cellars, learn about the ins and outs of making wine, and drink plenty of their delicious wines, produced on Carmel Mountain Ranch.
Koi Zen Cellars was ranked #1 of the top 25 wineries in San Diego County by YELP, as well, making this a rather popular and exciting spot to visit.
They focus not only on making amazing wine but educating those who visit on how to enjoy it and incorporate wine into their lives.
From funny online skits and tastings to educational content, their website is a great way to get a peek into what makes this winery so special.
LJ Crafted Wines – La Jolla
A family-friendly tasting room, this is great for anyone wanting to head from the beach to try some wine, or vice-versa. Enjoy both indoor and outdoor seating, cheese boards, and seasonal gourmet small plates that pair nicely with your wine selections.
This urban winery ages the grapes to make their own signature wines and offer them to local consumers. Make a La Jolla day of it and head to La Jolla Shores for some time in the sun before enjoying the evening breeze and delicious wines.
Getting to San Diego Wineries
If you're coming from the downtown San Diego area, you're in a good position to visit all three of the wineries we've talked about here. It's important to note, though, that Koi Zen Cellars in Carmel Valley Ranch is going to take a bit longer to get to.
·  Take the I-5 N up to La Jolla from downtown San Diego. It takes about 20 minutes, depending on traffic.
·  You'll also take the I-5 N up to Clairemont, just east of Pacific Beach, to get to Blue Door Urban Winery. This is south of La Jolla, so it should take under 15 minutes in the car.
·  To get out to Koi Zen Cellars in Carmel Valley Ranch, near Poway, you'll take the I-15, or combine the CA-163 and I-15 N for about 30-40 minutes.
These should be plenty easy to get to, but you can always budget for splitting an Uber, if needed.
San Pasqual Valley
Now, if it's a bit of a day trip you want but Temecula feels too far or Mexico feels overwhelming for a first wine tour, this is your spot! It is traditionally spelled San Pascual, so don't get confused if you see things spelled both ways when referring to this area east of Escondido. 
This valley is directly south of Temecula and parallel to Mexico's Valle de Guadalupe, too, so we can tell that there must be lots of geographical and climate-based similarities between these locations.
Orfila Vineyards and Winery – Escondido
With plenty of events, a consistent daily schedule of tastings, a wine club, and lots of space both indoors and outdoors, Orfila Vineyards and Winery is a great spot for any and all wine lovers.
You can take their winery signature tour, take a look at their winery blog, and chat with staff to learn more about wine, how they make it, and why it is so special. You can even take a virtual tour first, to get a sense of the area.
Their location is easily accessible, only 30 minutes from San Diego and 15 minutes from the I-15 and San Diego Zoo Safari Park. You won't have the hassle of getting to a far-off location, but you'll also feel like you stepped into a totally new part of SoCal when visiting. This really is the best of both worlds!
Bernardo Winery - Rancho Bernardo
This is Southern California's oldest winery, and you can see how immersed it truly is in its community. The family-owned winery located in Rancho Bernardo is the oldest winery in Southern California that has continuously operated.
Home to festivals like the San Diego Vinter's Wine Festival and high-quality wines, Bernardo Winery is certainly a fun one!
There are village shops with local products in their stunning courtyard space, areas that host events like weddings and other celebrations, and amazing coffee and Italian food to go along with the whole experience.
You could easily spend an entire day here and might choose to if you don't wish to drive too far in between other area wineries.
Milagro Farm Vineyards and Winery – Ramona
Just 50 minutes to the east of San Diego, you'll find 100% estate-grown grapes being turned into delicious wine. This organic farm and orchard space boasts lots of space and holds integrity at the core of its process. Milagro Farm Vineyards and Winery is the perfect way to get out into nature at San Diego's edges.
While there are plenty of learning opportunities, you should also expect to have a ton of fun!
Explore the tasting room and its beautiful views, and the grounds of the vineyards, and ask about the leisure activities that are being offered at the time of your visit. There is always something to look forward to here!
You can expect red wines, white wines, and sparkling rosé all year round.
Castelli & Pizarro Family Winery (Castelli Family Vineyards) – Ramona
Nearby, at 36 miles east of downtown San Diego, sits Castelli and Pizarro Family Winery in Ramona's rolling hills. You can enjoy walks outside and sit at one of their tables to enjoy the view, snacks, great conversation, and even better wine.
If a bar is your thing, head inside to find high ceilings, Italian-style stucco, and a custom bar that sits next to many of the wine barrels aging this year's harvest. You get to enjoy the wine and the process all at once, it is a beautiful experience!
We hope you don't have to do any work while you're there, but they do have good WiFi if any member of your group has to be online during your visit.
This is a great space for events, with outdoor space- and they allow outside catering!
Getting to San Pasqual Wineries
The valley is basically on the way up to Temecula, which is northeast of San Diego. You'll go far past the hiking hub of Poway as you get close to Ramona, which is also a popular area for hiking, camping, rodeos, and more.
From downtown San Diego, you can take the I-15 N all the way up to the San Pasqual Valley, starting by hopping on the CA-163 if needed. The drive should take under an hour, especially if you leave in the morning to maximize your day out there. Try to miss rush hours for a peaceful, well-paced drive through some of SoCal's best hills!
Head to Temecula Wine Country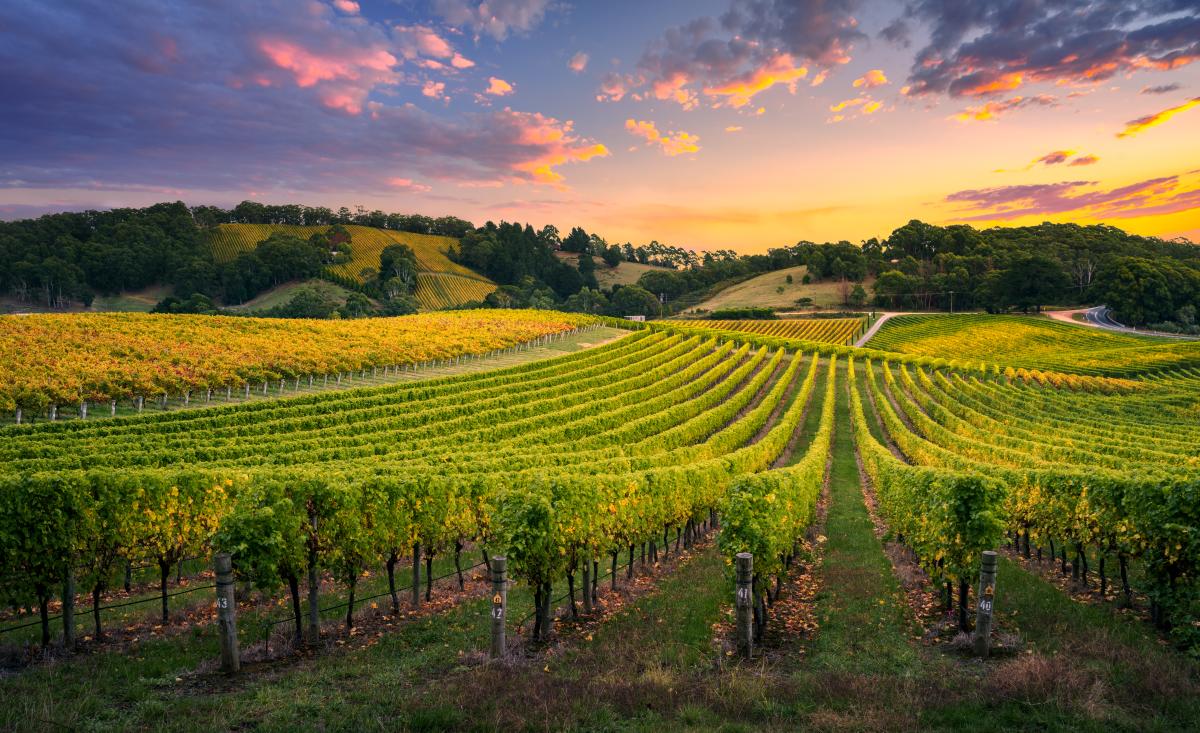 Temecula is one of the biggest testaments to the fact that you do not have to go to Napa Valley just for excellent wines, especially when some of the best wineries are practically in your backyard. From live music to rolling hills, food like gourmet pizza and brie cheese in bread bowls, award-winning wines, and the overall ambiance of Temecula, this place has it going on!
So, it's really possible to easily get to the wine country of Southern California? Yes, and we hope that you get a chance to try out this hub for wine lovers. If you go enough, you might even end up as part of a wine club, or two, or three… who are we to judge?
Wilson Creek Winery
This is hands down one of the best wineries in Temecula. Not only is it highly rated with plenty of options from a sauvignon blanc to a sparkling rose to a cabernet franc, but the staff are all wonderful at explaining the types of wines and how they might fit your preferences.
This is a fun spot to take a large group, with plenty of space at tables scattered around the outdoor space and fixed bars both inside and outside. Make it a picnic with their snack options in the fridge or opt for a fuller meal from their grill.
If you get tired of drinking (hey, it's a marathon, not a sprint) you can peruse their local vineyard and see the local grapes that are used to make their stunning local wines.
Callaway Vineyard and Winery
Another great Temecula staple is Callaway, where you'll find an even larger area of sprawling vineyards and hills, tasting spaces, and a huge restaurant with some incredibly prepared food. This one is definitely going to take you a while, as you eat and drink while soaking in all the views.
Even more incredibly, Callaway has been around since 1974 and was the first winery in Temecula Valley to open up. You have to visit this institution if you're in the area.
Join them for live music from local artists on Sundays from 12-4 pm, if you happen to be in Temecula on a Sunday.
Maurice Car'rie Vineyard
Complete with a full outdoor green space and a gazebo, this winery is conveniently situated near the other popular Temecula vineyards and wineries. They are well-known for their bread bowl filled with brie cheese and their boozy pops- popsicles placed into a glass of their sparkling wine.
Enjoy time with friends at their picnic benches or play cornhole, even, when the weather is nice enough.
Their wine club is a fun one, allowing the wine to be shipped to members along with access to lots of members-only discounts and offerings. Choose between 4 membership options and make sure you get the award-winning wines that you prefer.
Getting to Temecula Wineries
Since the San Pasqual Valley is just a bit south of Temecula, you can take the same beautiful route through the hills, valleys, and greenery of Southern California. You'll get to Temecula in about an hour and 35 minutes, which is getting close to the perfect cutoff for a day trip.
Take either the I-15 N all the way up or break off around the San Pasqual Valley to get on Valley Center Road to avoid the congestion of the highway. This will be a much windier back road, but the views are great, and it often feels less stress-inducing than the highways of California do.
Mexico's Valle de Guadalupe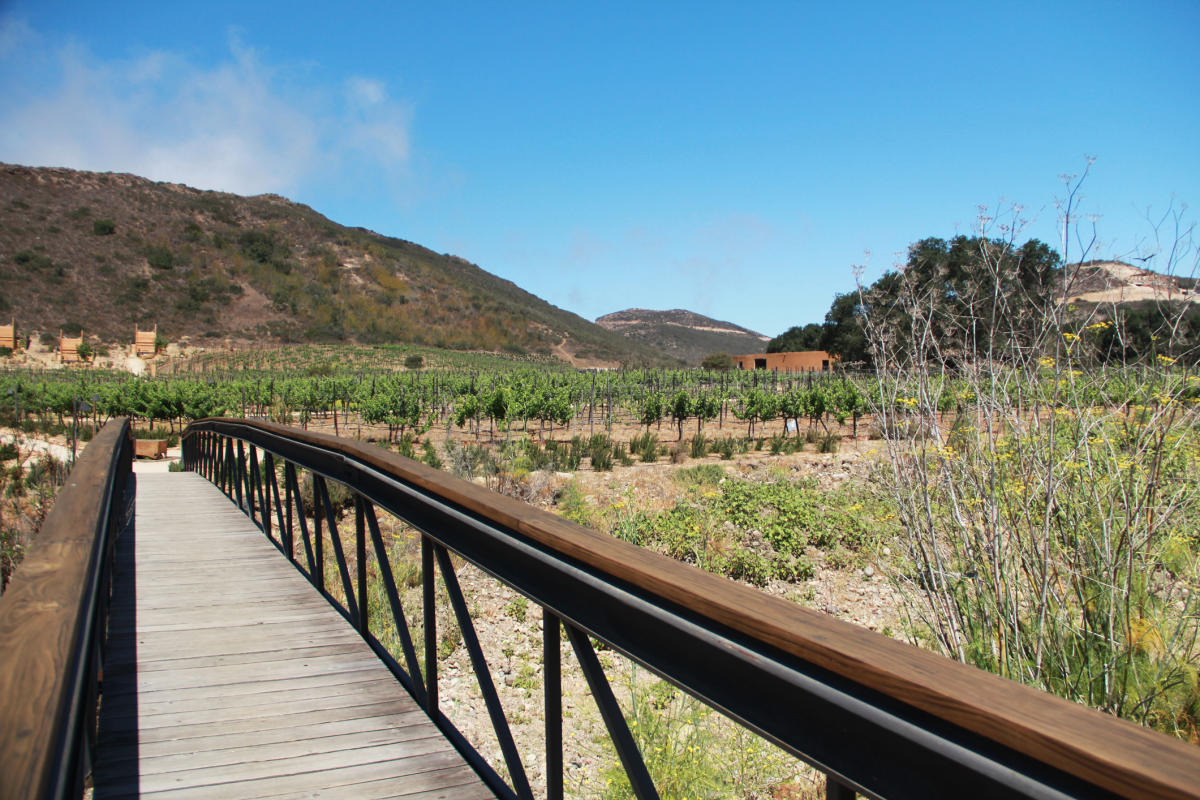 This section of Mexico's Baja California is renowned for its amazing coastal views, hilly drives, and premium wines. The only dangerous thing is that it might be hard to stop returning for more! If you haven't been on a wine tour (self-planned or with a group) in Valle de Guadalupe, you're missing out.
There are almost too many amazing spots here to name just a few, but here are some of our favorites:
L.A. Cetto
One of the valley's oldest producers, L.A. Cetto is now also the biggest producer of table wines in the country of Mexico. If that doesn't draw you to this iconic spot, maybe their rustic tasting room and sprawling vineyard space will.
They are well-known for wines like Cabernet Sauvignon, Zinfandel, and Petite Sirah and have over 700 awards, medals, and recognitions under their belt.
This established winery is the best starting place, with tastings at multiple price points. You can also choose to do the Angelo Cetto Experience- a cellar tour, private wine tasting in a VIP room (up to 8 people,) and a souvenir!
Monte Xanic
With an outdoor tasting room on a wood deck, you can come here after your cellar tour to enjoy a $28 USD tasting of 4 incredible wines. Explore their vineyards, of course, but the tasting room feels like the true highlight of Monte Xanic.
The patio is covered and overlooks a pond, mountains, and plenty of trees. It is stunning, to say the least, and the wine only makes it all that much better.
From the winemakers to the CEO and everyone who helps Monte Xanic run, it is clear to see the passion that people have for this winery and sharing their love of wine with guests.
Villa Montefiori
Finally, Villa Montefiori is another staple in Valle de Guadalupe, with a stunning red exterior on top of a sloping hill. The outdoor patio is perfect for taking in the view but the inside is stunning and a great place to be if the weather is cooler outside.
Enjoy their special French and Italian varietals like Cabernet Sangiovese and Shiraz Cabernet before indulging in delicious Italian food with a Mexican twist.
The vines that make this wine are all Italian, and the two-story tasting room is both sleek and comfortable, offering even more views through the floor-to-ceiling windows.
While you can do this as a day trip, keep in mind that it doesn't necessarily have to be. You can choose to stay at a hotel and get plenty of extra time to wine and dine your way through Valle de Guadalupe. This entire part of Baja California is beautiful and well worth an extra few days of exploring if you have the flexibility.
Getting to Valle de Guadalupe and Wineries
To make it easy, let's say you take your car down from San Diego. While you can always take the Blue Line trolley to San Ysidro, you'd then either need to rent a car, book a lengthy Uber, or plan for a wine tour where transportation is included. These are all great options, but we like to envision this day trip as one where you can be fully in control of your schedule!
So, you'll want to leave pretty early in the morning to account for the time it will take to sit in line at the El Chapparal vehicle crossing point of the San Ysidro border crossing area.
The Mexican border itself is only 17 miles from downtown San Diego, meaning that you can drive to Tijuana in just about 30 minutes, depending on how traffic is looking. From there, you'll take México-1D almost exclusively. Be prepared to have some pesos to pay tolls, but this route will get you to Valle de Guadalupe in just under an hour and a half. From downtown San Diego to Valle de Guadalupe the drive is just over two hours in total.
We recommend downloading offline maps on your phone in case your connection gets spotty anywhere along your drive, but this is a simple route and you'll probably see many of the same cars as you make your way down to Baja's wine region.
Wine Tours Vs. Driving Yourself
The biggest consideration when deciding whether to do a wine tour or to navigate wineries by yourself is flexibility vs. cost.
Most wine tours are going to be cost-effective and give everyone in your group the freedom to drink, but planning your own route will require that someone in your group stays sober so that you can explore wineries at your own pace.
The most important thing is that you enjoy your wine tour in a fun, safe way!
You can also check out additional area wineries, like Baily Winery in Temecula wine country which uses their own grapes to produce wines, and the San Pasqual Winery which also utilizes grapes grown across California.
To venture out further, Santa Barbara's Pali Wine Co. produces an impeccable pinot noir.
Have you been to these wineries or any others around the area? Let us know what you think on our socials @sandiegodotcom.