The Best Dog Parks - San Diego
San Diego is a perfect place to enjoy quality time with your four-legged friend. The city is incredibly dog friendly with a variety of dog parks, pet-friendly establishments for shopping and dining, and even beaches where you can let your dog feel the breeze in his fur and the sand beneath his paws.
Whether you're a tourist on the ultimate SoCal road trip with your pup, or a San Diego local who just brought home a brand-new fur baby, you might be wondering where to find the best spots to safely walk your dog and allow it to play off-leash - we've got you covered. Grab Fido's favorite frisbee and ready to explore San Diego's dog parks.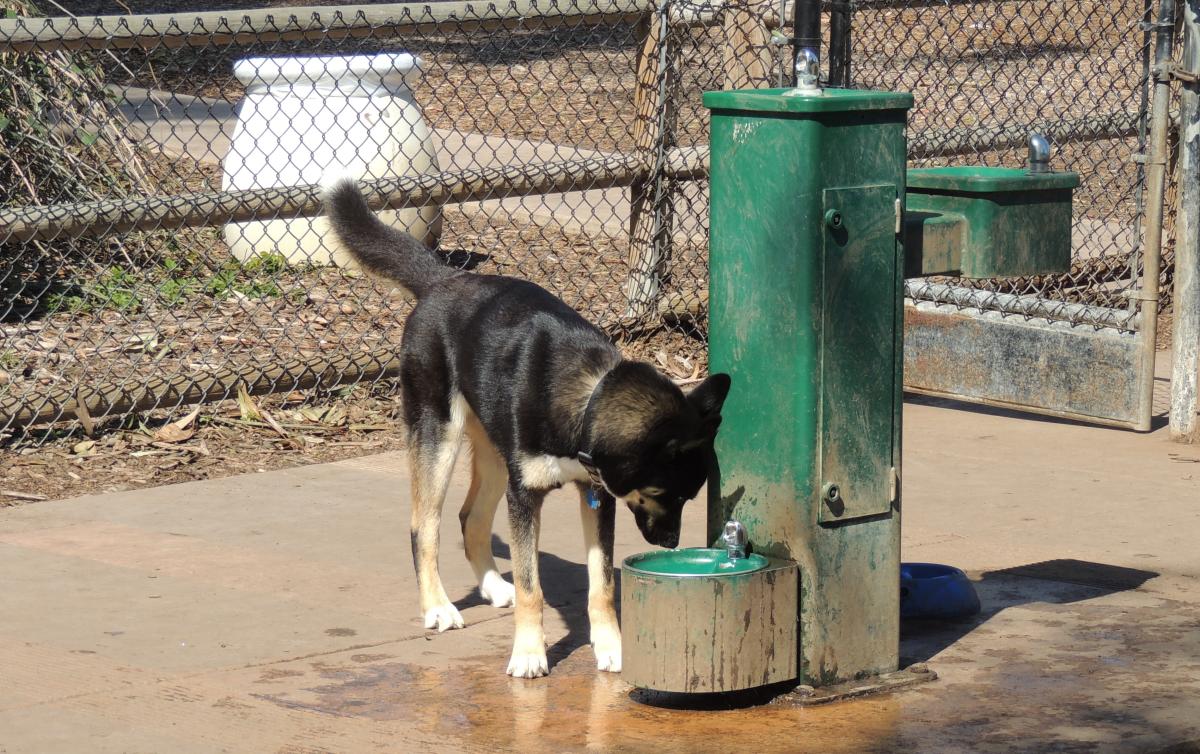 Nate's Point Dog Park
Address: 2500 Balboa Dr, San Diego, CA 92103
Nate's Point Dog Park is located within the world-famous Balboa Park right in the heart of San Diego, so it's no surprise that it is one of the most popular dog parks in America's Finest City. Your dog can enjoy strolling throughout Balboa Park with you, as long as you keep them on their leash, but when they're ready to run free - head straight to Nate's Point Dog Park.
There are picnic tables for the humans to sit and relax while the pups run and play, and the whole area is completely fenced. Other amenities include a dog drinking fountain and plenty of space to spread out. Nate's Dog Park is 2.3 acres in total. Keep in mind that the park is a busy spot and it can get crowded, especially on weekends. The park is open 24 hours and is completely free.
Kearny Mesa Leash-Free Dog Park
Address: 3170 Armstrong St, San Diego, CA 92111
Kearny Mesa Dog Park is located right next to the Kearny Mesa Recreation Center. The fenced dog park is a 1-acre off-leash dog park and features plenty of amenities like dog water bowls, poop scoopers, free bags for dog waste, and plenty of shaded areas with chairs for dog owners to kick back and relax.
The park is open bright and early at 6:30 am - perfect for those morning walks before work - and remains open until 10 pm. Admission is totally free!
Grape Street Dog Park
Address: 1998 28th St, San Diego, CA 92102
Grape Street Dog Park is the largest dog park in San Diego. It's located within beautiful Balboa Park with over 5 picturesque acres for your dog to play. This is the perfect place to throw a frisbee and allow active breeds to get some serious exercise without ever having to leave the city.
There are two dog water fountains located within the fenced area, as well as complimentary poop bags. Over half of the park is shaded by trees, and there is plenty of seating and picnic tables for dog owners to enjoy while taking in the scenery. On weekdays the park is open from 7:30 am - 9:00 pm. Weekend hours are from 9:00 am - 9:00 pm. Admission is free.
Fiesta Island Dog Park
Address: 1750 Fiesta Island Rd, San Diego, CA 92109
If you and your dog love long walks surrounded by nature, then head to Fiesta Island Dog Park. There you'll find plenty of great trails where you can leisurely stroll along the 5.2-mile trail that loops around the edge of the island.
Fiesta Island has a fenced-in dog park area, trails, a dog-friendly beach area, and even a dog training area. The park is open 24 hours a day, and it's free to visit.
Mission Bay Park
If you have a water-loving breed like a Labrador Retriever, Mission Bay Park will be your pup's paradise. Located on Fiesta Island, this is one of the most dog-friendly beaches near the city. While many of the beaches in San Diego require that dogs remain on leash, at Mission Bay Park your dog can run free and off-leash and splash in the ocean.
It's the perfect place for your dog to swim on warm days, and there is a large fenced-in meadow area nearby where you can walk afterward to dry off before heading home. Sometimes, you'll even catch dogs surfing and paddle boarding with their people!
Dusty Rhodes Dog Park
Address: 2469 Sunset Cliffs Blvd, San Diego, CA 92107
Dusty Rhodes Dog Park is one of our top recommendations if you're looking to give your four-legged friend a lovely experience in nature. While on leash, you can walk throughout Dusty Rhodes Park which is a big beautiful open space with plenty to sniff and explore.
Afterward, when you're ready for some off-leash fun, had to the designated off-leash area which is surrounded by a low fence. There are four dog water fountains throughout the park. Dusty Rhodes is open 24 hours and admission is free.
Little Italy Dog Park
Address: 254 W Date St, San Diego, CA 92101
For a perfect weekend afternoon in San Diego, head to San Diego's vibrant Little Italy neighborhood for a bowl of pasta at a dog-friendly restaurant and then head straight to Little Italy Dog Park.
One of the major benefits of Little Italy Dog Park is that there are two separate areas for small and large dogs. The entire park is covered in astroturf which is ideal for dog park users who like to keep things clean. There is plenty of space to play fetch, and water bowls for when your dog needs a break after all the play. Little Italy Dog Park is open from 6:00 am until 7:00 pm and you can visit for free.
Nobel Leash Free Park
Address: 8820 Judician Dr. San Diego, CA 92122
If you're visiting the Nobel Athletic Fields and Recreation Center, why not bring your furry friends along so that they can enjoy the off-leash area? This dog park offers separate areas for large and small dogs and has plenty of parking. It's open 24 hours and admission is free.
Civita Dog Park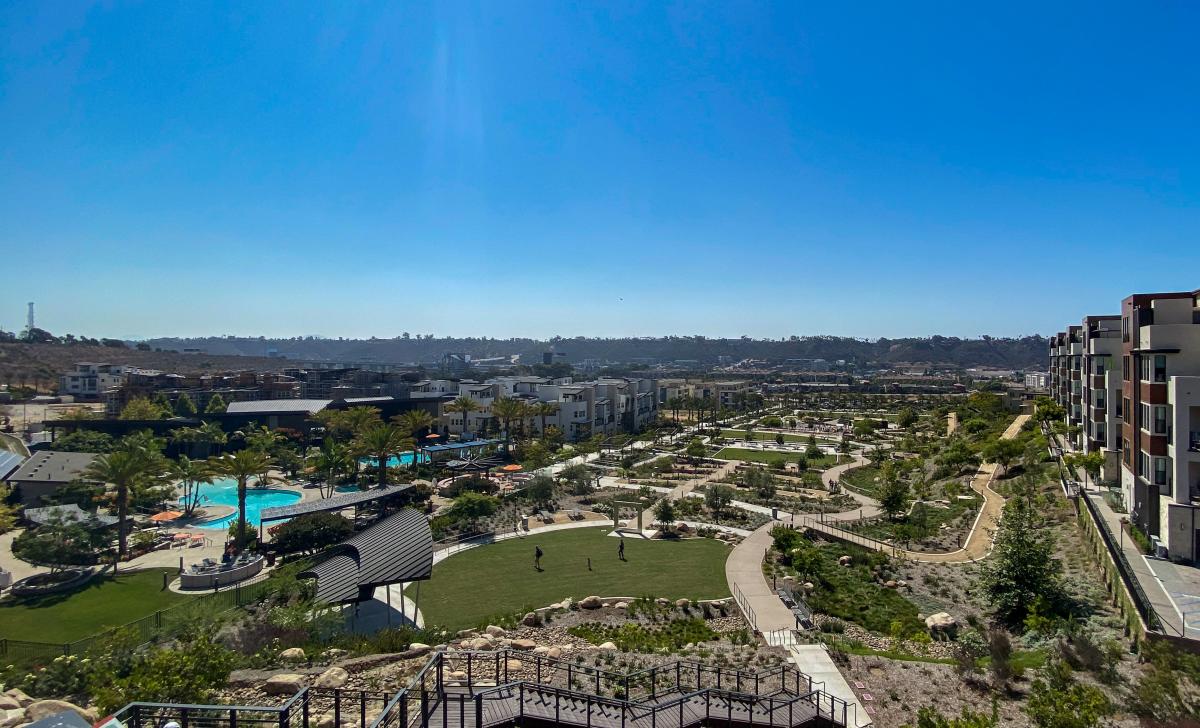 Address: San Diego, CA 92108
It's no surprise that one of San Diego's coolest curated, master-planned communities is also home to one of the best off-leash dog parks. Civita is located in Mission Valley and offers fun for the whole family in its gorgeous outdoor park areas.
Kids can play ping pong, cool off in the splash pad, or play on the playground, while the four-legged family members stretch their legs in the fenced dog park. There are separate areas for large and small dogs, dog-waste bags, and running water so the pups can get a drink. It's open from 6:30 am until 7:30 pm and admission is free.
Ward Canyon Interim Dog Park
Address: 4624 40th St, San Diego, CA 92116
If you're sick of fighting for parking when visiting the dog park, Ward Canyon Interim Dog Park is a nice option with ample parking. There are plenty of park benches to sit on, and separate fenced-in areas for small breeds and large breeds. Dogs can play off-leash from dawn to dusk. There is no charge to visit the park.
With so many fun dog parks to explore in San Diego, your pup will never grow bored! The city is perfectly dog-friendly with amenities in each unique neighborhood to enjoy with your furry friends. Are you a San Diego local with a fur baby? Follow us on our socials @sandiegodotcom and tell us about your favorite dog parks in San Diego!